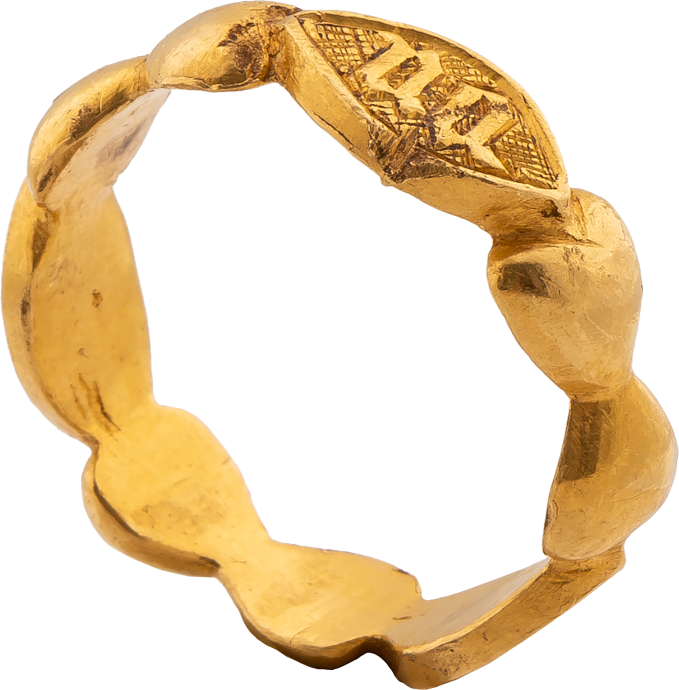 1
/
2


Gothic black letter ring with inscription "NA"
Gold
England, 15th century
Weight 7.8 gr.; circumference 59.34 mm.; US size 9; UK size R ¾
This solid gold Gothic band is composed of joined hearts with a mysterious inscription "NA" which perhaps means "no one but you" …
%3Cdiv%20class%3D%22title%22%3E%3Cem%3E%3Cp%3EGothic%20black%20letter%20ring%20with%20inscription%20%22NA%22%3C%2Fp%3E%3C%2Fem%3E%2C%20England%2C%2015th%20century%3C%2Fdiv%3E%0D%3Cdiv%20class%3D%22medium%22%3EGold%3C%2Fdiv%3E%0D%3Cdiv%20class%3D%22dimensions%22%3EWeight%207.8%20gr.%3B%20circumference%2059.34%20mm.%3B%20US%20size%209%3B%20UK%20size%20R%20%C2%BE%3C%2Fdiv%3E
Print
Description
Antecedent to the Renaissance Posy Ring, this charming medieval ring composed of joined hearts is mysteriously inscribed "na" (no one but you?). With a recorded finding spot in Norfolk, it is disclaimed treasure.
The hoop of this black letter ring is composed of two semi-spherical bosses resembling molded hearts (six in total), flat on the interior, that alternate with three pointed oval-shaped plaques, bearing the Gothic letters "na" (possibly nul aultre in French, meaning "none other") against a hatched background; on one of the oval plaques the letters are inverted.
Black letter rings are so named for the niello that usually fills the contours of the Gothic letters of the words, which spell out romantic, devotional, or magical phrases usually on the exterior of the bands (Evans 1931). Anticipating the posy ring of the Renaissance, black letter rings became highly fashionable in the fourteenth and fifteenth centuries. The letters 'n' and 'a' on this ring could signify the wearer's initials, but more likely they abbreviate a motto such as "nul aultre" (none other), which is a common inscription of the era. The unusual bezel formation (compare Dalton 1912, 876) resembles that of decade rings, used by wearers to pray the ten Hail Marys or decades of the rosary, but there is one boss too few. They are probably instead intended to be paired hearts, a shape and formation that goes well with the touching sentiment of the inscription.
Provenance:
Found in Rockland, Norfolk (Treasure Act 1996: 2017 T446, disclaimed).
R-898
Please send me further information about this work.