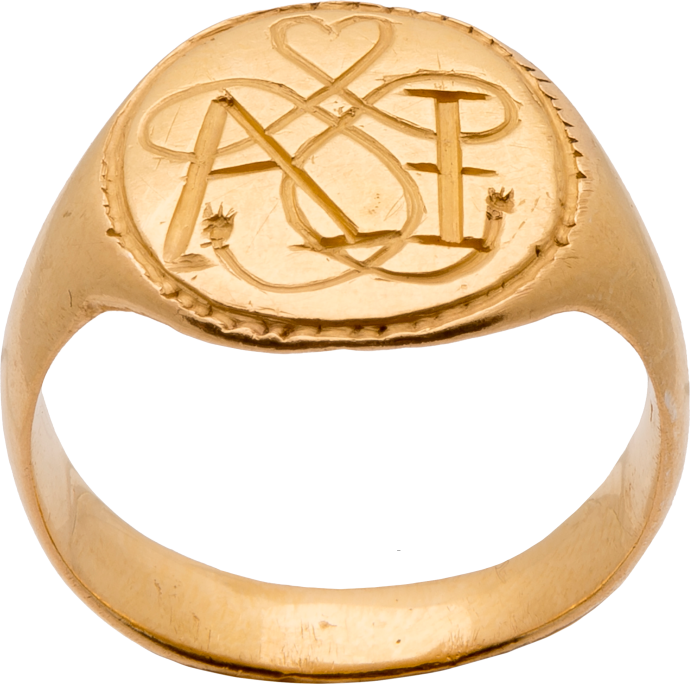 1
/
3



Signet Ring with true lover's knot and the initials "AI"
Gold
England, 17th century
Weight 9 gr.; bezel 15.3 x 16.1 x 1.5 mm.; circumference: 58.21 mm.; US size 8 ½; UK size Q ¾
This precious gold ring was given as a token of love. The lover's knot makes the shape of a heart intertwined around the letter A and I.
%3Cdiv%20class%3D%22title%22%3E%3Cem%3E%3Cp%3ESignet%20Ring%20with%20true%20lover%27s%20knot%20and%20the%20initials%20%22AI%22%3C%2Fp%3E%3C%2Fem%3E%2C%2017th%20century%3C%2Fdiv%3E%0D%3Cdiv%20class%3D%22medium%22%3EGold%3C%2Fdiv%3E%0D%3Cdiv%20class%3D%22dimensions%22%3EWeight%209%20gr.%3B%20bezel%2015.3%20x%2016.1%20x%201.5%20mm.%3B%20circumference%3A%2058.21%20mm.%3B%20US%20size%208%20%C2%BD%3B%20UK%20size%20Q%20%C2%BE%3C%2Fdiv%3E
Print
Description
A signet ring was generally a form of identification with a practical purpose of being used for sealing a personal motif into hot wax as a form of authentication and therefore the imagery is back to front. Some seal rings, though, were simply worn as decorative rings, as in this case. The shallow engraving of the initials "A" and "I" confirms this theory. The knot - often used to interlink initials and form an ornamental feature, appears to have a deeper meaning, as a true lover's knot forming a heart at the top. The initials are of the owner, or maybe here the first initials of a couple or lovers. This precious gold ring was probably given as a token of love.
The wide gold hoop is plain, flat inside and slightly rounded on the outside. The shoulder expands and merges into a flat round-shaped bezel with engraved initials "A" and "I" conjoined by a true lover's knot and indented surrounding border. The ring is in good wearable condition.
Literature:
The ring type continued in variations over a long period from the mid-16th century through to the 17th century, and it was a classical and popular shape, cf. in the Ashmolean Museum, Oxford (Scarisbrick/Henig 2003, Plate 22, no. 3, English dated 1689-90). For rings with initials and knots in the British Museum (Oman 1974, Plate 44 A-E), in the Victoria and Albert Museum, London, the famous Darnley ring (841-1871, Oman 1974, Plate 45A).
R-751
Please send me further information about this work.