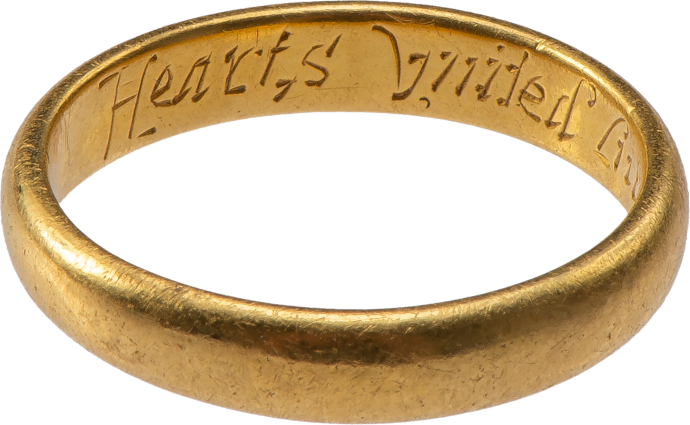 1
/
4




Posy ring "Hearts United Live Contented"
Gold
England, 17th century
Weight 6.9 gr.: circumference 63.46 mm.: US size 10 1/2; UK size U ½
"Hearts United Live Contented," this hidden inscription is a motto that romantic partners should live by! Posy rings are the perfect gift.
%3Cdiv%20class%3D%22title%22%3E%3Cem%3E%3Cp%3EPosy%20ring%20%26ldquo%3BHearts%20United%20Live%20Contented%26rdquo%3B%3C%2Fp%3E%3C%2Fem%3E%2C%20England%2C%2017th%20century%3C%2Fdiv%3E%0D%3Cdiv%20class%3D%22medium%22%3EGold%3C%2Fdiv%3E%0D%3Cdiv%20class%3D%22dimensions%22%3EWeight%206.9%20gr.%3A%20circumference%2063.46%20mm.%3A%20US%20size%2010%201%2F2%3B%20UK%20size%20U%20%C2%BD%3C%2Fdiv%3E
Print
Description
A large and heavy posy ring with one of the most popular inscriptions which is finely engraved.
A plain gold band with D-section and engraved inscription on the interior in cursive script reads: "Hearts United Live Contented." The quatrefoil punch with maker's mark shows the initials 'TG' which has yet to be identified. The ring shows signs of wear through age and is in good condition.
Literature:
"Posy rings," their name deriving from the term poésie or poetry, have mottoes or inscriptions, either in prose or verse. Throughout the sixteenth to the eighteenth centuries rings with posies were increasingly popular. They were exchanged between friends, relatives, and lovers, and at betrothals and wedding ceremonies. Like here, the secret message was often concealed inside the hoop, its content only known to the wearer and giver.
Surviving in numerous examples, this amatory motto "Hearts united live contented" appears to have been quite popular and may have been circulated through contemporary commonplace books and guides to eloquence and courtship. Joan Evans records no fewer than seven variations of this posy (Evans 1931, p. 47). Four rings bearing this inscription are in the British Museum, London (Dalton 1912, nos. 1187, 1188, 1189, 1190). Two further examples can be found in the Museum of London (inv. no. 62.4/4 and 62.4/95).
For a history of posy rings with extensive list of posies, see Evans, 1931 and Anon., A Garland of Love: A Collection of Posy-Ring Mottoes, London 1907. For further information on the ring type, see Dalton 1912, pp. 174 ff.; Scarisbrick 2007, pp. 74 ff., Taylor and Scarisbrick 1978, and Oman 1974, pp. 39 ff.
R-930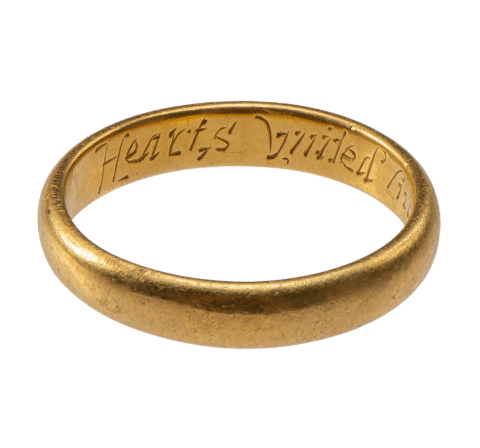 Please send me further information about this work.