1
/
3



Posy Ring "A frend's gift"
Gold, enamel
England, late 17th-early 18th century
Weight 1.4 gr; Circumference 44.77 mm; US size 3 1/4; UK size F ¾
A charming inscription in elegant italic script with unusual dark blue enamel surrounding the band.
%3Cdiv%20class%3D%22title%22%3E%3Cem%3E%3Cp%3EPosy%20Ring%20%26ldquo%3BA%20frend%26rsquo%3Bs%20gift%26rdquo%3B%3C%2Fp%3E%3C%2Fem%3E%2C%20England%2C%20late%2017th-early%2018th%20century%3C%2Fdiv%3E%0D%3Cdiv%20class%3D%22medium%22%3EGold%2C%20enamel%3C%2Fdiv%3E%0D%3Cdiv%20class%3D%22dimensions%22%3EWeight%201.4%20gr%3B%20Circumference%2044.77%20mm%3B%20US%20size%203%201%2F4%3B%20UK%20size%20F%20%C2%BE%20%3C%2Fdiv%3E
Print
Description
A charming inscription in elegant italic script with unusual dark blue enamel surrounding the band.
The interior band of this solid gold D-section ring bears the engraved inscription "A frend's gift" in italic script. A gold ridge extends down the center of the exterior hoop, flanked on each side by dark blue enamel. Some enamel is missing in parts due to wear and age. The maker's mark – an eight-point star with the initial "R" – is punched inside the hoop, but the name of the goldsmith remains unidentified. The ring is in good, wearable condition.
Posy rings derive their name from the French word poesie meaning poetry and are characterized by mottoes or inscriptions engraved in either prose or verse. While rings bearing amatory inscriptions date back to the late medieval period, posy rings with poetic expressions of love and affection enjoyed great popularity in seventeenth- and eighteenth-century England and find mention in plays by William Shakespeare, such as in the Merchant of Venice and Hamlet (III, 2, 162: "Is this a prologue, or the posy of a ring"). Posy rings were customarily exchanged between friends, relatives, and lovers, often at betrothals and wedding ceremonies. In many instances, the message was concealed inside the hoop, and its content only known to the wearer and the giver.
Provenance:
The ring was discovered outside of Thornton-le-Dale in North Yorkshire, England, not far from the Thornton-le-Dale Grammar School, which was completed in 1670 from a bequest of Elizabeth, Viscountess Lumley who owned the land and built alms houses for the community.
Literature:
"A frend's gift" was a particularly popular posy inscription and appears in many variations, such as a "gift for a friend." Joan Evans records four adaptations of the motto "A true friend's gift" (Evans 1931, p.24) and seven for "A frend's gift." See a posy ring in the British Museum, London (Dalton 1912, no. 1109) and "A true friend's gift" recorded by Evans (1931, p. 24) and others donated by Evans (1961, nos. 1202.126, 1202.127 and a variant no. 1202.124). While posy rings are generally made of simple gold bands, this ring was embellished with dark blue enamel on the exterior, probably a special commission of the giver. For a comparison to a posy with five bands of black enamel see British Museum, London, no. 1202.17. For a history of posy rings with an extensive list of posies, see Evans 1931 and exh. cat. A Garland of Love 1907. For further information see Dalton 1912, pp. 174; Scarisbrick 2007, pp. 74; Taylor and Scarisbrick 1978; and Oman 1974, pp. 39.
R-938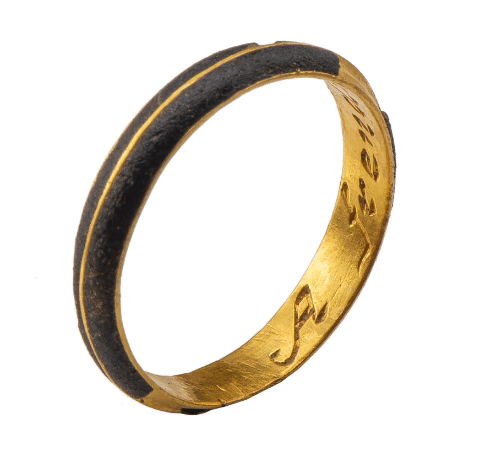 Please send me further information about this work.