1
/
4




Byzantine Ring with Cruciform Monogram
Gold
Early Byzantine, mid-6th -7th century
Weight 11.6 gr.; Circumference 60.38 mm.; US size 9 1/4; UK size S 1/4
%3Cdiv%20class%3D%22title%22%3E%3Cem%3E%3Cp%3EByzantine%26nbsp%3BRing%20with%26nbsp%3BCruciform%26nbsp%3BMonogram%26nbsp%3B%3C/p%3E%3C/em%3E%2C%20Early%20Byzantine%2C%20mid-6th%20-7th%20century%3C/div%3E%0D%3Cdiv%20class%3D%22medium%22%3EGold%3C/div%3E%0D%3Cdiv%20class%3D%22dimensions%22%3EWeight%2011.6%20gr.%3B%20Circumference%2060.38%20mm.%3B%20US%20size%209%201/4%3B%20UK%20size%20S%201/4%3C/div%3E
Print
Description
A gold ring with hoop in round section, which is slightly flattened on top to support the deep round bezel. On this is engraved (originally with niello inlay) a cruciform monogram with four Greek with encrypted name of the owner, Marianos, in the genitive, Marianou. The ring shows wear through age and is in good, wearable condition.
Provenance:
Swiss Private Collection since c. 1930
Literature:
In the Byzantine era, signet rings become fashionable as signs of power, authority, and social status. Cross monogram signets with encrypted letters on the ends of the cross giving the name of the owner of the ring, are a specific type that first appear during the reign of Emperor Justinian I (482-565). Such monograms are found c. 520 onward on imperial coins of Justinian I and his wife Theodora and as decorative elements on monuments. Bearing mostly masculine names, these rings appear to have been worn mainly by men. For Byzantine monogram rings, see: Vikan, "Early Christian and Byzantine Rings in the Zucker Family Collection," Journal of the Walters Art Gallery 45 (1987), pp. 39-40.
For comparisons in other collections and museums, see: Chadour 1994, vol. 1, no. 487 in gold and no. 488 in silver. The Museum für Angewandte Kunst, Cologne has a number of rings with cruciform monograms in bronze (Chadour 1985, vol. II, nos. 138-147). For variants of the type, mainly in gold but also as an intaglio, see: Spier 2012, nos. 21 and 22; Hindman 2017, nos. 5 and 6.
R-944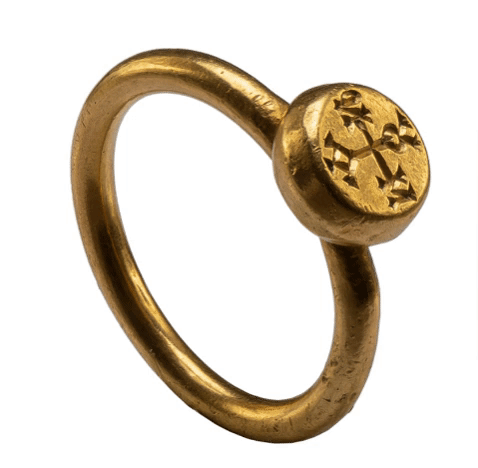 Please send me further information about this work.