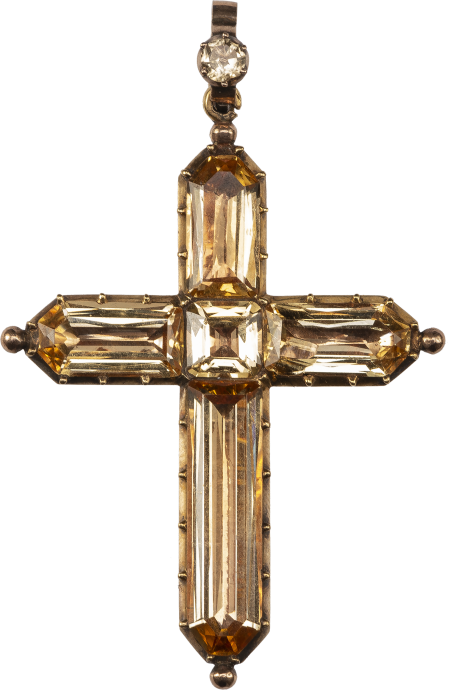 1
/
3



Gold, silver, Imperial topaz,
Probably England, c. 1820
Weight 12.9 gr.; Dimensions 64.9 × 41.4 mm.
An early 19th century topaz cross with four beveled pieces of imperial topaz.
%3Cdiv%20class%3D%22title%22%3E%3Cem%3E%3Cp%3ETopaz%20Cross%20Pendant%26nbsp%3B%3C%2Fp%3E%3C%2Fem%3E%3C%2Fdiv%3E%0D%3Cdiv%20class%3D%22medium%22%3EGold%2C%20silver%2C%20Imperial%20topaz%2C%3C%2Fdiv%3E%0D%3Cdiv%20class%3D%22dimensions%22%3EWeight%2012.9%20gr.%3B%20Dimensions%2064.9%20%C3%97%2041.4%20mm.%20%3C%2Fdiv%3E
Print
Description
A gold cross with plain back and beveled edges, facetted triangular ends with globules. The facetted stones are inset, the central one is square while those in the cross arms are cut to fit the form. The settings have ornamental, claw-like designs. A scroll-like hook made of gold with silver-set and a round topaz was used to hook the pendant either on to a velvet band or gemstone-set necklace. The pendant is in good, wearable condition.
Literature:
In the early nineteenth century, decorative cross pendants with colorful gemstones became increasingly fashionable. After the discovery of Imperial topaz in 1735 in Minas Gerais, Brazil, the gemstone became highly sought after and was costly to acquire. For an almost identical cross (c. 1820) attached to a rivière necklace, see: Redington Dawes and Collings, Georgian Jewellery 1714-1830, Woodbridge, 2007, p. 75, and about Imperial topaz, p. 111.
Please send me further information about this work.