1
/
6






In Dutch, Illuminated manuscript on parchment. 3 inserted miniatures including 2 full-page miniatures by a follower of the Masters of Otto van Moerdrecht, c. 1430 and c. 1490
Southeastern Netherlands, region of Maastricht, c. 1475-1500,
This lovely Book of Hours is characterized by a rich abundance of illumination with large initials in highly saturated colors and floral ornament throughout. At the time it was made, its three miniatures were inserted (perhaps from another manuscript on hand in the workshop or perhaps at the request of the owner?).
%3Cdiv%20class%3D%22title%22%3E%3Cem%3E%3Cp%3EBook%20of%20Hours%3C/p%3E%3C/em%3E%2C%20Southeastern%20Netherlands%2C%20region%20of%20Maastricht%2C%20c.%201475-1500%2C%3C/div%3E%0D%3Cdiv%20class%3D%22medium%22%3EIlluminated%20manuscript%20on%20parchment.%203%20inserted%20miniatures%20including%202%20full-page%20miniatures%20by%20a%20follower%20of%20the%20Masters%20of%20Otto%20van%20Moerdrecht%2C%20c.%201430%20and%20c.%201490%3C/div%3E
Print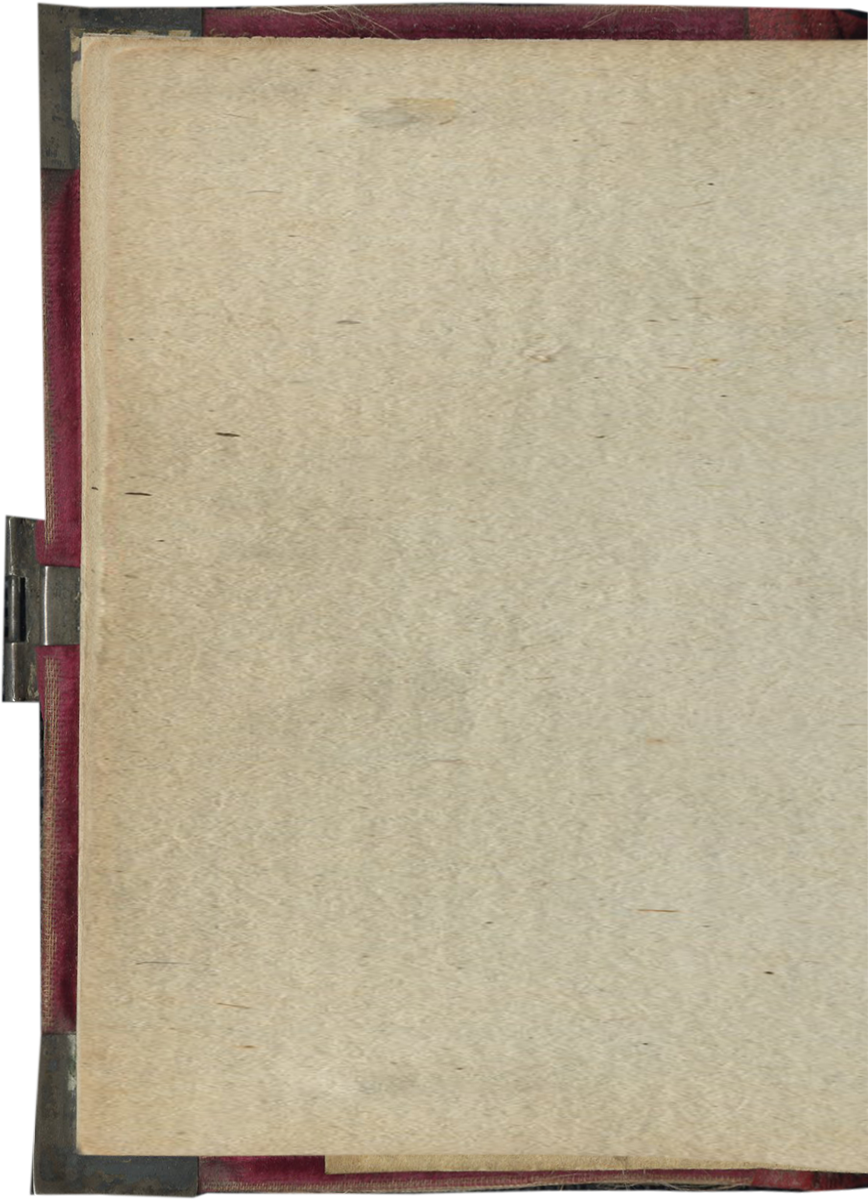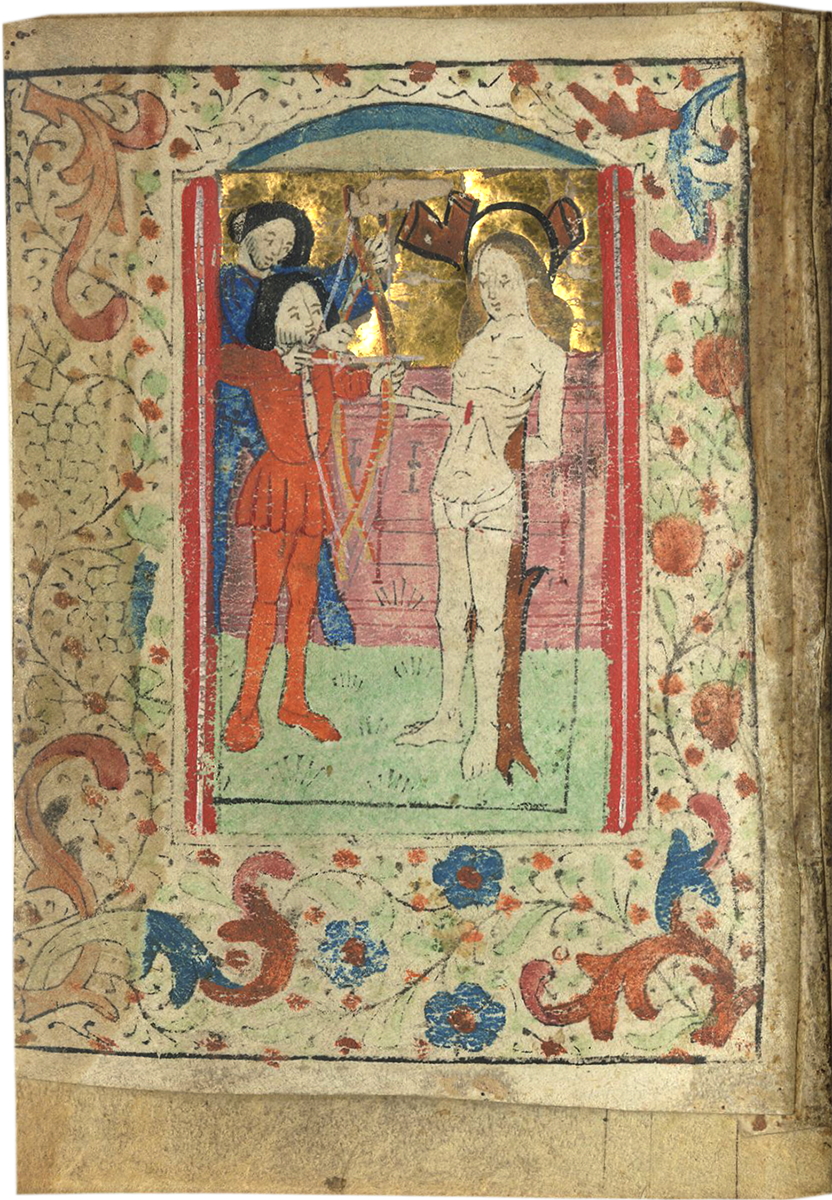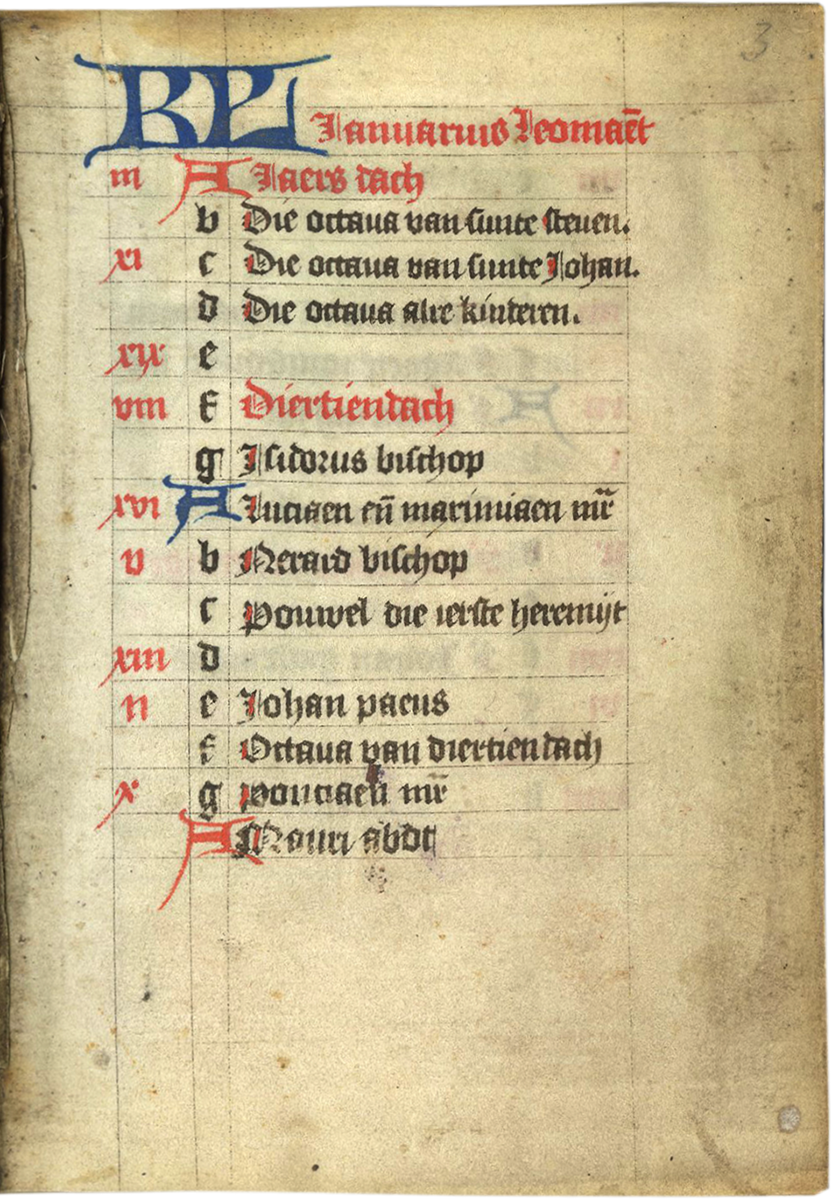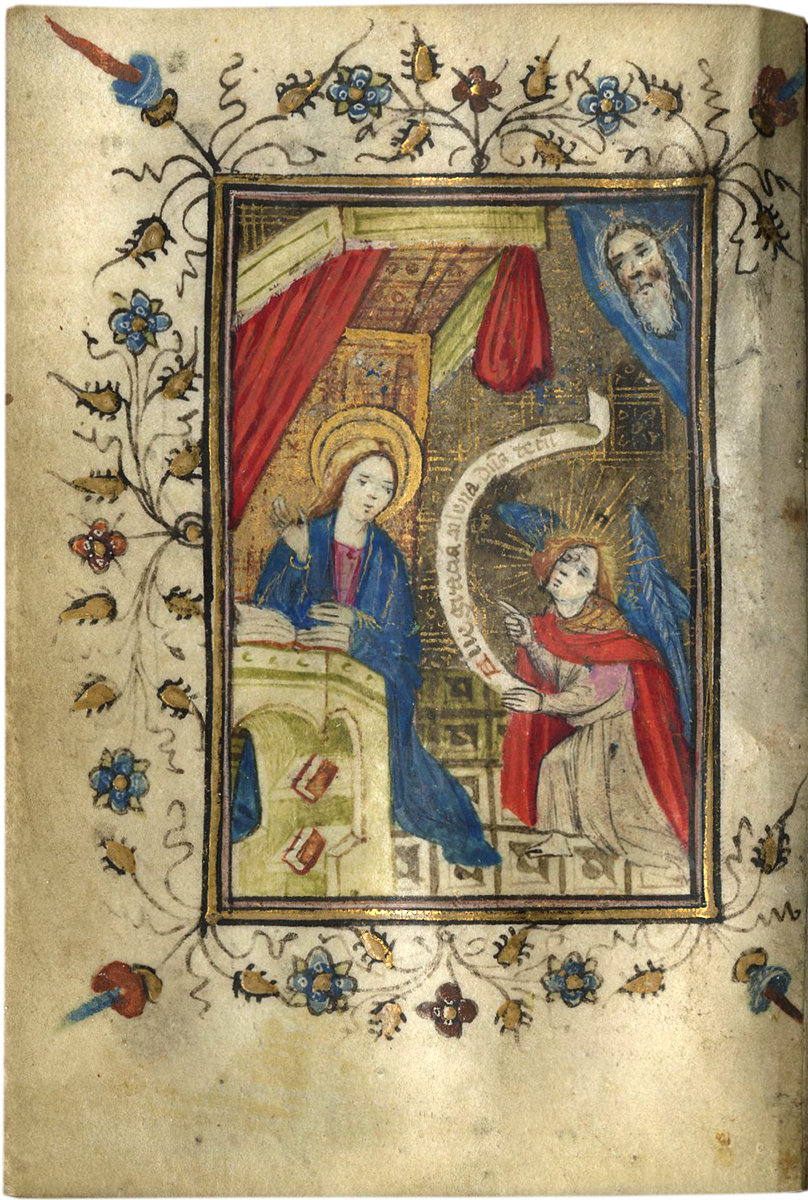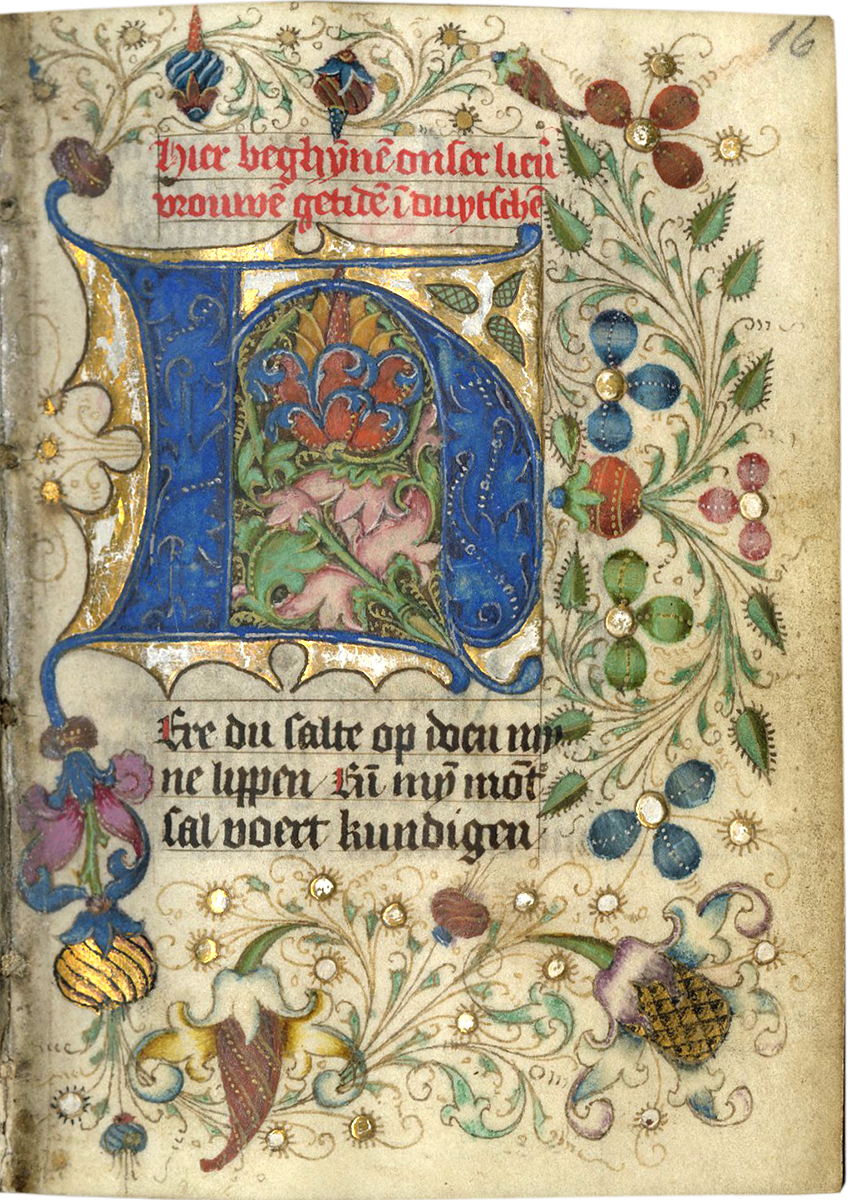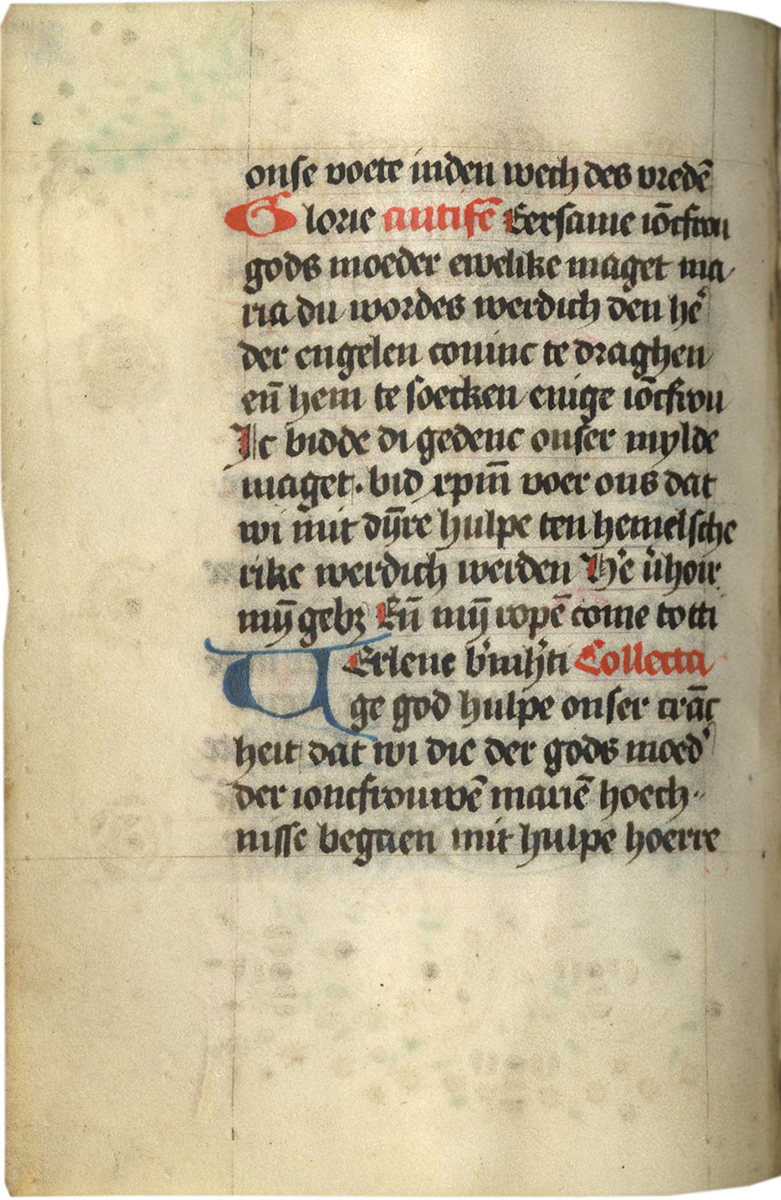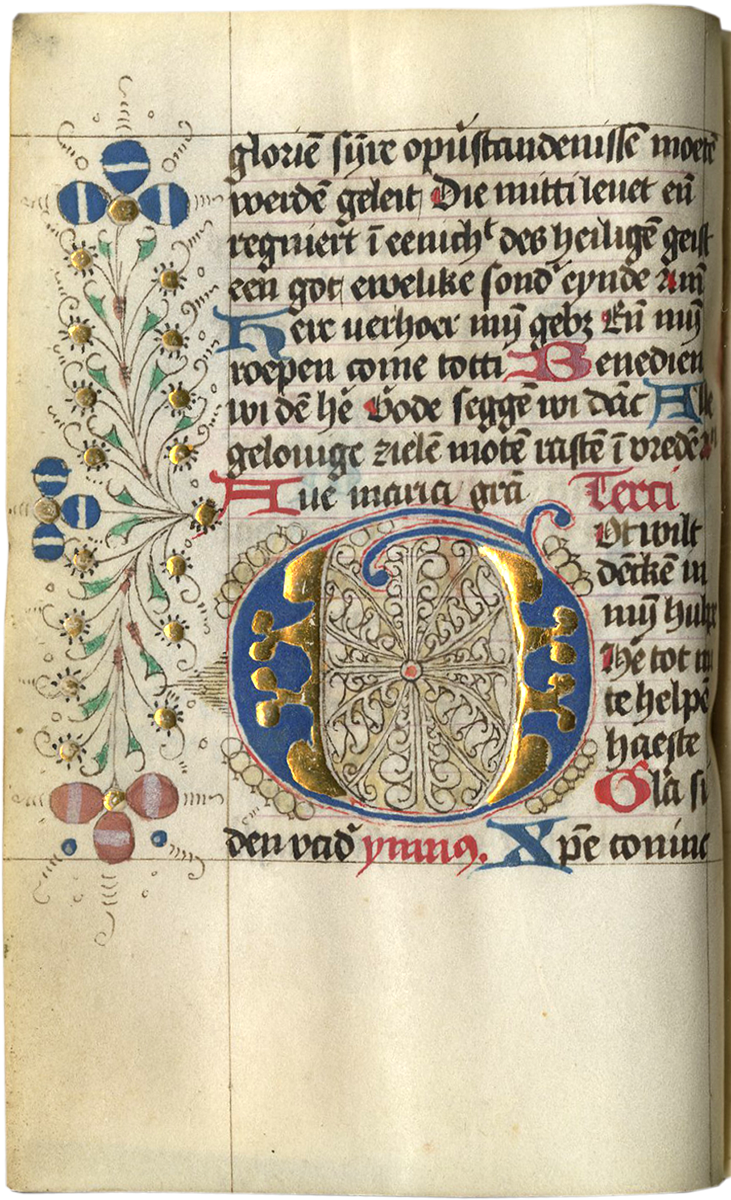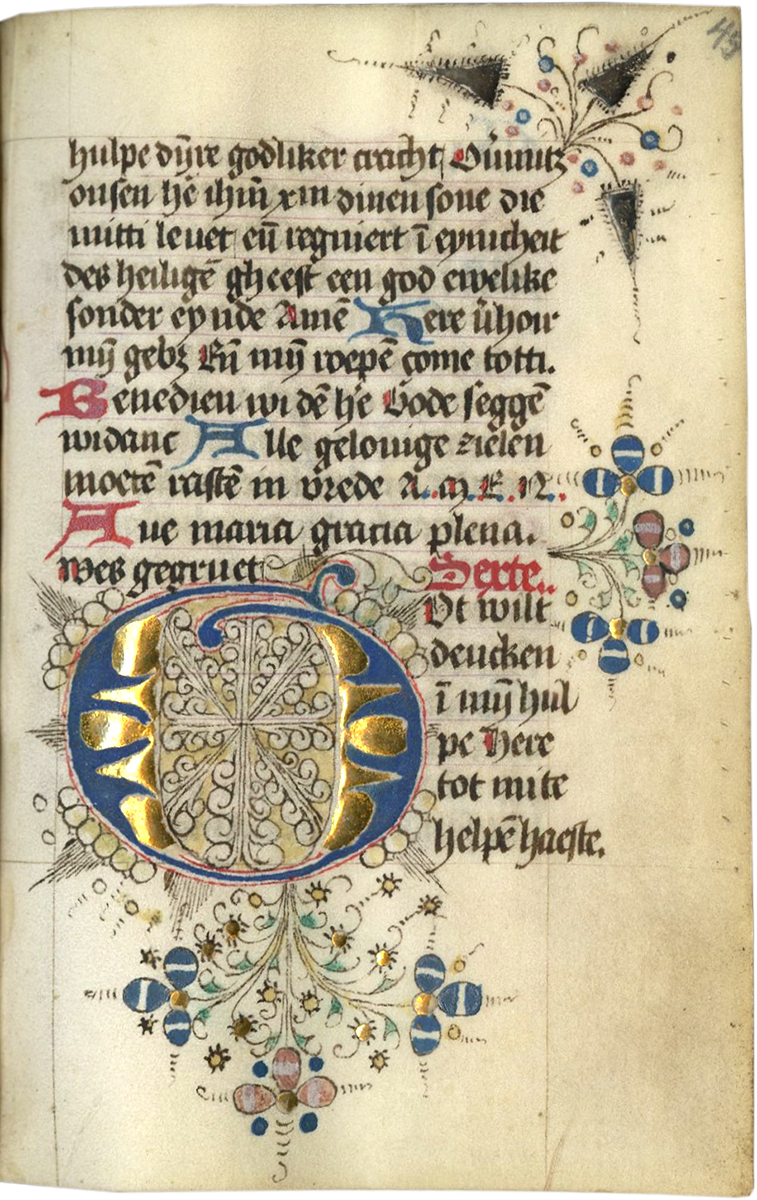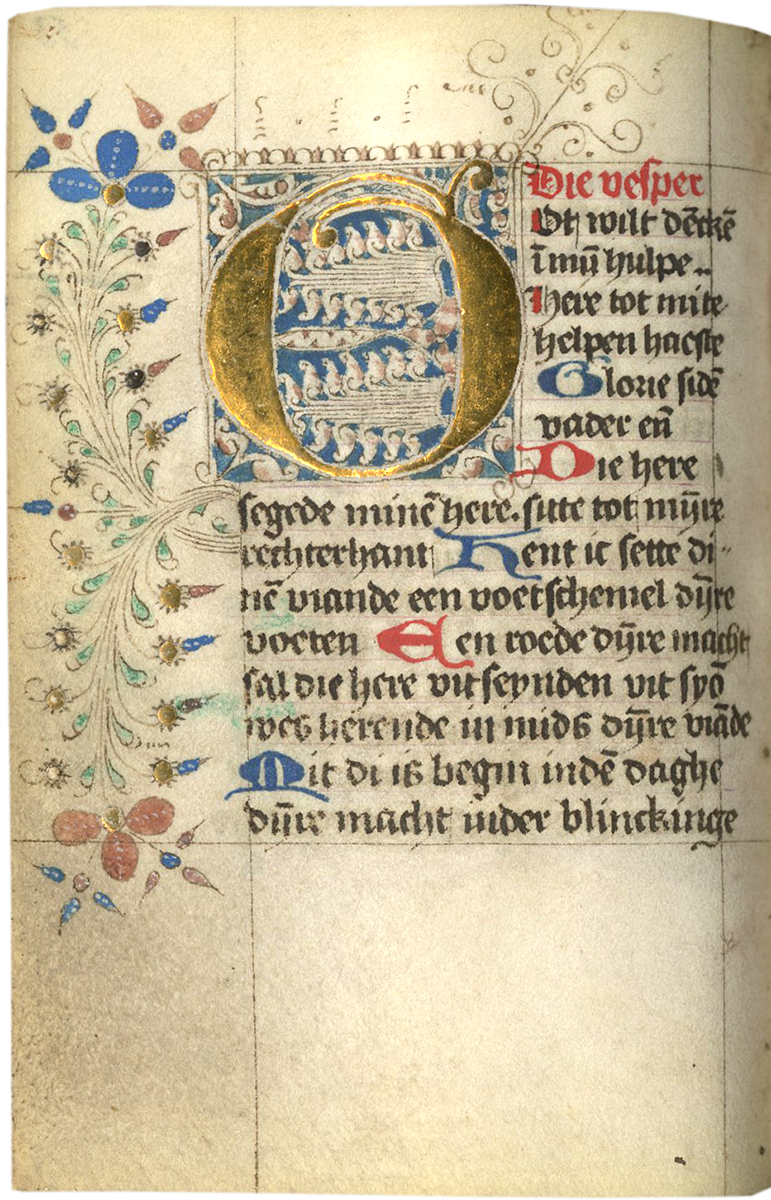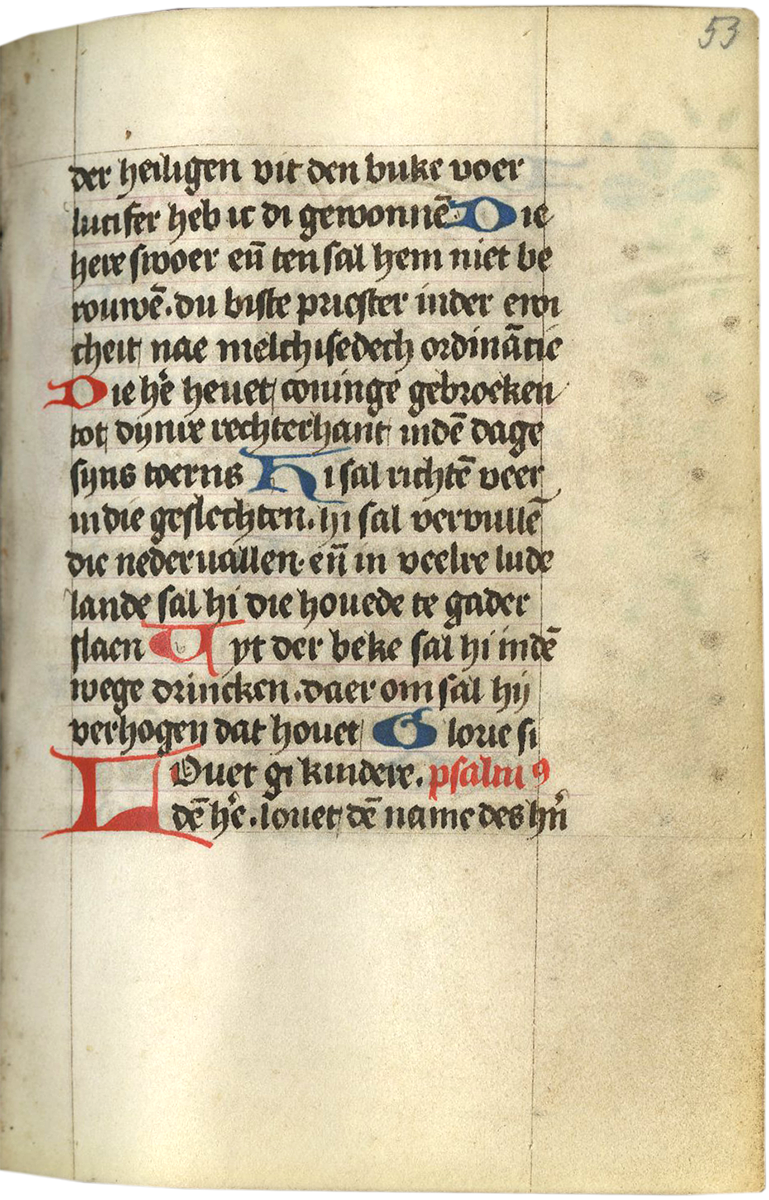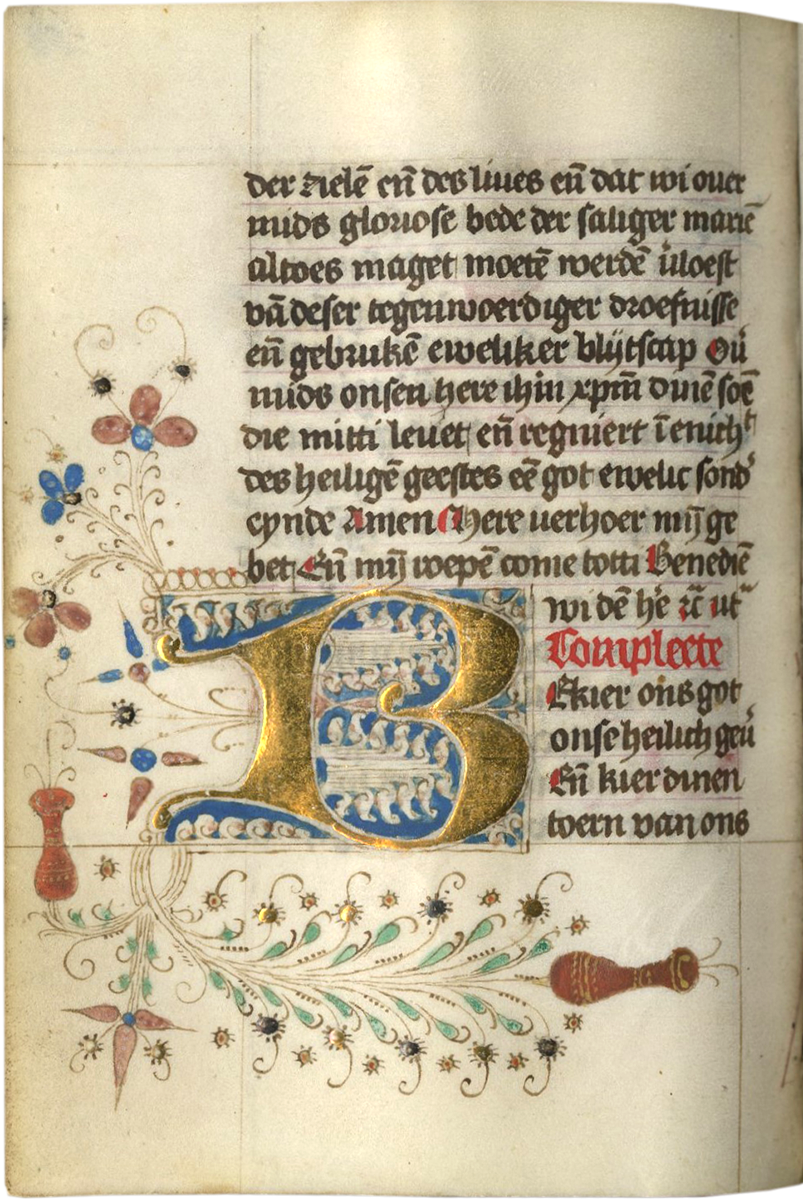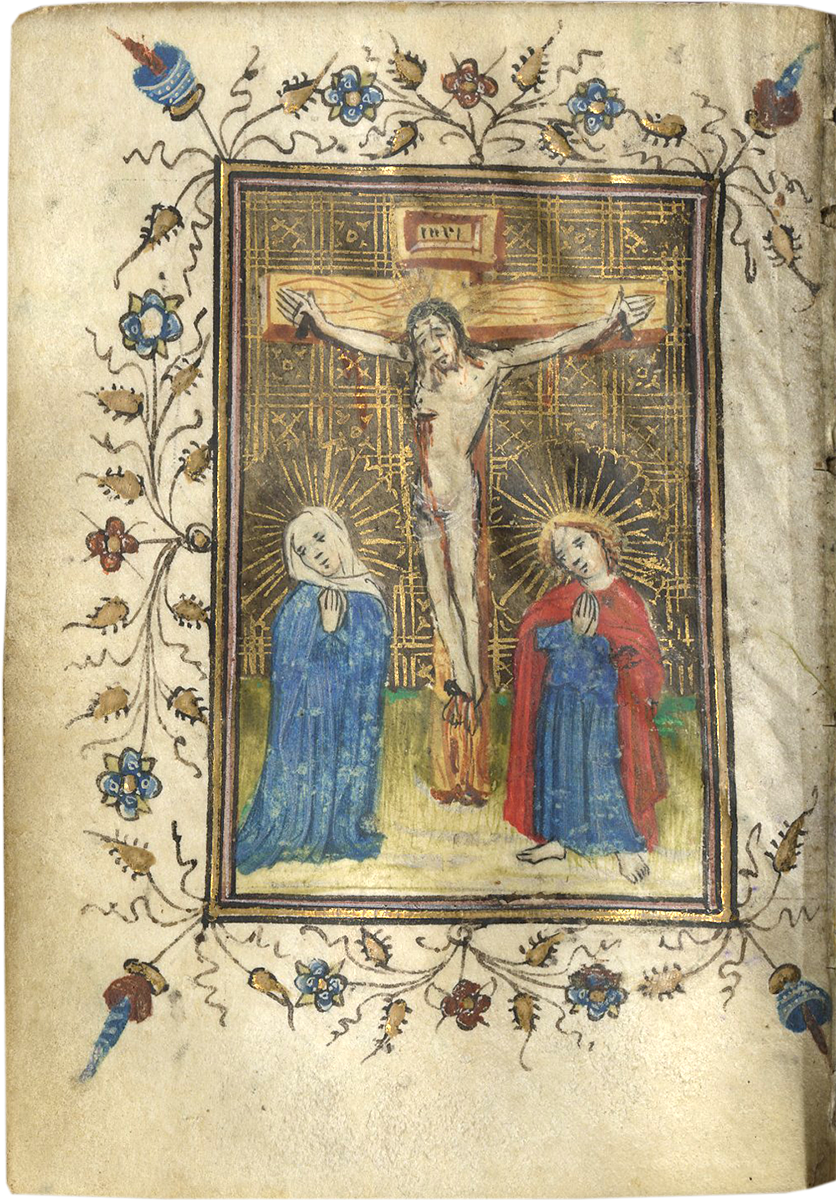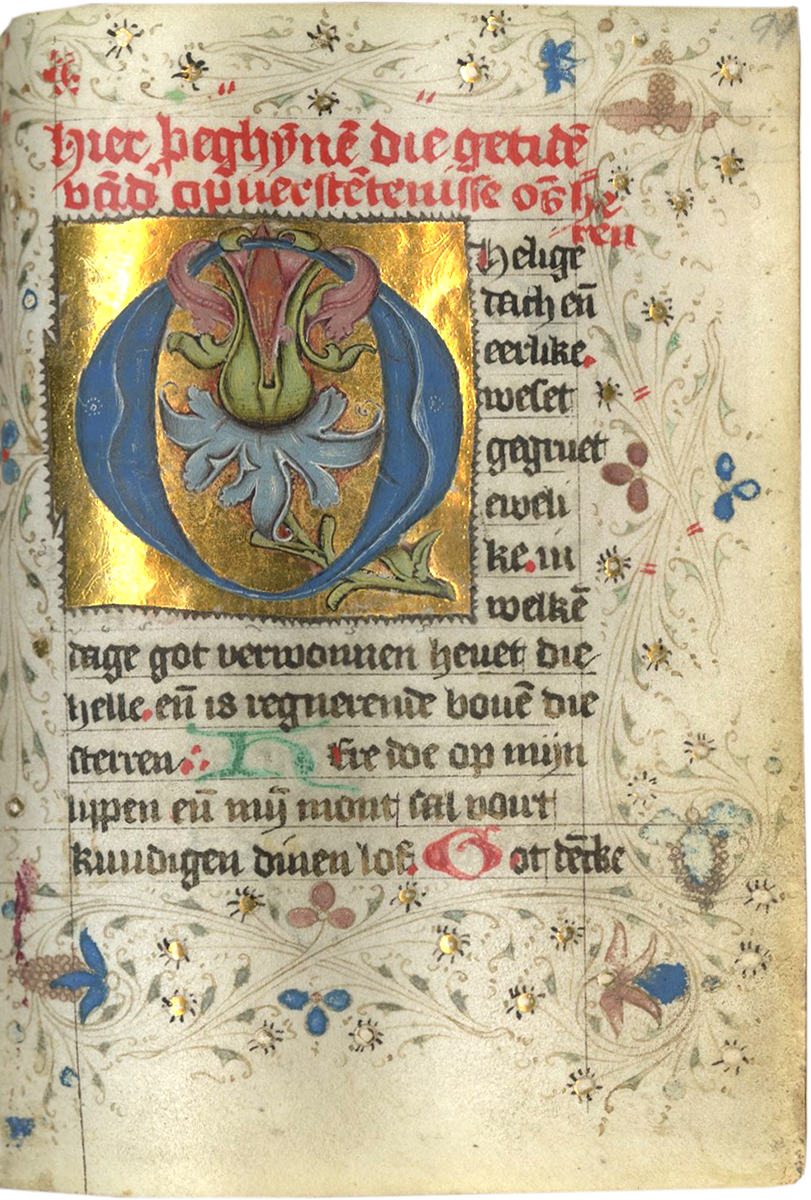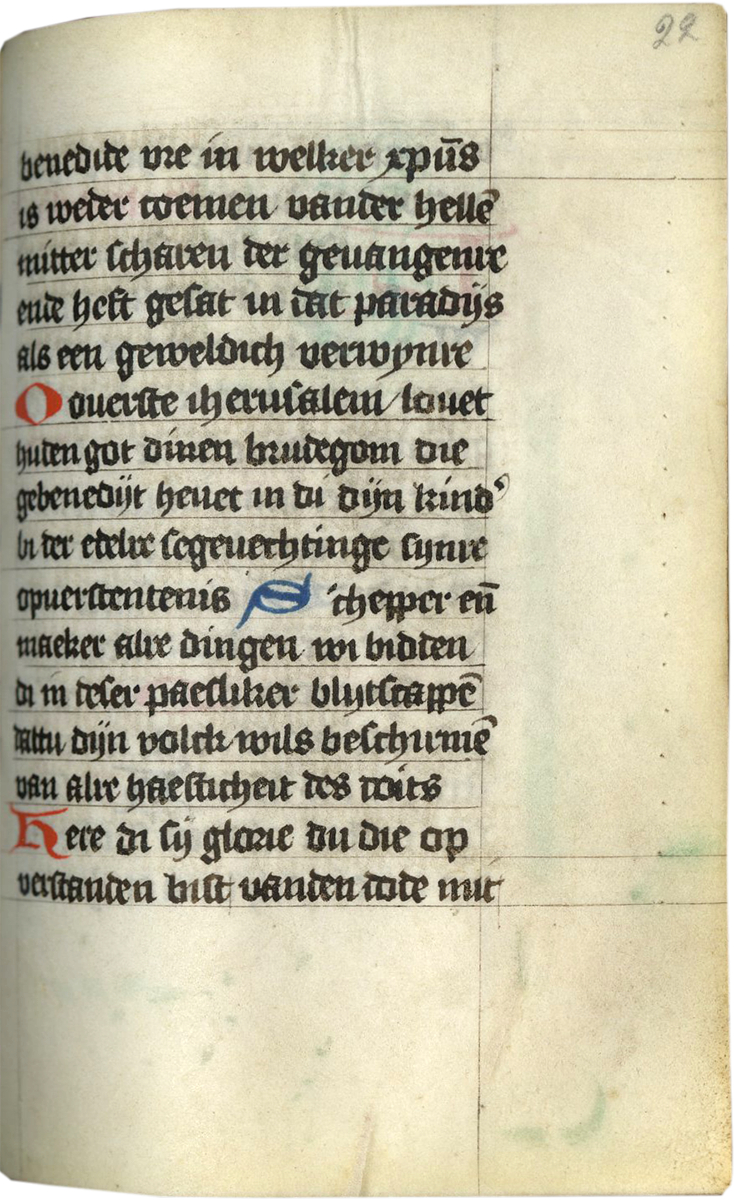 Description
This lovely Book of Hours is characterized by a rich abundance of illumination with large initials in highly saturated colors and floral ornament throughout. At the time it was made, its three miniatures were inserted (perhaps from another manuscript on hand in the workshop or perhaps at the request of the owner?). Two are skillful products of the Moerdrecht Masters, a successful group of illuminators working in Bruges and in the Northern Netherlands. Used as a frontispiece, the third miniature probably copies a woodcut, testifying to the confluence of manuscript and print culture in the half century after the Gutenberg Bible. The manuscript preserves its contemporary pink velvet binding.
131 + iii (paper) folios on parchment, lacking one text leaf and another leaf with a miniature opening the Hours of the Eternal Wisdom, otherwise complete, three inserted miniatures (collation i1 ii1 iii4 iv8 v1 vi-xi8 xii1 xiii8 [-8, lacking one leaf after f. 72, with loss of text] xiv-xvi8 xvii4 [-3, lacking one leaf after f. 98, a miniature] xviii-xxi8), alphanumerical quire signatures, partly cropped, ruled in brown ink (justification 70 x 43 mm.), written in gothic hybrid script on 16 long lines, rubrics in red, 1- and 2-line initials alternating in red and blue, nineteen 2- to 6-line initials in green, blue or red with penwork decoration of especially elaborate and graceful forms in the margins for the larger initials, TEN LARGE INITIALS including burnished gold and decorated with very fine flowers, foliage and penwork spreading to the margins (ff. 16, 37, 41v, 45, 48v, 52v, 58v, 65, 69v, 99), THREE INSERTED FULL-PAGE MINIATURES with full borders painted with bright colors and burnished gold, ink of text slightly faded on some pages, but in overall excellent condition. CONTEMPORARY BINDING of dark pink velvet over pasteboards with decorated silver clasp and corner-pieces, re-backed in red leather, modern case, text block detached from binding and velvet worn but in very good condition for its age. Dimensions 122 mm x 85 mm.
Provenance
1. Aspects of the text, as well as the style of the decoration, are evidence that this manuscript was made and used in the southeastern Netherlands in the region bordering Germany, in Maastricht or its close vicinity in the last quarter of the fifteenth century. The calendar includes in red the local feasts of St. Servatius of Tongeren, patron saint of Maastricht (14 May; normally 13 May), St. Lambert of Maastricht (17 Sept), St. Hubert of Liège (3 Nov) and St. Leonard of Noblac (6 Nov). Moreover, the dialect has strong Germanic inflections pointing to the Dutch-German border area, particularly around the Meuse, further confirming the localization in the region of Maastricht. Finally, the style of the decoration has very strong Germanic elements and especially decorative forms found in Cologne illumination, suggesting that the book was illuminated where it was copied, in south-eastern Netherlands near the German border (see the discussion below).
2. Although the manuscript itself was made in the last quarter of the fifteenth century, it includes three inserted miniatures of independent origin, two of which were painted around 1430 in Bruges, and the third around 1490, perhaps in south-eastern Netherlands (see the discussion below).
3. Private USA Collection.
Text
f. 1, blank; f. 1v, Prayer on six lines asking to be saved from death (moert verdraken) and beginning "O mensche sic op my...";
f. 2, blank; f. 2v, St. Sebastian (inserted miniature);
ff. 3-14v, Calendar; [f. 15, blank];
ff. 15v-63v, Hours of the Virgin; [f. 64, blank];
ff. 64v-69v, Hours of the Cross;
ff. 69v-98v, Long Hours of the Cross;
ff. 99-131, Hours of the Eternal Wisdom;
f. 131v, blank, a decorated initial was pasted onto the blank space and later erased almost completely.
Illustration
Subjects of the full-page miniatures:
f. 2v, St. Sebastian;
f. 15v, Annunciation to the Virgin;
f. 64v, Crucifixion with the Virgin Mary and St. John.
Illuminations made on single sheets for insertion in otherwise-complete manuscripts were common in both the Northern and Southern Netherlands. This was such a frequent practice in Bruges, where Dutch artists sought to take advantage of a thriving commercial market to such an extent that the town enacted a regulation in 1427 requiring all foreign illuminators to register their marks (and thus pay a tax) with the local guild in order to sell their single leaves. The method of working continued into the sixteenth century, with illuminators in Leiden specializing in selling single miniatures to update older (out-of-date) Books of Hours. This manuscript is an unusual product of this practice of inserting single leaves, in that its miniatures with one exception date earlier than the volume.
The Annunciation (f. 15v) and Crucifixion (f. 64v) date probably from around 1430, and they must therefore have been excised from another manuscript. The style of these miniatures and their border decoration is most closely related to works made in Bruges by the Masters of Otto van Moerdrecht (see Fig. 1). These illuminators used bright colors and dark contours, sharp, angular lines, small, doll-like figures and expressive gestures. However, the miniatures inserted in our manuscript are not by the Moerdrecht Masters themselves but belong in a wider body of stylistically related works. The Masters of Otto van Moerdrecht are a group of at least six different illuminators working in the same style around 1420-1455, first in different places in The Northern Netherlands, including Utrecht and Guelders, and from 1427 in Bruges, before returning to the Northern Netherlands by 1436 (van Bergen, 2007 and 2018). The Moerdrecht Masters came to Bruges, where they painted mainly Books of Hours for private use, many for export for the English market, after the ban on imported single-leaf miniatures to the city went into effect in 1427.
The miniature of St. Sebastian (f. 2v) was also inserted to our manuscript from another source. It was probably made around 1490, thus perhaps contemporary with the execution of the volume, as suggested by the form of the shoes worn by the Roman soldiers. It was perhaps copied from a woodcut, which might explain the curious black lines that form a right angle within the picture space in the foreground of the image, as well as the unusually angular style of the miniature that resembles a line drawing devoid of any modeling, embellished with a burnished gold ground. It may have been made locally in the Mosan region where the manuscript was copied.
The very fine decorated initials in the manuscript are stylistically close to decorative forms found in the illumination from Cologne. Comparisons can be found with very similar initials divided in blue and burnished gold that were painted in Cologne contemporary to our manuscript (Figs. 2 and 3). Lush flowers similar to those decorating the penwork in our manuscript are also found in Cologne illumination; see Hemfort, 2001, figs. 47 and 74.
We are grateful to James Marrow and Anne Margreet As-Vijvers for their expertise.
Literature
Defoer, H. et al. The Golden Age of Dutch Manuscript Painting, Stuttgart, 1989.
Hemfort, Elisabeth. Monastische Buchkunst zwischen Mittelalter und Renaissance, Bergisch Gladbach, 2001.
Van Bergen, Wilhelmina (Saskia). "De Meesters van Otto van Moerdrecht. Een onderzoek naar de stijl en iconografie van een groep miniaturisten, in relatie tot de productie van getijdenboeken in Brugge rond 1430," PhD dissertation, Universiteit van Amsterdam, Amsterdam, 2007.
Van Bergen, Saskia. "28. Book of Hours," in Splendour of the Burgundian Netherlands, edited by Anne Margreet As-Vijvers and Anne S. Korteweg, Utrecht, 2018, pp. 126-127.
BOH 207
Please send me further information about this work.