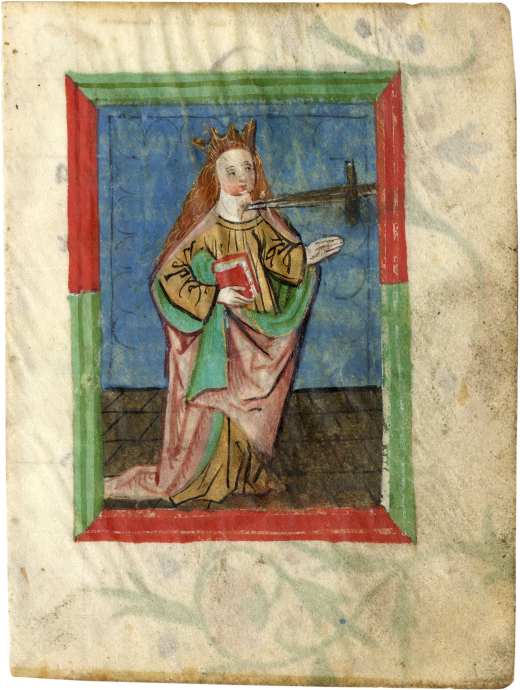 1
/
3



Saint Lucy of Syracuse, leaf from a Prayerbook. Tempera on parchment
Southern Germany, Munich (?), c. 1500–1520
Leaf: 105 × 78 mm; miniature: 72 × 51 mm
%3Cdiv%20class%3D%22title%22%3E%3Cem%3E%3Cp%3EBavarian%20Illuminator%3C%2Fp%3E%3C%2Fem%3E%2C%20Southern%20Germany%2C%20Munich%20%28%3F%29%2C%20c.%201500%E2%80%931520%3C%2Fdiv%3E%0D%3Cdiv%20class%3D%22medium%22%3ESaint%20Lucy%20of%20Syracuse%2C%20leaf%20from%20a%20Prayerbook.%20Tempera%20on%20parchment%3C%2Fdiv%3E%0D%3Cdiv%20class%3D%22dimensions%22%3ELeaf%3A%20105%20%C3%97%2078%20mm%3B%20miniature%3A%2072%20%C3%97%2051%20mm%3C%2Fdiv%3E
Print
Description
This single leaf, with a richly colored full-page miniature of Saint Lucy of Syracuse, originated from a Prayerbook of intimate size made in Southern Germany. The saint is depicted wearing her martyr's crown overtop long flowing hair with rosy cheeks indicative of the so called "Sweet-Style" fashionable in Swabia and Bavaria. Dressed in a glittering gold robe beneath a green and pink cloak, the Saint clutches a book in her left hand while a dagger, recalling her martyrdom, pierces her throat. A tiled floor pattern and faint penwork arches in the background suggest an interior space, but the vivid blue backdrop implies the outdoors or perhaps a doorway. The scene is enclosed with a beveled frame of alternating green and red segments. The verso contains a large green foliate initial 'K' on blue ground with scrolling foliage in the margins, terminating in flowerheads and gold bezants. The text is executed in thirteen lines of Middle German in an angular late gothic bookhand (incipit: "Kum heylige iunckfraw und martrerin Lucia…"; explicit: "…frau und martrerim Lucia").
Two sister leaves are presently known from this Prayerbook. The first depicts the Infant Christ Child as Salvator Mundi (fig. 1; Les Enluminures MIN 50120) while a second features Saint Anthony the Hermit (fig. 2; Maggs Brother, cat. 1283, Illuminations, 1999, no. 27). All three leaves are ruled for thirteen lines with identical dimensions of 50 x 70 mm. A fourth leaf with Saint Wolfgang of Regensburg is also known from this workshop (fig. 3; Les Enluminures MIN 50300) but was most likely painted for a different Prayerbook being ruled for sixteen rather than thirteen lines. The dialect in all four leaves points to Bavaria. "Piten" (instead of "biten/bitten") and "pischof" (instead of "bischof") are especially revealing. Diphthongs of î to ei ("dein/mein" instead of "mîn/dîn") are also typical of the region. Although trimmed, the small size of these three richly decorated vellum leaves reveals a parent Prayerbook of intimate proportions commissioned no doubt for an affluent client.
The style of illumination is reminiscent of painting at the Pütrich Regelhaus, an influential convent in Munich. Many of the same features of our miniatures can be seen, for example, in an illumination of the Agony in the Garden from a copy of Stephan Fridolin Schatzbehalter (Treasure Chest of the True Riches of the Saints and Eternal Salvation) painted in the first decade of the sixteenth century (fig 4; Munich, Bayerische Staatsbibliothek Cgm. 4475, f. 1v). Figures are scaffold with thick, bold lines while hair, skin, and garments are layered over top with soft modeling. Also notable is the distinctive framing device, beveled with alternating blocks of red and green. Our leaves also fit the profile of Pütrich manuscripts. After its library was dismembered following the observant reforms of 1478, Pütrich operated without any formal library and contemporary accounts inform us that the sisters only possessed small breviaries, prayer books, and a few volumes with legends of saints and sermons for private reading. Nearly all of these were written in German rather than Latin and are today held mainly in the Bayerische Staatsbibliothek in Munich. The hopeful emergence of further leaves from the parent manuscript will clarify the exact relationship between these miniatures and the Pütrich milieu.
Bibliography
Unpublished: For further reading see:
Breitenbach, Almut and Stefan Matter. "Image, Text, and Mind: Franciscan Tertiaries Rewriting Stephan Fridolin's Schatzbehalter in the Pütrichkloster in Munich," in Nun's Literacies in Medieval Europe: The Antwerp Dialogue, ed Virginia Blanton, Veronica O'Mara and Patricia Stoop, Turnhout, 2017, 297–318.
Hömberg Melanie, et al. "München, Franziskanertertiarinnen, Pütrich-Regelhaus," Bayerische Landesbibliothek Online. https://www.bayerische-landesbibliothek-online.de/muenchen-franziskanertertiarinnen
Jacobi, Franz. Studien zur Geschichte der bayerischen Miniatur des XIV. Jahrhunderts, Strasburg, 1908.
Merkl, Ulrich. Buchmalerei in Bayern in der ersten Hälfte des 16. Jahrhunderts. Spätblüte und Endzeit einer Gattung, Regensburg, 1999.
Pfändtner, Karl-Georg. "Masse exklusiv – Funktion und Gebrauch illuminierter Inkunabeln und Drucke des deutschsprachigen Raums im 15. und 16. Jahrhundert," Wiener Jahrbuch für Kunstgeschichte (2009), 219–38.
Suckale, Robert. Die Hofkunst Kaiser Ludwigs des Bayern, Munich, 1993.
Please send me further information about this work.