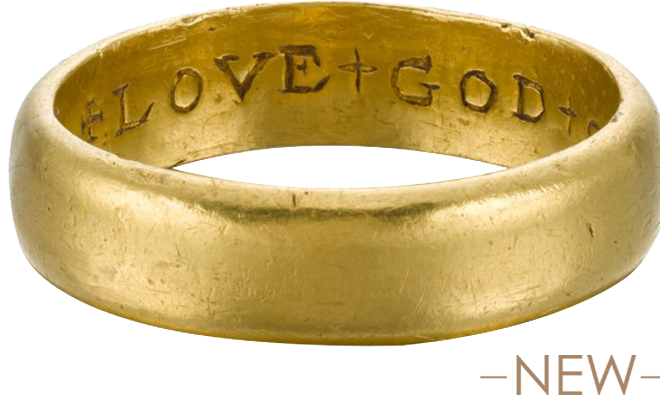 1
/
3



Posy Ring "Love God Onle weth Fathe"
Gold
England, 17th century
Weight 10.4 gr.; Circumference 59.34 mm.; US size 9; UK size R 3/4
A weighty posy ring with excellent provenance from the family collection of the late Countess Mountbatten of Burma and India
%3Cdiv%20class%3D%22title%22%3E%3Cem%3E%3Cp%3EPosy%20Ring%20%26ldquo%3BLove%20God%20Onle%20weth%20Fathe%26rdquo%3B%3C/p%3E%3C/em%3E%2C%20England%2C%2017th%20century%3C/div%3E%0D%3Cdiv%20class%3D%22medium%22%3EGold%3C/div%3E%0D%3Cdiv%20class%3D%22dimensions%22%3EWeight%2010.4%20gr.%3B%20Circumference%2059.34%20mm.%3B%20US%20size%209%3B%20UK%20size%20R%203/4%3C/div%3E
Print
Description
A weighty posy ring with excellent provenance from the family collection of the late Countess Mountbatten of Burma and India
Heavy, wide gold hoop with D-section and engraved on the interior is the inscription in capital letters "+LOVE+GOD+ONLE+WETH+FATHE" (Love God only with faith) with the initials WFB. The ring shows sign of wear through age and is in good wearable condition.
Provenance:
The Family Collection of the late Countess Mountbatten of Burma and India: Patricia Victoria Knatchbull, 2nd Countess Mountbatten of Burma (1924-2017 and her late husband John Knatchbull, 7th Baron Brabourne (1924-2005) of Newhouse, in Mersham Kent. The ring belonged to the historic jewels of the Knatchbull family.
Literature:
Rings with love mottos and inscriptions were known as "posy rings," a term which derives from the term poetry or poésie. They were well established by the Tudor and Elizabethan periods, and feature in the plays of William Shakespeare, such as in Hamlet (III, 2, 162) "Is this a prologue, or the posy of a ring" and in The Merchant of Venice. Posy rings concealed inside the hoop discreet messages, the content being only known by the giver and recipient. Throughout the seventeenth and eighteenth centuries, posy rings enjoyed great popularity and served as gifts between friends, family, and lovers, as well as wedding rings.
The motto "Love God only with faith" does not appear in any compendiums, nor is it mentioned in Joan Evan's recorded mottos for posy rings, published in 1931. Two rings in the British Museum, London, donated by Joan Evans, are similar in proportion and lettering. The messages read: "IN GOD IS ALL MY TRUST" and "I JOYE IN GOD."
For a history of posy rings with an extensive list of posies, see Evans, 1931 and Anon., A Garland of Love: A Collection of Posy-Ring Mottoes, London 1907. For further information, see Dalton 1912, pp. 174 ff.; Scarisbrick 2007, pp. 74 ff., Taylor and Scarisbrick 1978, and Oman 1974, pp. 39 ff..
R-970
Please send me further information about this work.