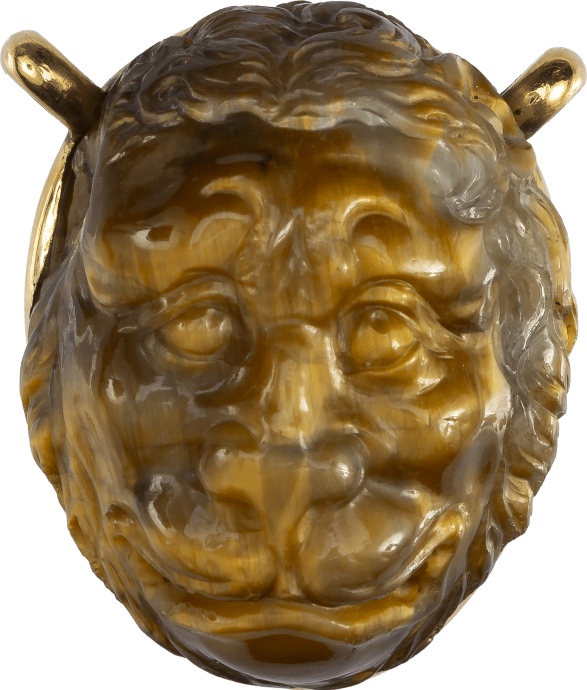 1
/
4




Cameo with the Head of a Lion
Gold, tiger's eye (cat's eye)
Italy (probably Milan), c. 1600, modern gold mounT
Weight 17.8 gr.; Width 25.2 mm; Length 31.5 mm; Depth 15.4 mm
Exquisitely crafted Renaissance cameo with exceptional provenance
%3Cdiv%20class%3D%22title%22%3E%3Cem%3E%3Cp%3ECameo%20with%20the%20Head%20of%20a%20Lion%3C%2Fp%3E%3C%2Fem%3E%2C%20Italy%20%28probably%20Milan%29%2C%20c.%201600%2C%20modern%20gold%20mounT%3C%2Fdiv%3E%0D%3Cdiv%20class%3D%22medium%22%3EGold%2C%20tiger%E2%80%99s%20eye%20%28cat%E2%80%99s%20eye%29%3C%2Fdiv%3E%0D%3Cdiv%20class%3D%22dimensions%22%3EWeight%2017.8%20gr.%3B%20Width%2025.2%20mm%3B%20Length%2031.5%20mm%3B%20Depth%2015.4%20mm%3C%2Fdiv%3E
Print
Description
Exquisitely crafted Renaissance cameo with exceptional provenance
Cameo of a lion's head carved in tiger's eye (formerly known in the eighteenth and nineteenth century as cat's eye, and cymophane). The gemstone is semi-transparent in pale green to yellow and honey-colored yellow brownish in tone evoking the fur of the lion. The grimacing head is in frontal view and cut in high relief. The flowing mane, the teeth visible on the sides of the mouth and small indentations indicating the eye pupils enhances the naturalistic effect. The cameo is open set in a collet mount with two pendant loops.
Two French owl guarantee marks on the loops.
Provenance:
Baron Philipp von Stosch (1691-1757); Johann Lorenz Natter (1705-1763); A French gentleman; from whom acquired by George Spencer, 4th Duke of Marlborough (1739-1817), Blenheim Palace Oxfordshire; thence by descent to John Winston Spencer-Churchill, 7th Duke of Marlborough (1822-1883), Blenheim Palace, Oxfordshire; David Bromilow, Bitteswell Hall, Lutterworth, until 1898; by descent to Julia Harriet Mary Jary (née Bromilow); Christie, Manson and Woods, London, Catalogue of the Marlborough Gems: Being a Collection of Works in Cameo and Intaglio formed by George, 3rd Duke of Marlborough, 27 June 1899, lot 717 to C. Davis; Christie's London, 15 July 1969, lot 56; French private collection until 2019.
Published:
Album of photographs of the Marlborough gems, 1875, p. 11, pl. 6, no. 5; M.H. Story-Maskelene. The Marlborough Gems, p. XVII (introduction), p. 116, no. 717; John Boardman/ Diana Scarisbrick/ Claudia Wagner/ Erika Zwierlein-Diehl. The Marlborough Gems, formerly at Blenheim Palace, Oxfordshire, Oxford 2009, p. 235, no. 531; J. Boardman/ J. Kagan/C. Wagner et al, Natter's Museum Britannicum, British Gem Collections and Collectors of the Mid-Eighteenth Century, 2017, p. 216, no. 516, pl. L7.
Literature:
Rare and exceptional is the provenance of the cameo which once belonged to some of the most renowned gem collectors of the eighteenth century. The original owner was Baron Philipp von Stosch (1691-1757) an eminent collector and antiquarian from Prussia who lived in Rome and Florence. He had accrued a collection of 3500 gems. It was then owned by Johann Lorenz Natter (1705-1763), a gem-engraver and medalist from Germany who learnt the craft of gem engraving in Venice. Baron Stosch was Natter's mentor and they had known each other since 1730. Natter illustrated the lion head cameo in his album of drawings Museum Britannicum (quoted above) and described it as "antiq tres beau" (fig.3). For the significance of Stosch and Natter, see: Peter and Hilde Zazoff. Gemmensammler und Gemmenforscher von einer noblen Passion zur Wissenschaft, Verlag C. H. Beck, Munich 1983, pp. 3-70, and 129 ff..
Thereafter it belonged to an unknown French gentleman from whom the cameo was acquired by the great gem collector George Spencer, the 4th Duke of Marlborough (1739-1817). The breathtaking quality of the cameo would have attracted the duke's eye, but possibly also its motif, as the heraldic lion features prominently in the family coat of arms.
Natter was patronized by royalty and high aristocracy all over Europe and came to Britain by invitation of the Royal family; among other commissions he designed the Coronation medal for George III. He also worked for the Duke of Marlborough for whom in 1761 he published Catalogue des pierres gravées tant en relief qu'en creux de Mylord Comte de Bessborough. The Bessborough gems formed part of the famous Marlborough Collection considered to be one of the most important and finest of its time; its content with 800 gems was finally dispersed in 1899. Further to this Natter had worked for the Dukes of Devonshire, and interestingly a cameo in the Devonshire Collections at Chatsworth depicting a "Mascaron" with human features has been noted for its closeness in style and craftsmanship with the lion's head. Both have the same dimensions. and it has been suggested the two cameos may have even been carved by the same hand.
Cameos of such superb sculptural quality and craftsmanship, like that of the lion's head, would have been carved in Northern Italy, and likely in Milan, which at the time was the center of high artistry in hardstone carving of precious vessels and cameos alike. The lapidary work of the Milanese masters was in great demand at the Courts of Europe, such as Florence, Madrid, Prague, and Paris. The exploitation of the translucency of the gemstone and the expressiveness of the lion compares with the carvings by the Miseroni workshop in Milan, for example a cup made of smoky quartz in the Wallace Collection, London with mascaron by Giovanni Ambrogio Miseroni (1551/2-1616), c. 1610, and various vessels from the Treasury of Emperor Rudolf II, whose love of lapidary art was well-known, today in the Kunsthistorisches Museum, Vienna: Rudolf Distelberger, Die Kunst des Steinschnitts: Prunkgefässe, Kameen und Commessi aus der Kunstkammer, Kunsthistorisches Museum, Vienna, 2002 (exh. cat), cat. nos. 95 with monster, nos. 96, 102 with mascaron all by Girolamo Miseroni (c. 1522-1600), c. 1590-1600 and no. 149 with mask by Ottavio Miseroni (1568-1624), c. 1600-1605 and for the Wallace Collection cup, p. 83, fig. 18).
Intriguing in respect of the lion motif is a drawing in the Victoria and Albert Museum, London, with design for a lion mask (inv. no. E.634-1922). Its inscription "Gio Battista Mantuano" indicates the possible authorship of either Giovanni Battista Scultori (1503-1575) or Giovanni Battista Bertani (1516-1576). Both had trained with Giulio Romano in Mantua.
Both drawing and closeness to the work of the Miseroni workshop in Milan confirms an origin of the cameo from Northern Italy and a date of c. 1600.
The cameo was formerly "set in a pretty frame formed of golden loops and flowers, with knotted paws below the head and a pearl" (as documented in the photograph album of the Marlborough Gems of 1875, quoted above). This rather whimsical mount has later been replaced by an open collet gold frame with two loops, allowing it to be worn as a pendant. The mount is sympathetic to the cameo and allows its superb sculpture of the lion's head to come to the fore.
Further Literature:
A. De Boodt, Le parfait Joaillier, ou Histoire des pierreries..., Lyon, 1644, pp. 290-292;
U. R. Hansson, '"Ma passion… ma folie dominante": Stosch, Winckelmann, and the Allure of the Engraved Gems of the Ancients', in MDCCC 1800, vol. 3, 2014, pp. 13-33;
R. Eikelmann (ed.), Bella Figura: Europäische Bronzekunst in Süddeutschland um 1600, exh. cat. Bayerisches Nationalmuseum, Munich, 2015.
Condition report available upon request.
Please send me further information about this work.