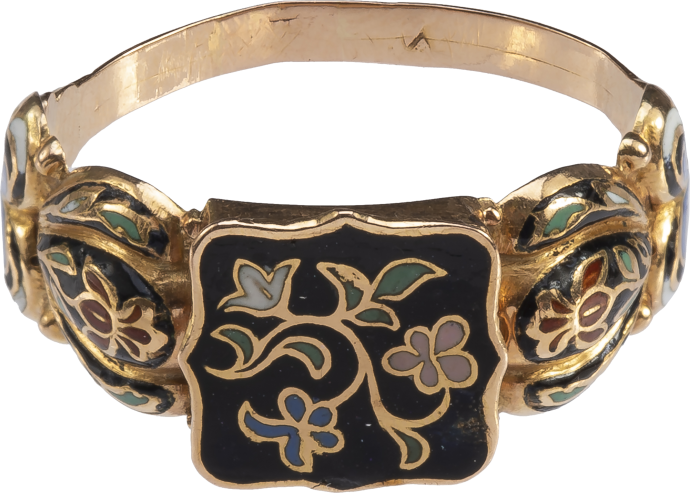 1
/
7







Enameled Ring with Flowers
Gold, enamel
France, c. 1835
Weight 2 gr.; circumference 57.65 mm.; US size 8 ¼ ; UK size Q ½
Charming enamel ring, with a concealed compartment for keepsakes and brimming with expressions of love.
%3Cdiv%20class%3D%22title%22%3E%3Cem%3E%3Cp%3EEnameled%20Ring%20with%20Flowers%3C%2Fp%3E%3C%2Fem%3E%2C%20France%2C%20c.%201835%3C%2Fdiv%3E%0D%3Cdiv%20class%3D%22medium%22%3EGold%2C%20enamel%3C%2Fdiv%3E%0D%3Cdiv%20class%3D%22dimensions%22%3EWeight%202%20gr.%3B%20circumference%2057.65%20mm.%3B%20US%20size%208%20%C2%BC%20%3B%20UK%20size%20Q%20%C2%BD%3C%2Fdiv%3E
Print
Description
Charming enamel ring, with a concealed compartment for keepsakes and brimming with expressions of love.
Gold ring with lower hoop, plain on the interior and grooved along the exterior. The enameled bulbous shoulder is formed of a white rosette, a double-scroll in white, blue, and black, and a flower-shaped end decorated with a dark red iris bloom against black accompanied by green foliage. The rectangular bezel has a concealed compartment with cartouche-shaped hinged lid and floral ornaments (pansy, forget-me-not, myrtle). The ring is in good wearable condition.
On the inside of the hoop is the French guarantee mark in the form of a ram's head indicating small gold items made in France between 1819-1838. On the interior is a partial lozenge-shaped maker's mark.
Literature:
This charming ring probably once held a small keepsake of a loved one, like a lock of hair, in the concealed compartment inside the bezel. The stylized floral ornaments are a further expression of love, like the red iris (faith, purity), pink pansy (loyalty), blue forget-me-not, and white myrtle (marriage, love, and passion). For the language of flowers, see: Marina Heilmeyer, The Language of Flowers. Symbols and Myths, Prestel, Munich, London, New York 2001, pp. 34, 60, 80, 86, 94).
Between 1830 and 1840, rings with concealed messages of love and enameled floral ornaments became popular in France, Italy, and Germany. The Alice and Louis Koch Collection in the Swiss National Museum, Zurich, has a selection in varying designs, cf. Chadour 1994, vol. II, nos. 1446 (for style) and nos. 1443-1452 (for variations of type and country of origin).
The hallmarks confirm the French origin of this ring and date.
R-981
Please send me further information about this work.