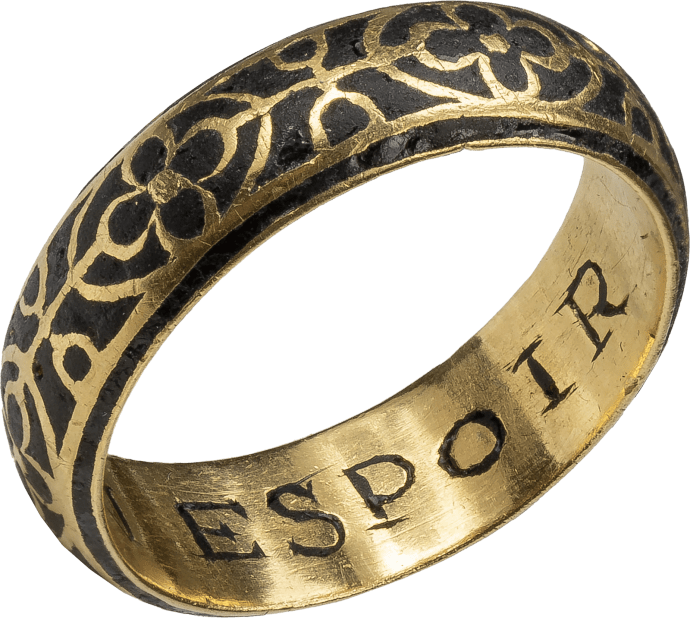 1
/
3



Posy Ring "LE BON ESPOIR"
Gold, champlevé enamel
England, early 17th century
Weight 9.1 gr; Circumference 60.98 mm.; US size 9 1/2; UK size S ¾
An exceptional and impressively enameled posy ring, expressing hope and optimism.
%3Cdiv%20class%3D%22title%22%3E%3Cem%3E%3Cp%3EPosy%20Ring%20%26ldquo%3BLE%20BON%20ESPOIR%26rdquo%3B%3C%2Fp%3E%3C%2Fem%3E%2C%20England%2C%20early%2017th%20century%3C%2Fdiv%3E%0D%3Cdiv%20class%3D%22medium%22%3EGold%2C%20champlev%C3%A9%20enamel%3C%2Fdiv%3E%0D%3Cdiv%20class%3D%22dimensions%22%3EWeight%209.1%20gr%3B%20Circumference%2060.98%20mm.%3B%20US%20size%209%201%2F2%3B%20UK%20size%20S%20%C2%BE%3C%2Fdiv%3E
Print
Description
An exceptional and impressively enameled posy ring, expressing hope and optimism.
Wide gold band plain gold on the interior and on the exterior a frieze with four-lobed rosettes in oval frames and stylized foliage in silhouette against black champlevé enamel. Inside the hoop is the engraved inscription in French: "LE BON ESPOIR." The ring shows signs of wear through age and is in good wearable condition.
Literature:
'Posy rings', their name deriving from the term poésie or poetry, are rings with mottoes or inscriptions on a plain gold band, either in prose or verse. They find mention in plays by William Shakespeare, such as Hamlet and the Merchant of Venice, and, throughout the seventeenth and eighteenth centuries posy rings enjoyed great popularity. These were traditionally exchanged between friends, relatives and lovers, or given as betrothal or marriage rings. Like here, the message was concealed inside the hoop and its content only known to the wearer and giver.
The French posy inscription "Le Bon Espoir" means "good hope" and expresses the wish or expectation of a good future, either in friendship, love or marriage. A ring in the Griffin Collection with geometric patterned band has a related inscription in English "I live in hope," see: Scarisbrick 2021, no. 70.
Similar interlaced or strapwork patterns and rosettes appear on various posy rings of the late sixteenth and early seventeenth century in the British Museum, London. Two of these were gifted by Dame Joan Evans who wrote the compendium on English Posies and Posy Rings (inv. nos. 1961,1202.130; 1961,1202.459), another is from a treasure find (2002,0501.1) and Dalton 1912, no. 1232. The inscriptions are in English or French and the rings often have traces of black or white enamel. It is rare to find a ring with the black enamel in such completeness, as here.
For a history of posy rings with extensive examples ranging from the medieval period to eighteenth century, see: Scarisbrick 2021 and further information on posies: Evans, 1931; Anon., A Garland of Love: A Collection of Posy-Ring Mottoes, London 1907; Dalton 1912, pp. 174 ff.; Scarisbrick 2007, pp. 74 ff., Taylor and Scarisbrick 1978; Oman 1974, pp. 39 ff.
R-992
Please send me further information about this work.