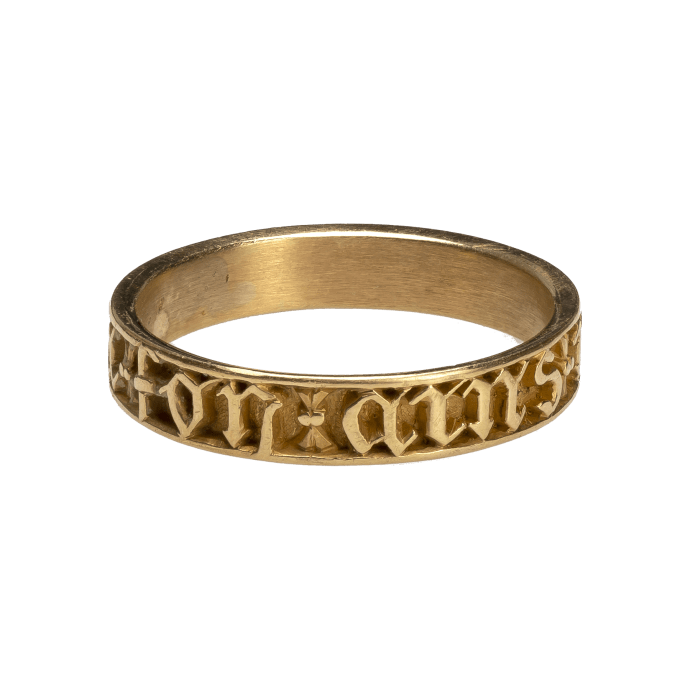 1
/
4




Neo-Gothic Ring with Inscription
Gold
Probably France, 19th century
Weight 3.9 gr; Circumference 61.29 mm; US size 9 5/8; UK size T
%3Cdiv%20class%3D%22title%22%3E%3Cem%3E%3Cp%3ENeo-Gothic%20Ring%20with%20Inscription%3C/p%3E%3C/em%3E%2C%20Probably%20France%2C%2019th%20century%3C/div%3E%0D%3Cdiv%20class%3D%22medium%22%3EGold%3C/div%3E%0D%3Cdiv%20class%3D%22dimensions%22%3EWeight%203.9%20gr%3B%20Circumference%2061.29%20mm%3B%20US%20size%209%205/8%3B%20UK%20size%20T%3C/div%3E
Print
Description
Charming Revival ring with Gothic lettering reminiscent of medieval manuscripts and jewelry
Plain gold band with a frieze-like inscription in relief with accompanying rim. The polished, black Gothic style lettering in French reads "ma foy.ains ne finira" (my faith never ends) against a matt background that commences with a four-petal rosette. The ring is in good wearable condition.
Literature:
During the Romantic period, especially from the 1830s and 1840s, jewelers harked back to the medieval period by working in the Gothic Revival style. They were inspired by its chivalric myths and legends, as well it's as amorous tales. In France, Parisian jewelers, such as Lucien Falize (1839-1897) and Louis Wiése (1852-1923), continued working in the Gothic style as interest in medievalism extended into the second half of the nineteenth century. The fashion for inscriptions as an integral part of the design continued to be popular.
The Gothic lettering on the ring is reminiscent of both medieval manuscripts and jewelry, like ring brooches or posy rings with declarations of faith and love, often in combination. Inscriptions were either visible for the viewer on the exterior, like here, or concealed within the hoop. The inscription on this ring, "My faith never ends," would have had a personal meaning for the wearer. It can be interpreted as an expression of devotion or more likely, because of the rosette, as the faith in love of a person. Similar declarations can be found on medieval and later posy rings, such as en bon foy; or in English "Firme is my faithe" or "My faith is firme" (cf. Evans, 1931, pp. 7, 8 and 77).
R-1027
Please send me further information about this work.