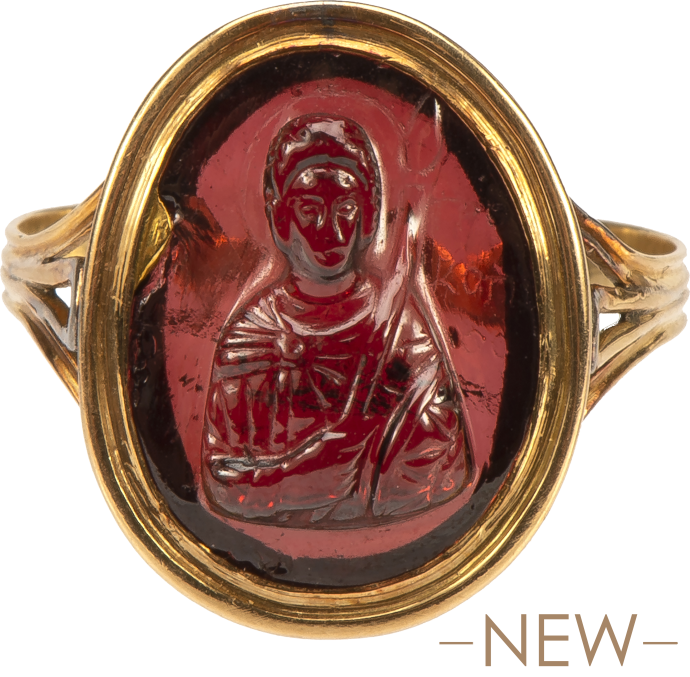 1
/
5





Ring with Cameo of Saint Procopius
Gold, garnet
Cameo, Middle Byzantine, c. 11th-12th century; mount, 19th century
Weight 4.4 gr; Circumference 60.98 mm.; US size 9 1/2; UK S ¾
Gold ring with plain hoop on the interior and fluted on the exterior. At the shoulder it forks with decorative central loop, which supports an near oval-shaped bezel with tapering sides and a grooved setting for the open set garnet cameo in ovoid form. The cameo is concave on the reverse and sculpted in high relief on the obverse with a half-length bust of Saint Procopius
%3Cdiv%20class%3D%22title%22%3E%3Cem%3E%3Cp%3ERing%20with%20Cameo%20of%20Saint%20Procopius%3C%2Fp%3E%3C%2Fem%3E%2C%20Cameo%2C%20Middle%20Byzantine%2C%20c.%2011th-12th%20century%3B%20mount%2C%2019th%20century%3C%2Fdiv%3E%0D%3Cdiv%20class%3D%22medium%22%3EGold%2C%20garnet%3Cbr%20%2F%3E%0A%3C%2Fdiv%3E%0D%3Cdiv%20class%3D%22dimensions%22%3EWeight%204.4%20gr%3B%20Circumference%2060.98%20mm.%3B%20US%20size%209%201%2F2%3B%20UK%20S%20%C2%BE%3C%2Fdiv%3E
Print
Description
Gold ring with plain hoop on the interior and fluted on the exterior. At the shoulder it forks with decorative central loop, which supports an near oval-shaped bezel with tapering sides and a grooved setting for the open set garnet cameo in ovoid form. The cameo is concave on the reverse and sculpted in high relief on the obverse with a half-length bust of Saint Procopius. He wears a cloak fastened with a circular fibula brooch towards the right shoulder and holds a spear with his left hand, on the right he holds a shield. Engraved is a halo, and on either side runs a Greek inscription: ΑΓΙΟ ΠΡΟΚΟΠΙΟC (Saint Procopius). On the left a gold inlay fills a small gap of stone. The ring is excellent wearing condition.
Provenance:
Giorgio Sangiorgi (1886-1960), a renowned collector and dealer of antiquities with a gallery in Rome. He acquired and brought the ring to Switzerland in the late 1930s; thence by continuous descent to the current owner.
Published:
John Boardman and Claudia Wagner, Masterpieces in Miniature: Engraved Gems from Prehistory to the Present, London 2018, p. 252, no. 235.
Literature:
Saint Procopius of Scythopolis is venerated as a martyr and saint. Details of his life and martyrdom became known through the writings of the historian of Early Christianity Eusebius of Caesarea (260/5-339/40), who was also Bishop of Caesarea from 313AD. He describes Saint Procopius as a well-known ascetic, theologian, and philosopher, born in Jerusalem, but moved to Scythopolis where he held three ecclesiastical offices. With his companions he was sent to Caesarea Maritima. Saint Procopius was the first victim of the Roman Emperor Diocletian's persecutions of Christians and was decapitated on 7th July 303 AD. In 484 AD a church was erected and dedicated to him in Caesarea Maritima and his relics were translated to the Church of Saint Michael, in Antiochia, Syria. He is patron saint in Niš, Serbia and in the Eastern Orthodox Church of children and marriage.
During the Byzantine period garnet was a rare stone for cameo-cutting, as mentioned by John Boardman and Claudia Wagner (2018) who first published this cameo. A further Byzantine cameo cut from a garnet bead with full-length figure of Saint Irene and of the same date 11th – 12th century is in The Walters Art Museum, Baltimore (A. Garside, Jewelry: Ancient to Modern, New York 1979, p. 163, no. 466, here the cameo from the Sangiorgi Collection is also mentioned). Jeffrey Spier quotes a comparable cameo of Saint Procopius in the Museo Lazaro Galdiano, in Madrid.
The depiction of Saint Procopius on the Sangiorgi cameo follows in type and iconography that of icons, for example found on an icon with Crucifixion (Helen C. Evans and William D. Wixom, eds., The Glory of Byzantium, The Metropolitan Museum of Art, New York 1997, pp. 372-374, no. 245) and a diptych with Saint Procopius and the Virgin Kykkotissa, both in the Holy Monastery of Saint Catherine, Mount Sinai, Egypt (Helen C. Evans, ed., Byzantium Faith and Power (1261-1557), The Metropolitan Museum of Art, New York and Yale University Press. New Haven and London 2004, p. 355, no. 214). In the Middle Byzantine period Saint Procopius is found on ivories such as the Borradaile Triptych, British Museum, London (David Buckton, ed., Byzantium. Treasures of Byzantine Art and Culture from British Collections, British Museum, London 1994, pp. 142-143, no. 153.
R-958
Please send me further information about this work.