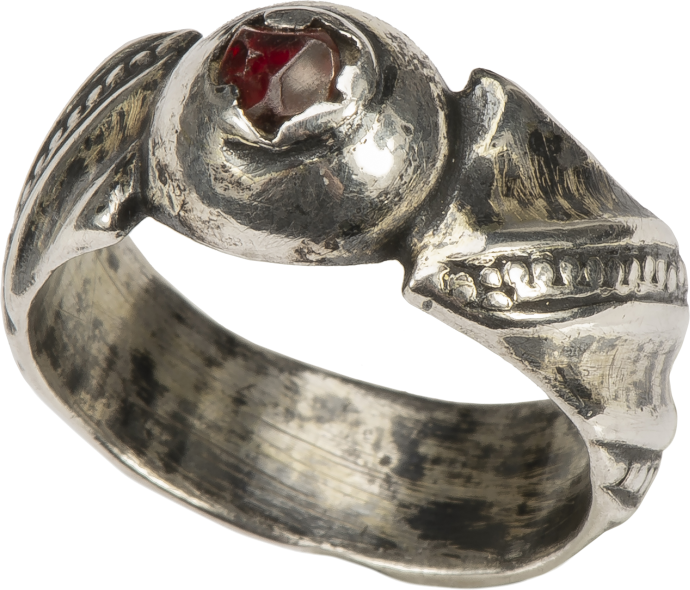 1
/
1

Ring with Ruby-Red Glass Stone
Silver, red glass
Southern Germany, early 16th century
Weight 6.9 gr; Circumference 59.34 mm; US size 9; UK size R ¾
This wearable spiraling silver band is topped with ruby-red glass. It is reminiscent of betrothal rings made in found Germany during the early 16th century. The design resembles a famous ring in the Treasury of the Munich Residence.
%3Cdiv%20class%3D%22title%22%3E%3Cem%3E%3Cp%3ERing%20with%20Ruby-Red%20Glass%20Stone%3C%2Fp%3E%3C%2Fem%3E%2C%20Southern%20Germany%2C%20early%2016th%20century%3C%2Fdiv%3E%0D%3Cdiv%20class%3D%22medium%22%3ESilver%2C%20red%20glass%3C%2Fdiv%3E%0D%3Cdiv%20class%3D%22dimensions%22%3EWeight%206.9%20gr%3B%20Circumference%2059.34%20mm%3B%20US%20size%209%3B%20UK%20size%20R%20%C2%BE%3C%2Fdiv%3E
Print
Description
Wide silver hoop, plain on the interior and on the exterior with spiraling bands with wide grooves alternating with decorative beaded bands. The straight ends of the hoop join an almost circular base for the hemispherical bezel. Set in the center in an irregular opening is a stone made of red glass, imitating a ruby. The ring shows signs of age and is in good wearable condition
Literature:
The ring design goes back to the early 16th century as can be found on signet rings with similar hoop decoration, either grooved or bulbous diagonal bands and the beaded ornament, cf. a silver ring in the Victoria and Albert Museum, London (inv. no. M.259-1962) and a gold example in the British Museum, London (Oman 1974, Plate 42 E and p. 104). Both are attributed to England, the coats of arms however remain unidentified.
The ring type with its spiraling bands bears resemblance with the wedding ring made in 1545 for Duke Albrecht V of Bavaria, in the Treasury of the Munich Residence, Munich (illustrated in Yvonne Hackenbroch, Renaissance Jewellery, Philip Wilson Publishers, London, p. 128, fig. 325). The ring has an elaborate rosette with diamonds as bezel. The design found on the hoop lived on in South German traditional jewelry often with red-colored stones which were worn as betrothal or marriage rings (cf. Ursula Röhrs, Der Ring 500 Jahre Schmuck, Magie, Handwerk und Design, Museum im Prediger, Schwäbisch Gmünd 2011, pp. 168-177). As the ruby was traditionally symbolic of love, it is likely the ring here with its ruby-coloured glass stone was once a betrothal or wedding ring.
R-960
Please send me further information about this work.