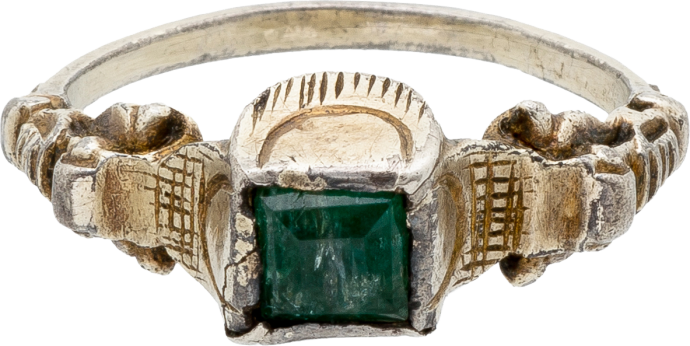 1
/
4




Renaissance-Style Ring with Emerald
Silver gilt, emerald
Probably Southern Germany, late 18th-19th century
Weight 5.2 gr.; circumference: 60.38 mm.; US size 9.25; UK size S ½
A charming silver gilt Neo-Renaissance ring with quatrefoil bezel that holds large table-cut emerald.
%3Cdiv%20class%3D%22title%22%3E%3Cem%3E%3Cp%3ERenaissance-Style%20Ring%20with%20Emerald%3C%2Fp%3E%3C%2Fem%3E%2C%20Probably%20Southern%20Germany%2C%20late%2018th-19th%20century%3C%2Fdiv%3E%0D%3Cdiv%20class%3D%22medium%22%3ESilver%20gilt%2C%20emerald%3C%2Fdiv%3E%0D%3Cdiv%20class%3D%22dimensions%22%3EWeight%205.2%20gr.%3B%20circumference%3A%2060.38%20mm.%3B%20US%20size%209.25%3B%20UK%20size%20S%20%C2%BD%3C%2Fdiv%3E
Print
Description
Silver gilt ring with D-section hoop widening towards the shoulders with elaborate scroll ornament. Quatrefoil bezel with engraved decoration, cusped underside and set with a table-cut emerald. The ring shows signs of age and is in good wearable condition.
Literature:
Renaissance designs continued to be popular in more traditional jewelry of Southern Germany in the 18th and 19th century, and later again throughout Europe when Renaissance revivals became ever more fashionable and collectible. During the Renaissance, such rings were often set with a diamond, ruby, sapphire, or even emerald, as here, and worn as betrothal or marriage rings, each stone had a symbolism related to love and romance. It is very likely this ring had been given for such an occasion with the emerald being the special choice of the giver expressing hope, love, and desire.
For the Renaissance prototype of a ring with quatrefoil bezel, cf. Chadour 1994, vol. I, no. 684-687 and for a ring from Southern Germany with similar design, workmanship and choice of silver with gemstones, vol. I, no. 1887 dated 18th – 19th century. Cf. also Ursula Röhrs, Der Ring 500 Jahre Schmuck, Magie, Handwerk und Design, Museum im Prediger, Schwäbisch Gmünd 2011, p. 73, no. 7).
R-718
Please send me further information about this work.