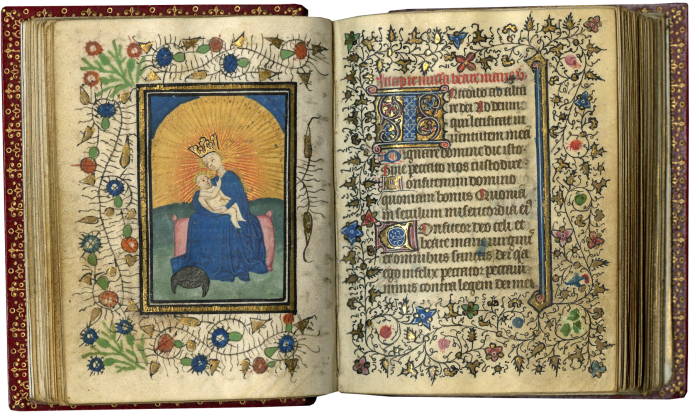 1
/
4




Book of Hours (use of Rome)
In Latin, illuminated manuscript on parchment. 12 miniatures by an artist of the Gold Scrolls Group
Northern France or Southern Belgium (Bruges?), c. 1420-1430
This pocket-sized Book of Hours is an elegant, early work from the Gold Scrolls Group, one of the most celebrated workshops of the fifteenth century. Its twelve full-page miniatures and abundant borders typify Bruges book illumination in the first quarter of the century.
%3Cdiv%20class%3D%22title%22%3E%3Cem%3E%3Cp%3EBook%20of%20Hours%20%28use%20of%20Rome%29%3C/p%3E%3C/em%3E%2C%20c.%201420-1430%3C/div%3E%0D%3Cdiv%20class%3D%22medium%22%3Eilluminated%20manuscript%20on%20parchment.%2012%20miniatures%20by%20an%20artist%20of%20the%20Gold%20Scrolls%20Group%3C/div%3E
Print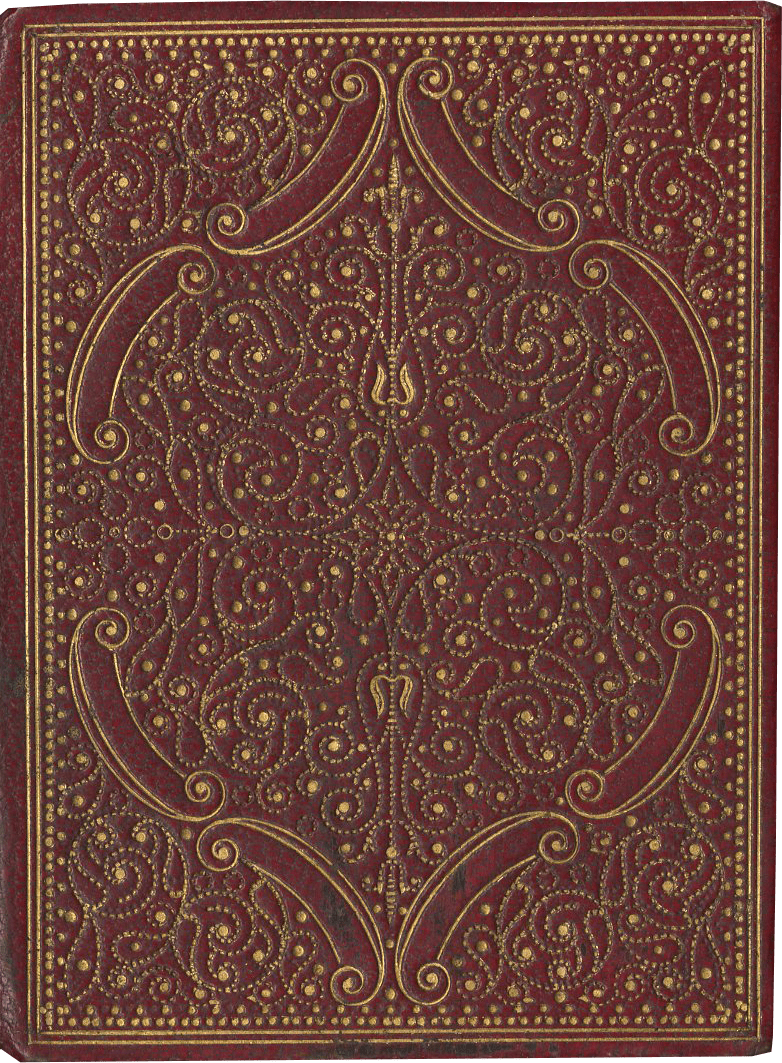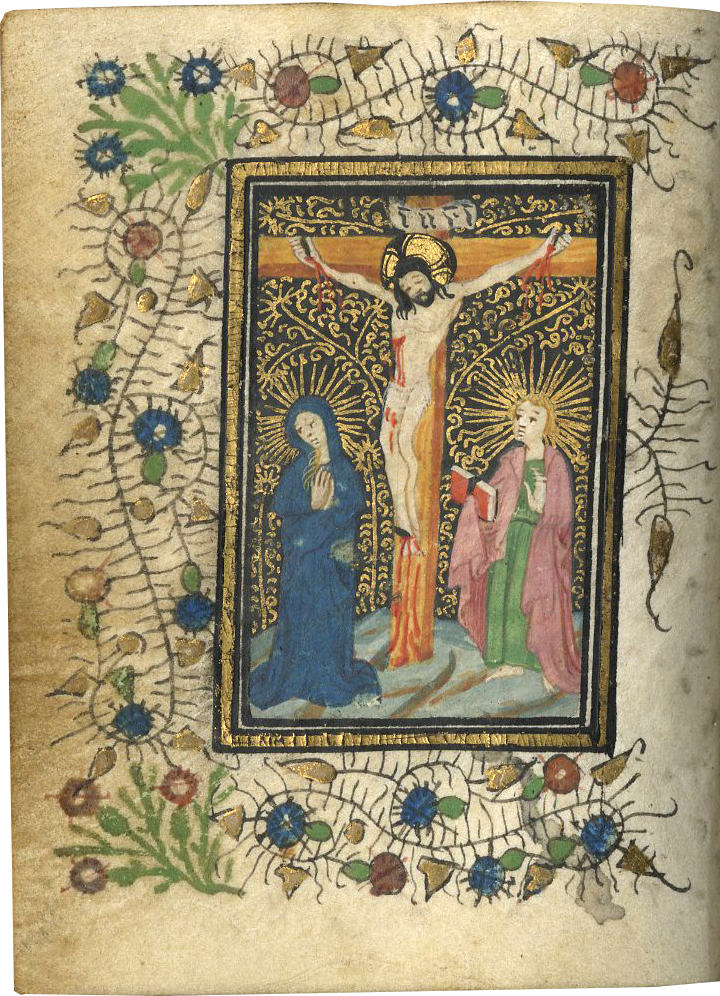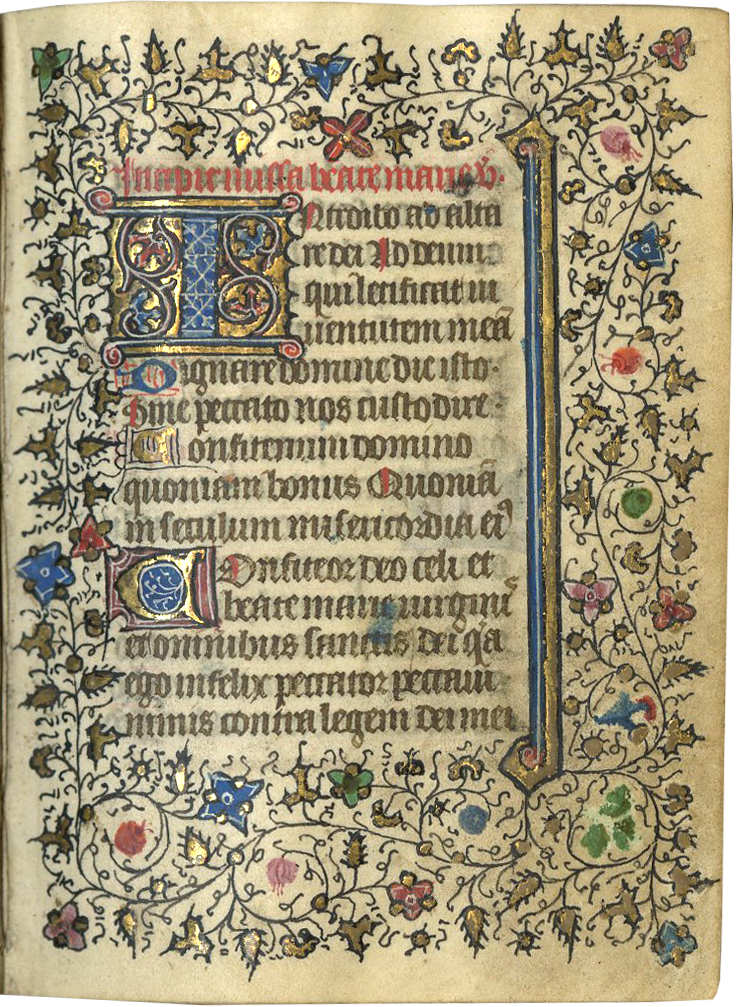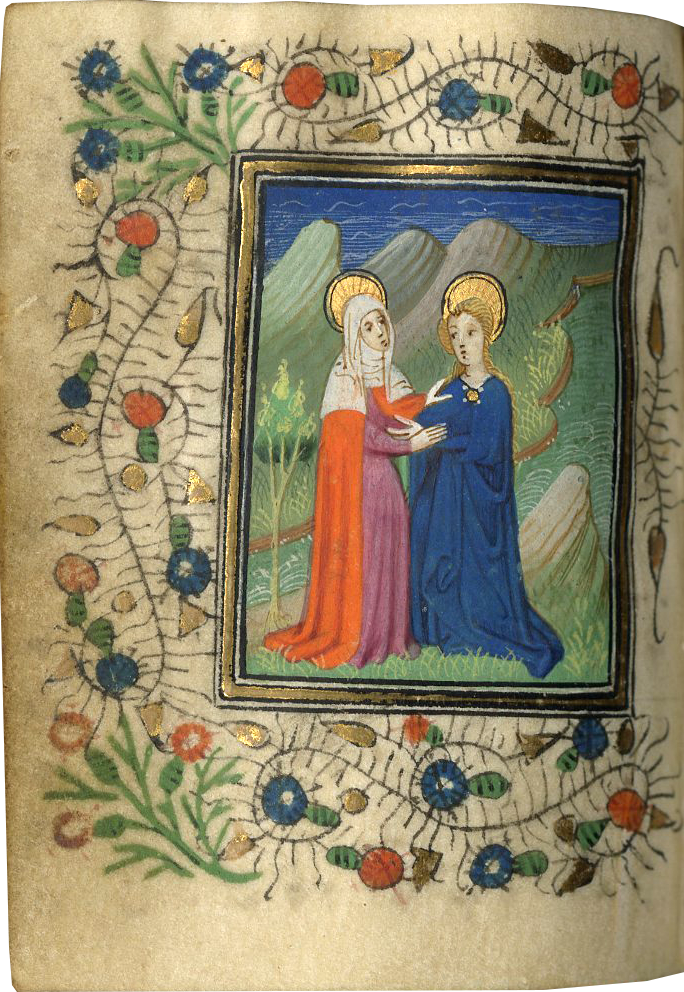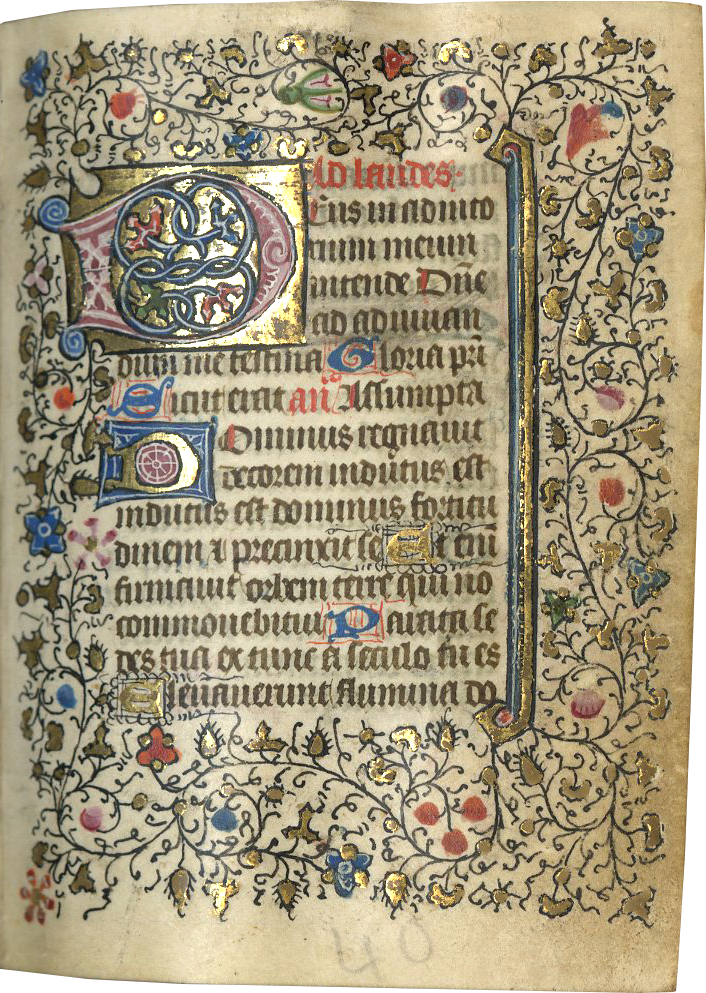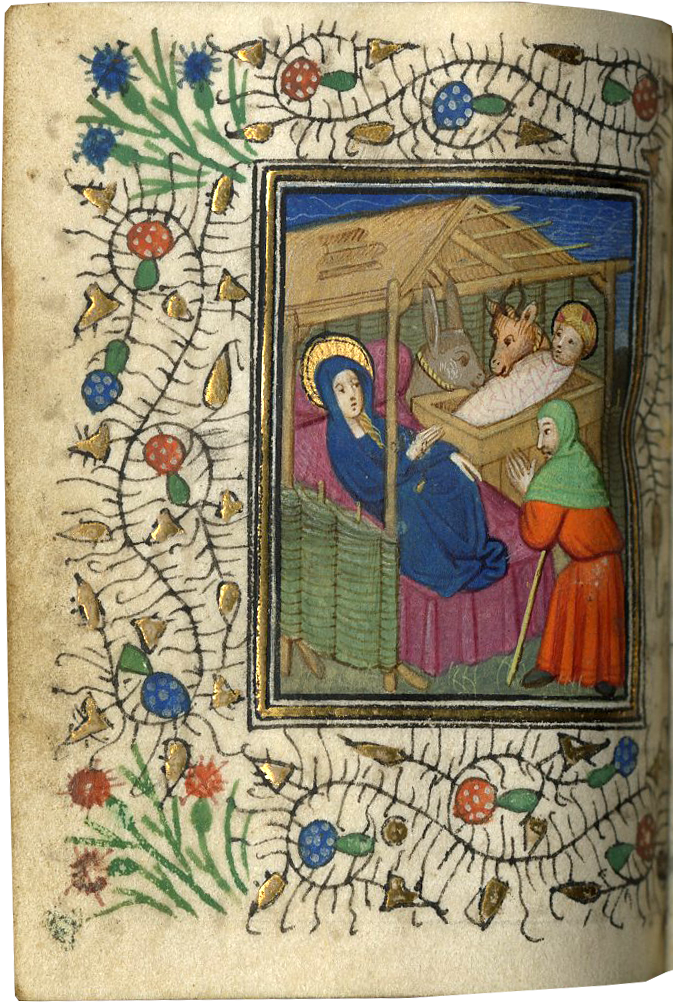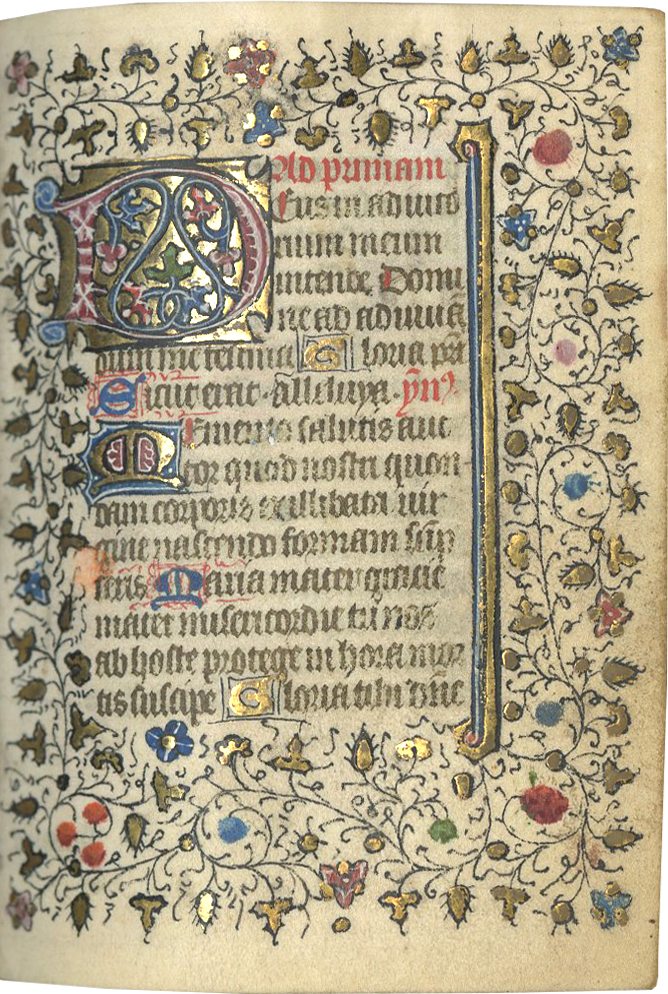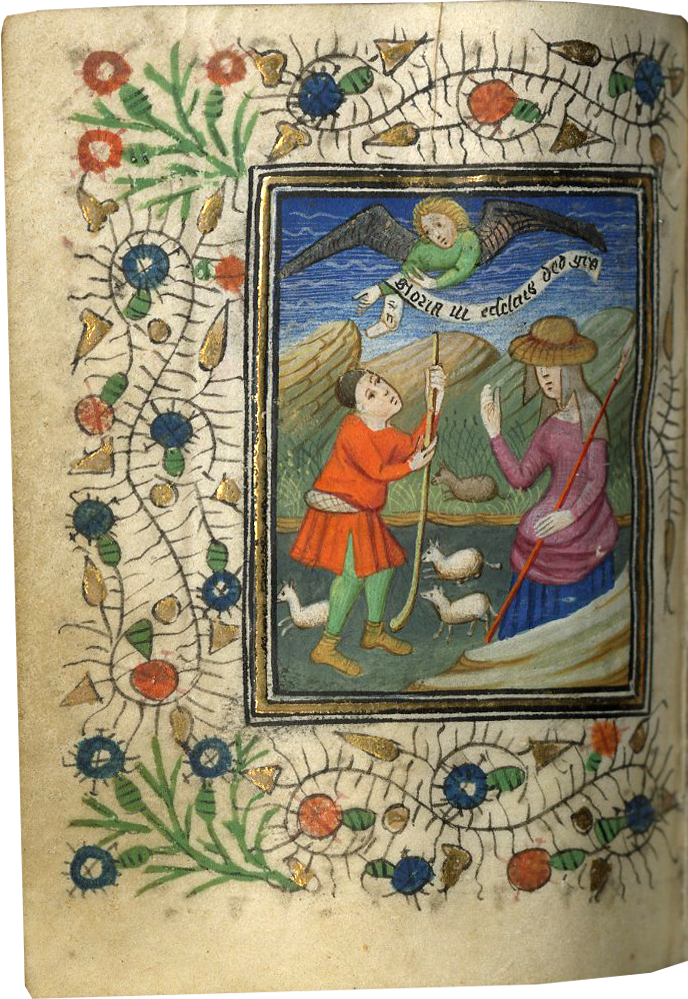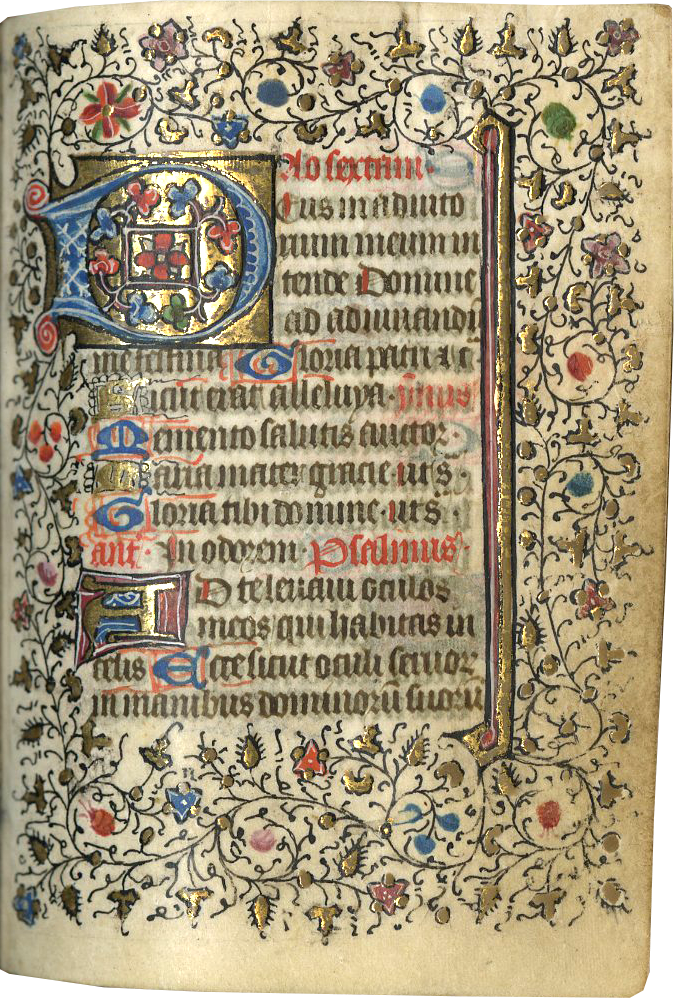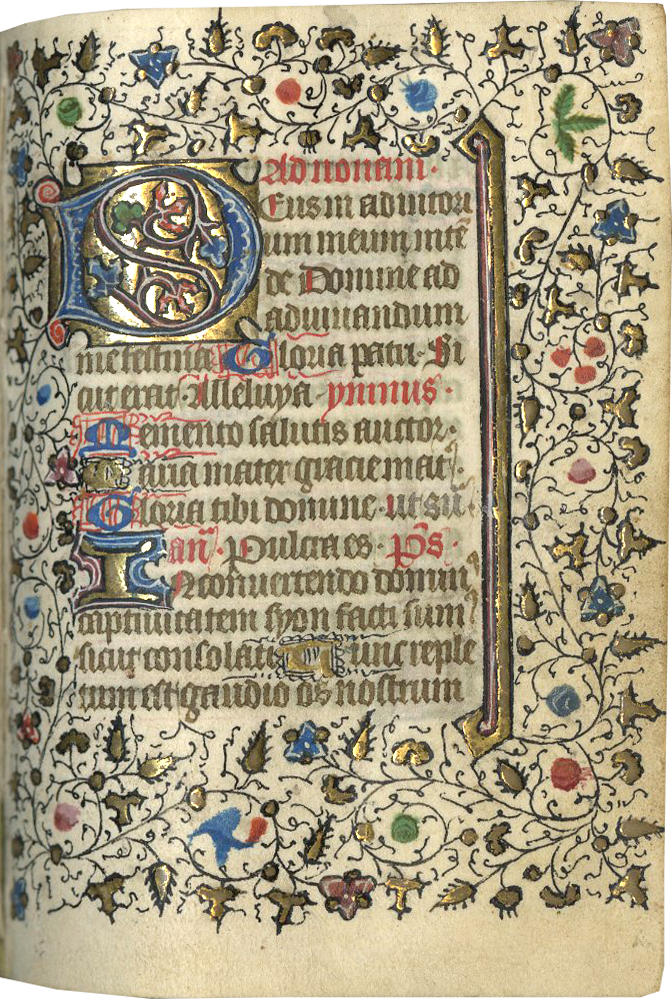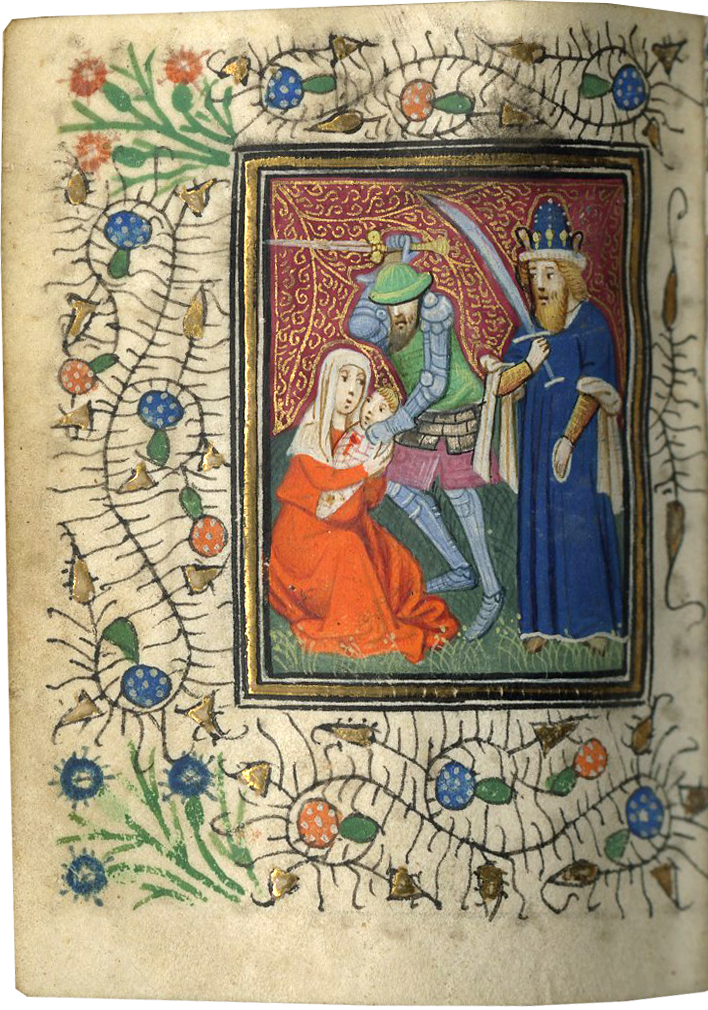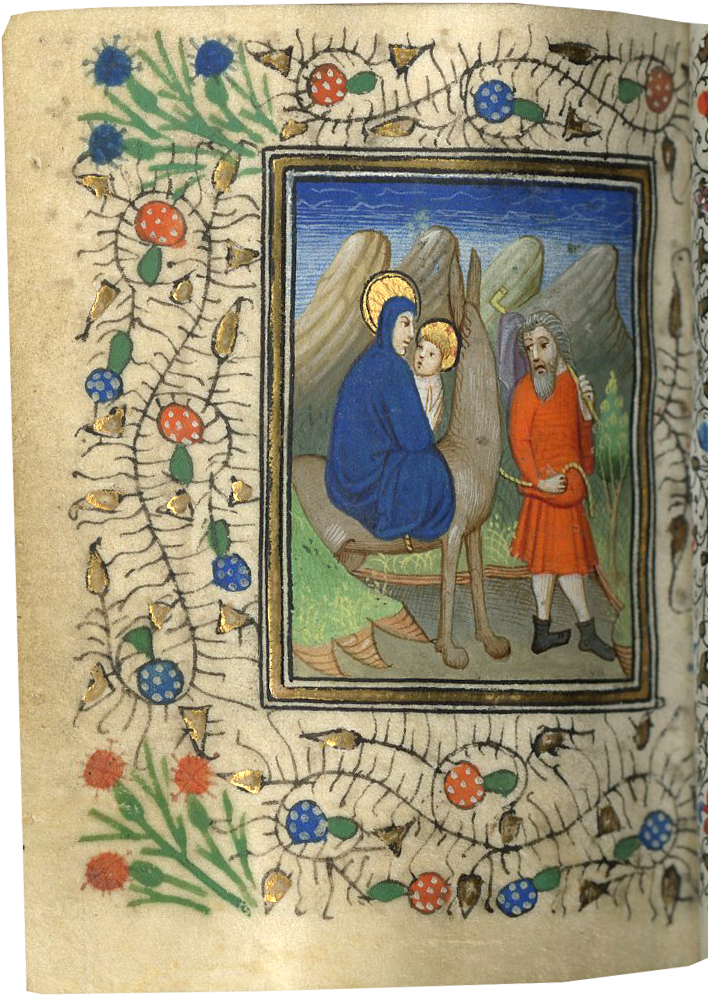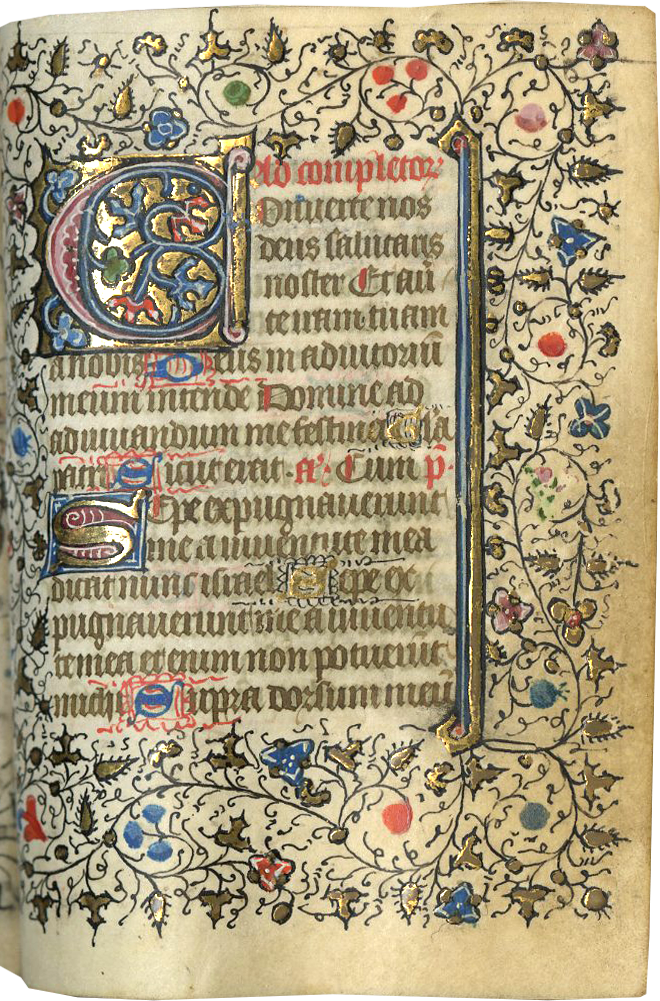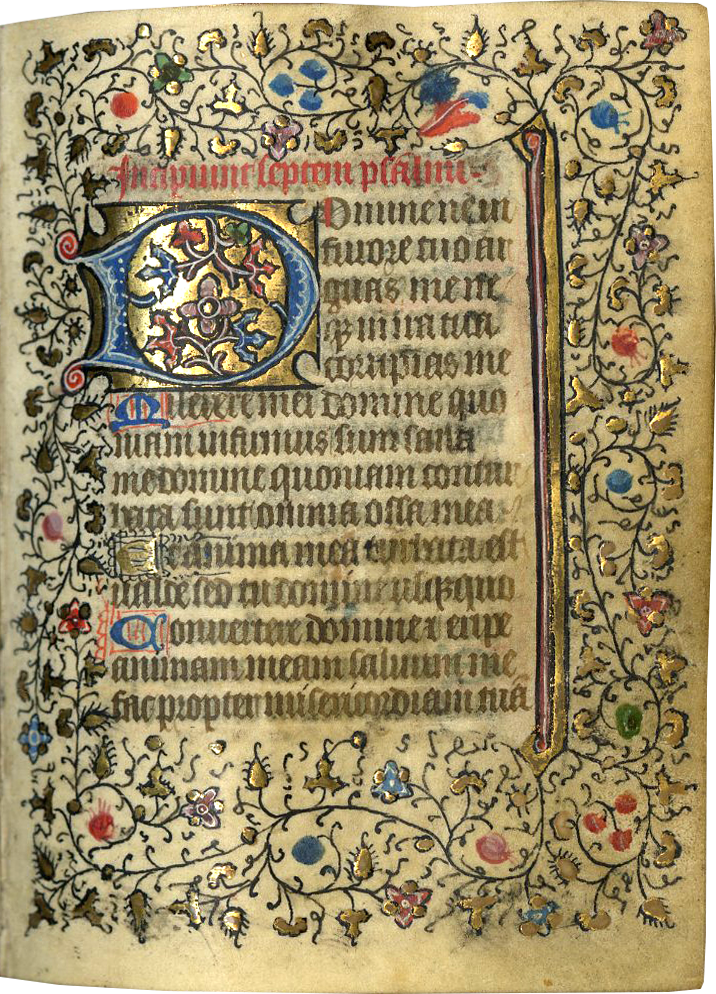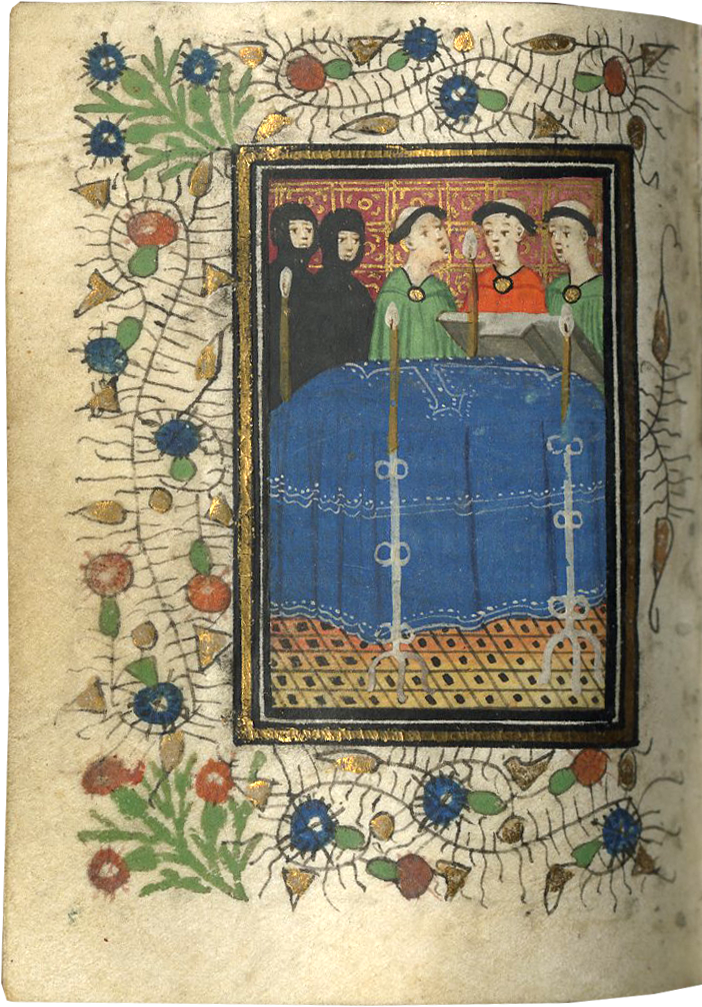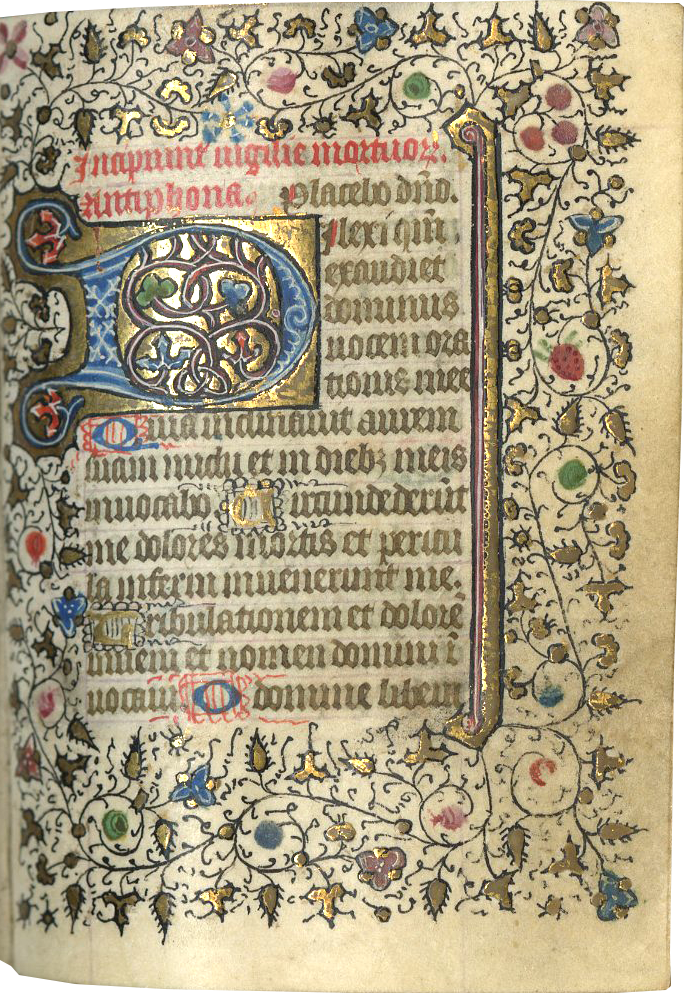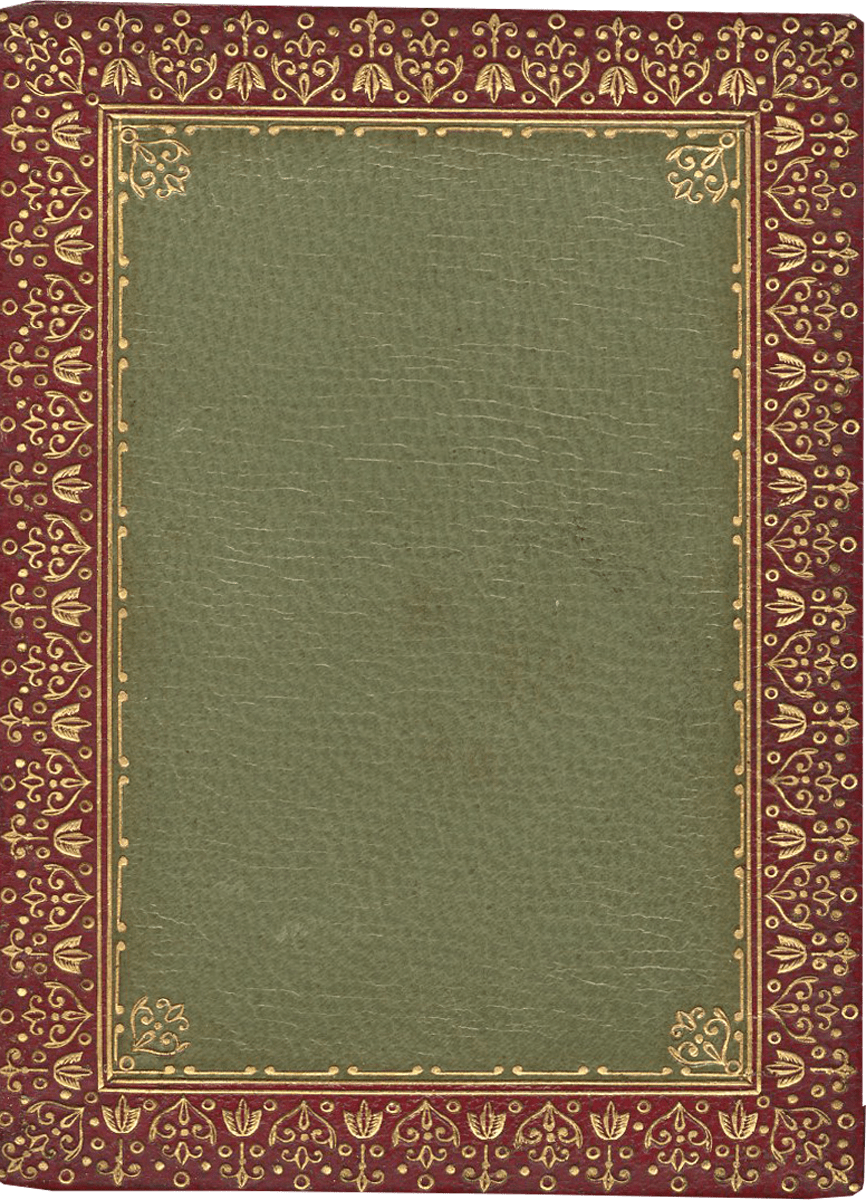 Description
MINIATURE VERSION OF THE WORLD EVOKED BY VAN EYCK IN BRUGES
This pocket-sized Book of Hours is an elegant, early work from the Gold Scrolls Group, one of the most celebrated workshops of the fifteenth century. Its twelve full-page miniatures and abundant borders typify Bruges book illumination in the first quarter of the century. Already the domesticity of Netherlandish art is clearly apparent, with scenes featuring cozy interiors and tiled floors. With vivid colors and exquisite detail, this is a miniature version of the world evoked by the Van Eycks and Roger van der Weyden, in which sacred history is replayed in the bourgeois setting of the southern Netherlands.
ii (modern paper) + 132 + ii (modern paper) folios on parchment, modern foliation in pencil, 1-132, (collation generally in quires of 8 with illuminated folios inserted intermittently, i6, ii6, iii10, iv8, v9, vi8, vii9, viii9, ix8, x11, xi8, xii9, xiii8, xiv9, xv8, xvi6), catchwords, written in brown ink in formal grade Gothic textura script on 15 lines, single column, Calendar written in brown and red, ruled in red ink (justification 52 × 35 mm), red rubrics, 1-line initials in blue with red pen flourishes, 2-line initials painted in liquid gold in alternating blue and red frames, 13 4-line illuminated initials framed on burnished gold ground infilled with acanthus leaves and flowers, 12 leaves with full borders of colored and gilt acanthus leaves and stylized foliage terminating in leaves and seedpods, TWELVE FULL-PAGE MINIATURES set within gold frames with full borders of acanthus foliage and flowers, occasional light toning and handling marks to margins, generally in very good condition with no obvious defects, all edges gilt, 19th-century red morocco-faced parchment endpapers, rear endpaper with 19th-century printed ownership label of R. Robertson Glasgow of Montgreenan (recto), gilt dentelle to inside covers with a pale green inset morocco panel to each, mid-19th century elaborately gilt decorated red morocco binding, lettered in gilt to spine Horæ Beatæ Virginis Mariæ, housed in dark olive green morocco slipcase. Dimensions 90 × 67 mm.
Provenance
1. Northern France or Flanders given the names of saints (or bishops) in the calendar associated with towns in southern Flanders and the adjacent northern border of France, and from the preponderance of female martyrs, probably produced for a female lay owner.
2. Nineteenth-century ownership label at rear of Robert Robertson Glasgow (1811-1860), who inherited Montgreenan, North Ayrshire, Scotland in 1845 from his father Robert Robertson, a physician and owner of plantations in Saint Vincent (Montgreenan and Sans Souci).
Text
ff. 1-12, Calendar: includes the feast days for, among others, Bridget (February 1), Blaise (February 3), Agatha (February 5), Macaire (May 9), Pudentiana (May 19), Bernard of Clairvaux (August 20), Bishop Hubert of Liège (September 6), Lambert of Liège (September 17), Saint Remy or Remigius of Rheims (October 1), Dionysius (October 9), Bishop Martin of Tours (November 11), Saint Eloi or Eligius (December 1), and Barbara (December 4);
ff. 13-17, Short Hours of the Cross: Matins (ff. 14-15), Prime (f. 15), Terce (f. 15-15v), Sext (ff. 15v-16), None (f. 16), Vespers (ff. 16-17);
ff. 19-21v, Missa beate Marie;
ff. 21v-25, Lectio libri sapientiae;
ff. 25-30, Gospel Readings: John (ff. 25-26), Luke (ff. 26-27v), Matthew (ff. 27v-29), Mark (ff. 29-30);
ff. 32-95, Hours of the Virgin with nocturns: Matins (ff. 32-50), Lauds (ff. 52-63), Prime (ff. 65-68v), Terce (ff. 70-73); Sext (ff. 75-77v), None (ff. 79-82), Vespers (ff. 84-89), Compline (ff. 91-95);
ff. 97-108v, Seven Penitential Psalms;
ff. 108v-114, Litanies and associated prayers;
ff. 116-131, Office of the Dead with nocturnes.
Illustration
Twelve full-page miniatures by an artist of the Gold Scrolls Group, framed by a simple gold band; margins decorated with acanthus (in green, blue, red and pink), flowers, fruit and gold-leaf spraywork; all miniatures are on inserted folios, blank on the recto; subjects as follows:
f. 13v, Crucifixion;
f. 18v, Virgin and Child;
f. 31v, Annunciation;
f. 51v, The Visitation;
f. 64v, Nativity;
f. 69v, Annunciation to the Shepherds;
f. 74v, Adoration of the Magi;
f. 78v, Presentation in the Temple;
f. 83v, Massacre of the Innocents;
f. 90v, Flight to Egypt;
f. 96v, Resurrection of the Dead;
f. 115v, Mass for the Dead;
Painted with remarkable quality and detail, this pocket-sized manuscript belongs to the oeuvre of the Masters of the Gold Scrolls. Works from this group are recognized by the delicate feathered scrolling foliage painted with liquid gold on burgundy-red ground. This manuscript stands out among other works from the Gold Scrolls Group, however, for its stunning painting of the Virgin and Child on folio 18v. Seated on a pink cushion, the figures are haloed by a vibrant blast of yellow and orange that engulfs the deep blue sky. A black crescent moon painted at the feet of the Virgin is another unusual feature and recalls the iconography of the Queen of Heaven. While images of the seated Virgin and Child are present in other Hours by the Gold Scrolls Group, this radiant composition is only known in a handful of examples (fig. 1). Another distinctive feature of this manuscript is the presence of a deep blue ground instead of the more common burgundy in three of the miniatures. Along with the manuscript's high quality, these unique traits offer us one of the most attractive manuscripts in the Golden-scrolls style.
First identified as a single artist by Friedrich Winkler in 1925, the Gold Scrolls Masters are now recognized as a group of painters working in a distinctive idiom. Gregory Clark has identified 140 manuscripts, mainly Books of Hours, in the style of the Gold Scrolls Masters, illustrating their immense productivity in the second quarter of the fifteenth century in the Southern Netherlands (see Clark). The activity of the group of artists stretches from the 1420s to the early 1450s, culminating with the arrival of Willem Vrelant in Bruges in the 1450s.
Following Clark's method of dating the Group's works by the appearance of the sky and landscape formations, this manuscript can be dated to around 1420-1430. All the elements – mountains, trees, buildings – remain rather stylized, mechanically executed, and show little variation in size or form. Grooved rocky outcrops, shallowness of the landscape settings, and the border style on the miniature pages are similar in other works of this era (compare As-Vijvers and Korteweg 2018, p. 97 and cat. 19).
Dated to the first decade of the Gold Scrolls Group, the present manuscript is a rare and highly refined example from this celebrated workshop. Painting at a tiny scale, the artist suggested different textures with ease, painted the minute facial features with a delicate touch, and used a varied palette with alternating deep and pastel tones, which he arranged harmoniously in his compositions. The dense borders that adorn the divisions between major prayer groups further enhance the extraordinary richness of the pictorial program.
We are grateful to Gregory Clark for expertise.
Literature
Unpublished: For comparisons see
As-Vijvers, A. M. W., and A. S. Korteweg. 2018. Splendour of the Burgundian Netherlands: Southern Netherlandish Illuminated Manuscripts in Dutch Collections, Zwolle, 2018.
Byvank, A. W. "Aanteekeningen over handschriften met miniaturen, IX, De Noordnederlandsche kunst en de miniaturen uit Zuid-Nederland en uit Nood-Frankrijk," Oudheidkundig jaarboek: Derde serie van het bulletin van den Nederlandschen Oudheidkundigen 10 (1930), pp. 93-115.
Byvank, A. W. "Kroniek der Noord-Nederlandsche miniaturen, II," Oudheidkundig jaarboek: Vierde serie van het bulletin van den Nederlandschen Oudheidkundigen 4 (1935), pp. 10-20.
Cardon, B., R. Lievens, and M. Smeyers. "The Illustrations and the Gold Scrolls Group," Corpus van verluchte handschriften uit de Nederlanden=Corpus of Illuminated Manuscripts from the Low Countries, vol. 1, Louvain, 1985, pp. 119-204.
Clark, G. "Mass Production: The Masters of the Gold Scrolls," Splendour of the Burgundian Netherlands, eds. A. M. W. As-Vijvers and A. S. Korteweg, Utrecht; Zwolle; The Hague, 2018, pp. 96-109.
Delaissé, L. M. J. La miniature flamande, Brussels, 1950, nos. 14-20.
Dogaer, G. Flemish Miniature Painting in the Fifteenth and Sixteenth Centuries, Amsterdam, 1987, pp. 27-31.
Hans-Collas, I. "Les Maîtres aux rinceaux d'or," in Miniature flamandes, 1404-1482, eds. B. Bousmanne and T. Delcourt, Paris; Brussels, 2011, pp. 140-147.
Smeyers, M. Flemish Miniatures from the 8th to the mid-16th Century, Louvain, 1999.
Vanwijnsberghe, D. and E. Verroken. "A l'Escu de France": Guillebert de Mets et la peinture de livres à Gand à l'époque de Jan van Eyck (1410-1450), Turnhout, 2018.
Winkler, F. Die Flämische Buchmalerei des XV. und XVI. Jahrhunderts: Künstler und Werke von den Brüdern Van Eyck bis zu Simon Bening, Leipzig, 1925.
BOH 186
Please send me further information about this work.