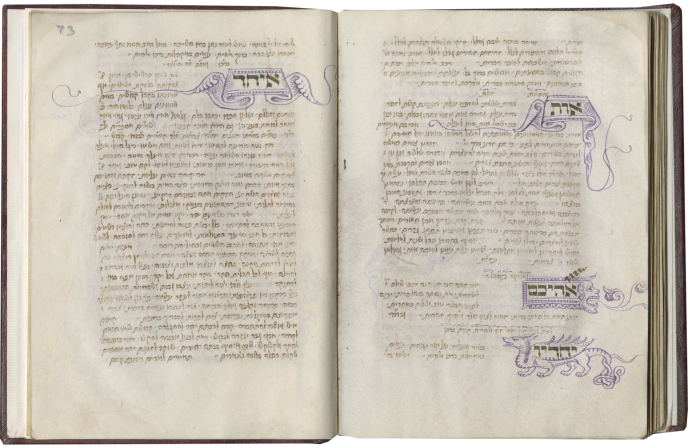 1
/
7







The Veneto Siddur and Sefer Minhagim of Joel ben Simeon (Ashkenazic rite, use of Ulm)
In Hebrew, manuscript on parchment, in 2 volumes of 121 leaves, with approximately 500 pen and ink drawings
Northeastern Italy (Treviso?), dated 1449-50, decoration added c. 1470
This newly attributed manuscript is of immense textual and art-historical importance. The core of the manuscript contains a Siddur, or Prayer Book, written for the use of German Jews living in northern Italy. Included also is a copy of the Sefer Minhagim, or book of customs, based on a version compiled in Ulm in 1449. Approximately twenty years after the manuscript was written, the most famous Jewish scribe-artist of the fifteenth century, Joel ben Simeon (active c. 1445-1490) added extensive decoration. "TURNING THE PAGES" WITH A SELECTION OF PAGES BELOW
%3Cdiv%20class%3D%22title%22%3E%3Cem%3E%3Cp%3EThe%20Veneto%20Siddur%20and%20Sefer%20Minhagim%20of%20Joel%20ben%20Simeon%20%28Ashkenazic%20rite%2C%20use%20of%20Ulm%29%3C/p%3E%3C/em%3E%2C%20dated%201449-50%2C%20decoration%20added%20c.%201470%3C/div%3E%0D%3Cdiv%20class%3D%22medium%22%3Emanuscript%20on%20parchment%2C%20in%202%20volumes%20of%20121%20leaves%2C%20with%20approximately%20500%20pen%20and%20ink%20drawings%3C/div%3E
Print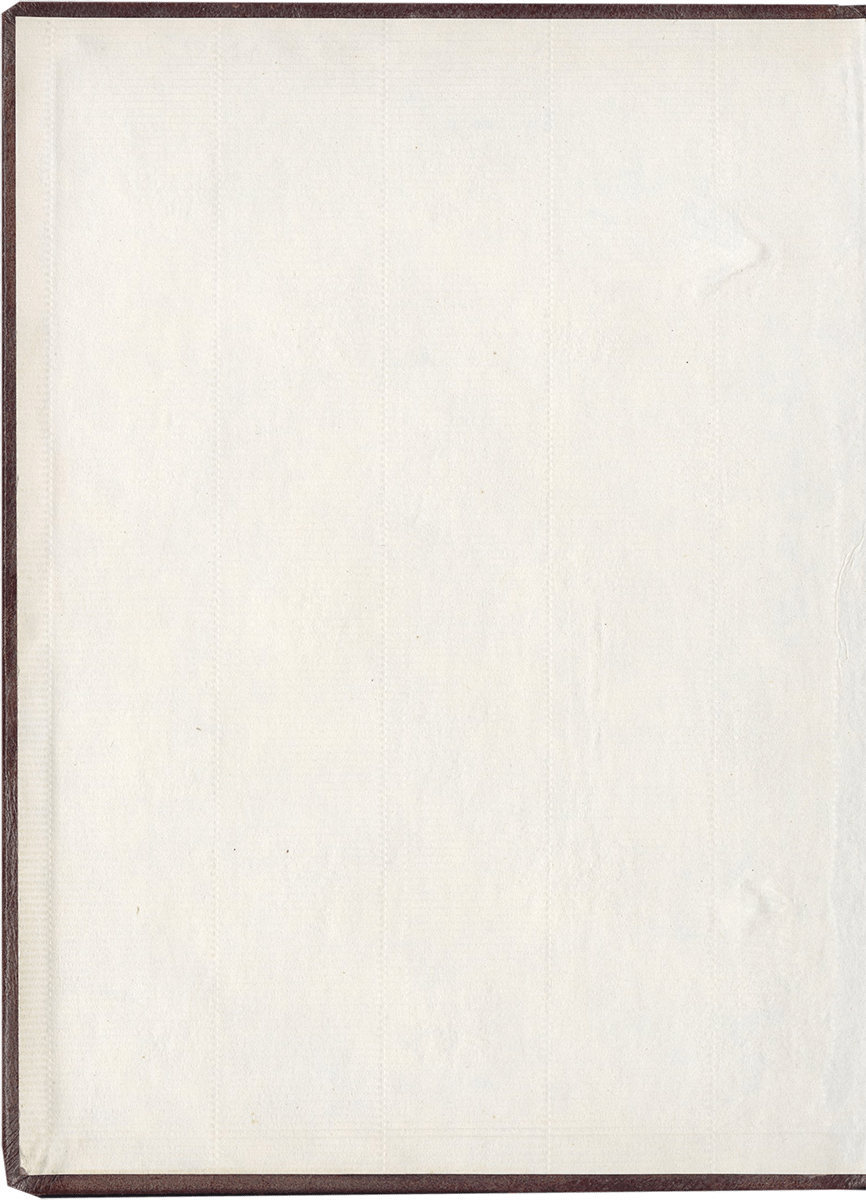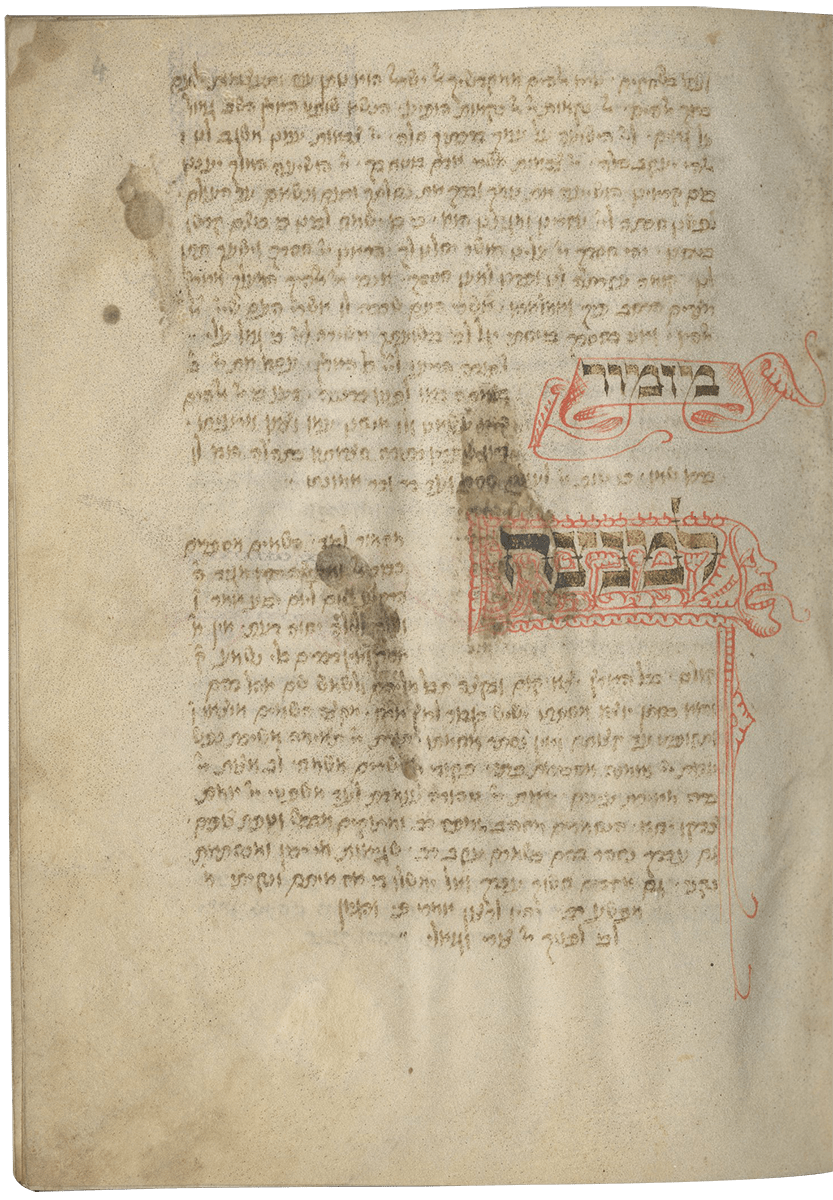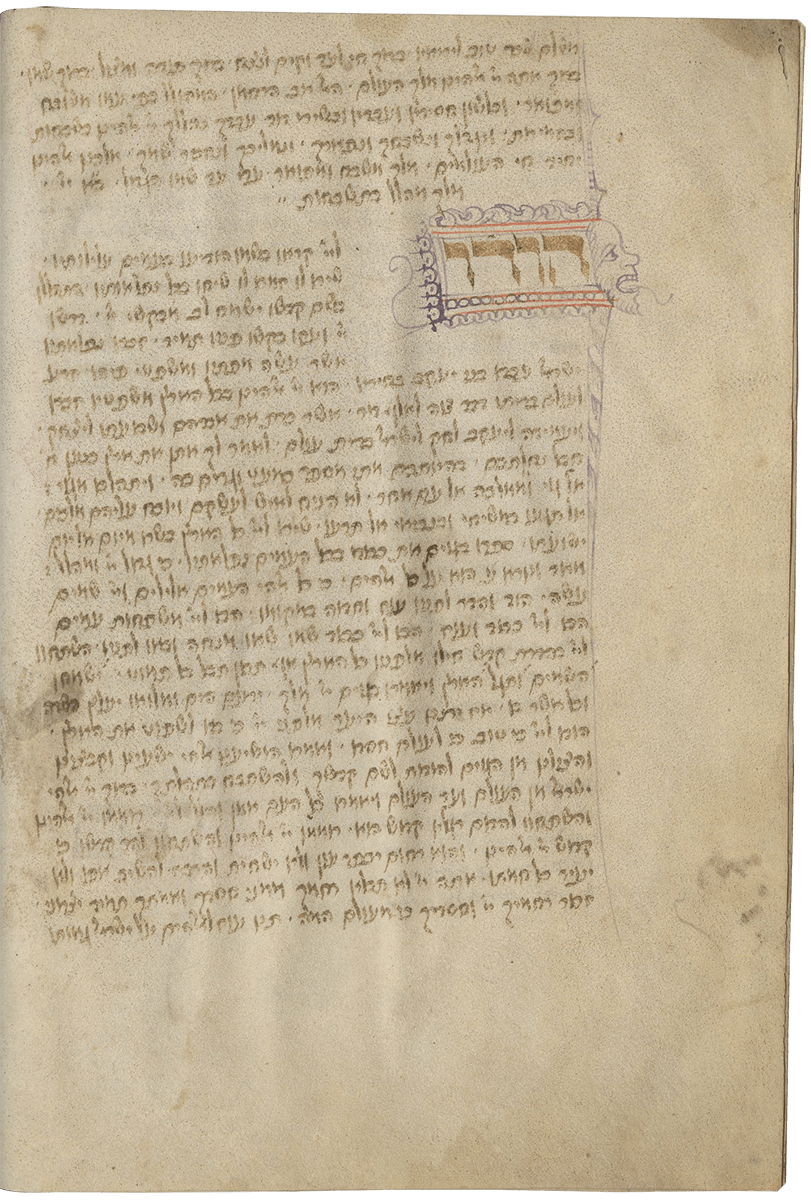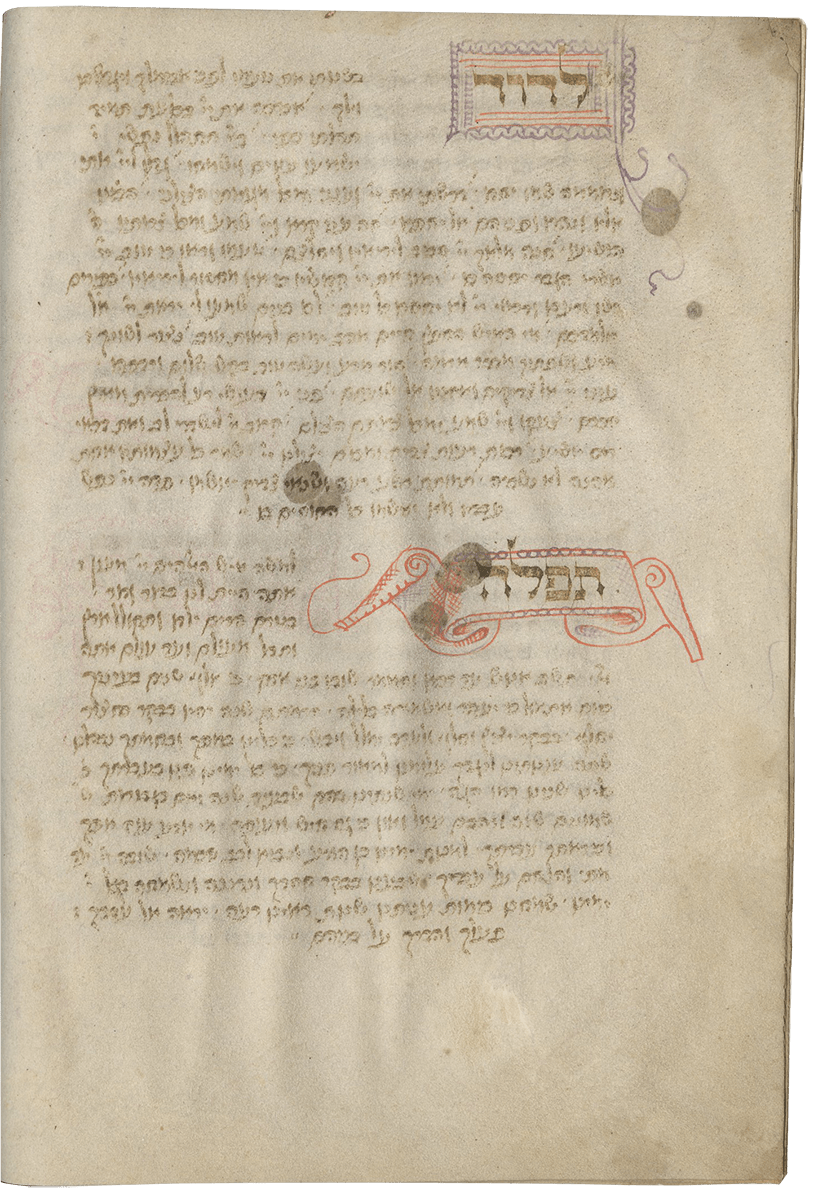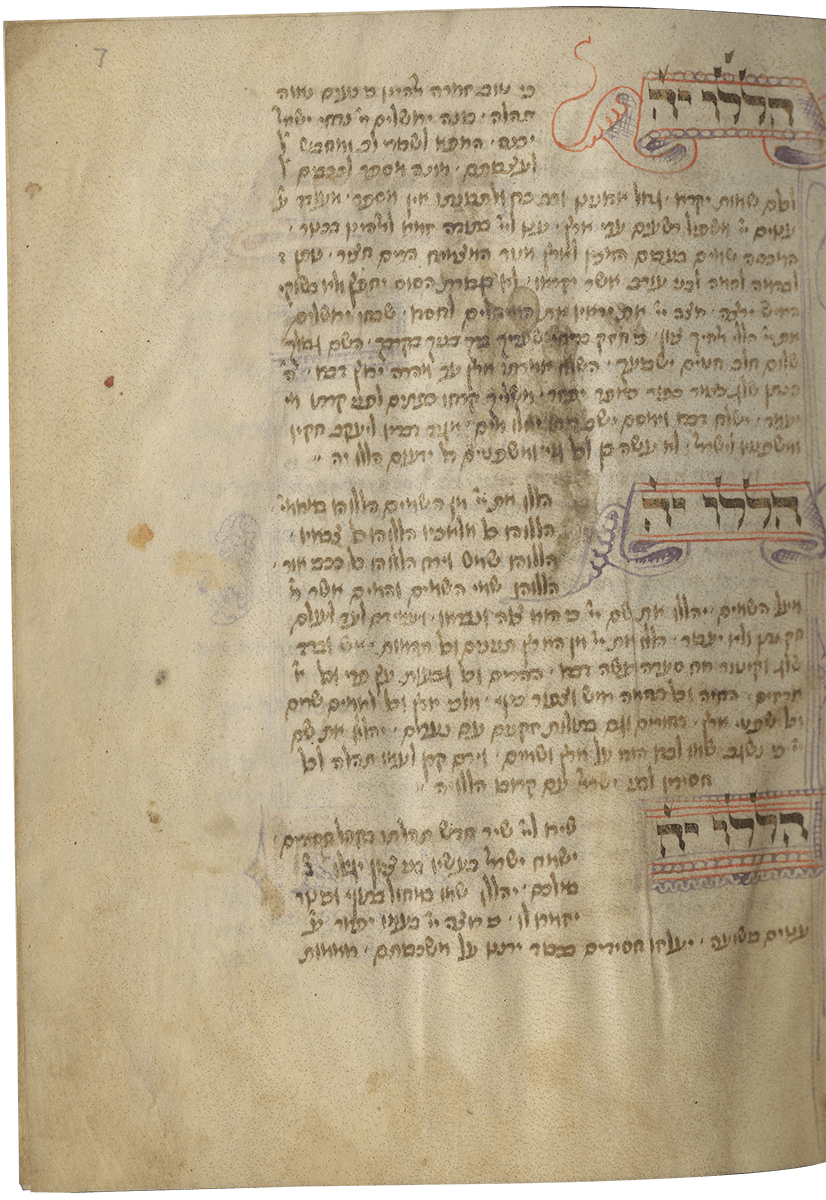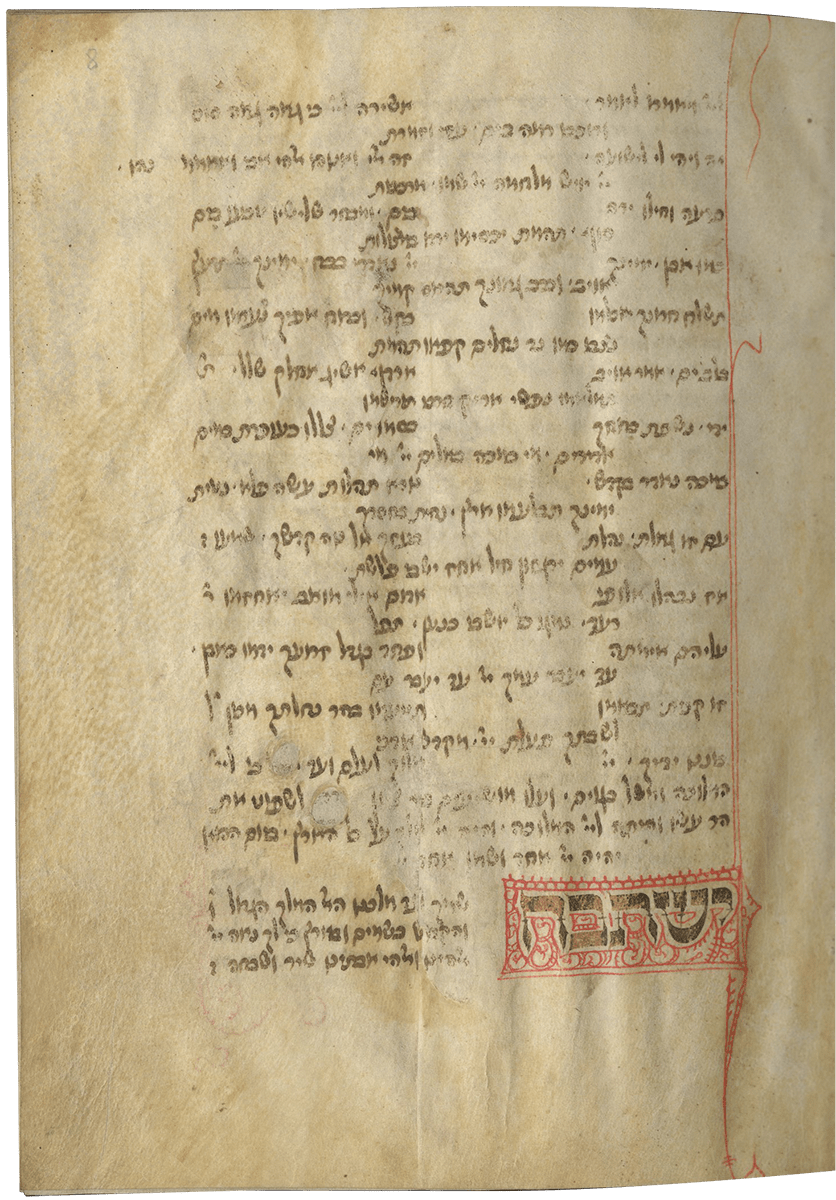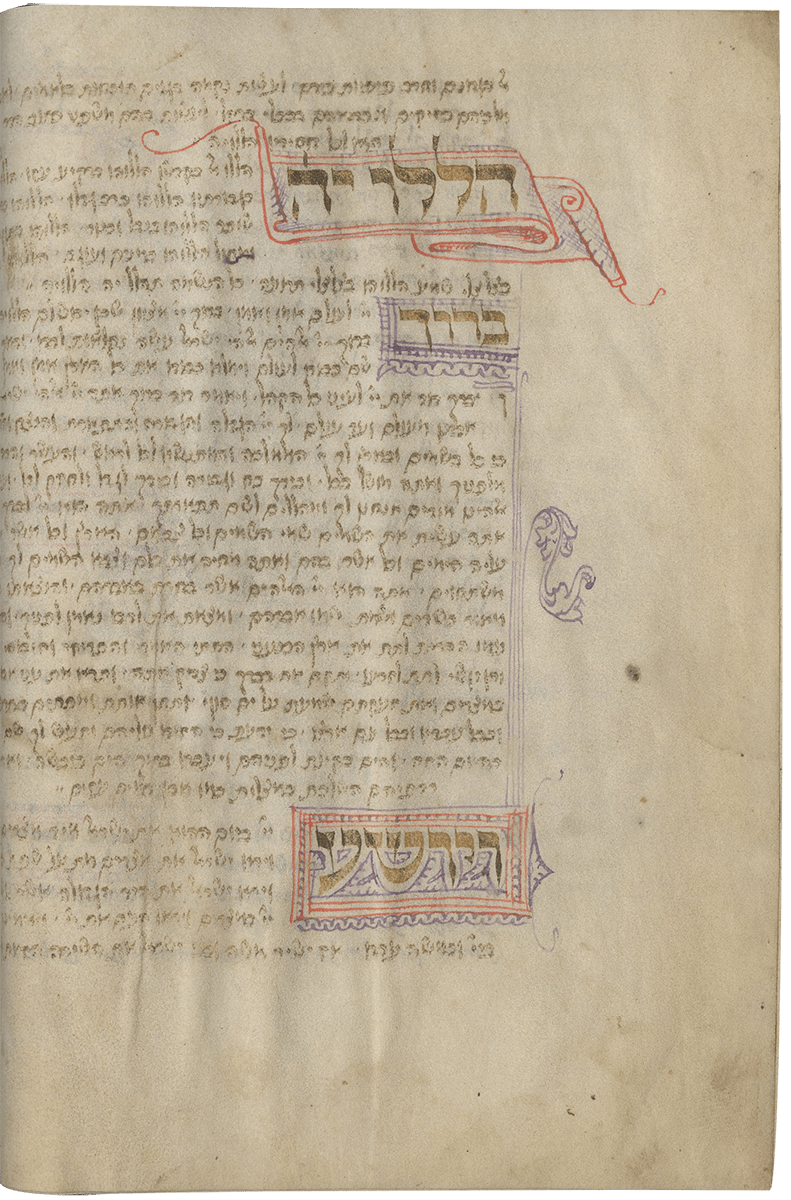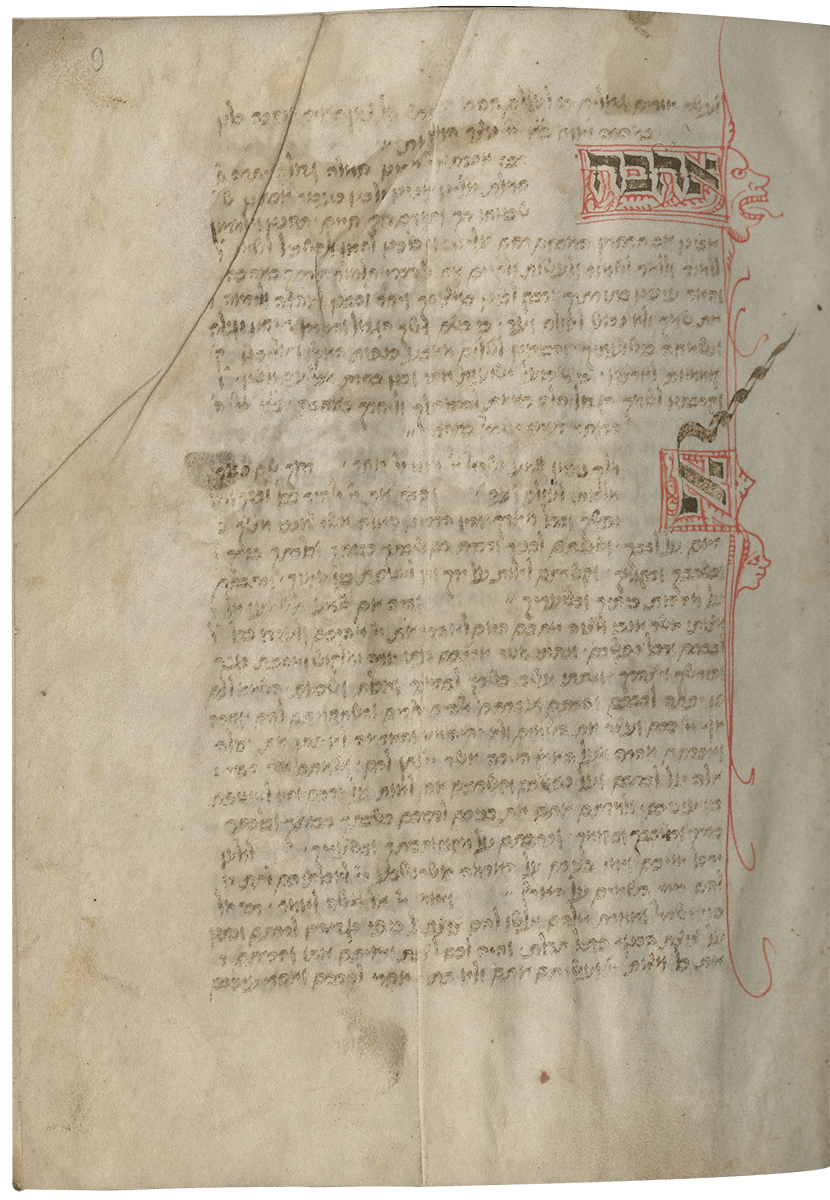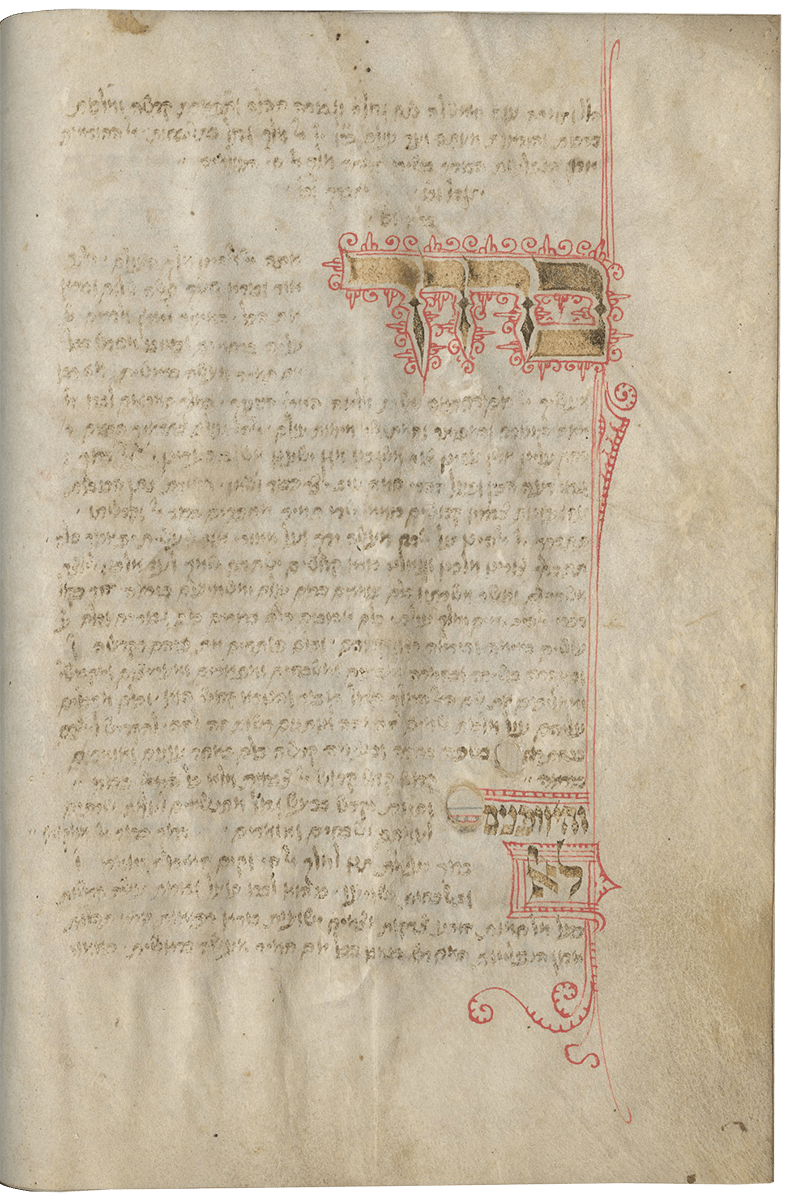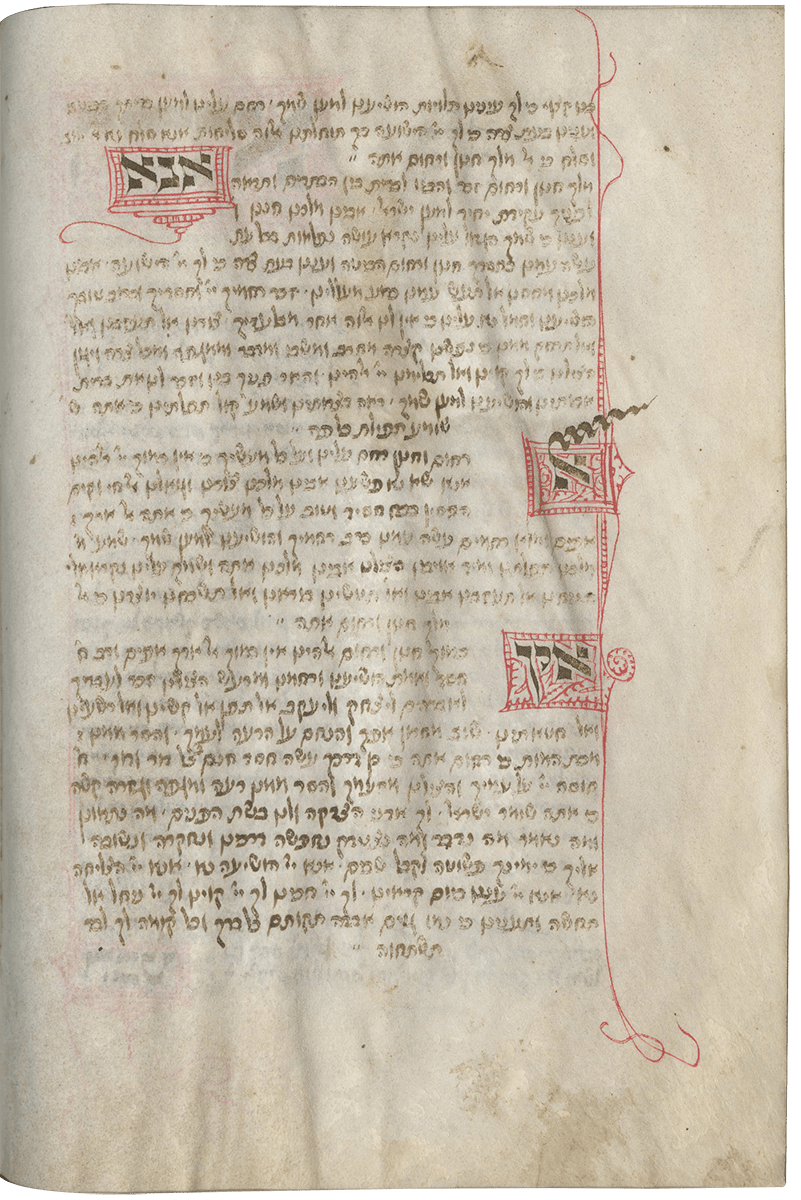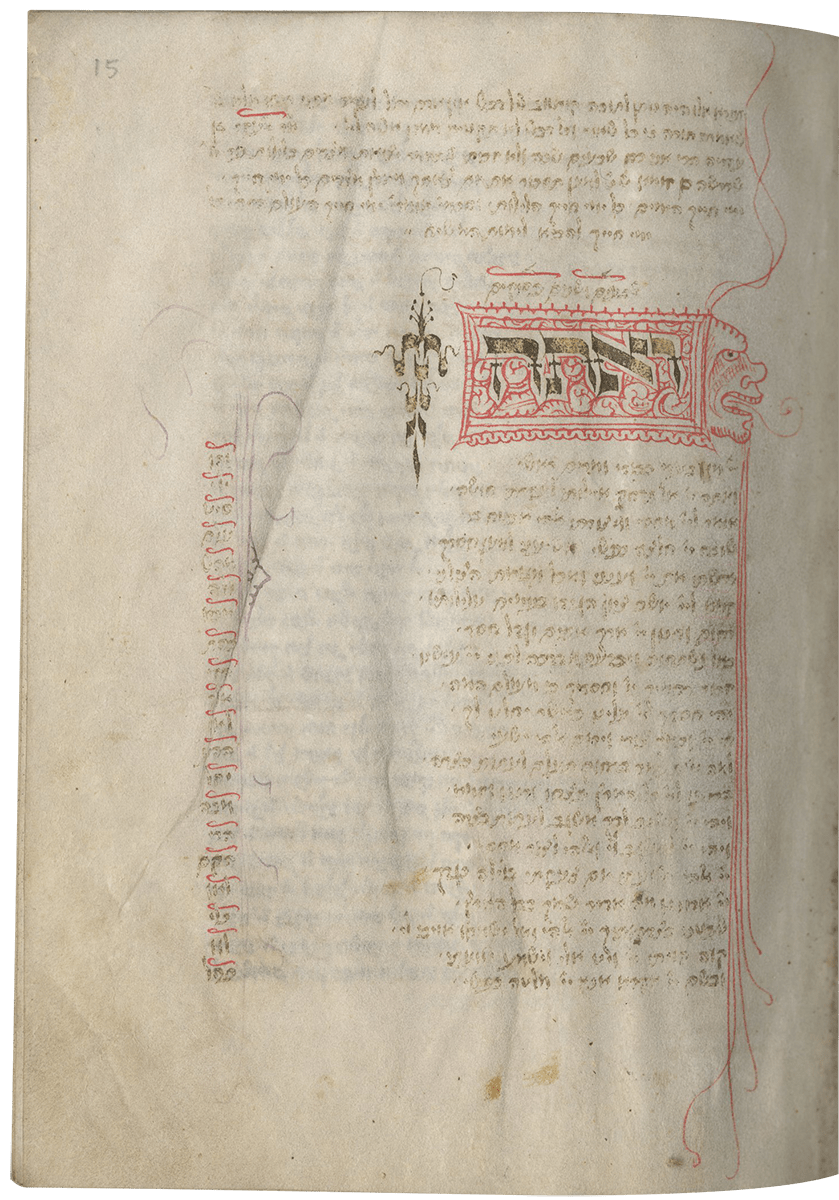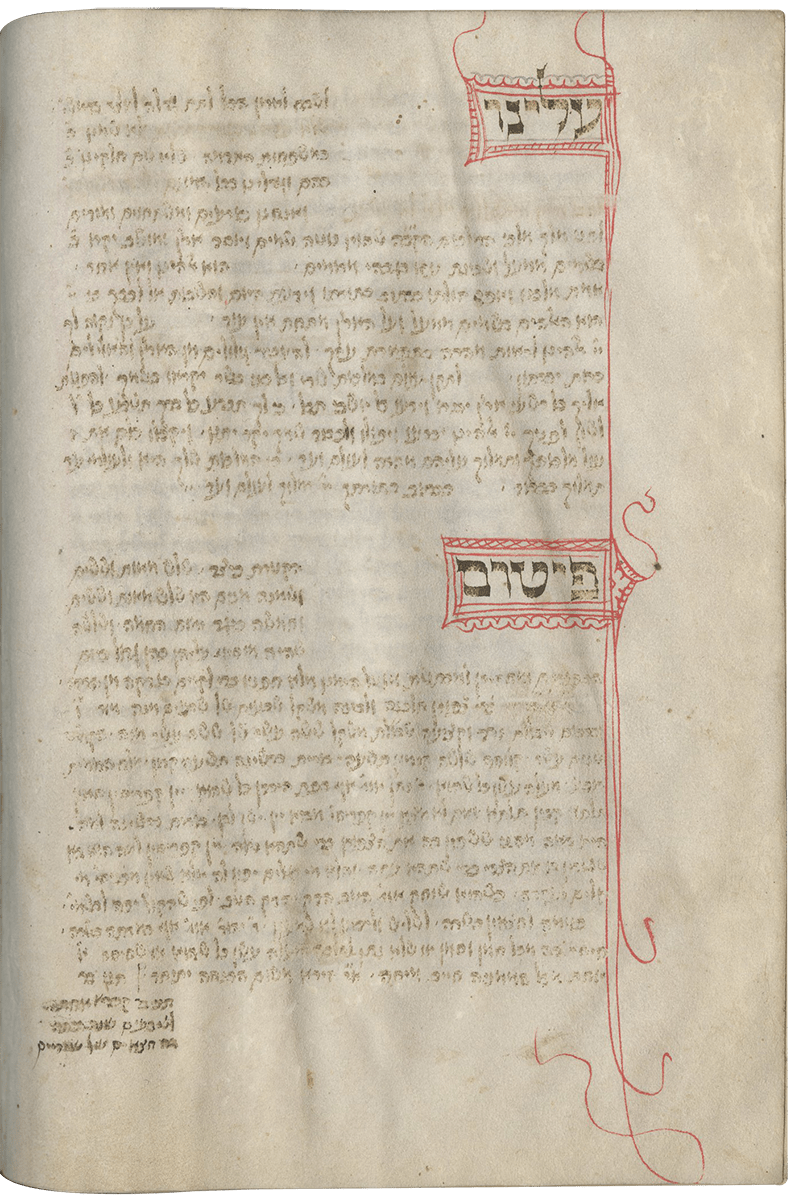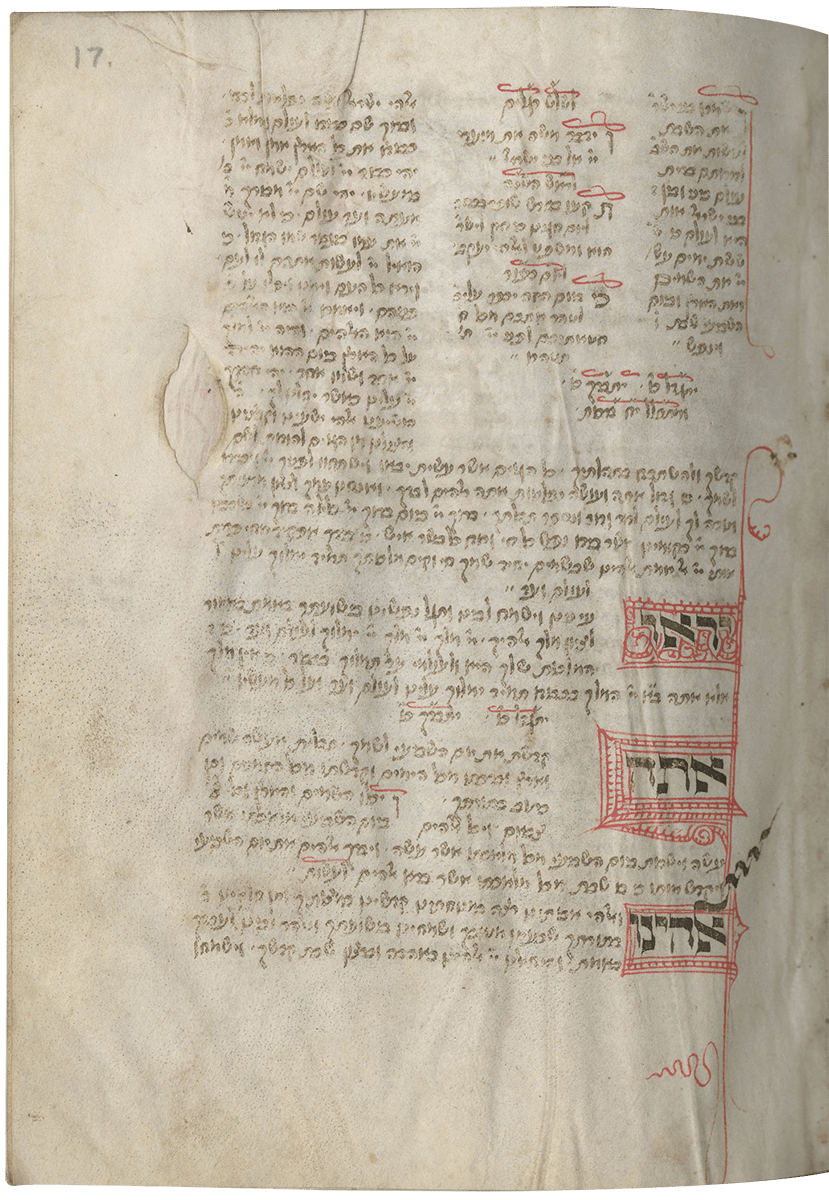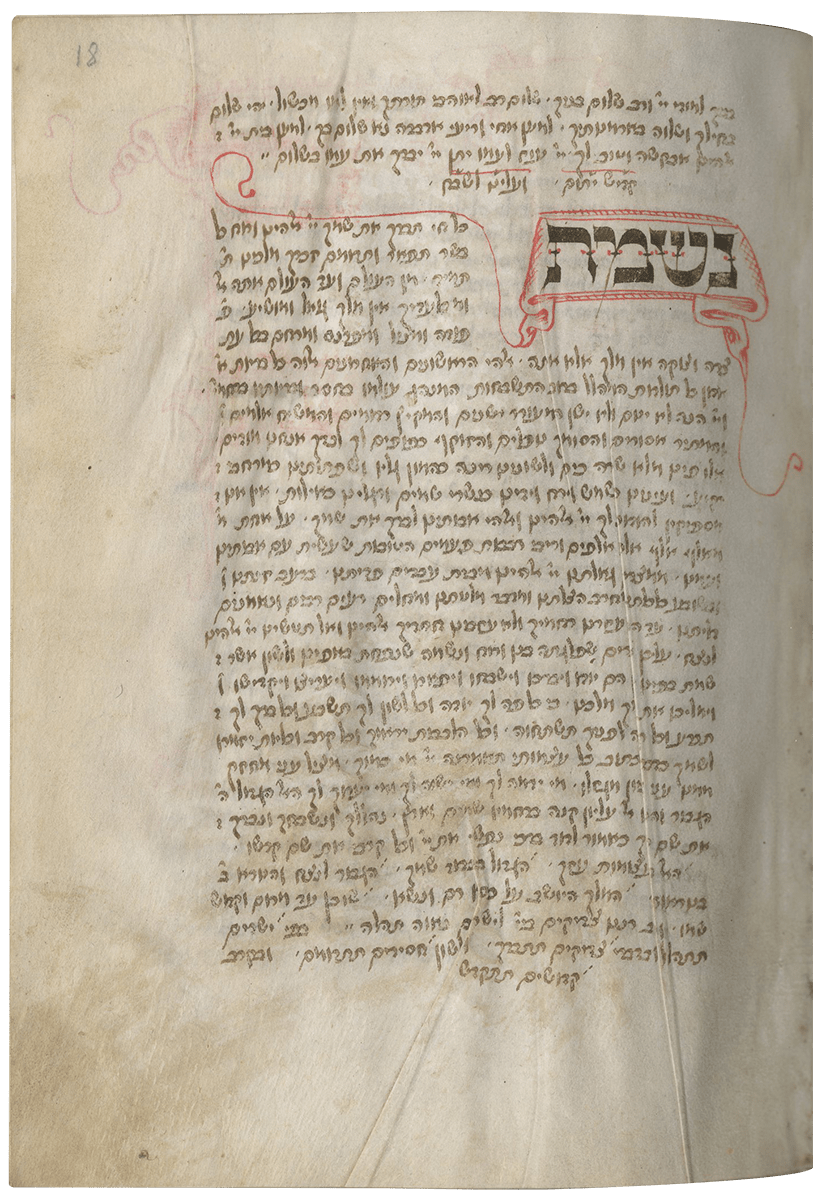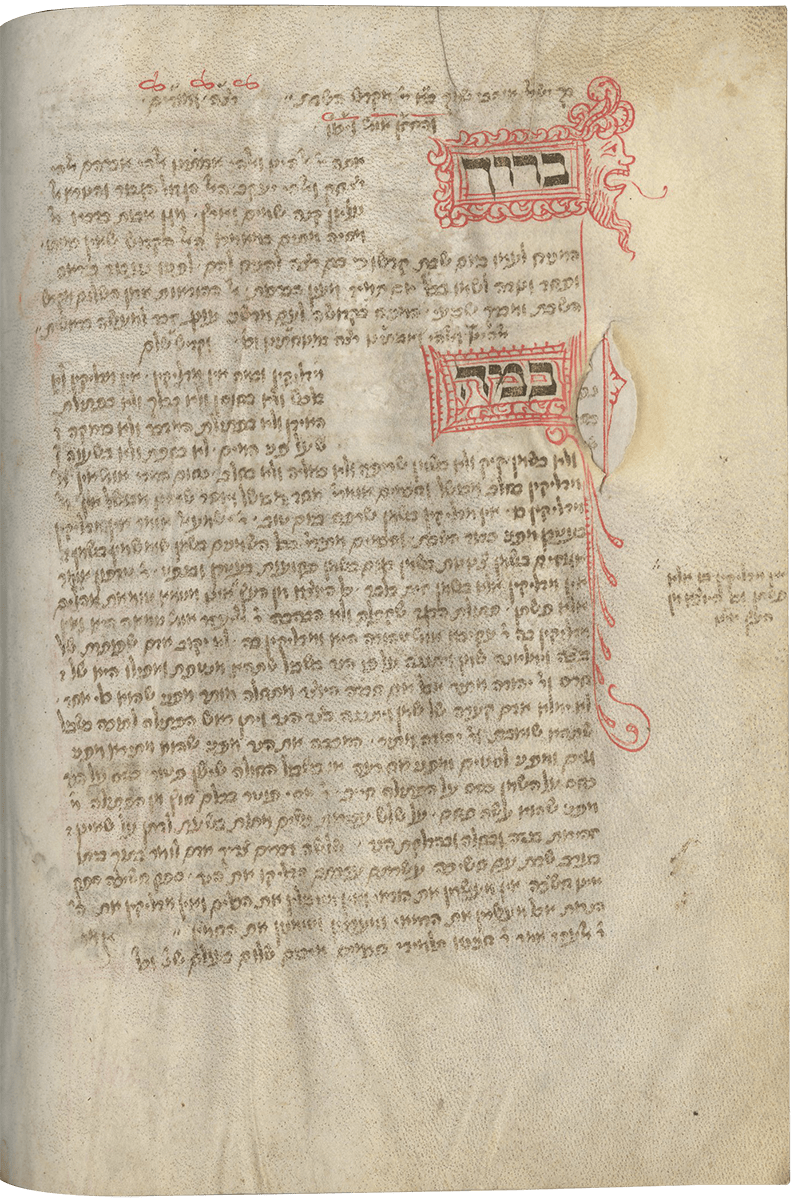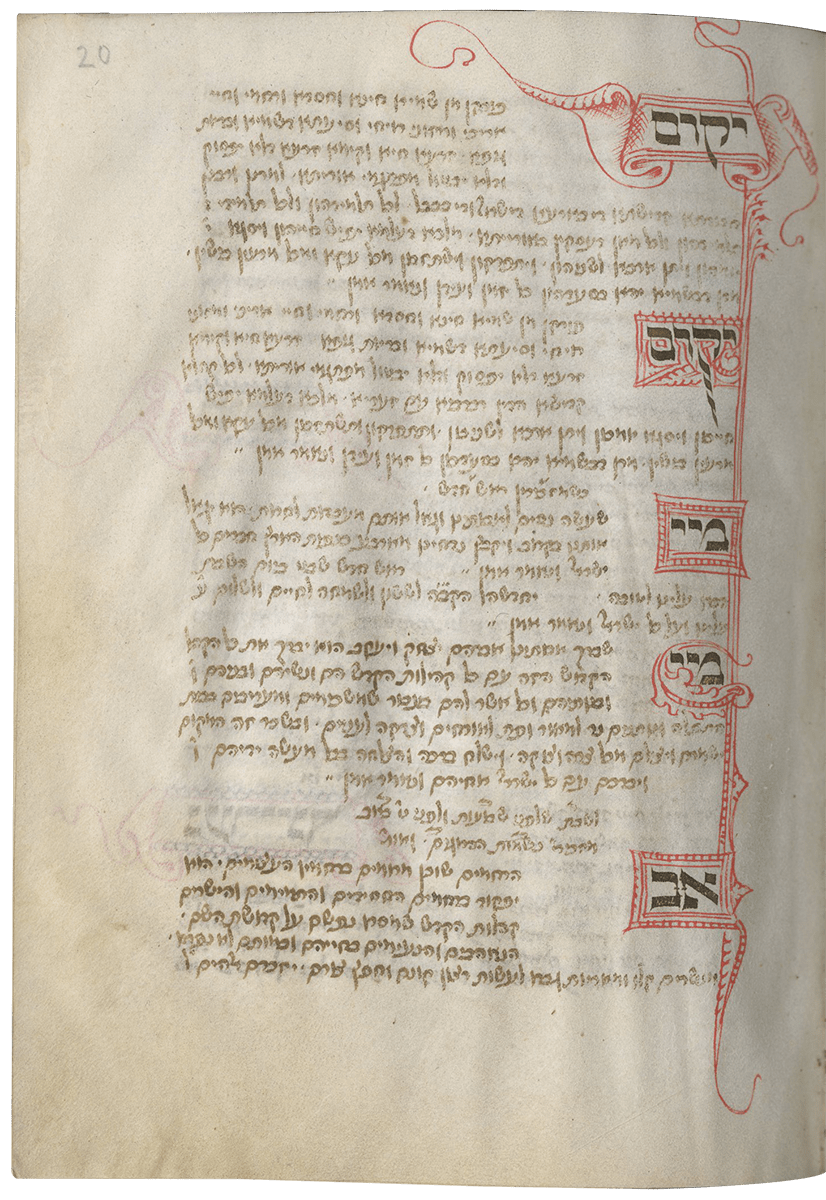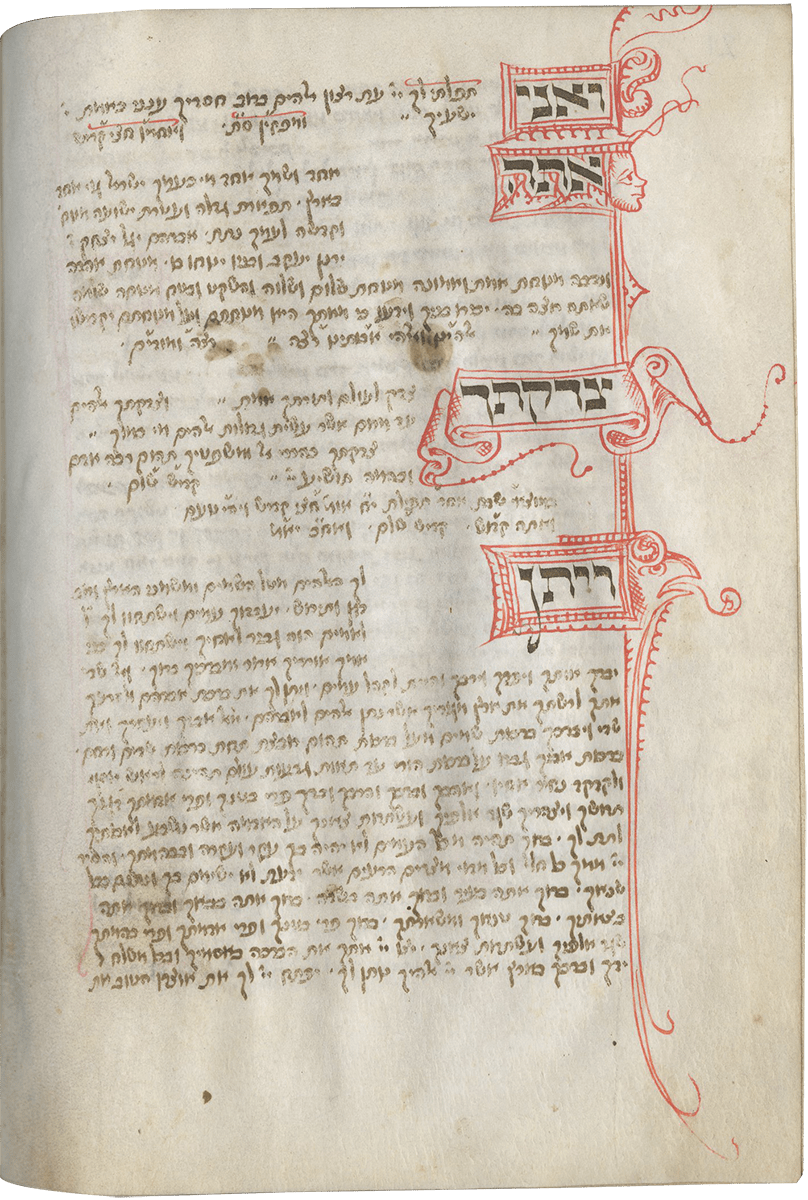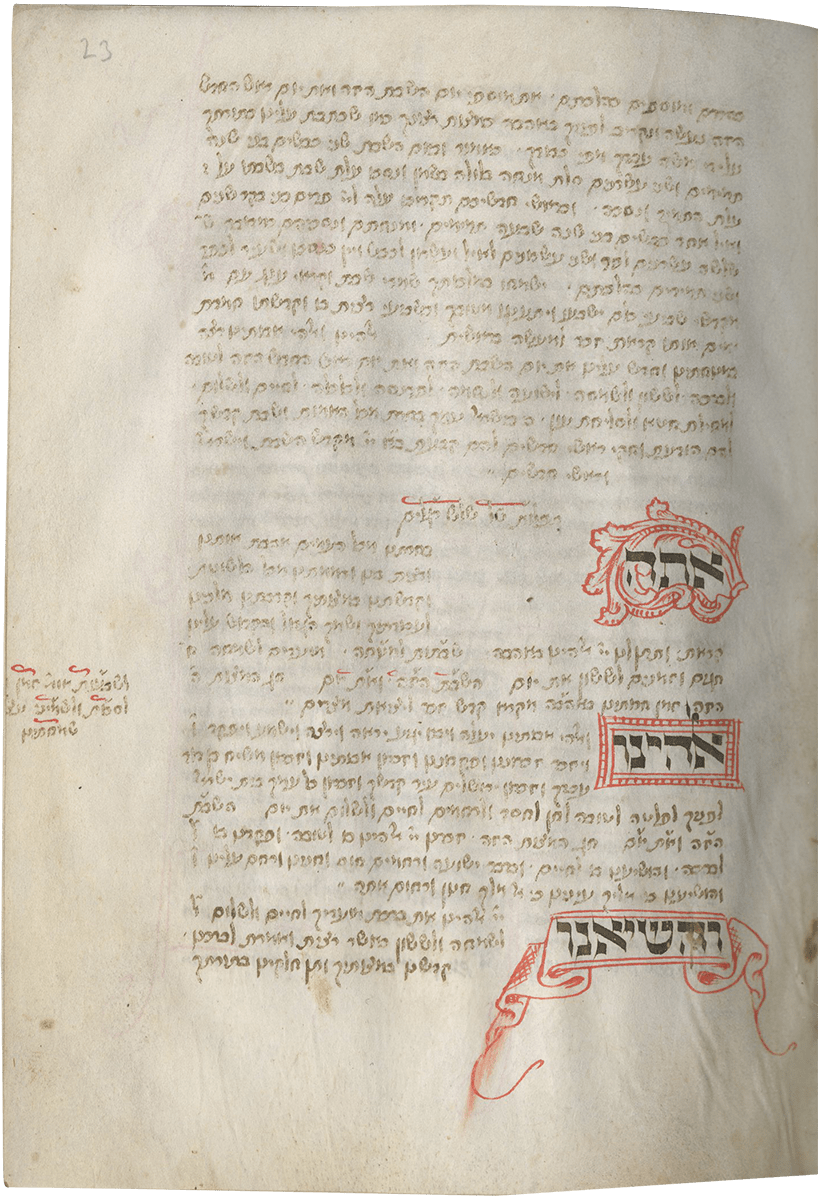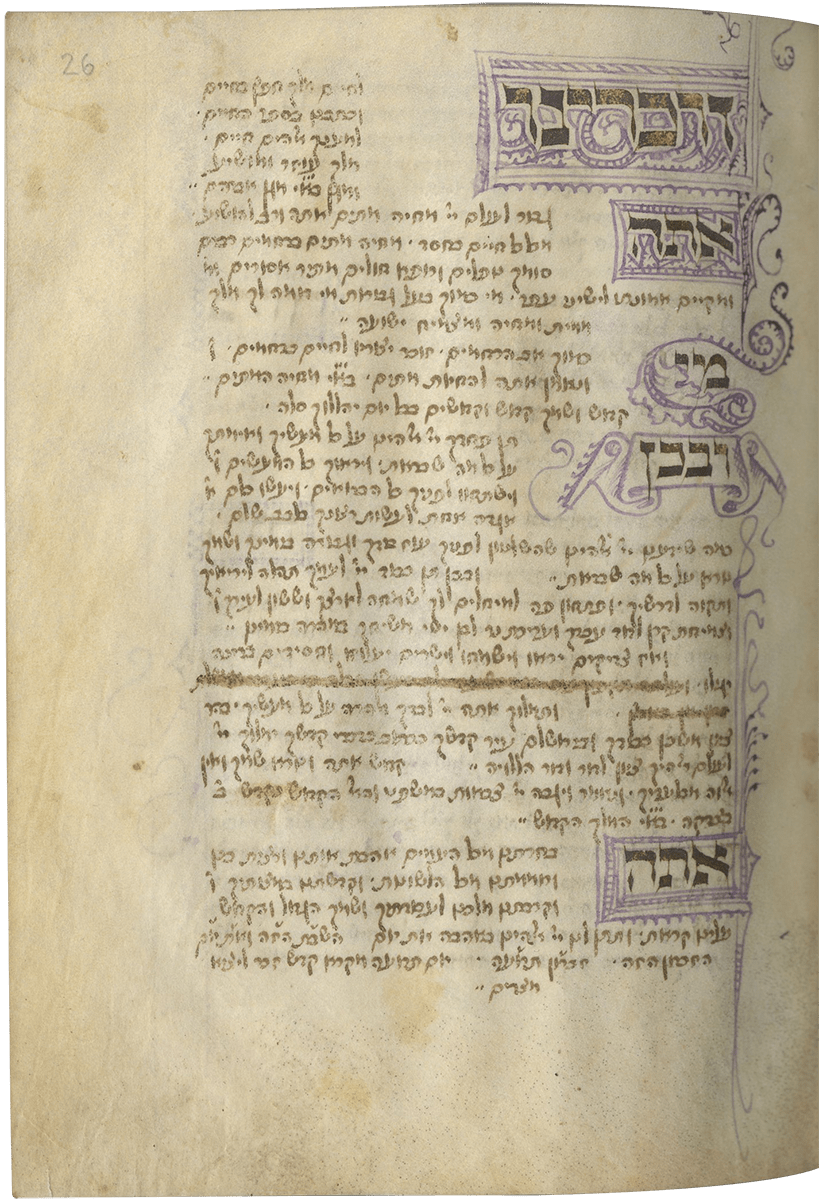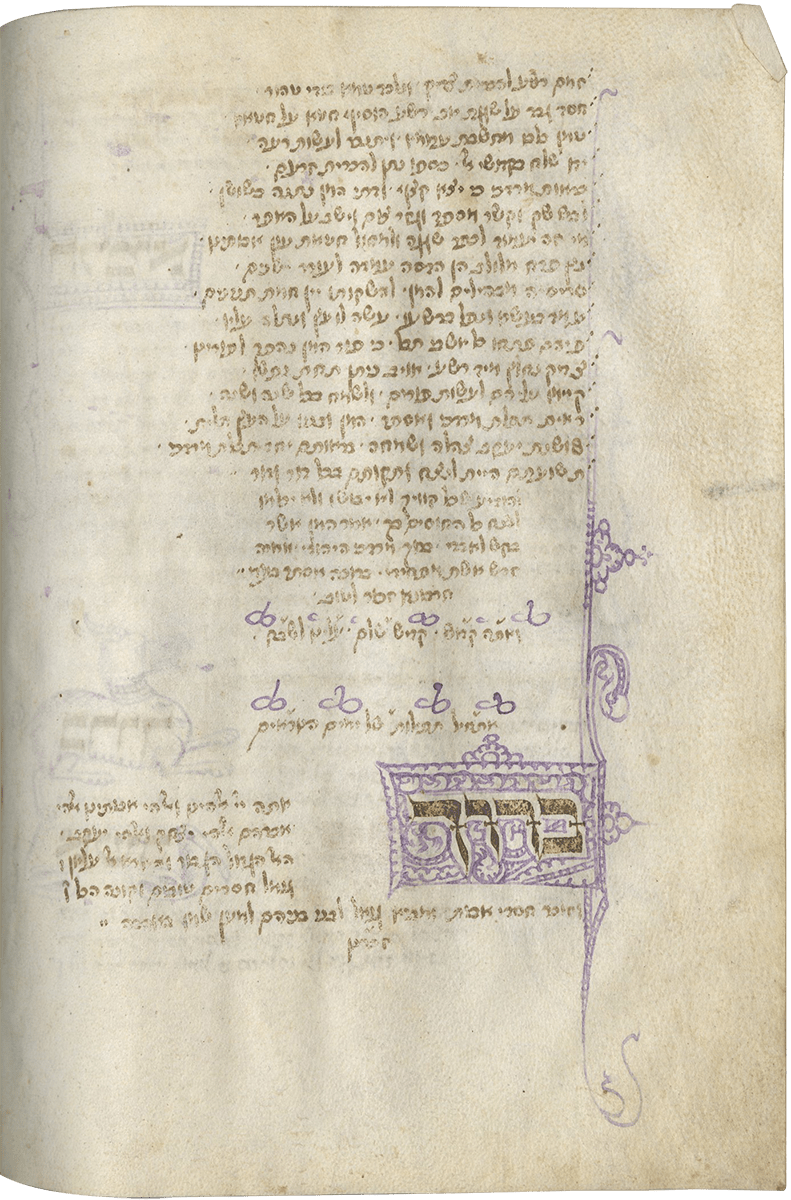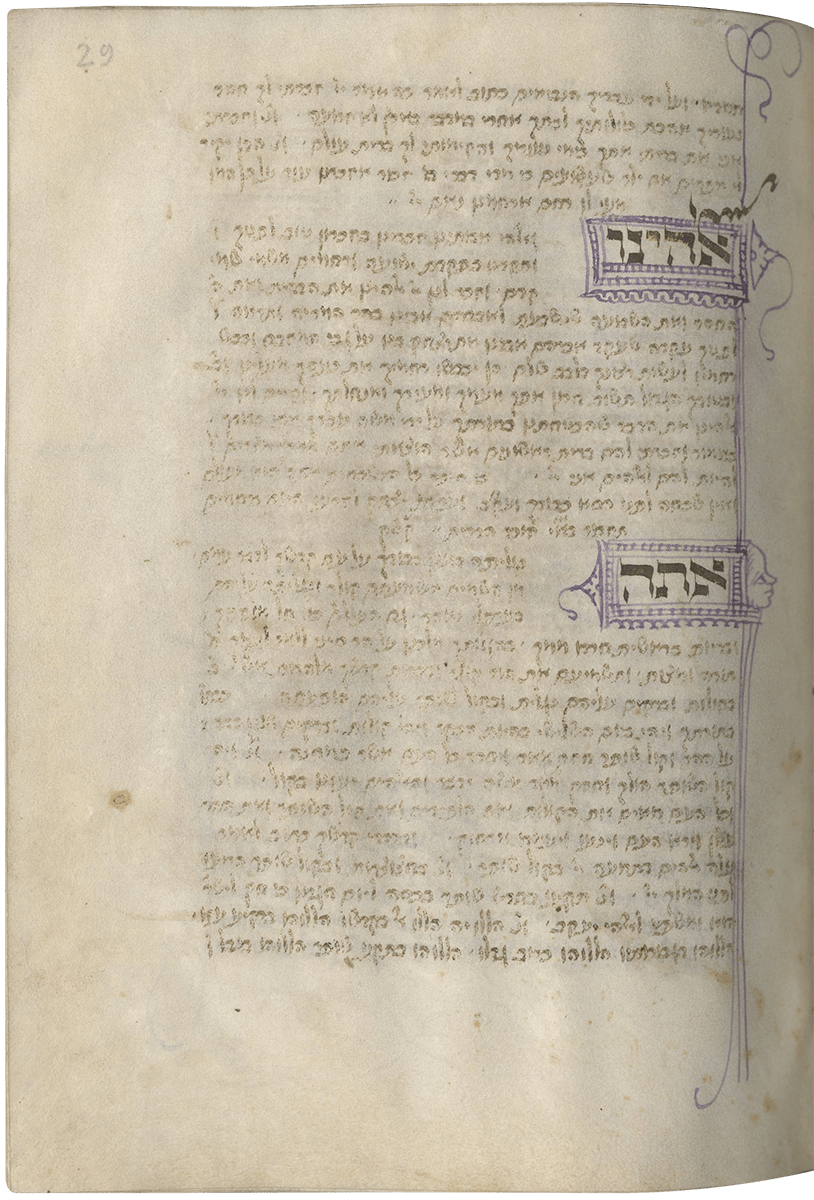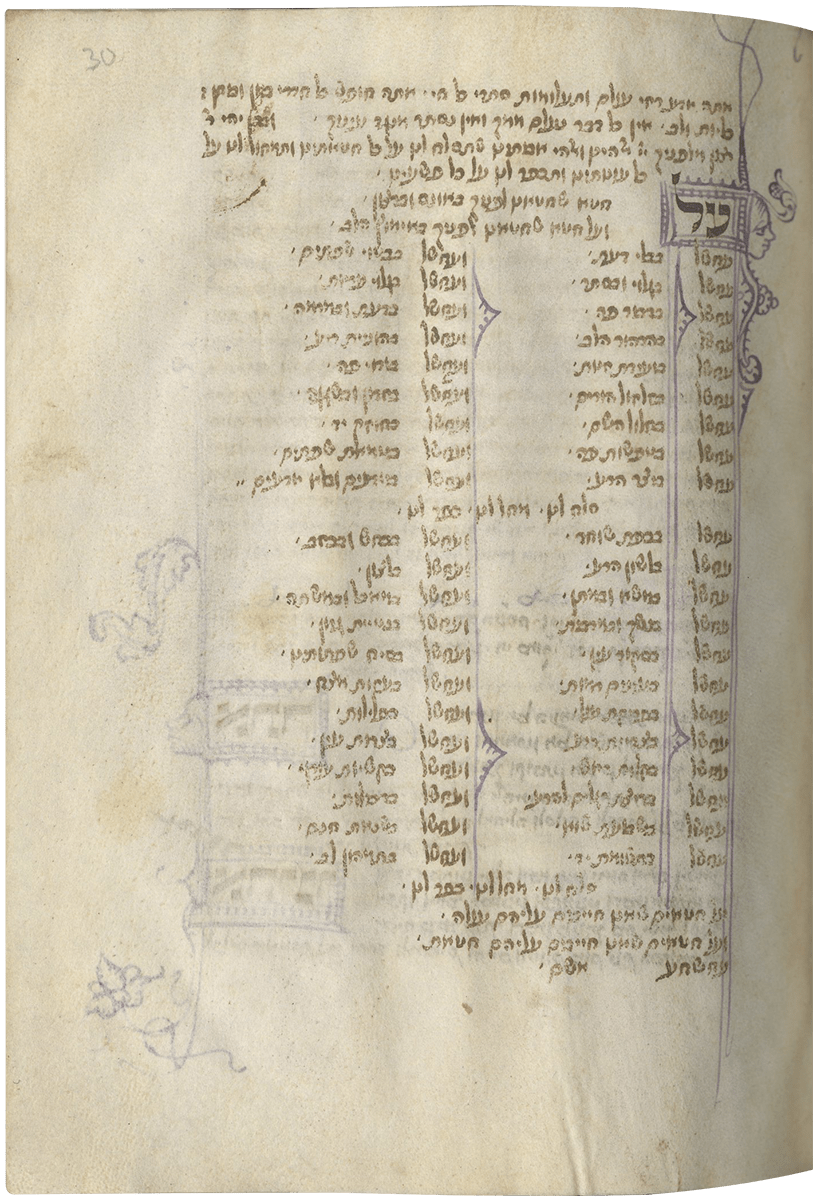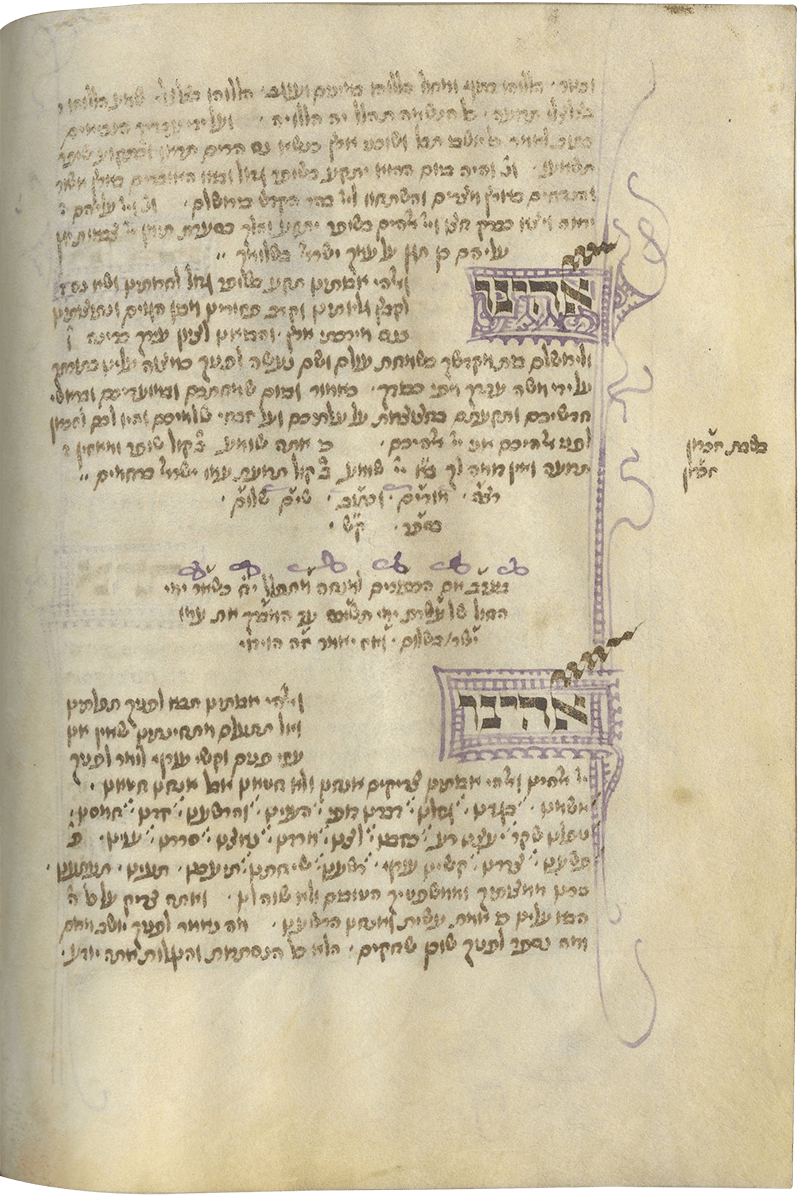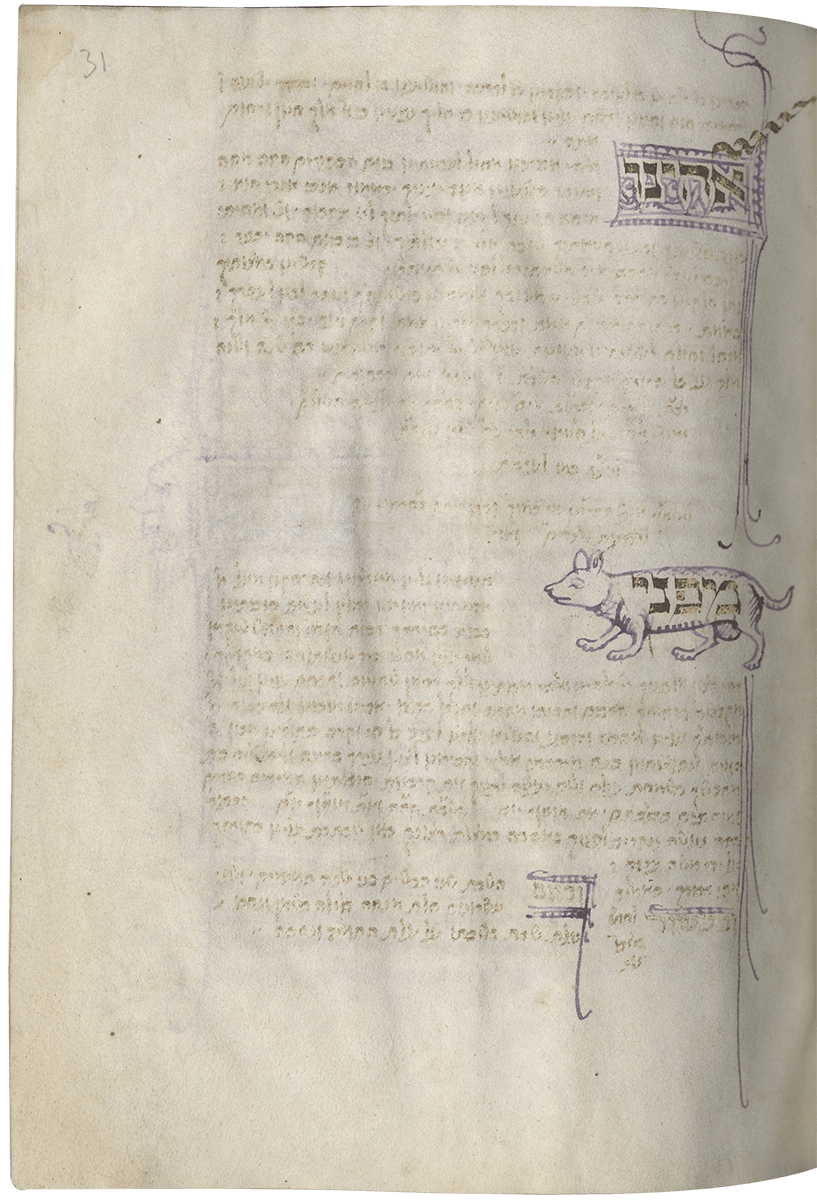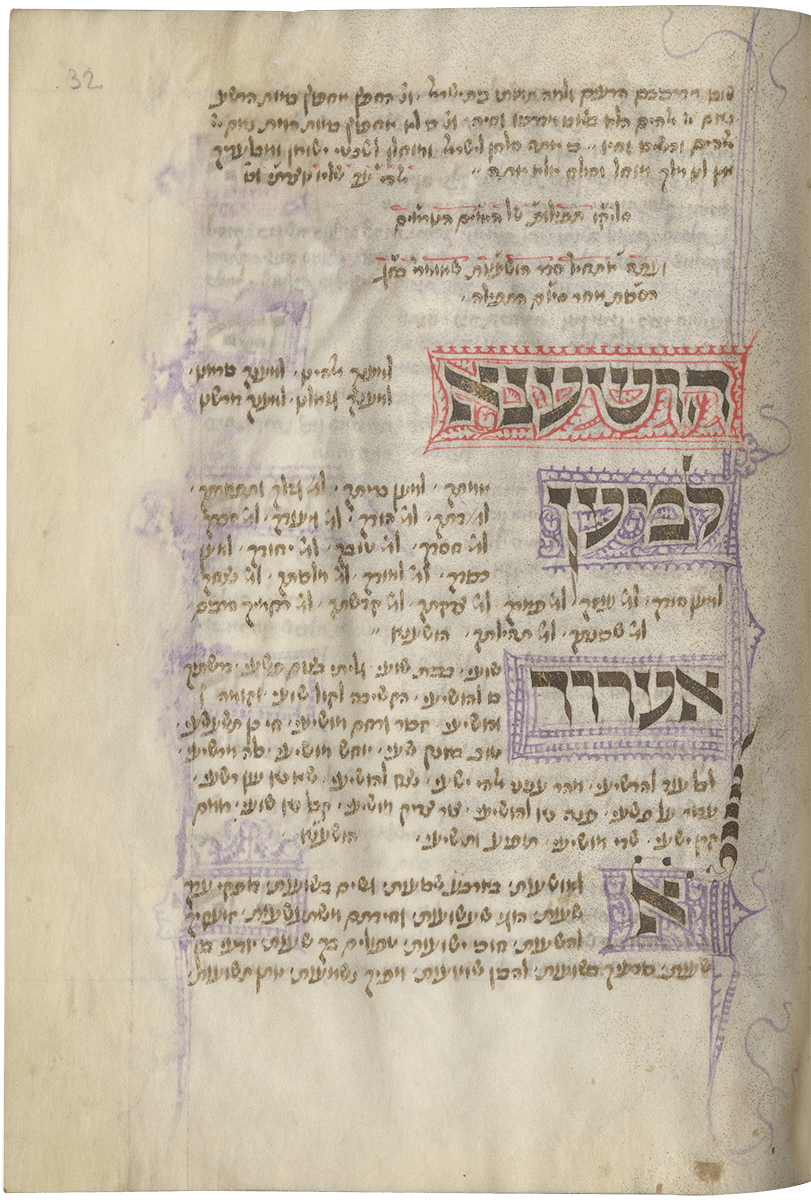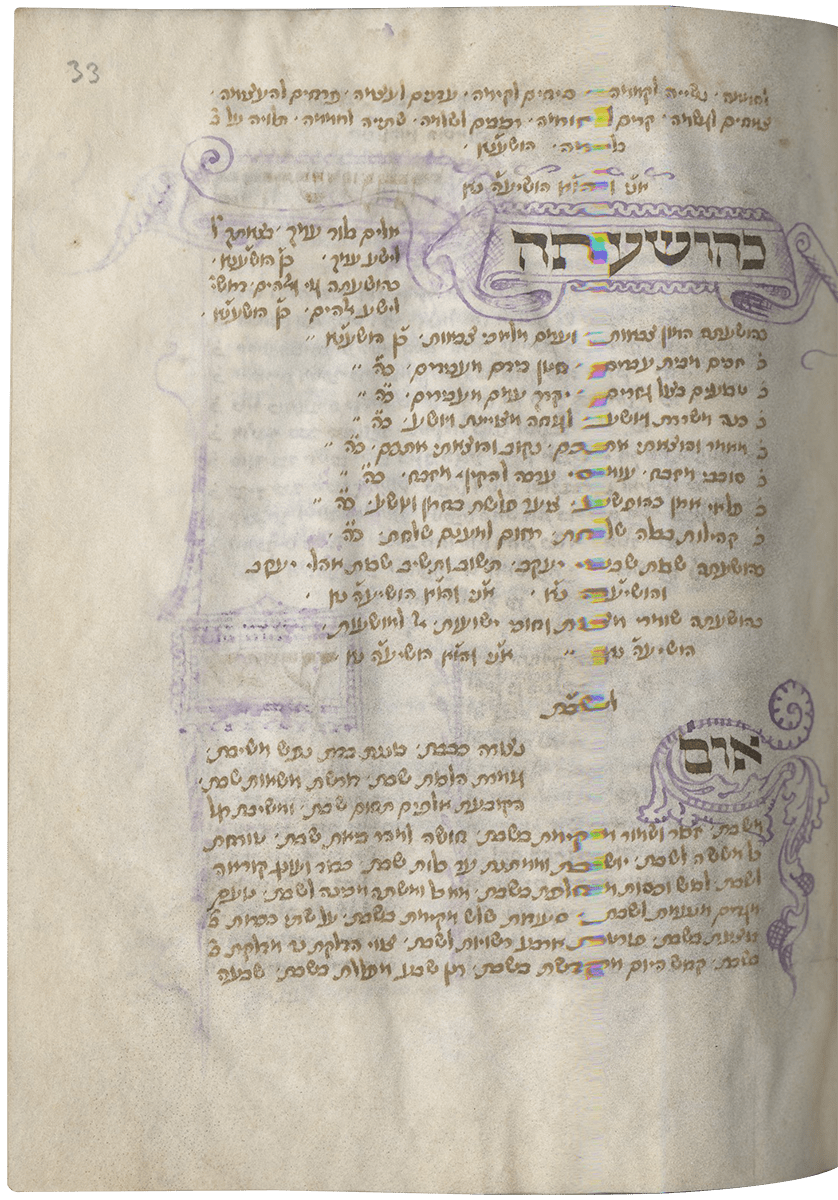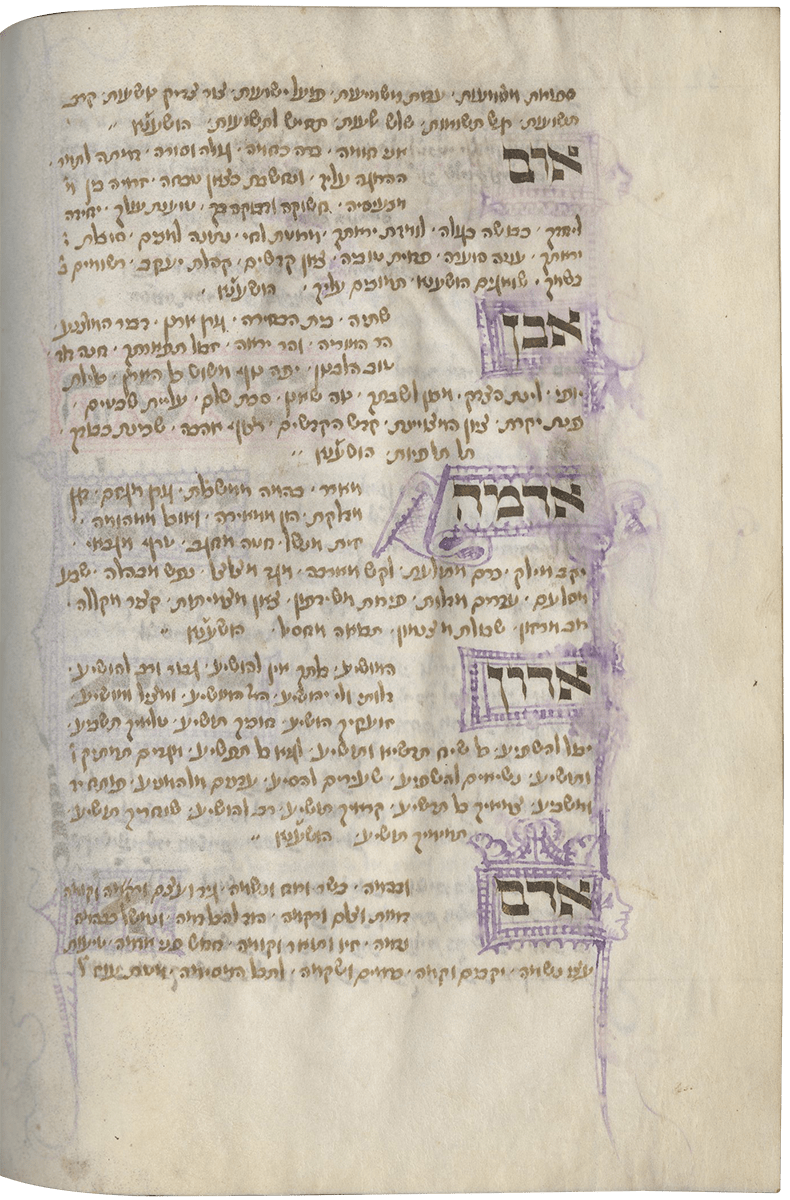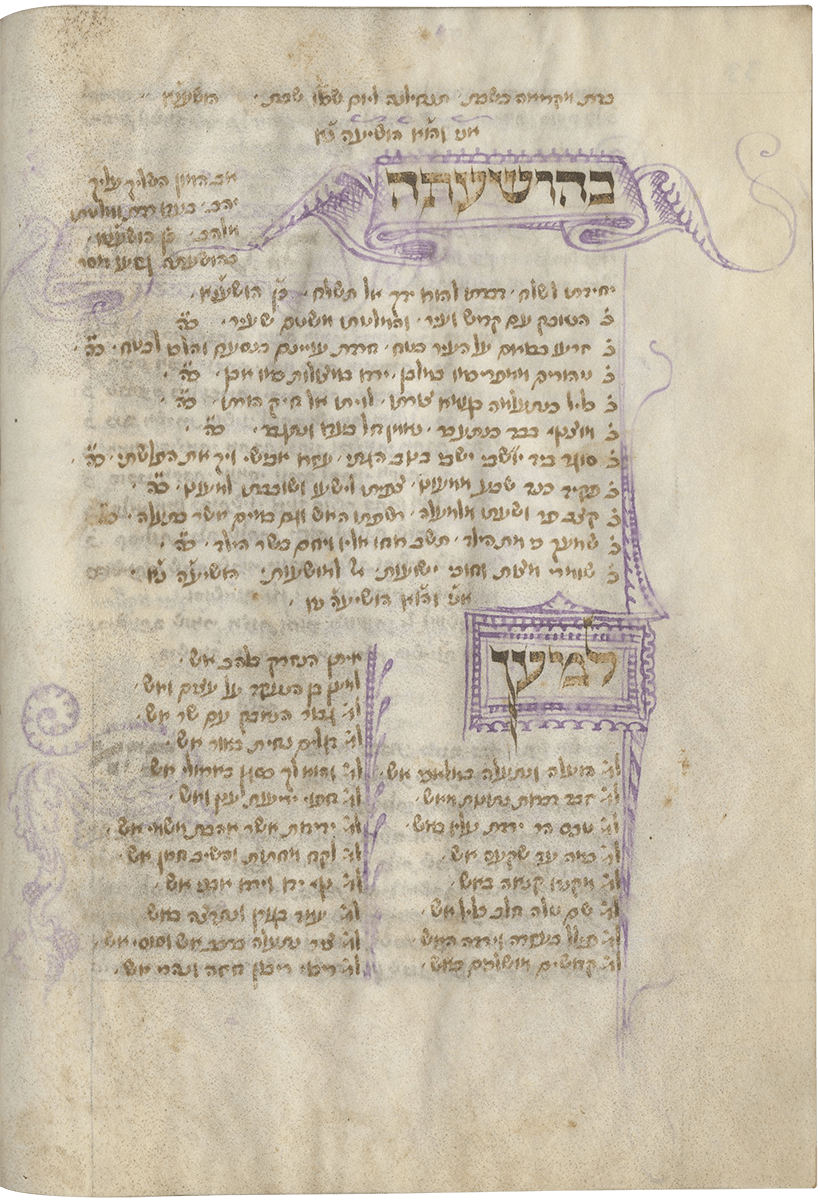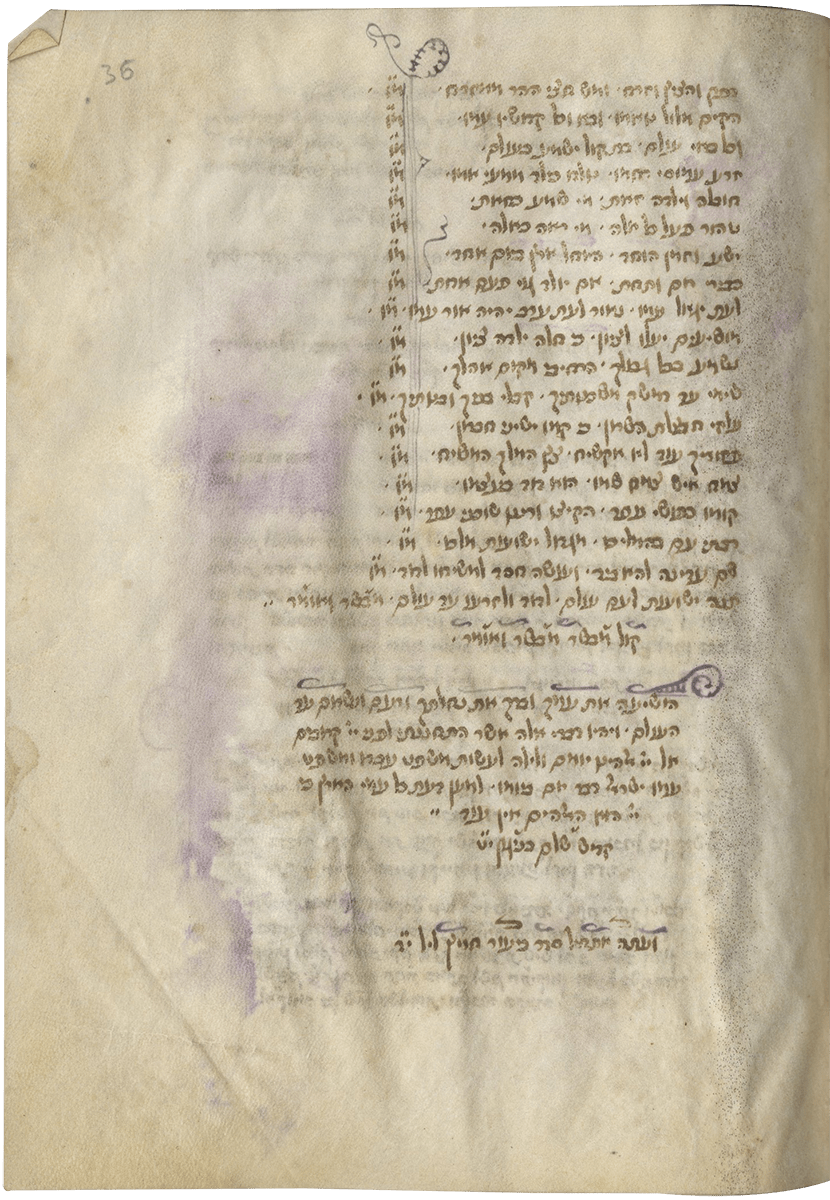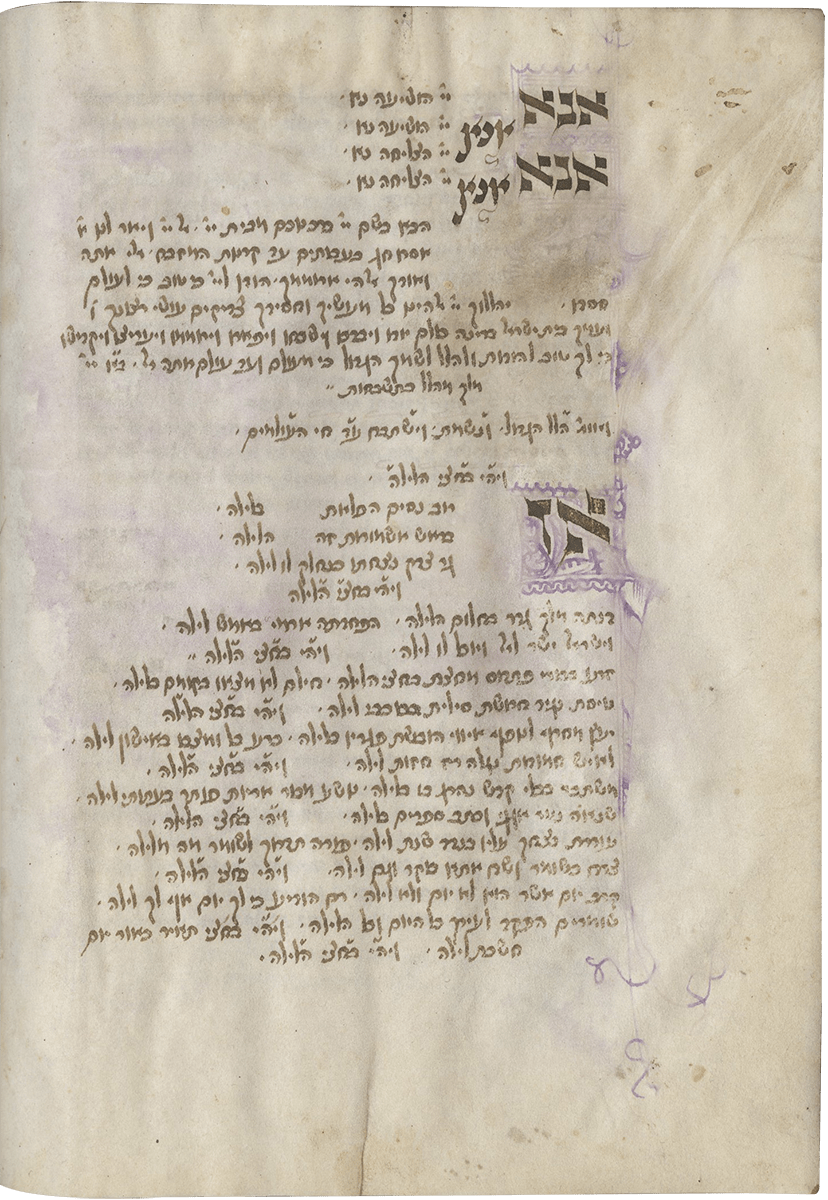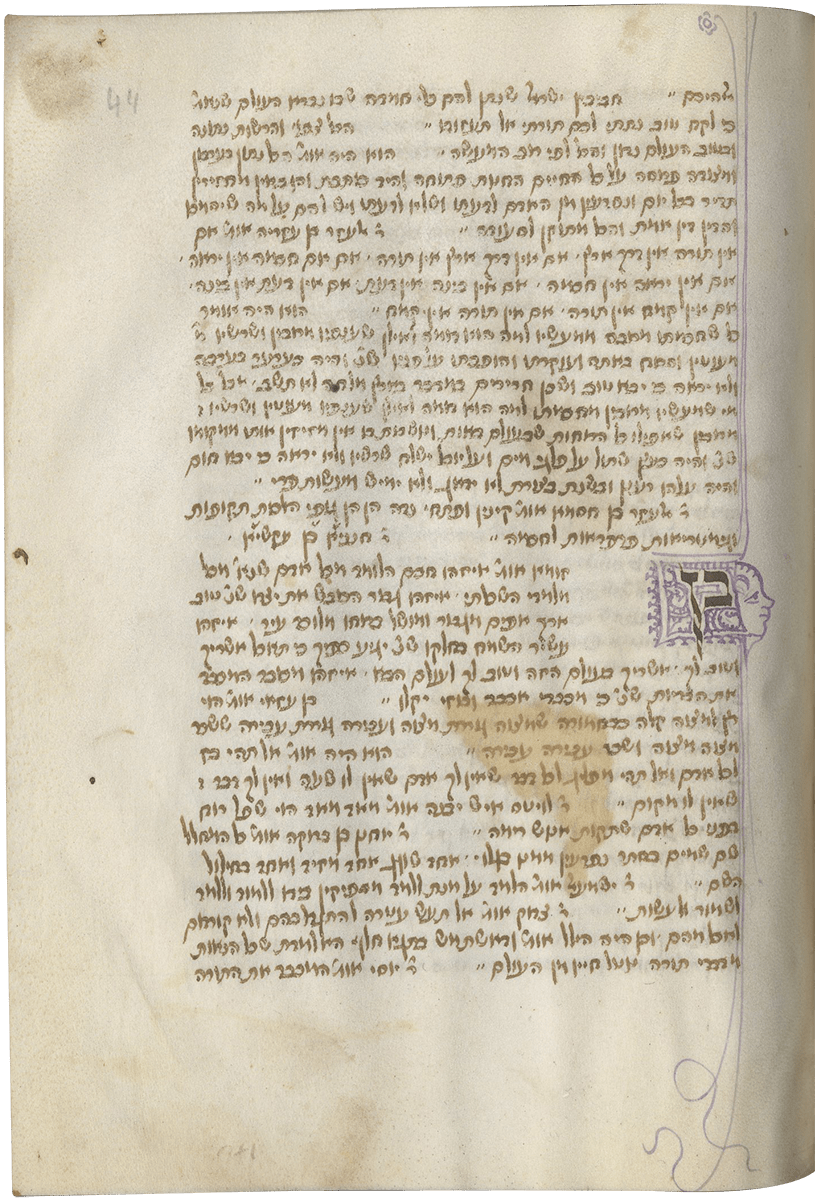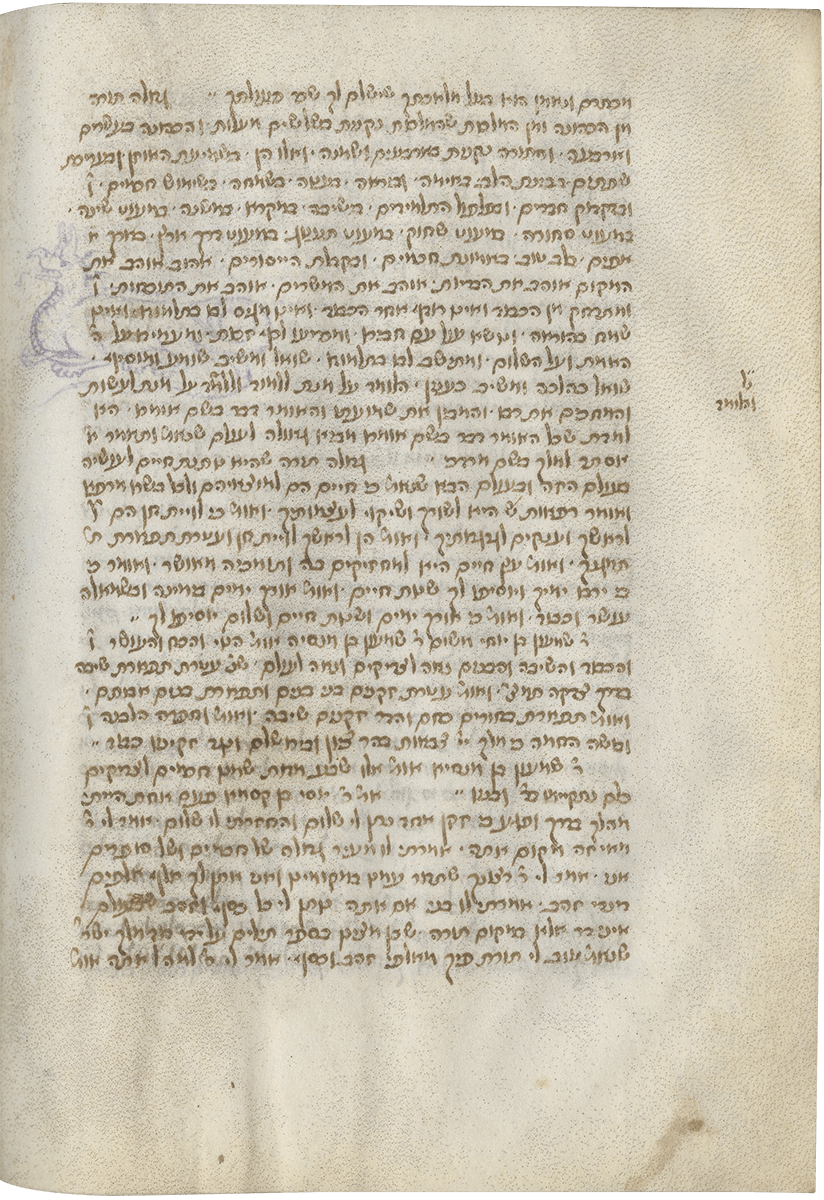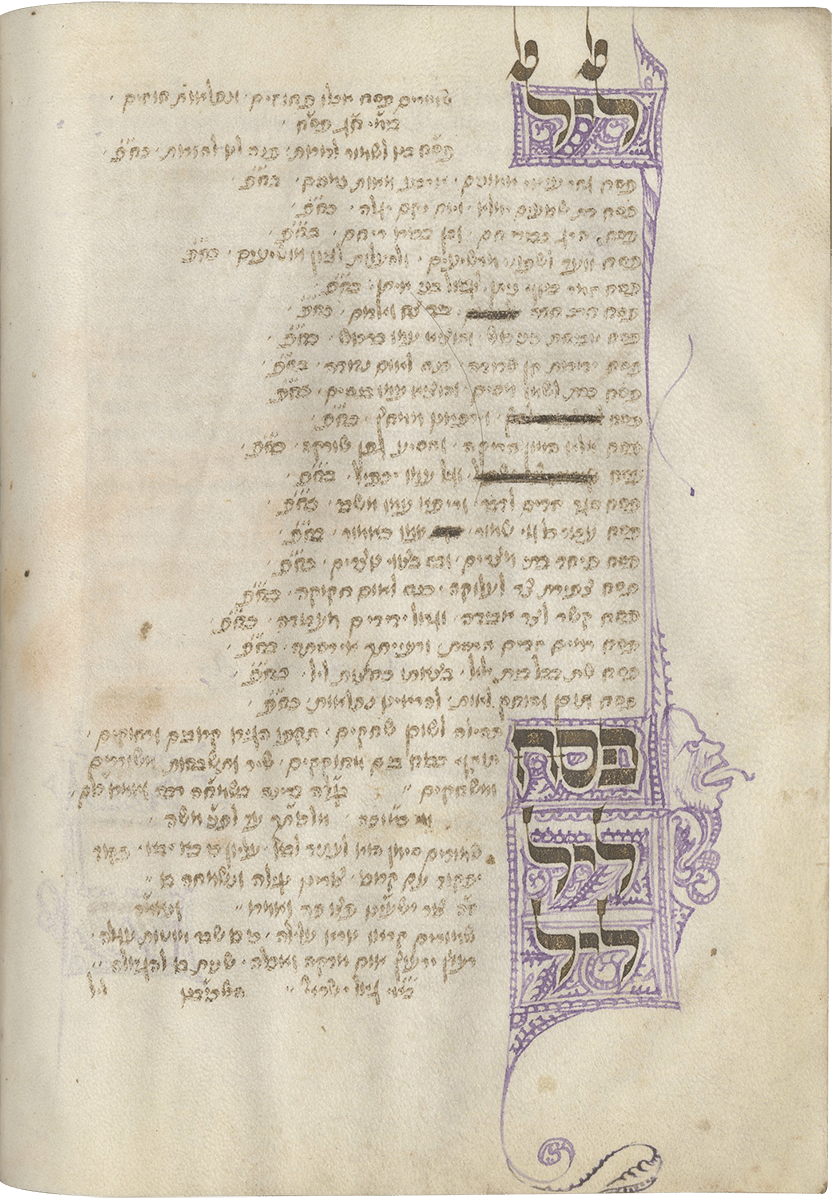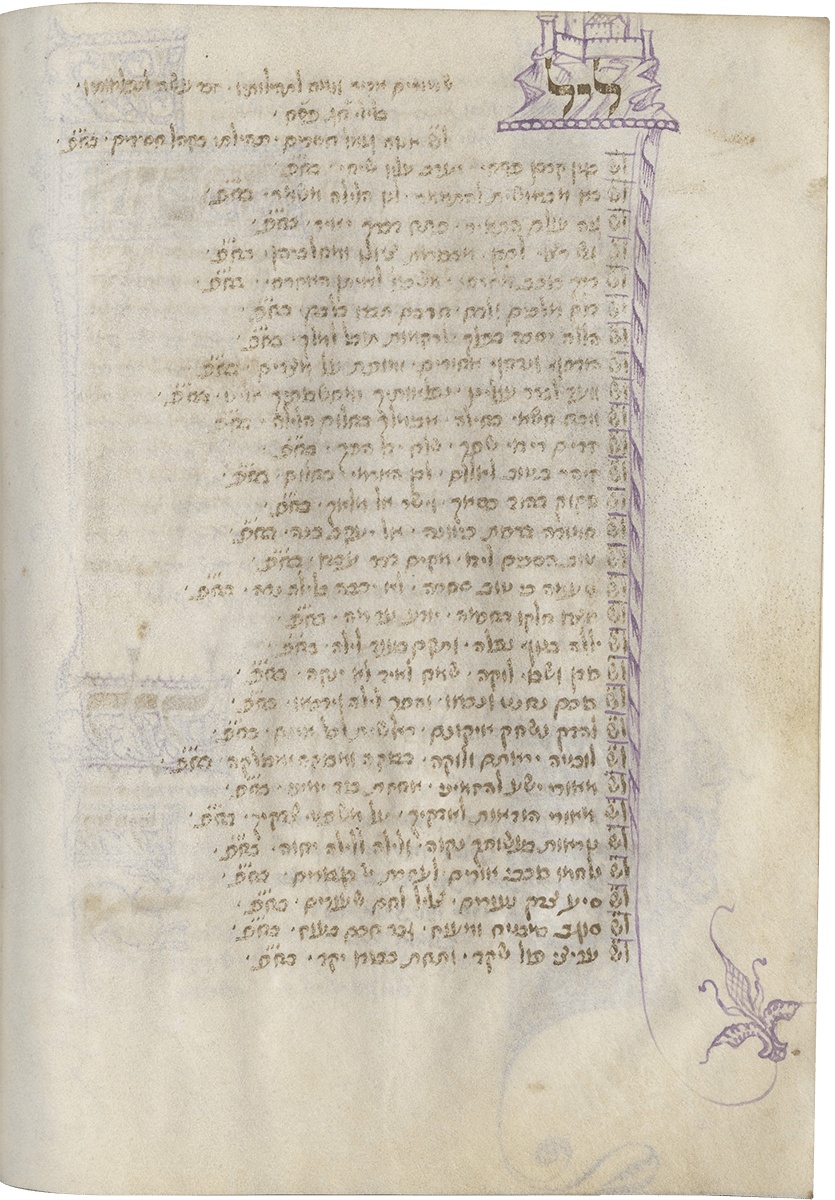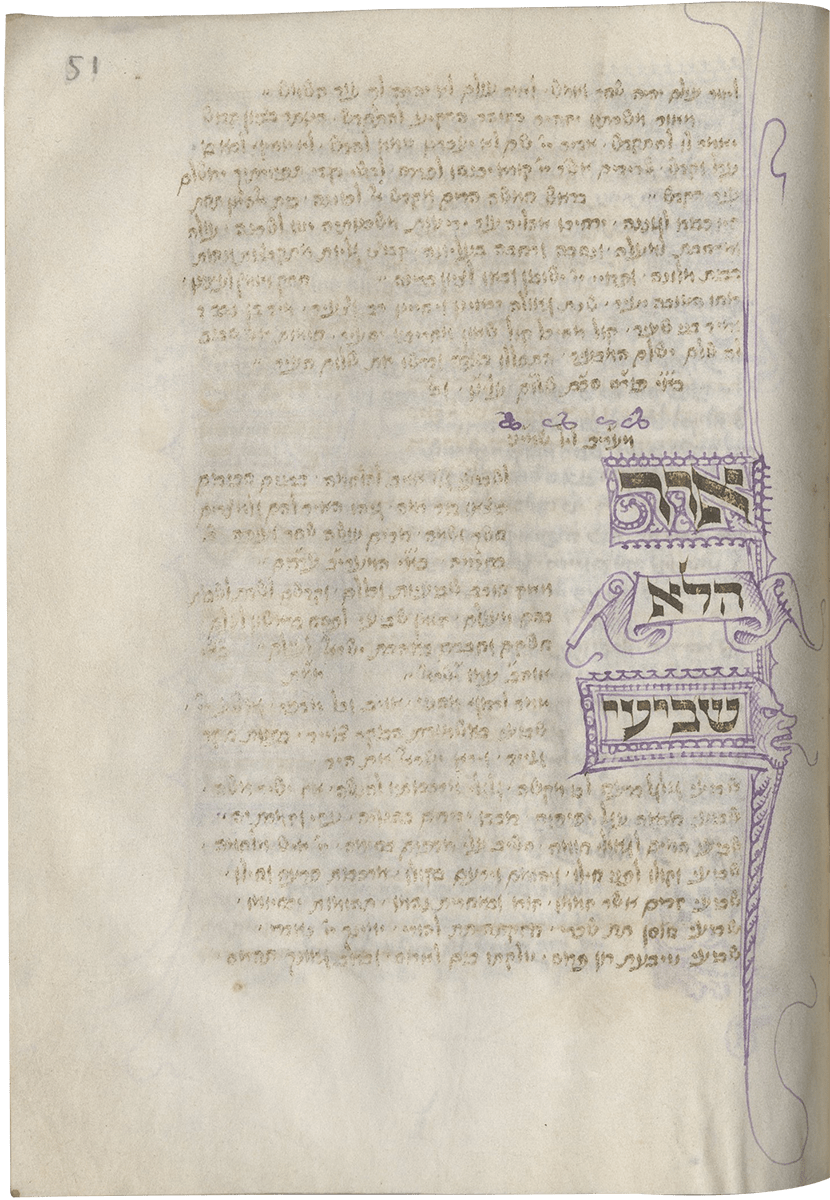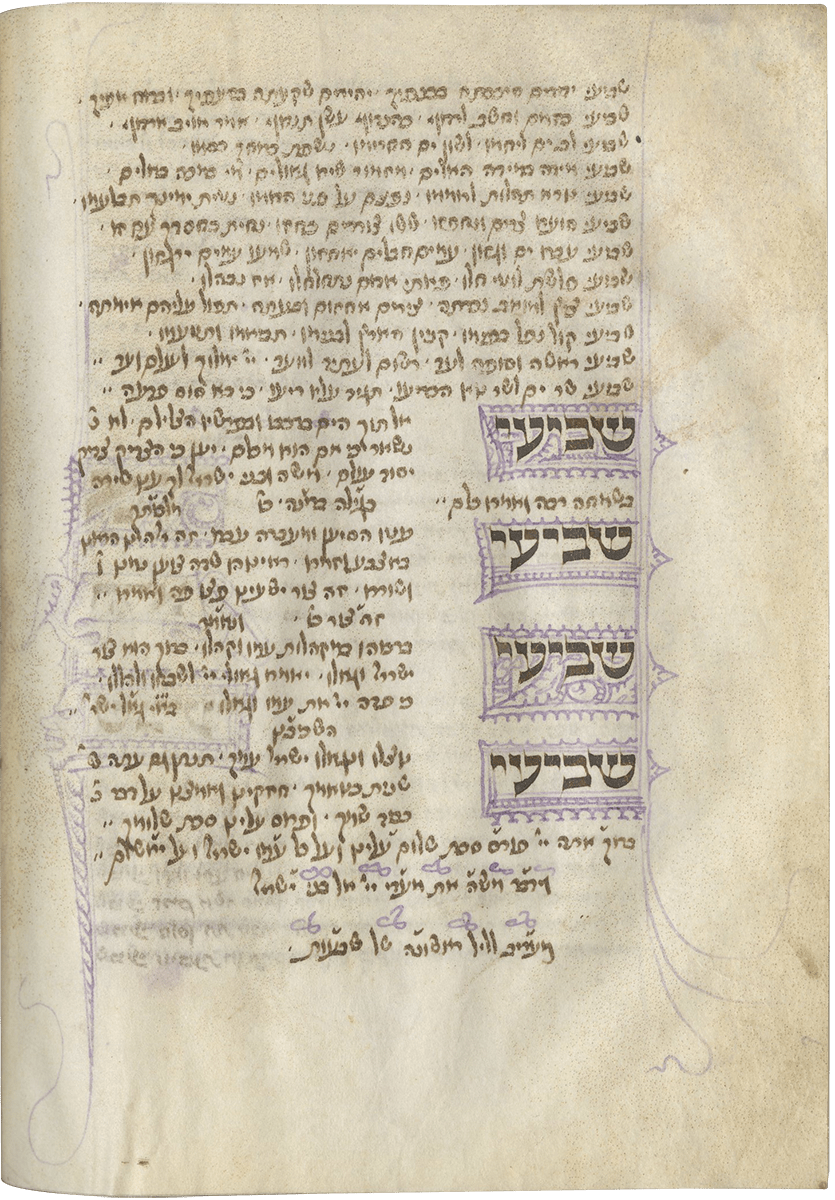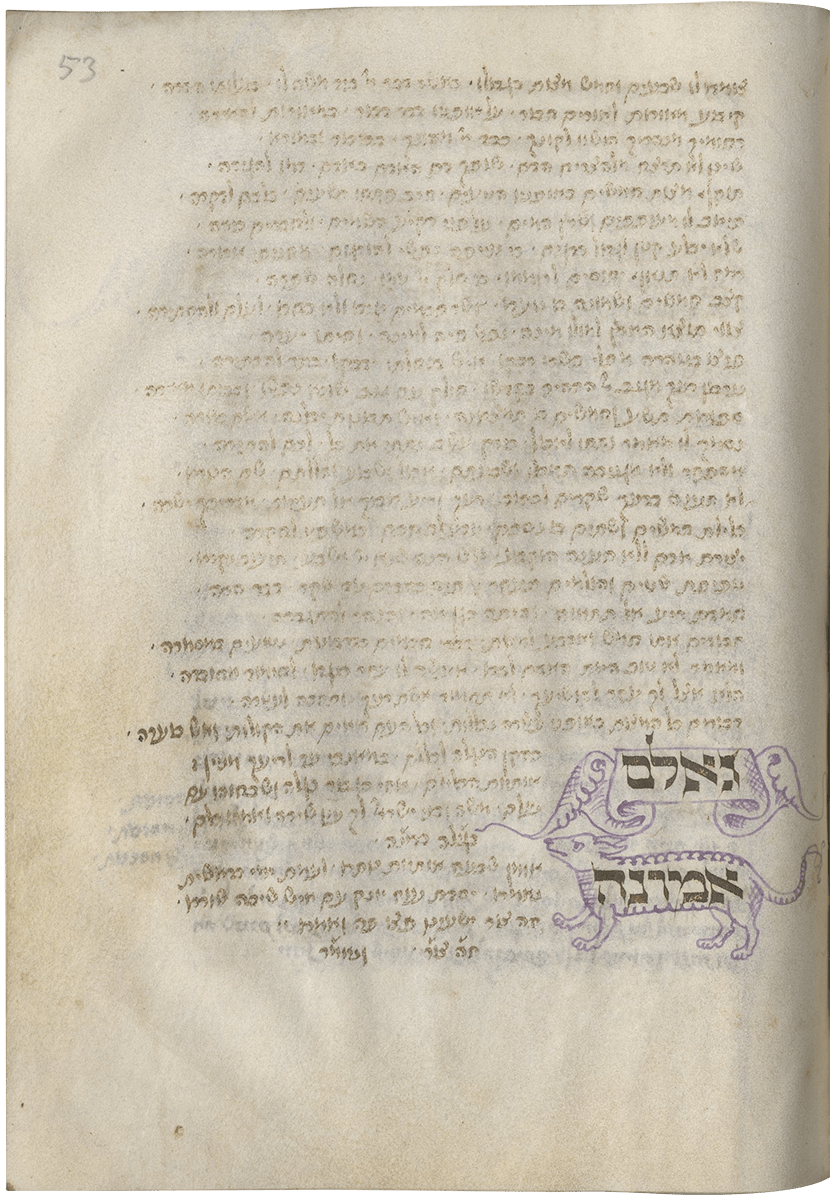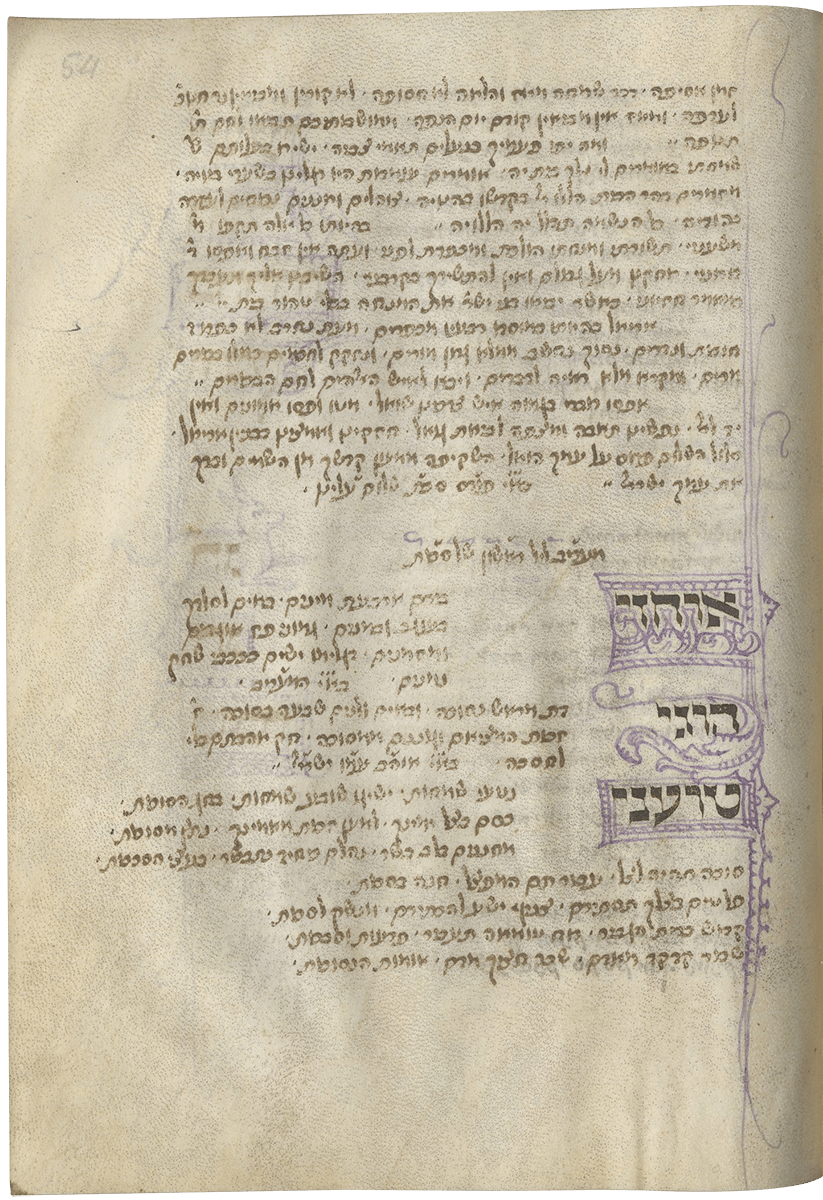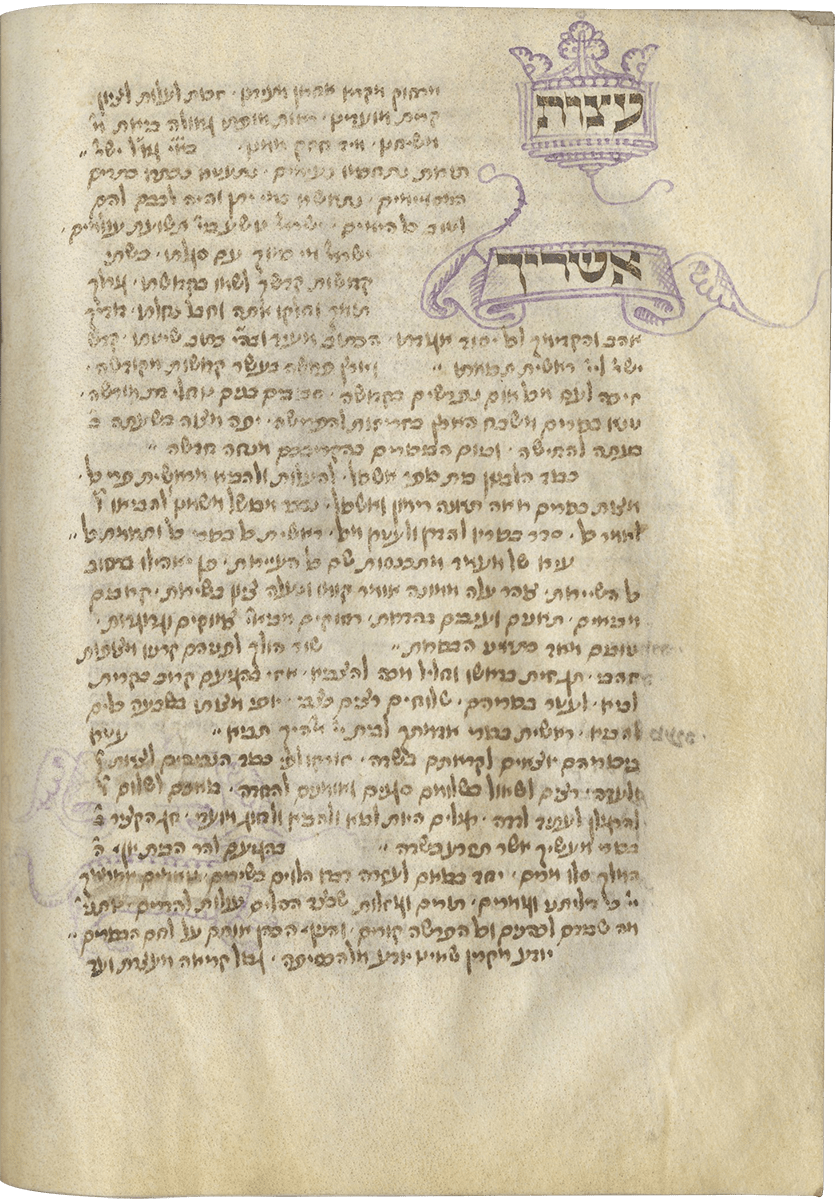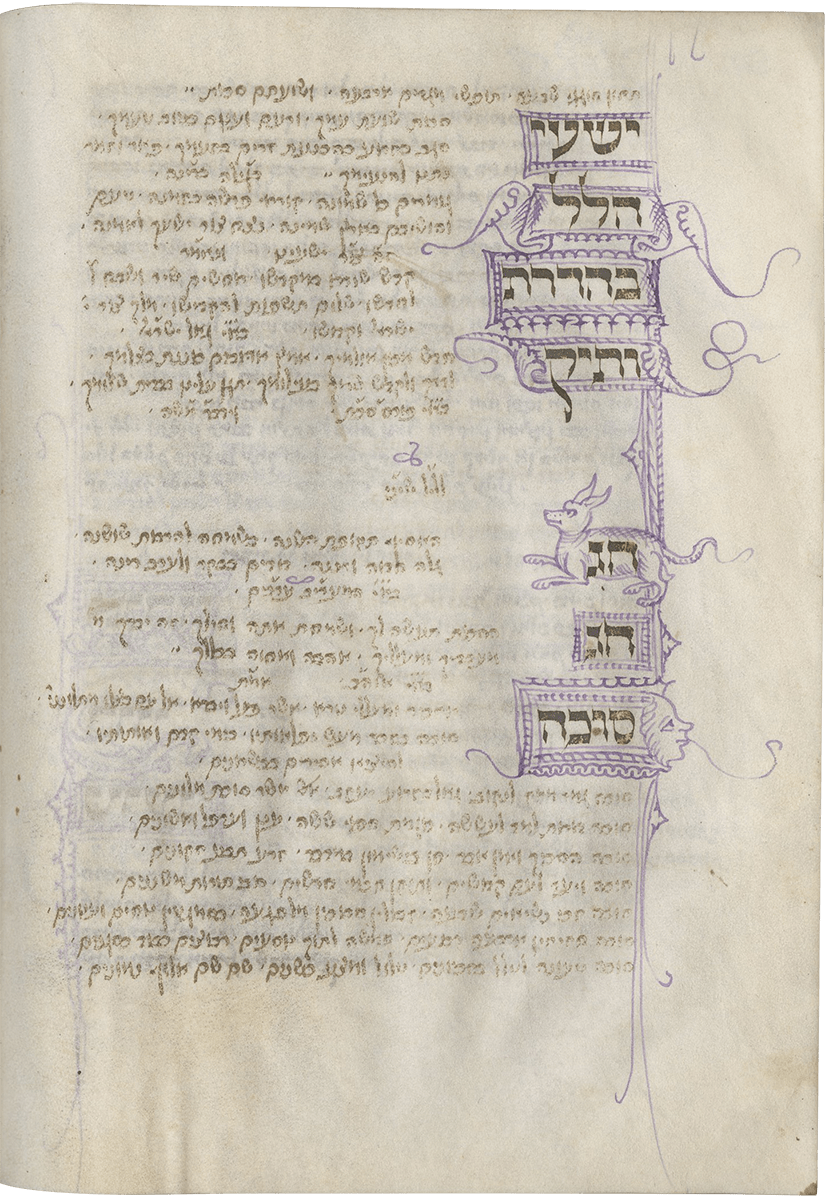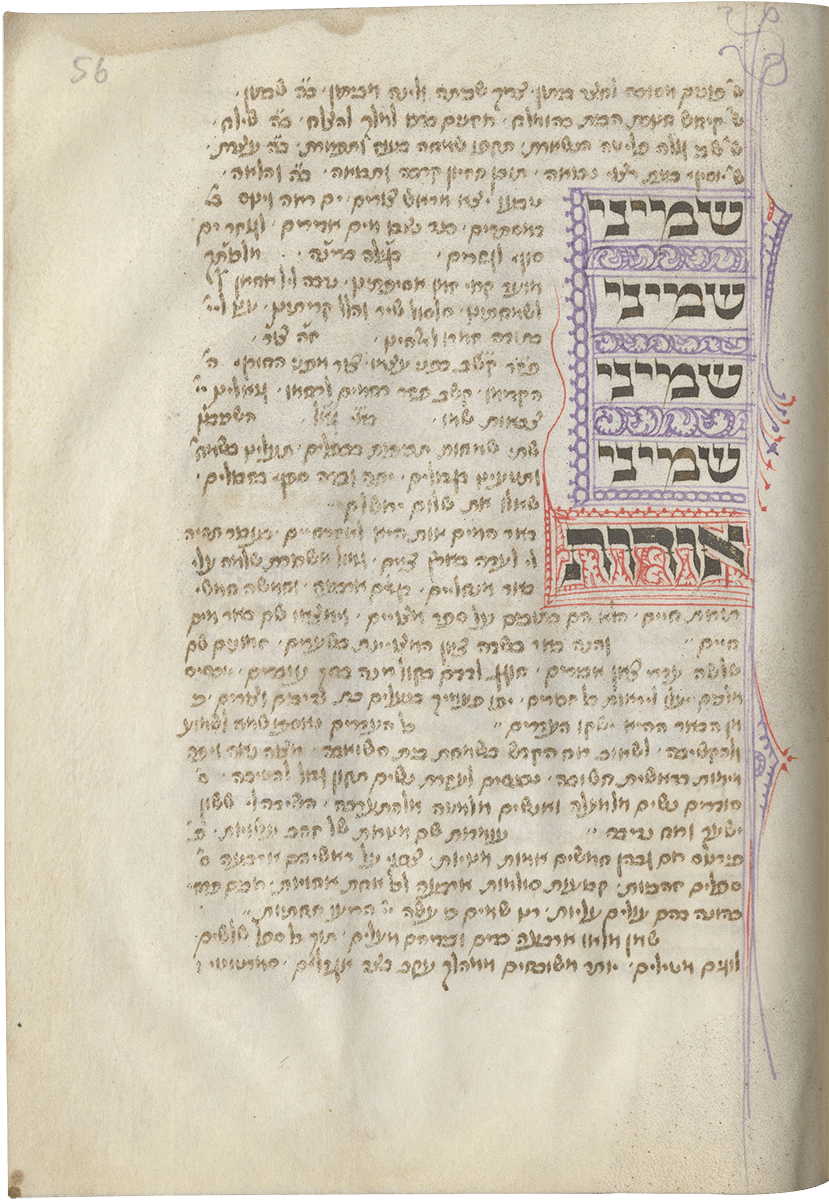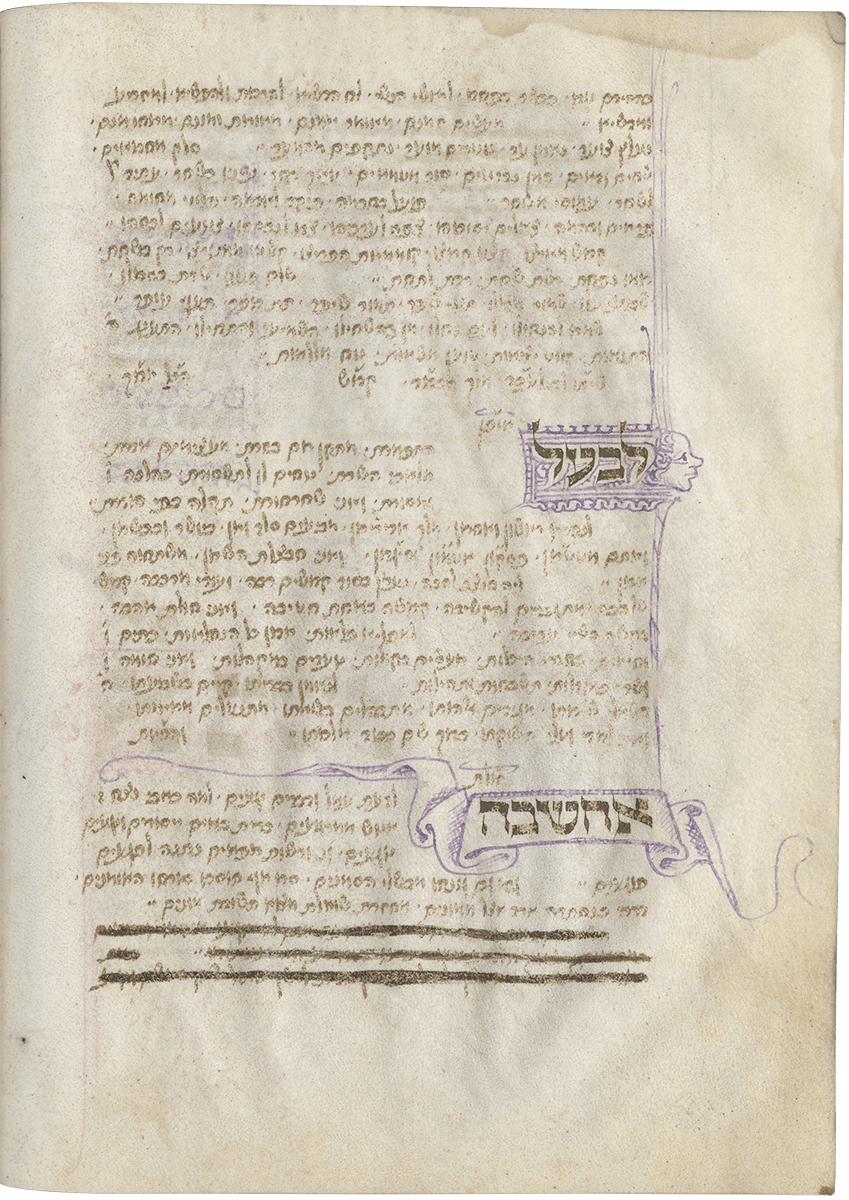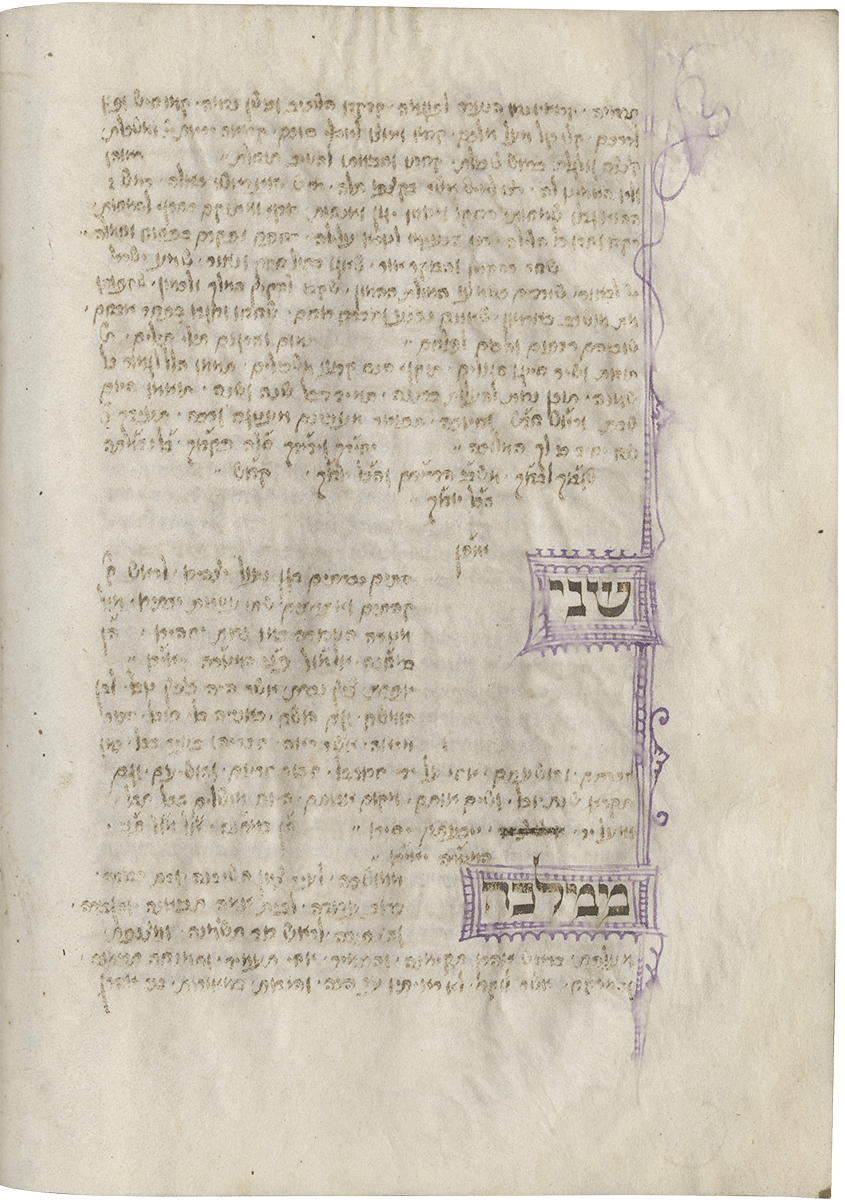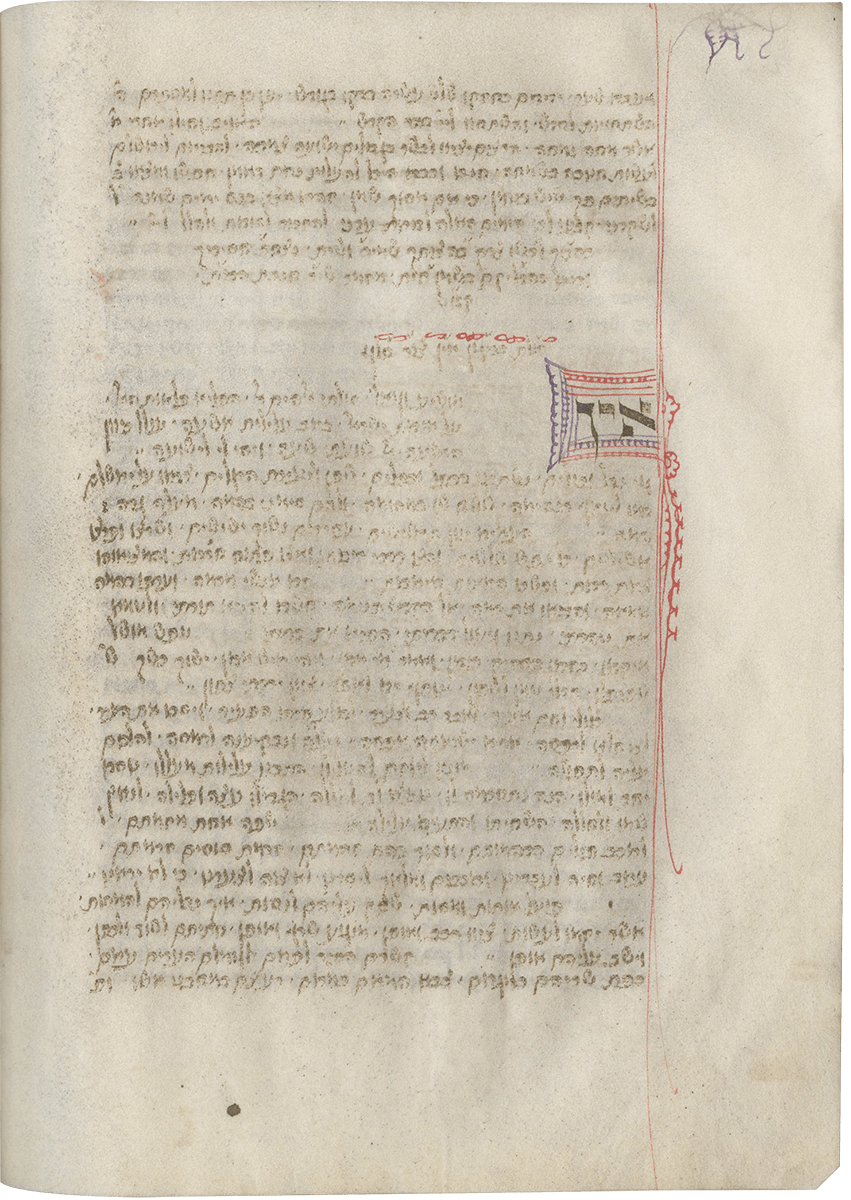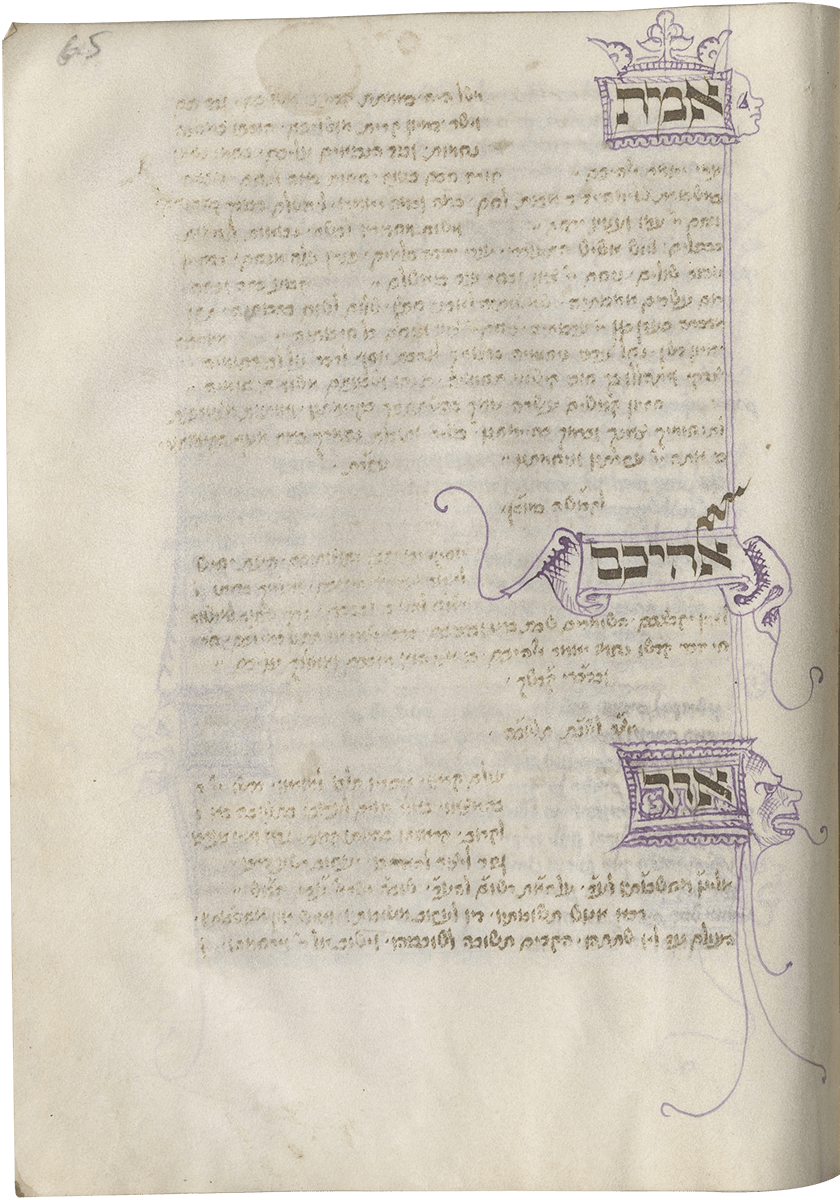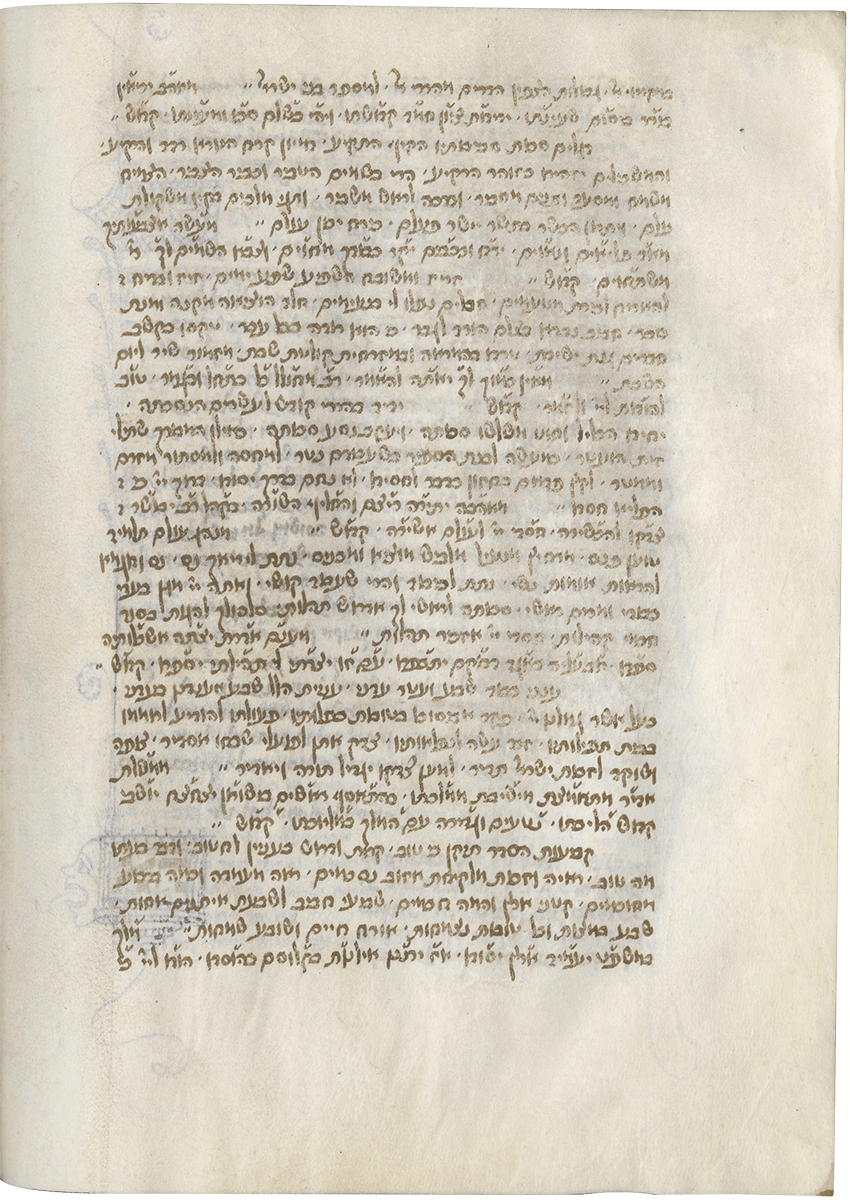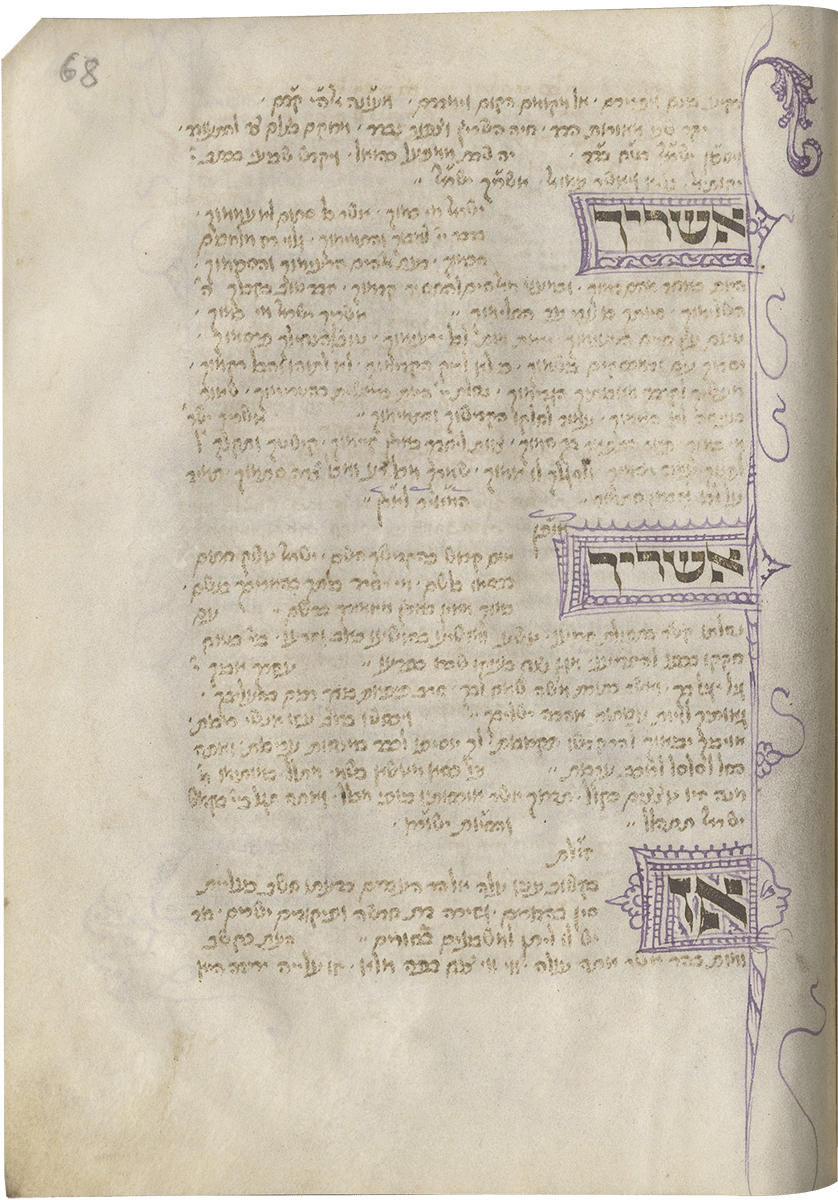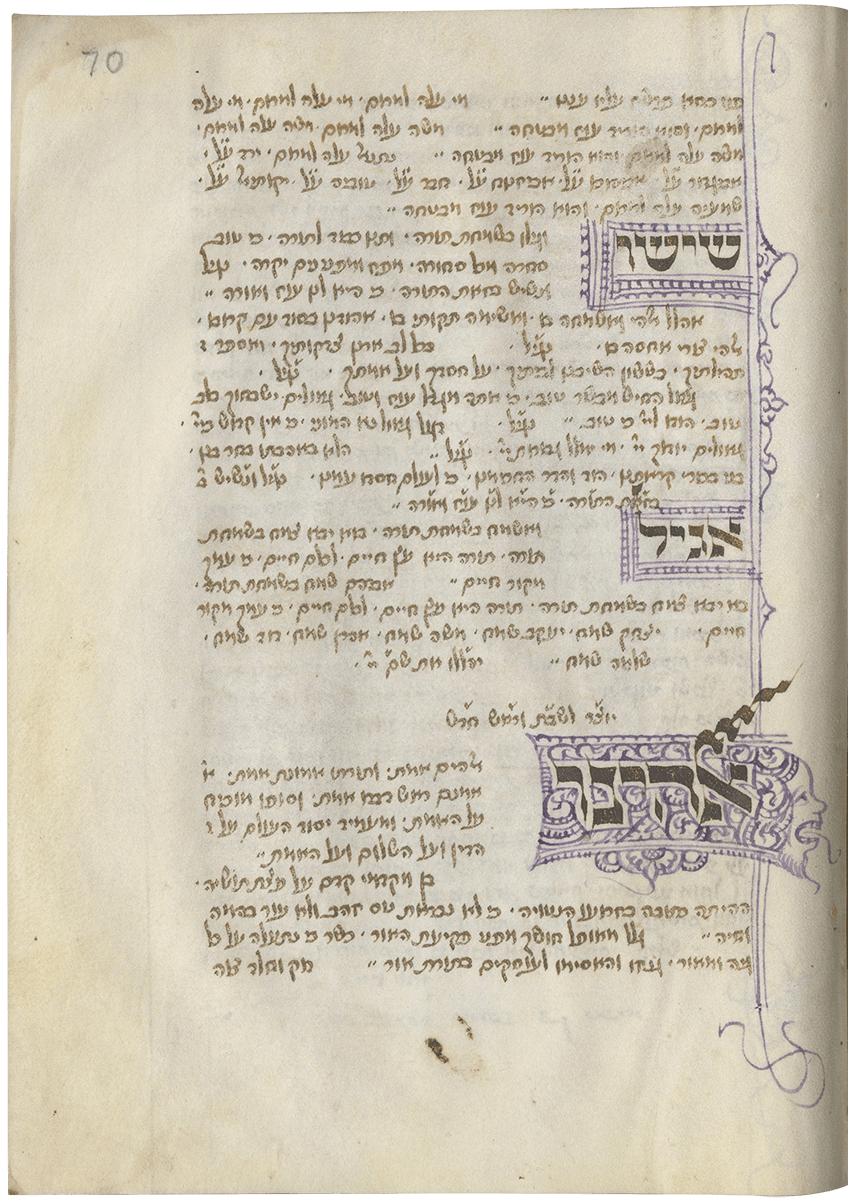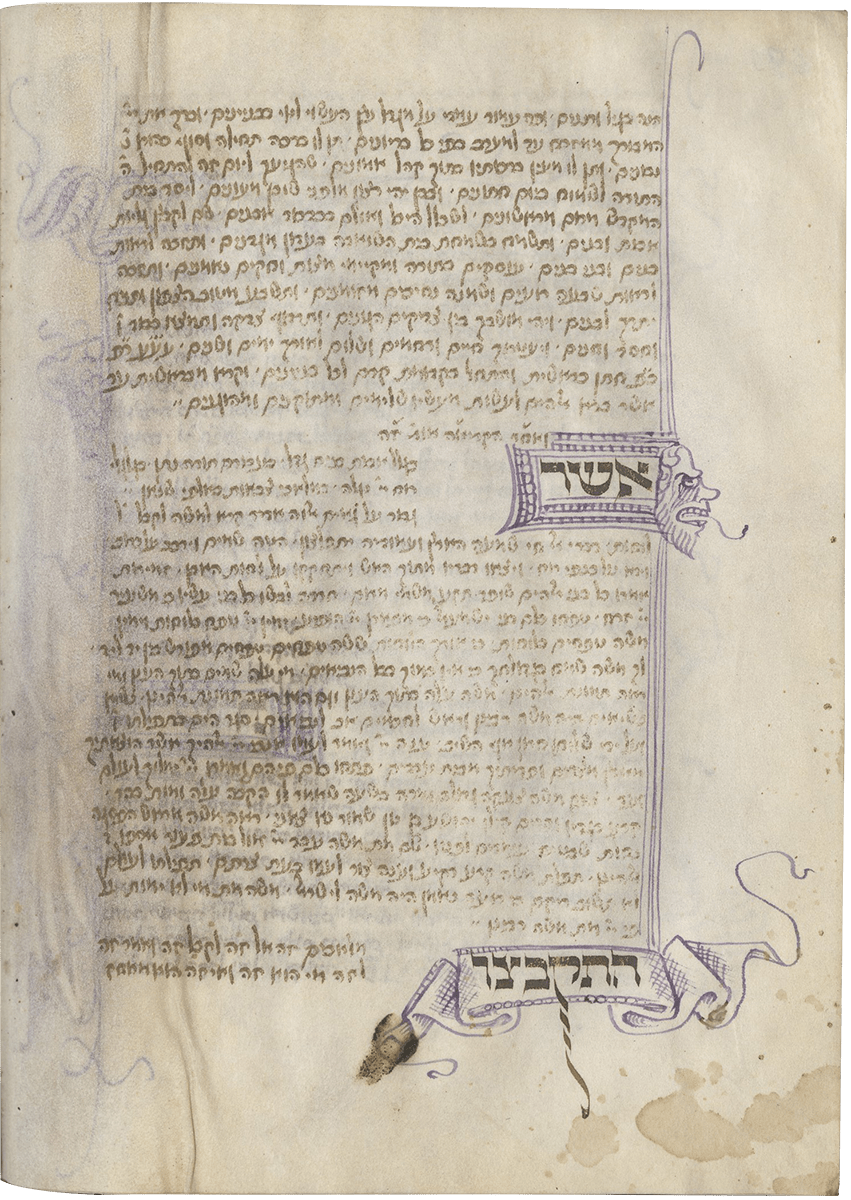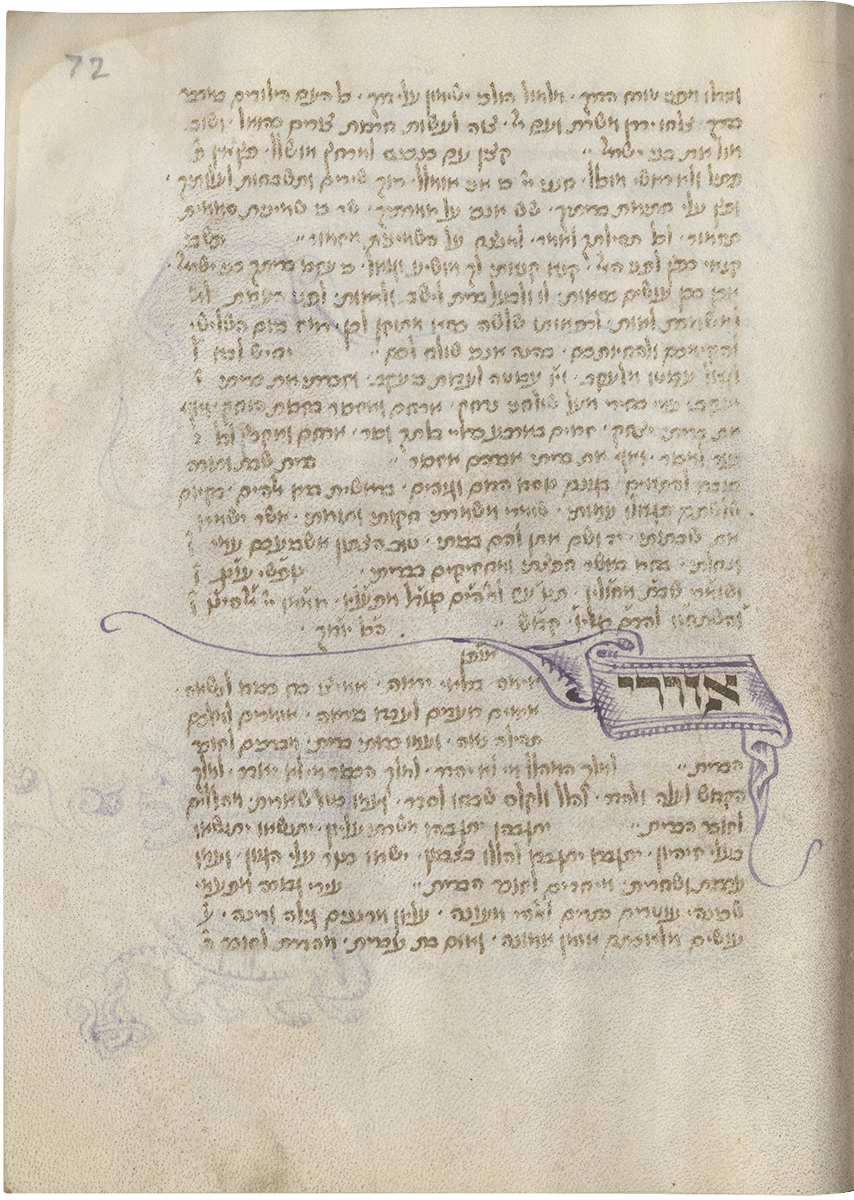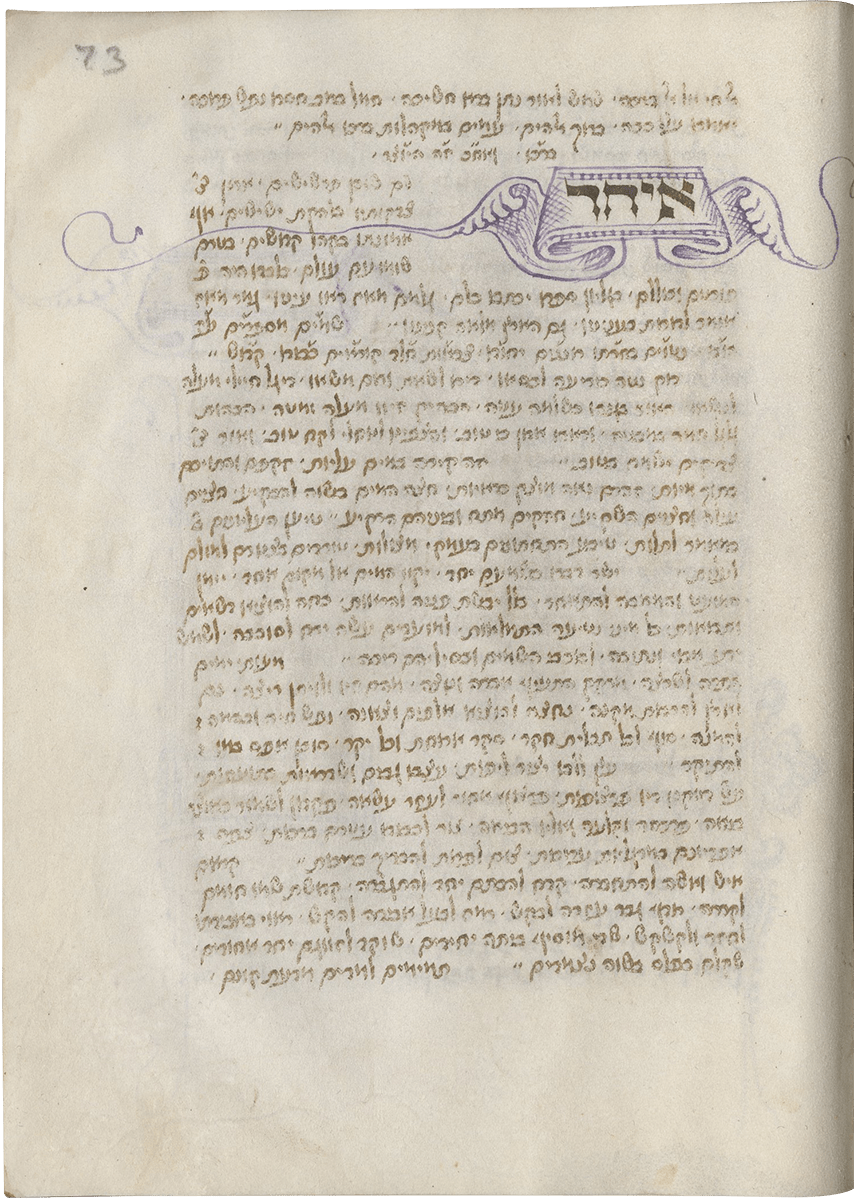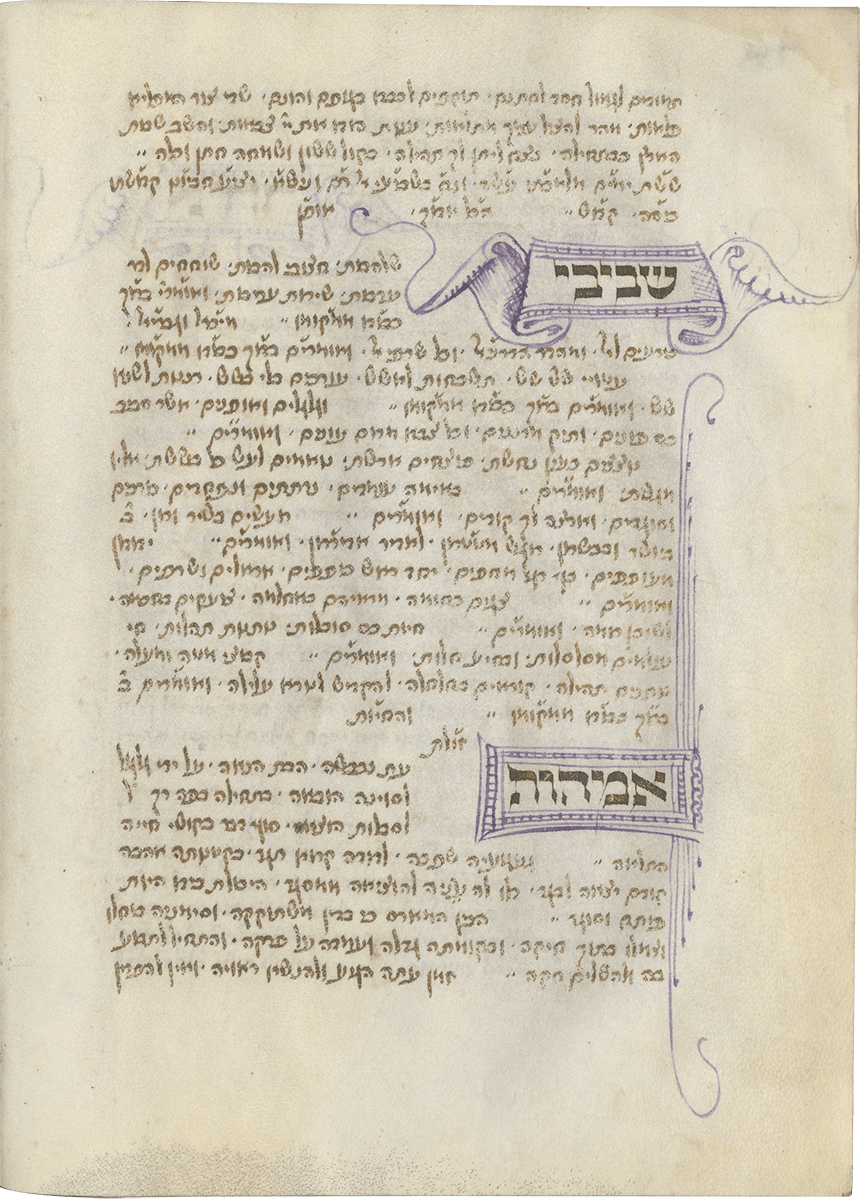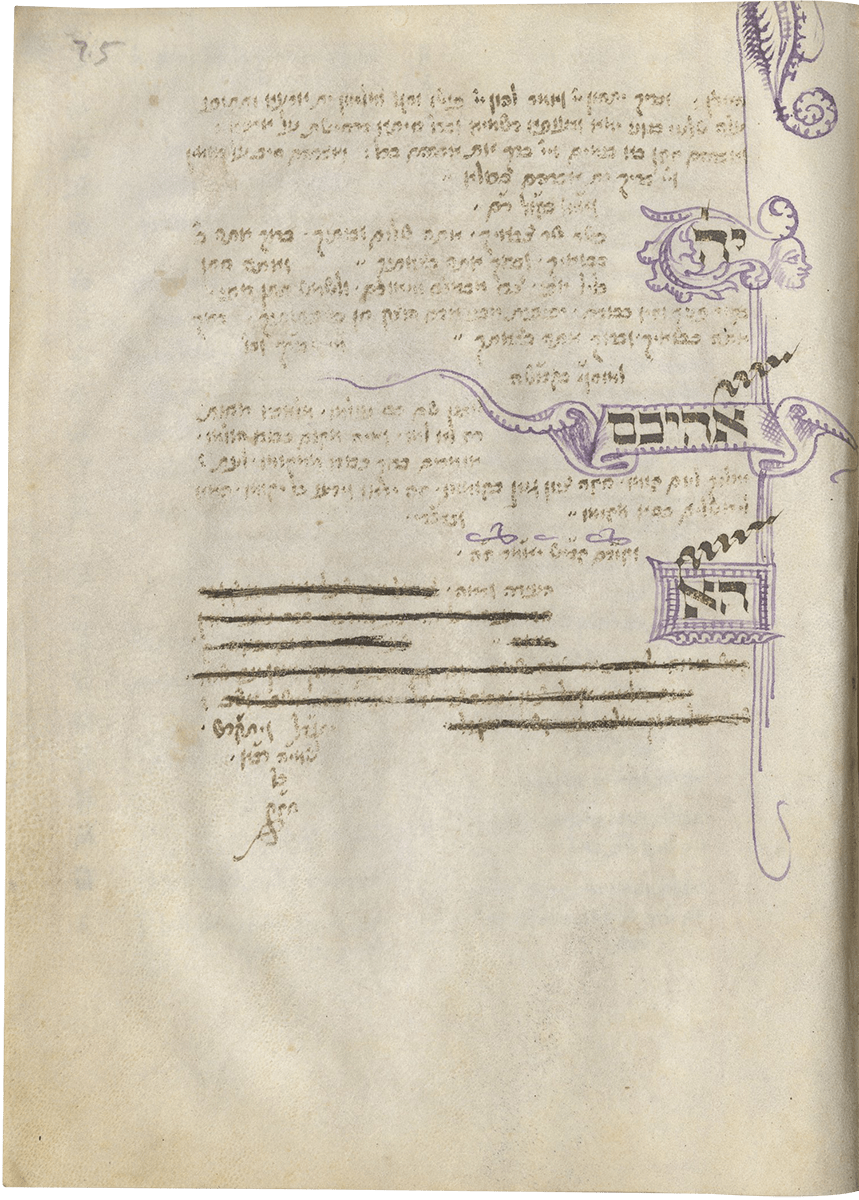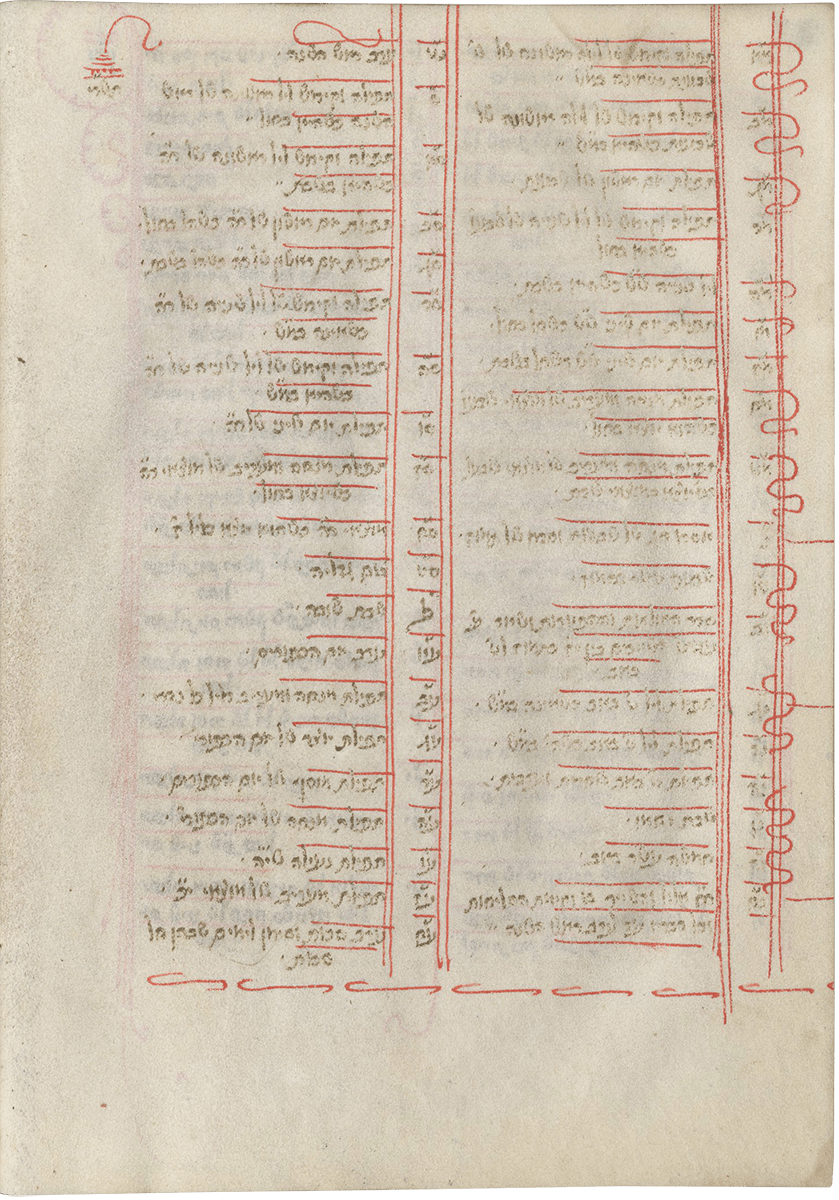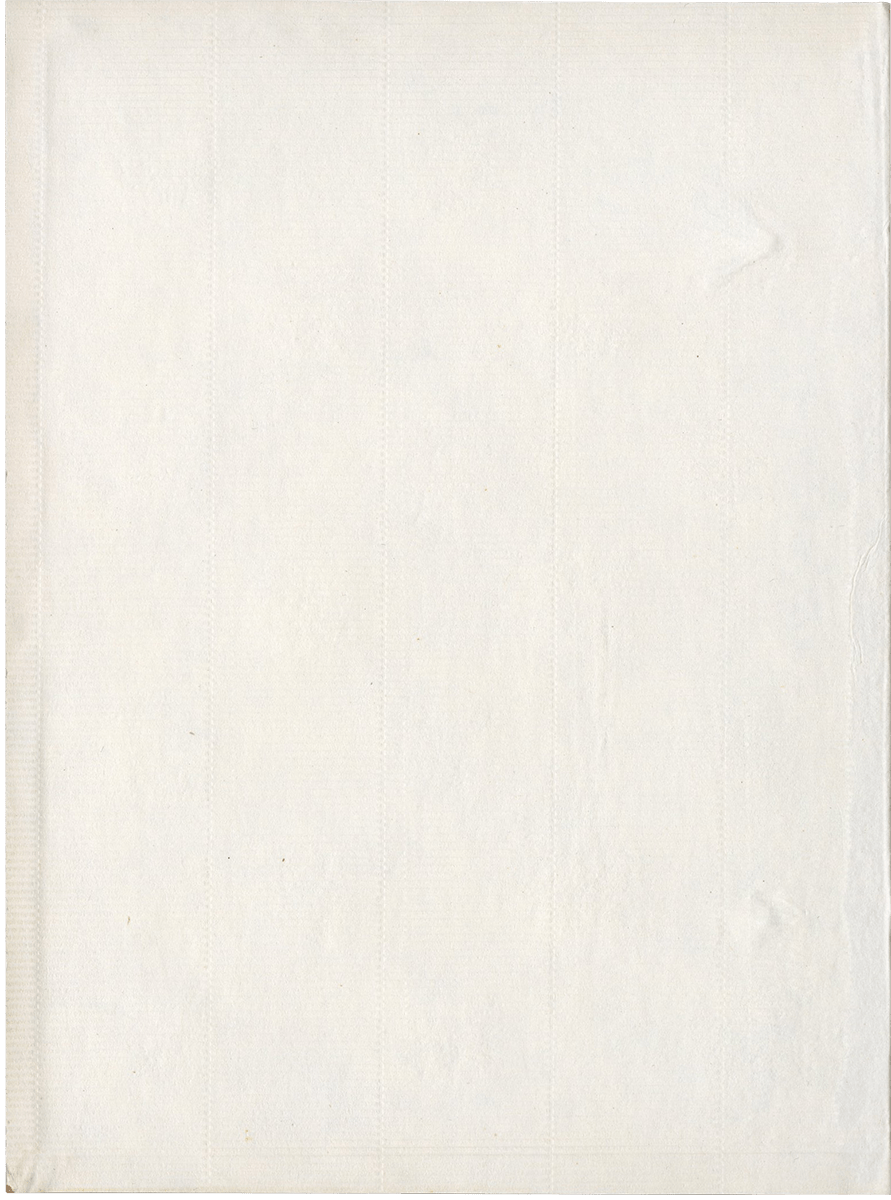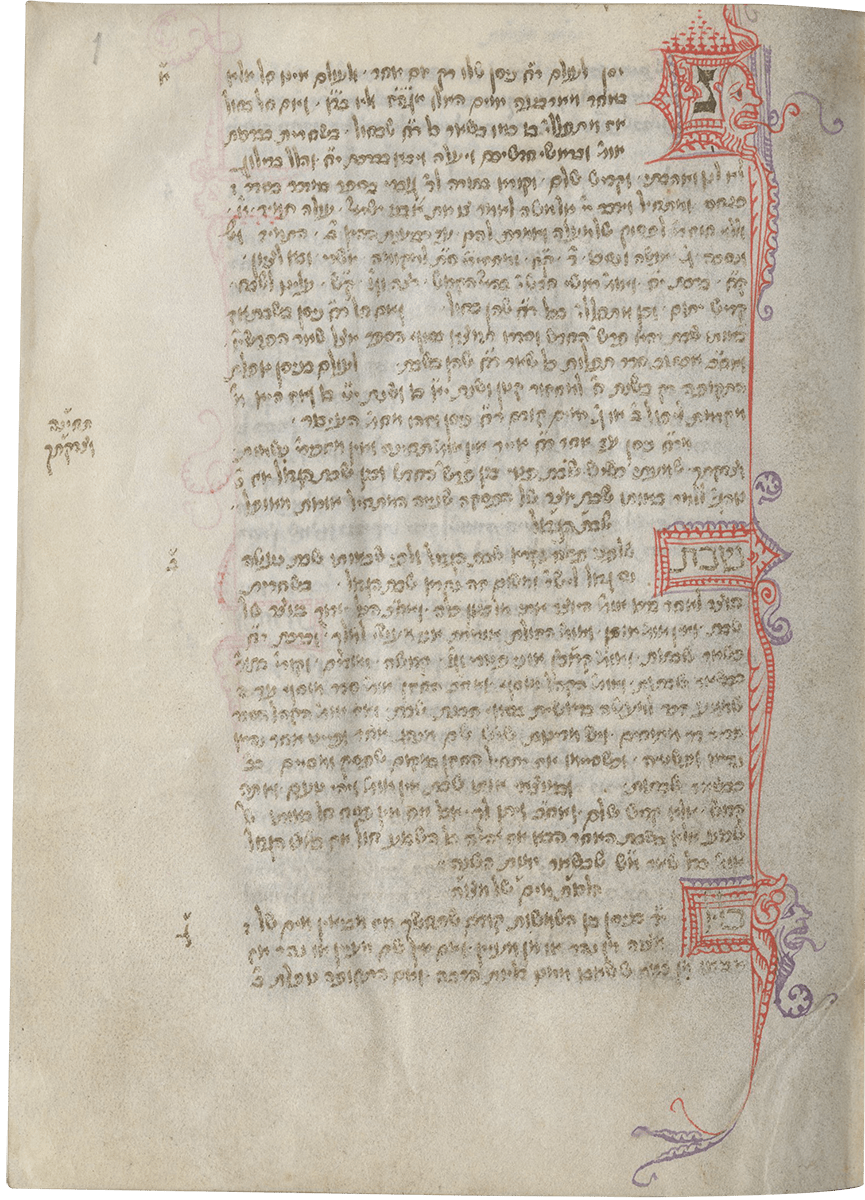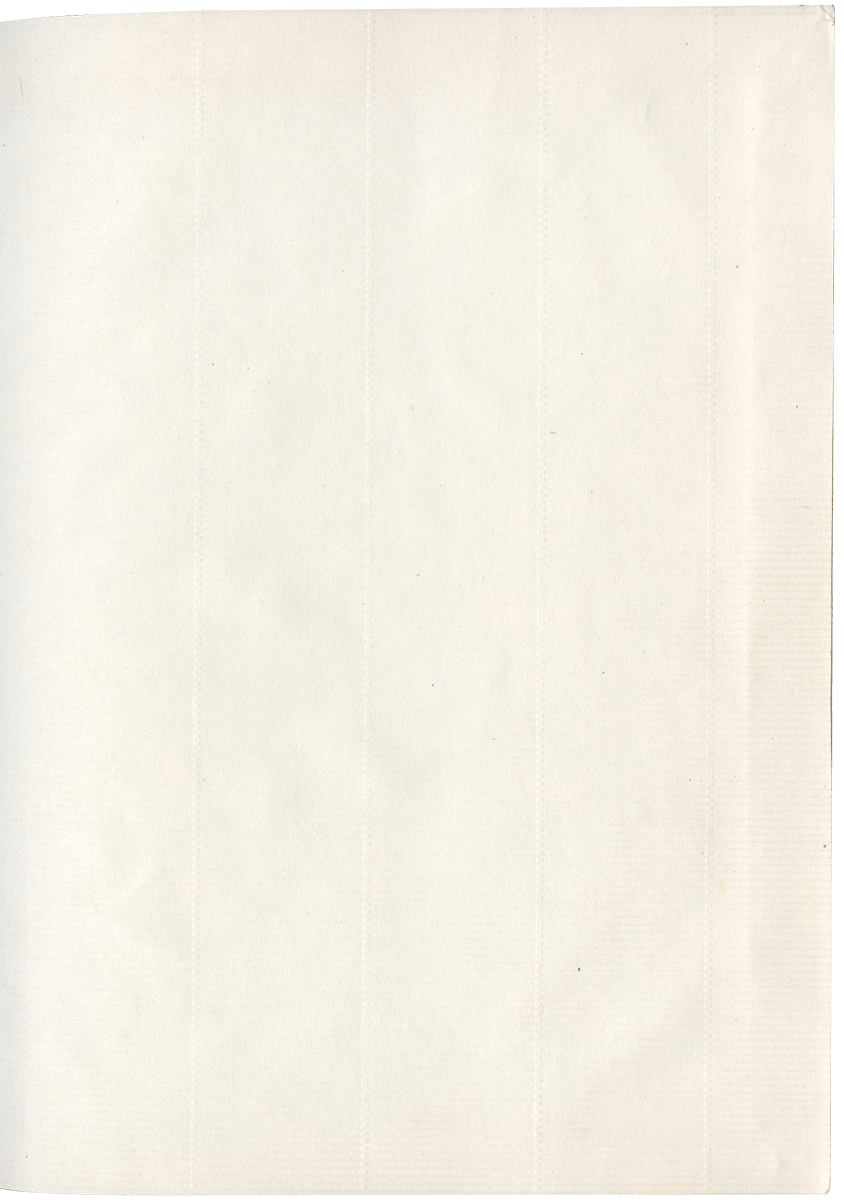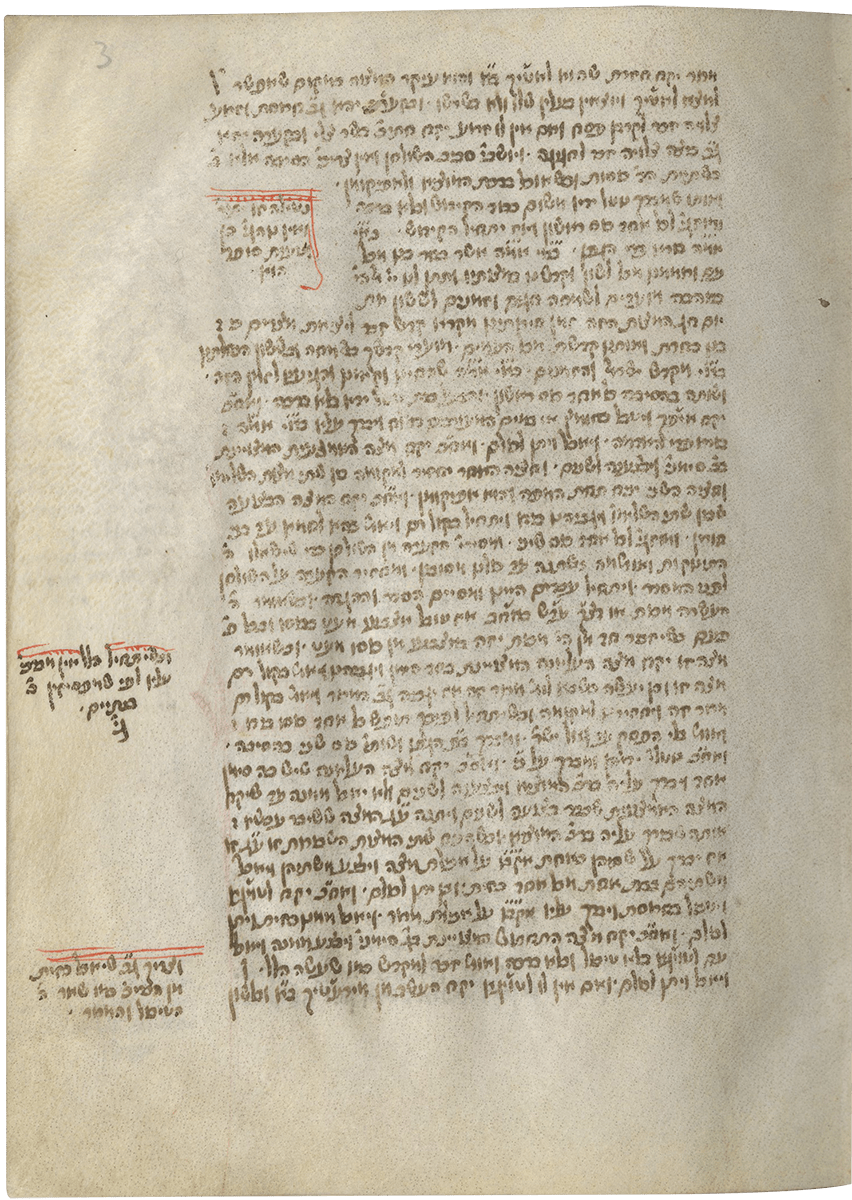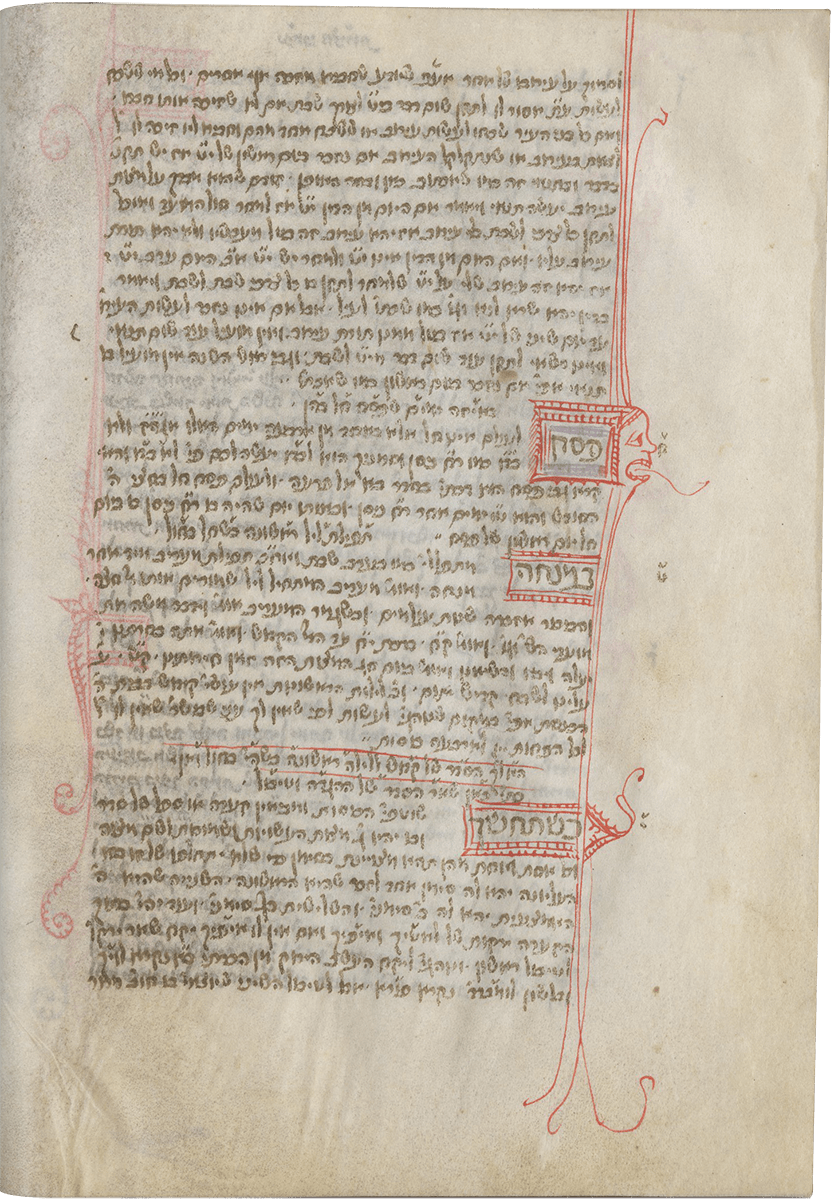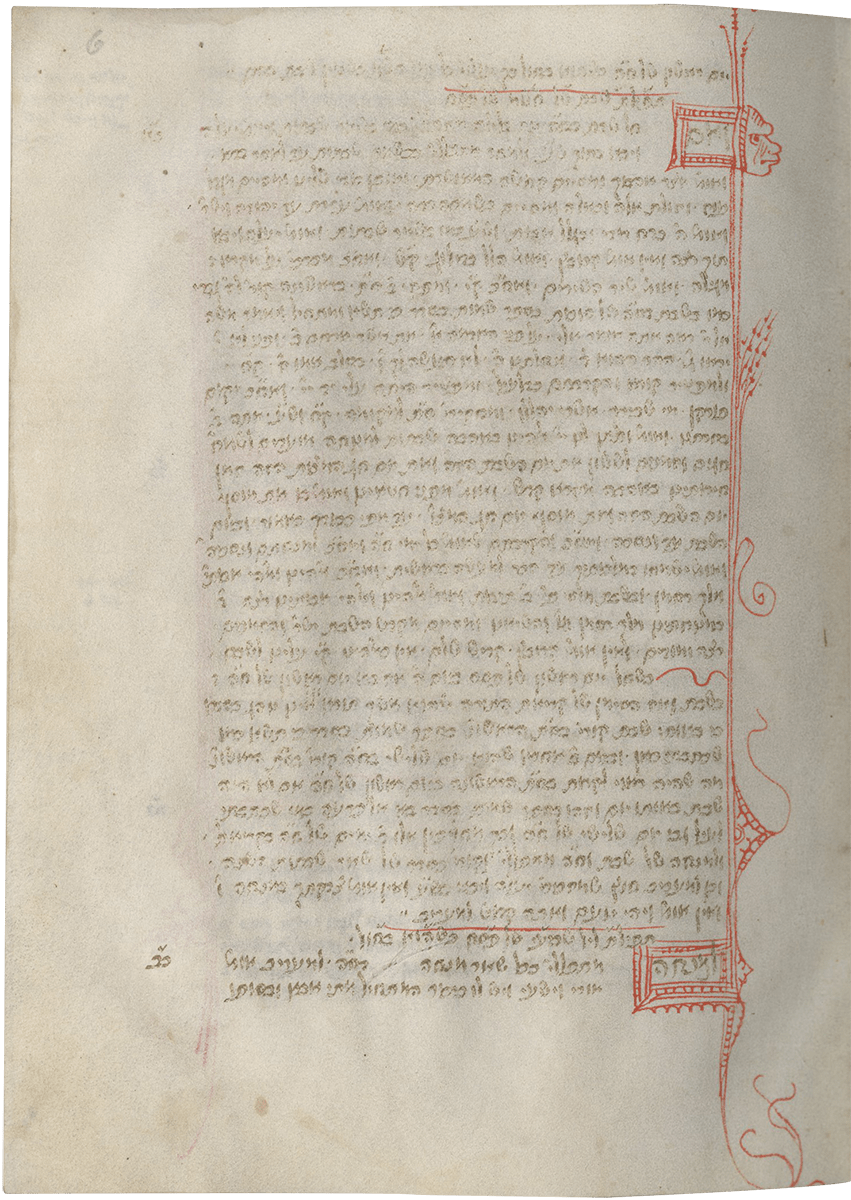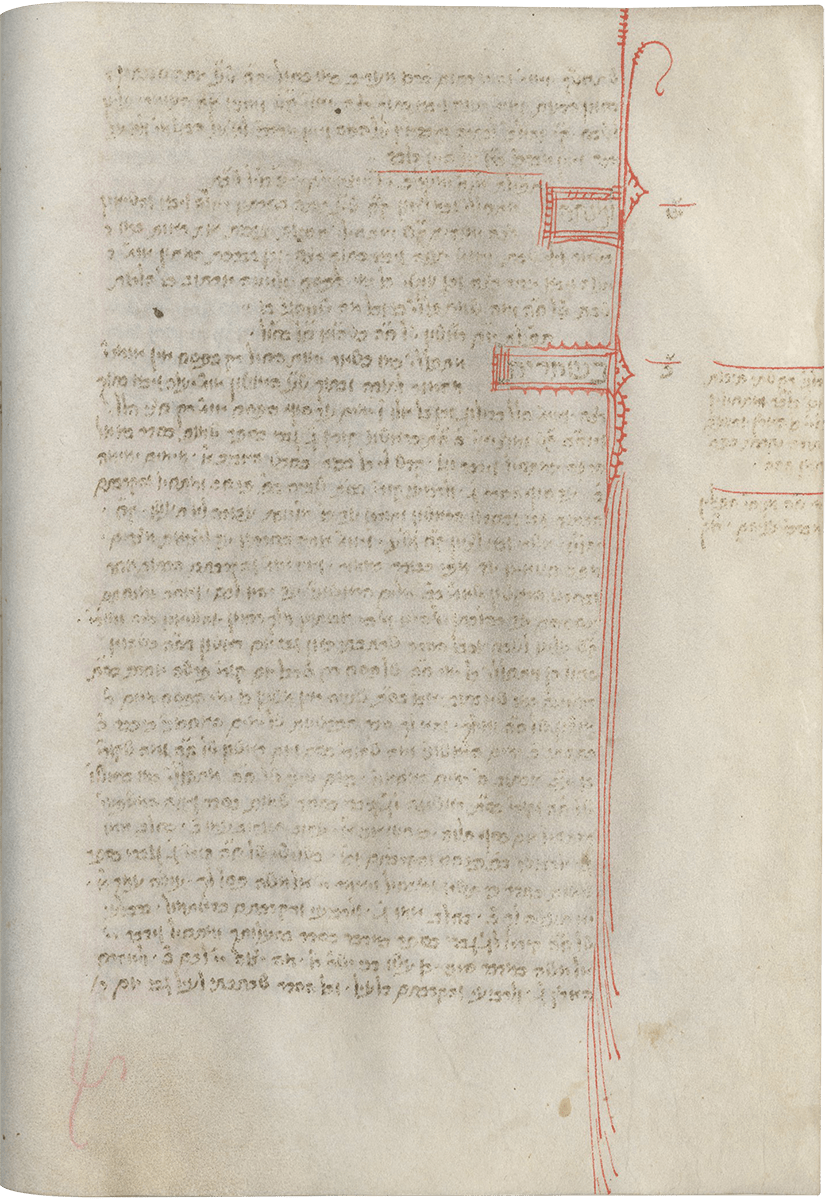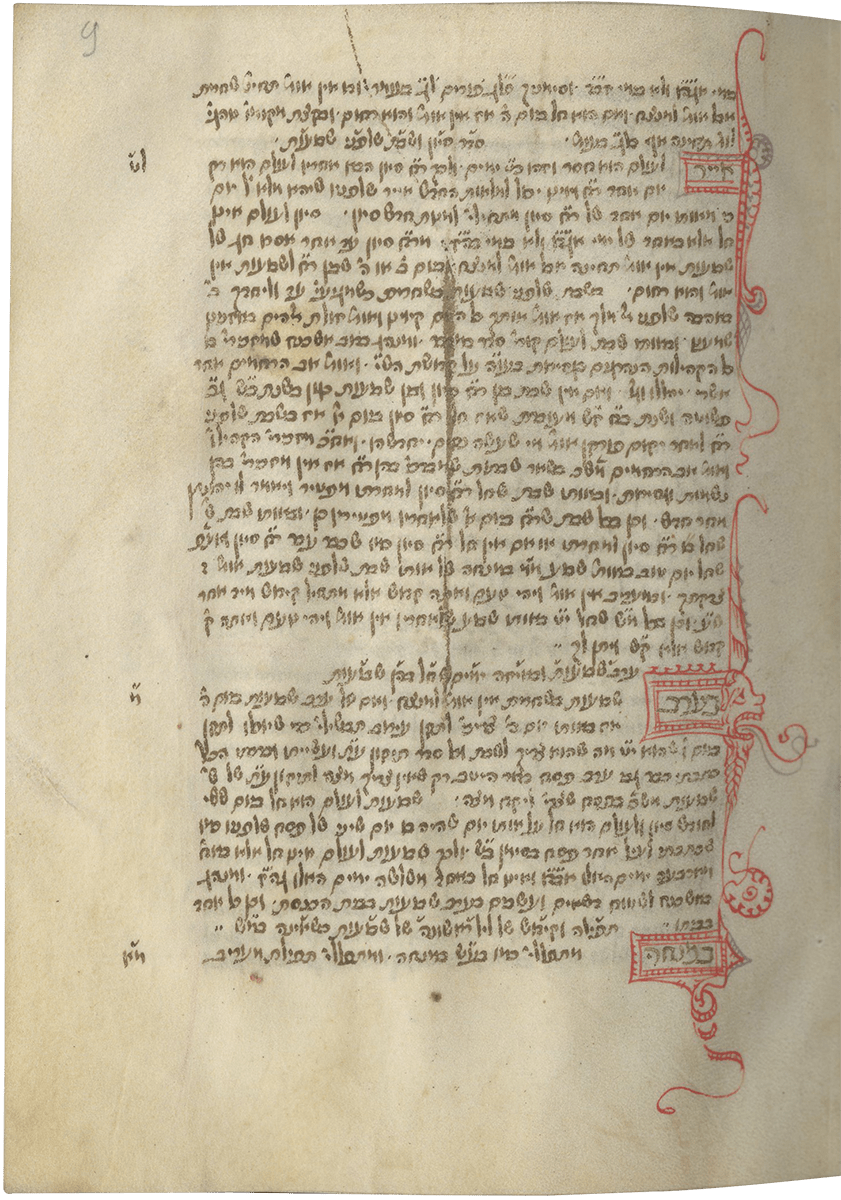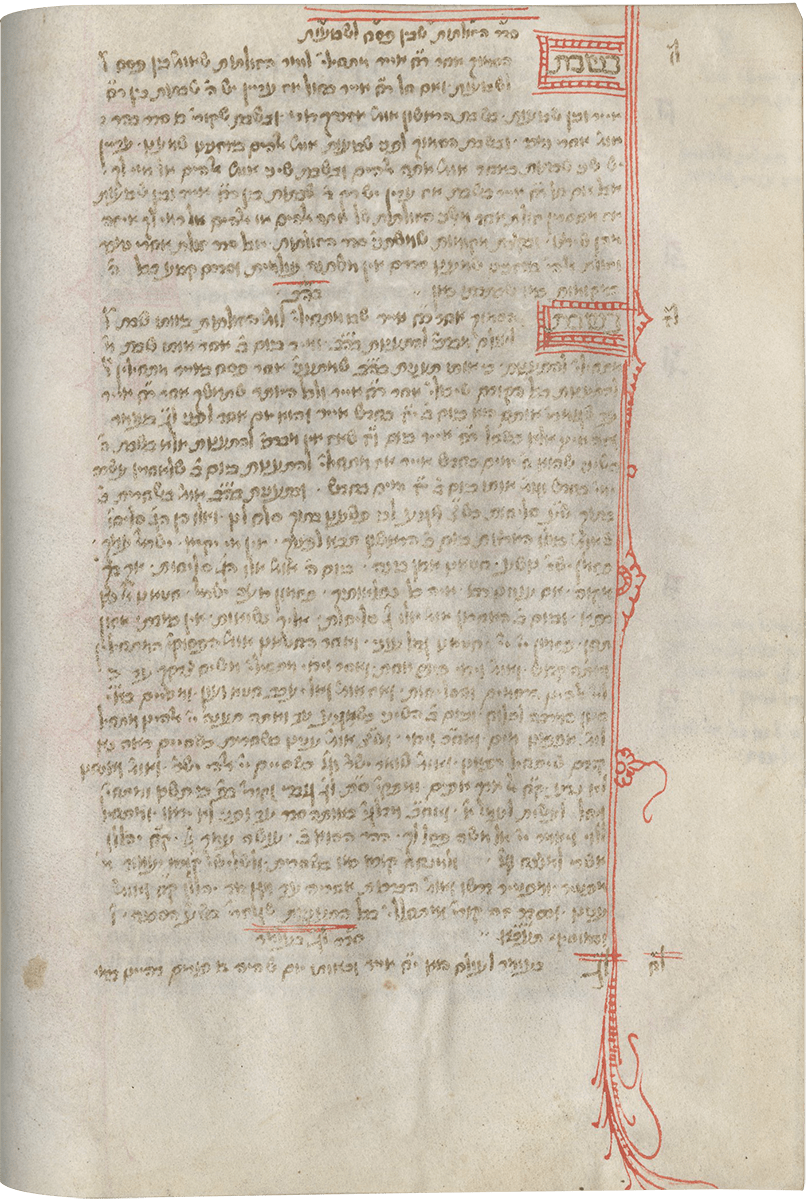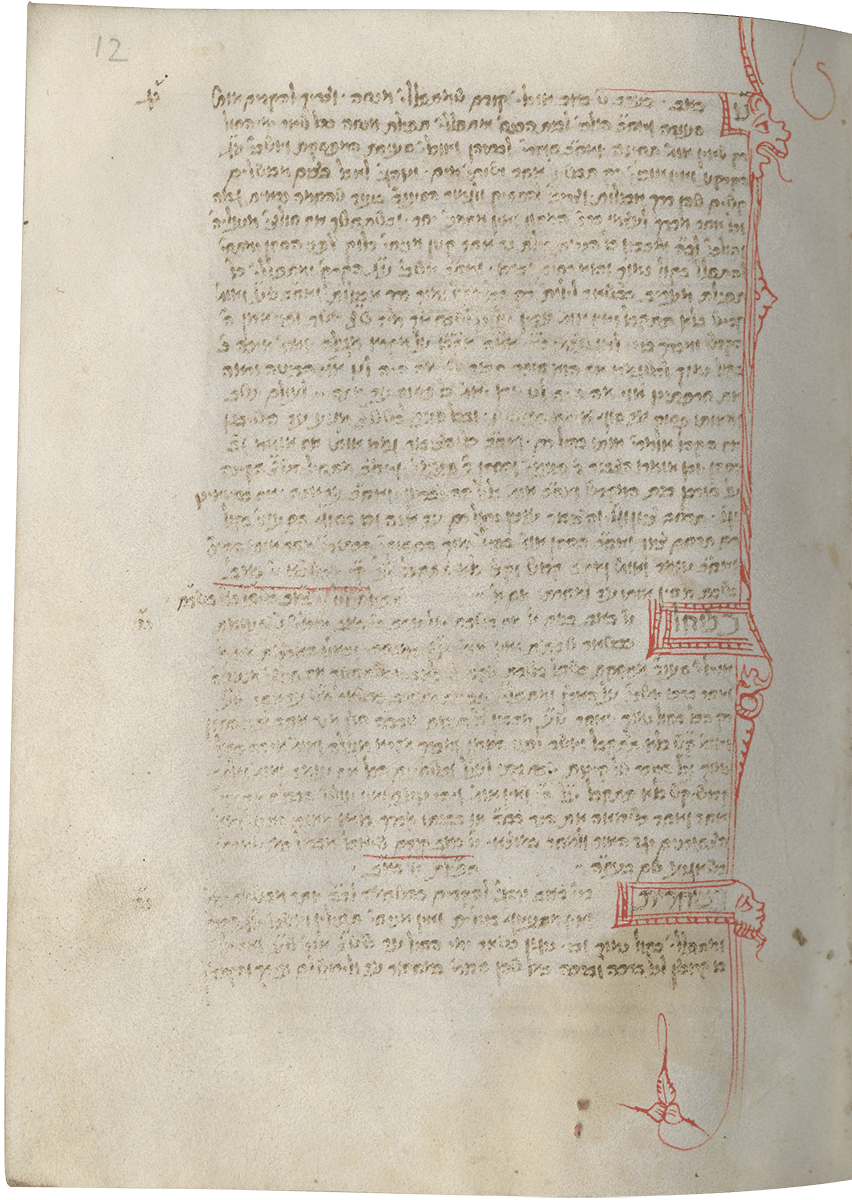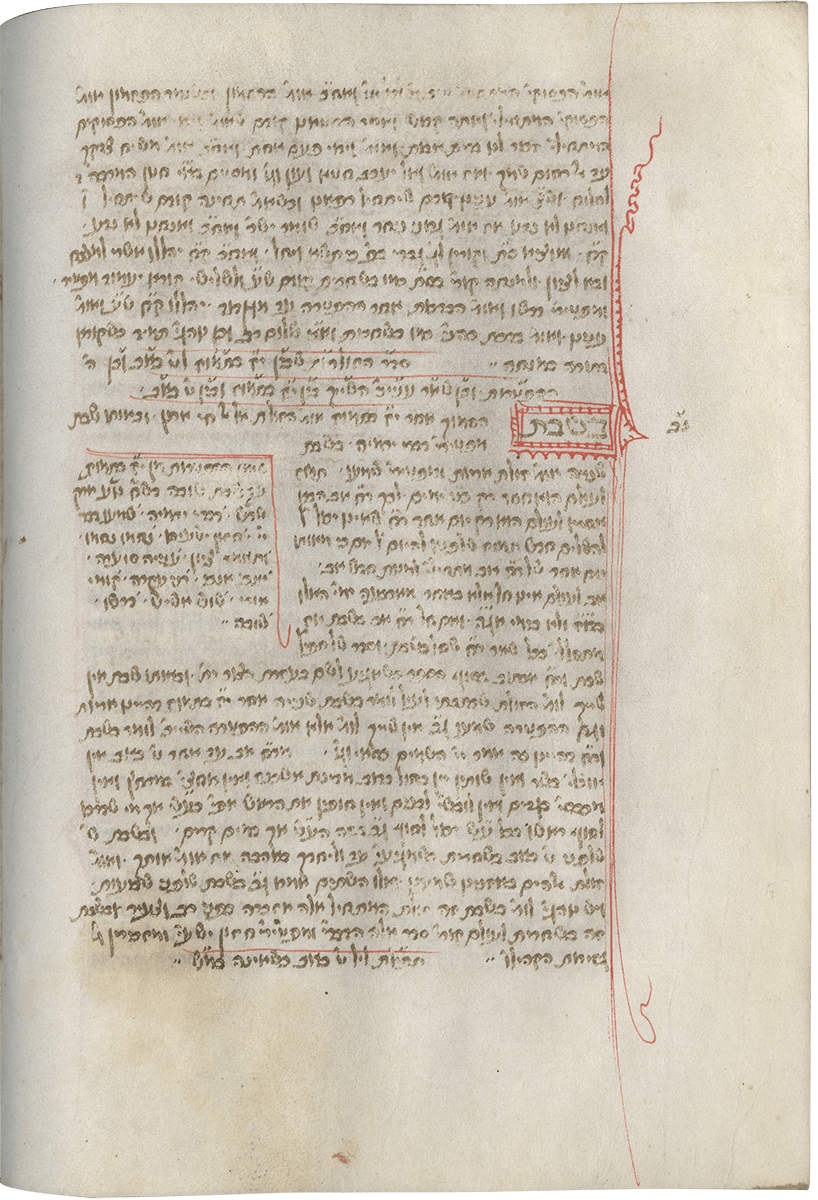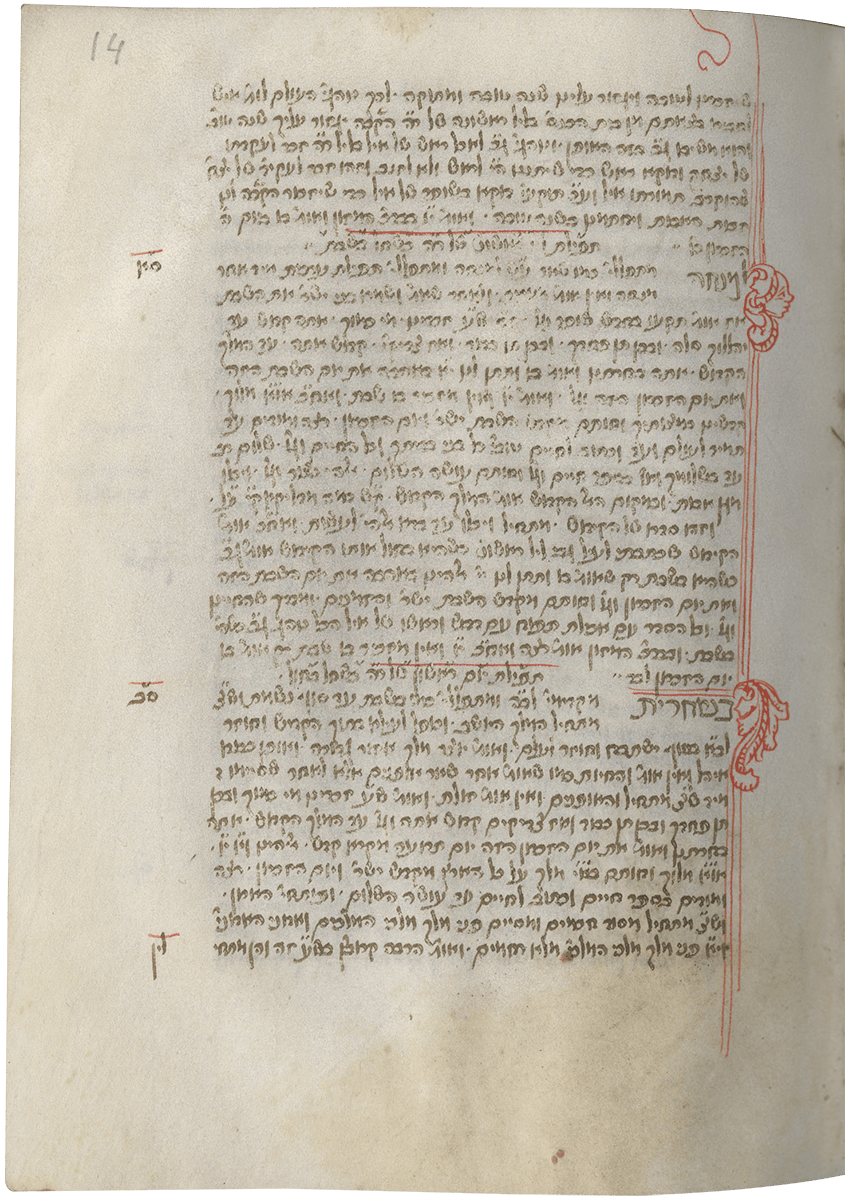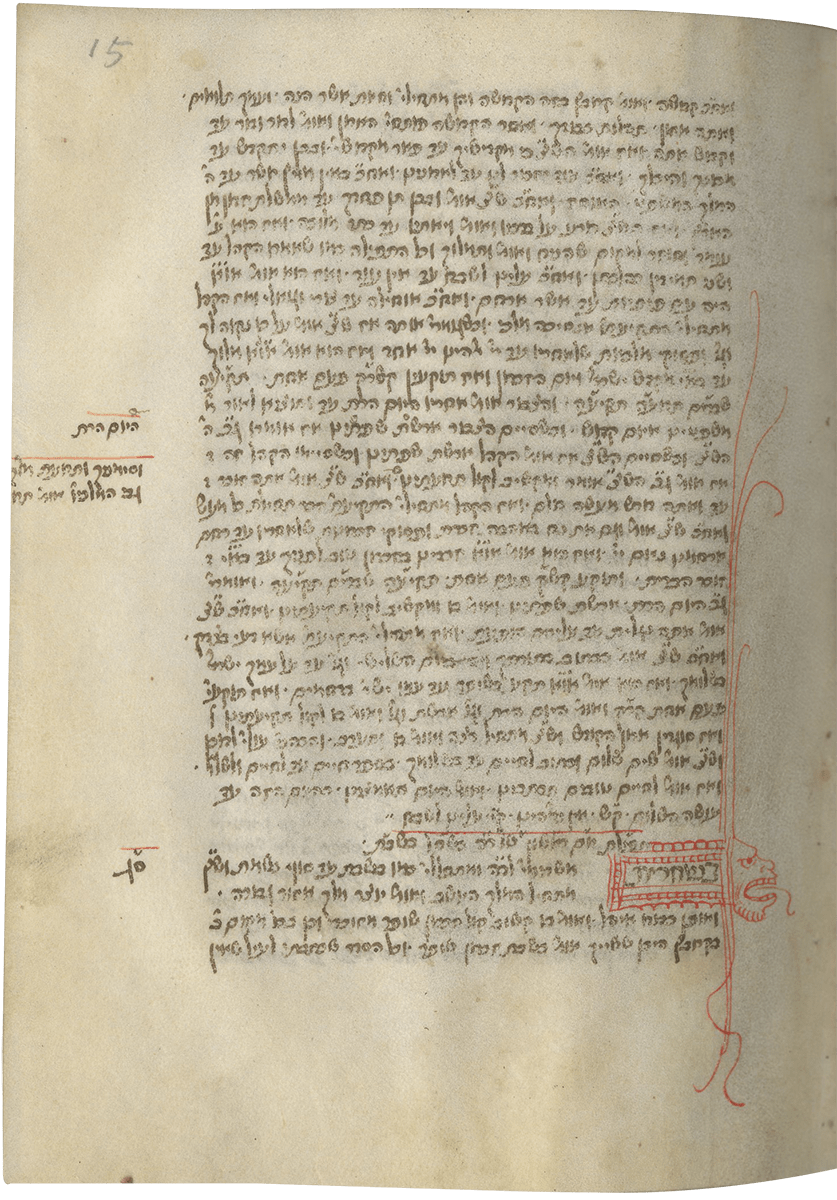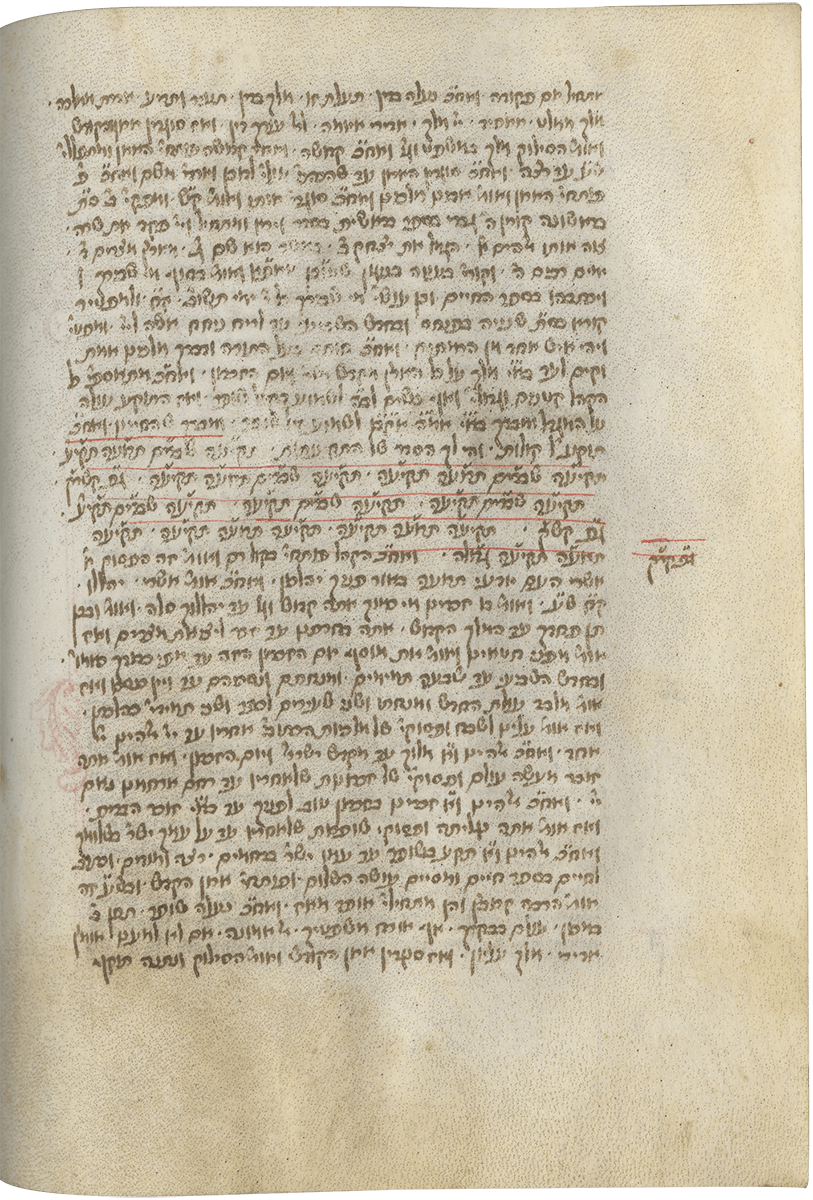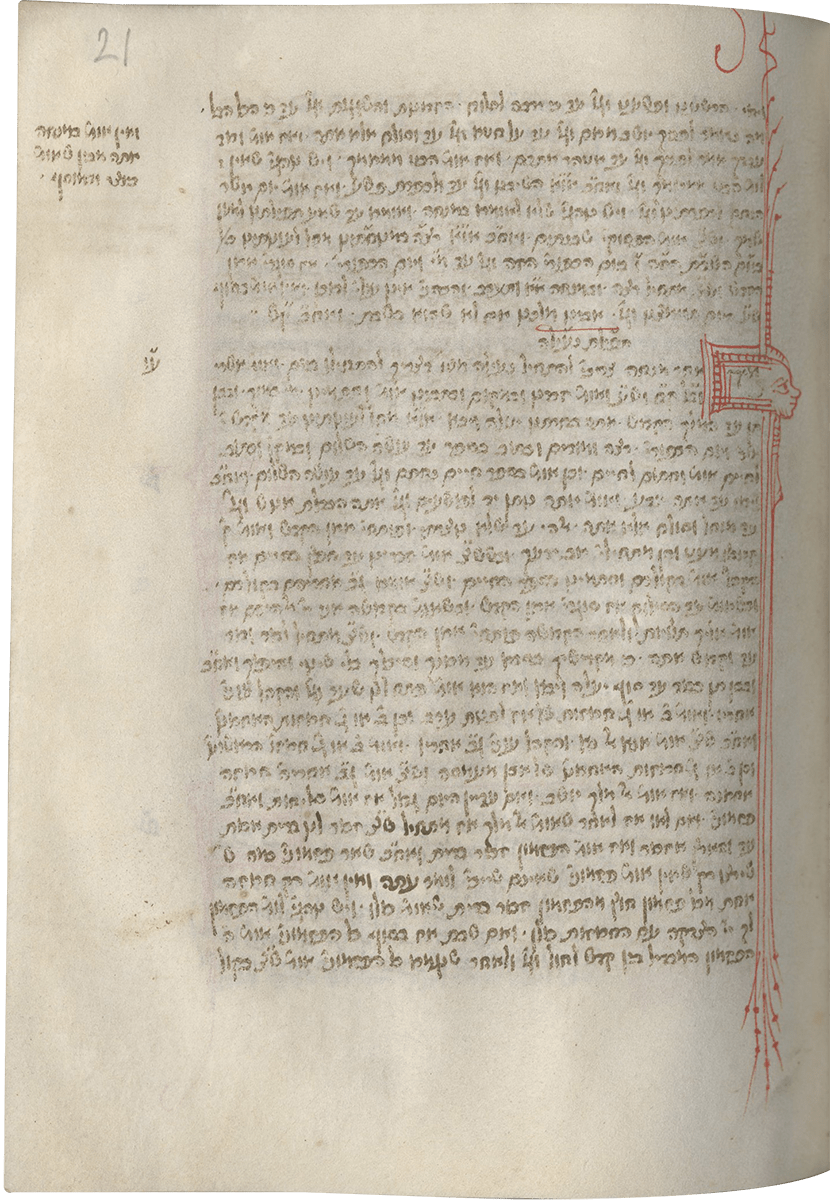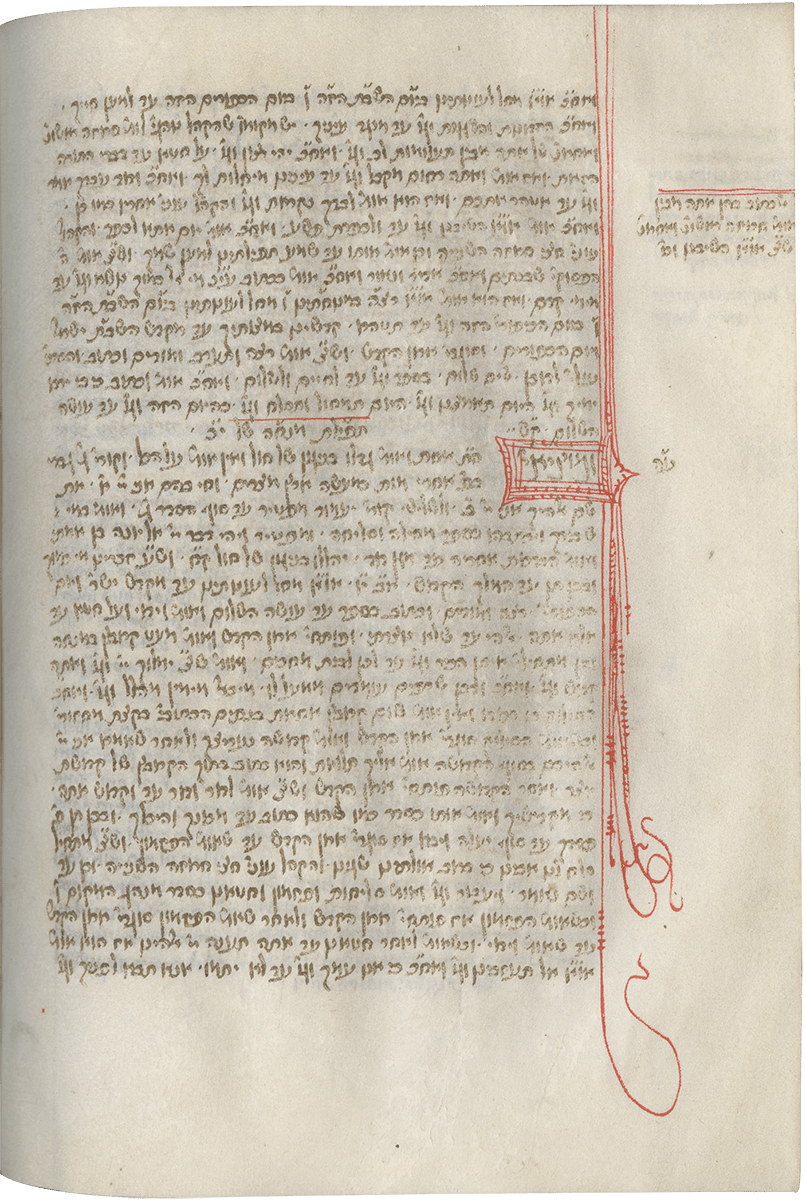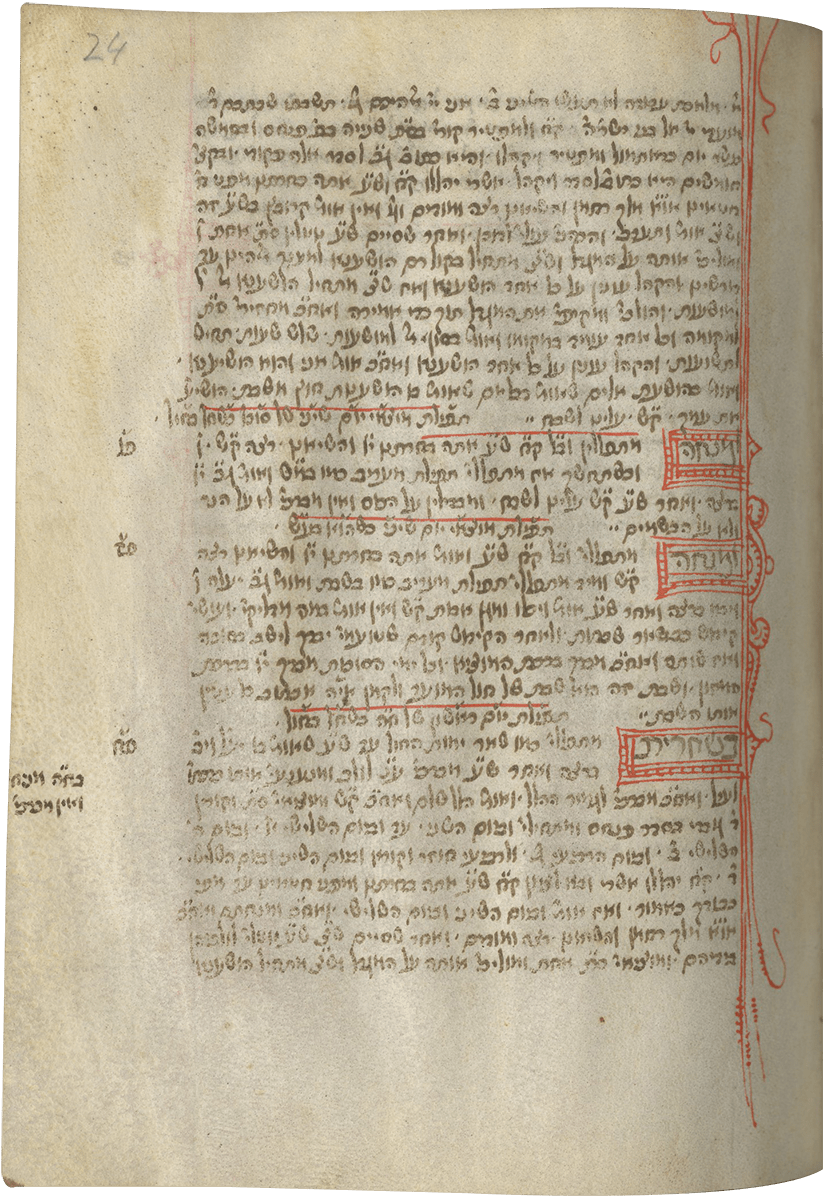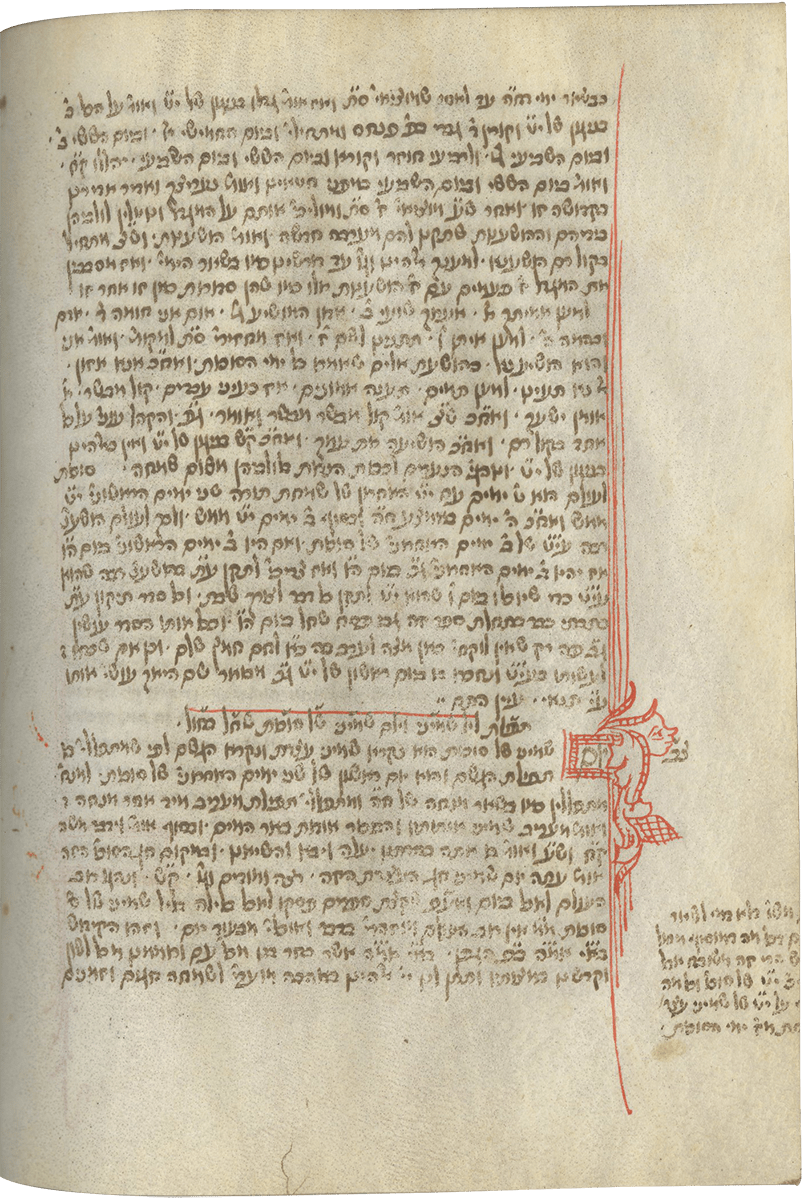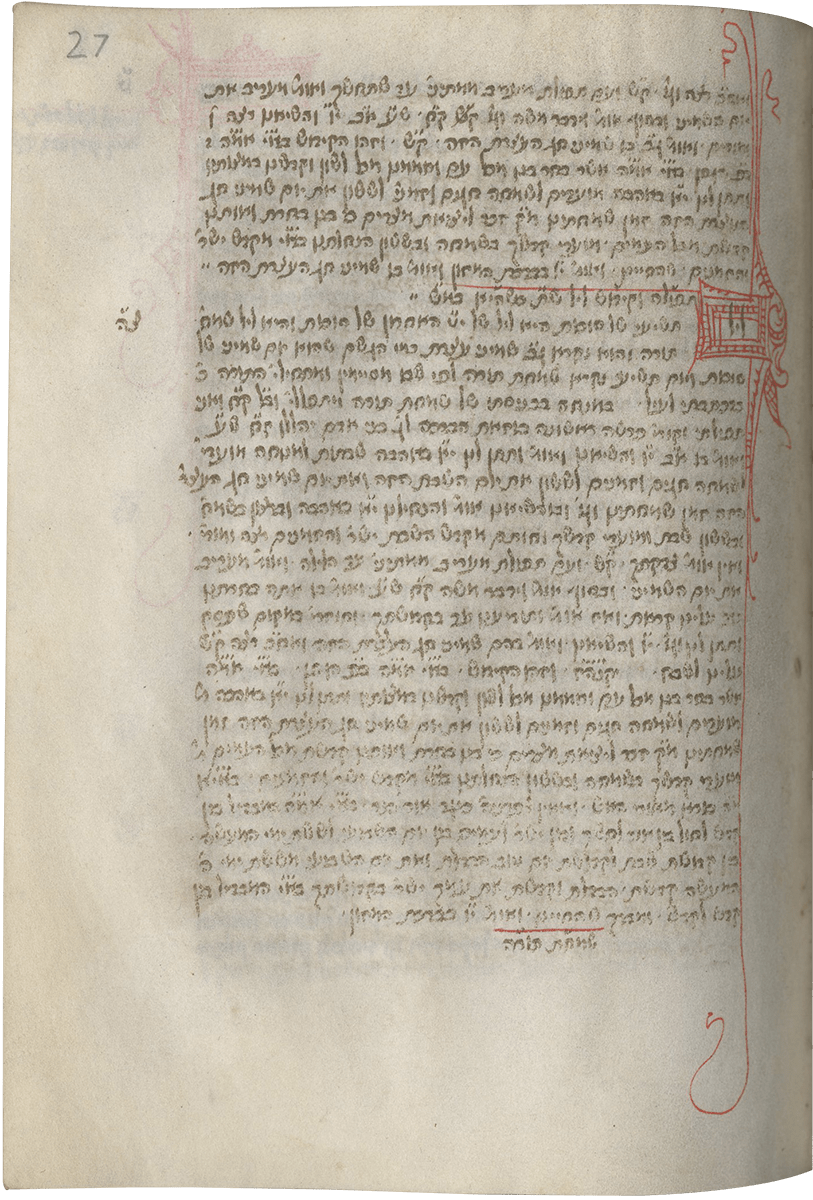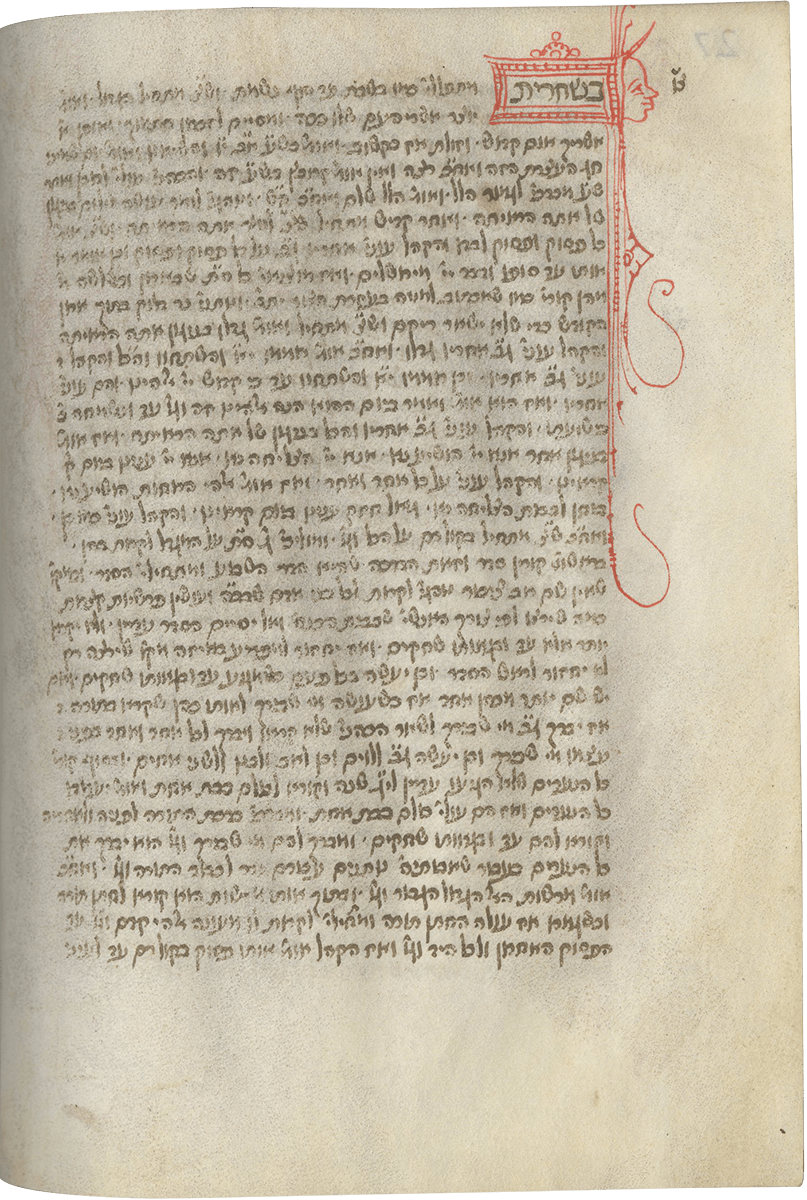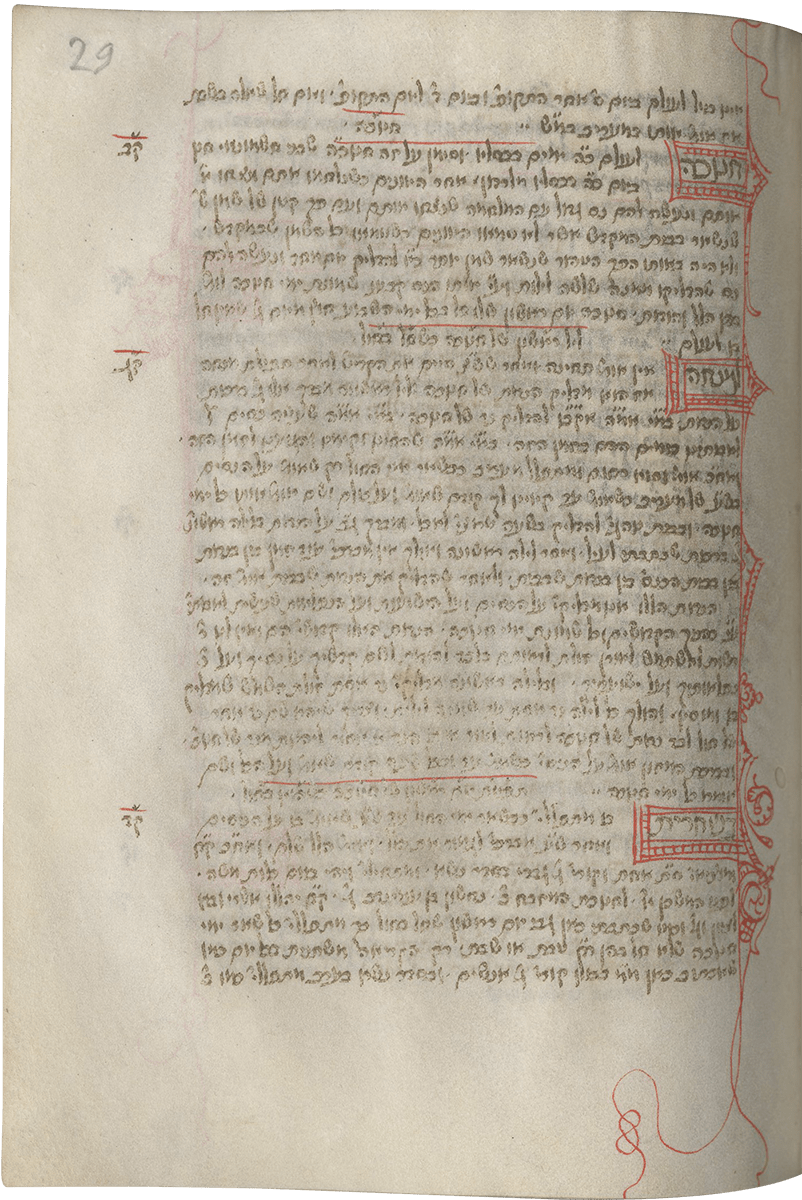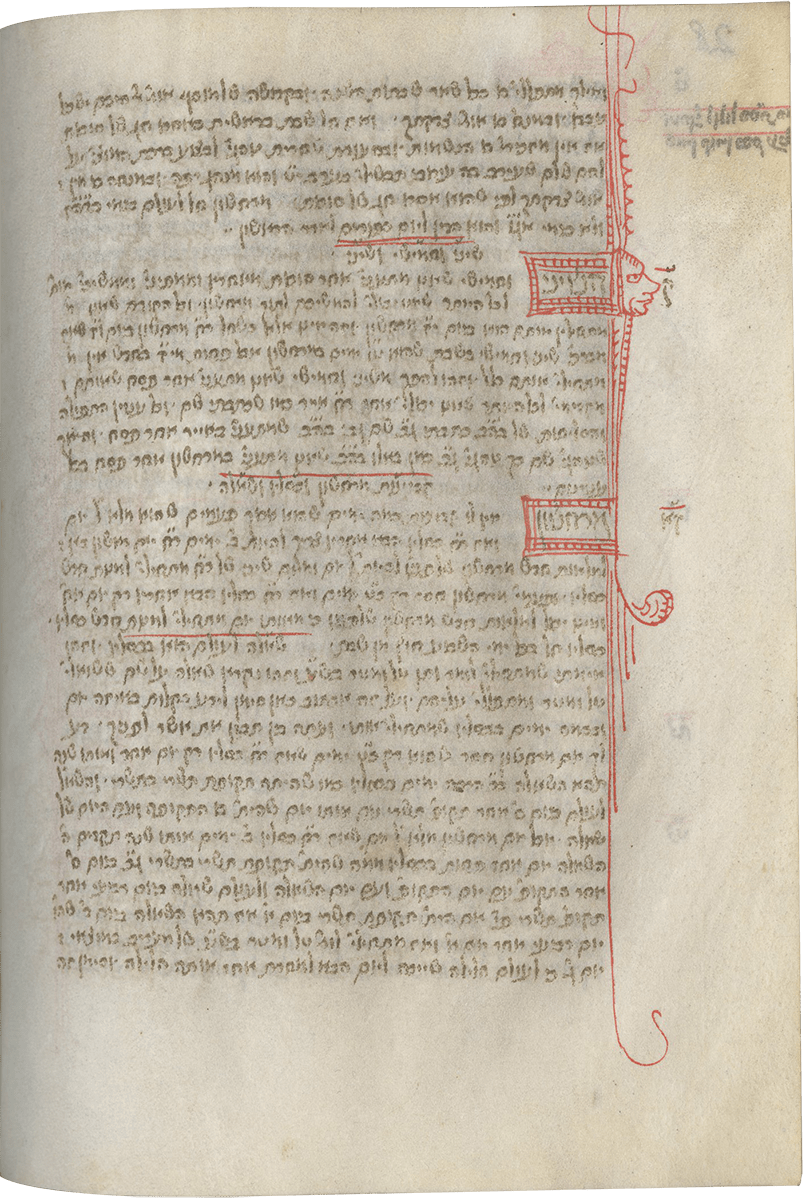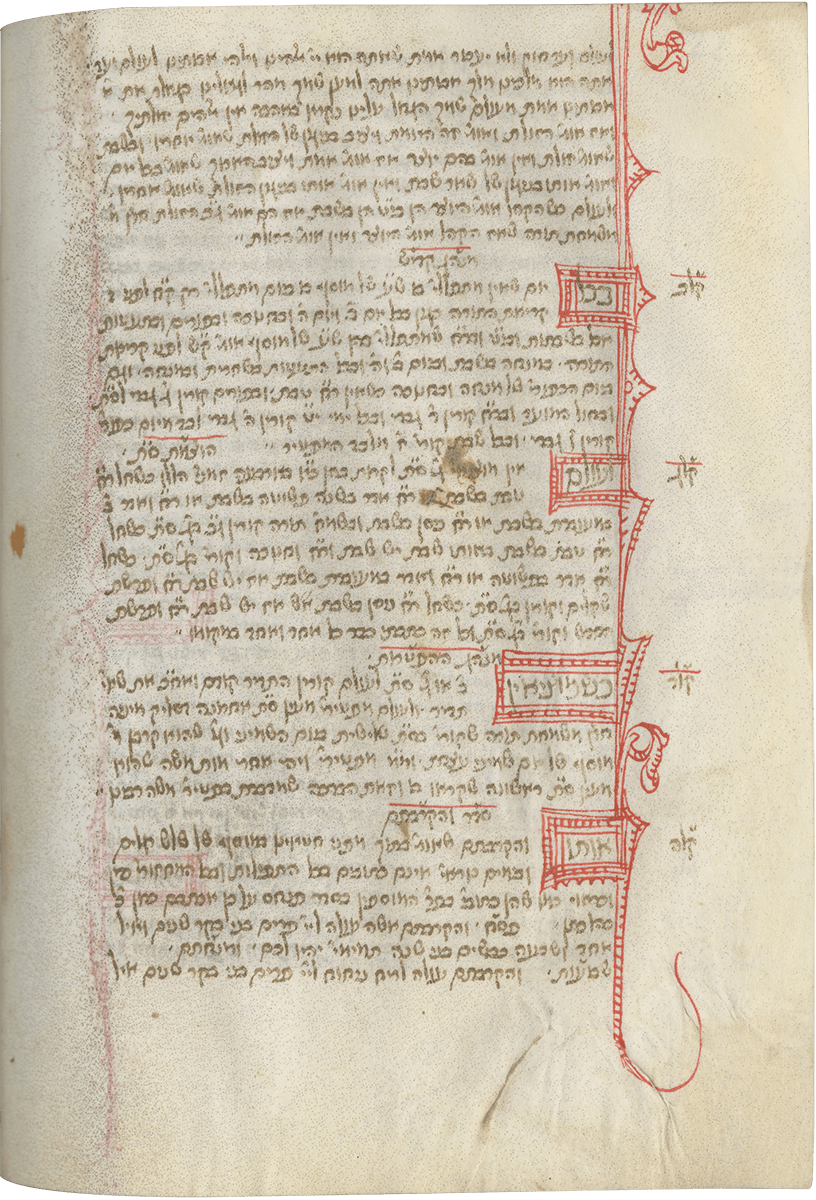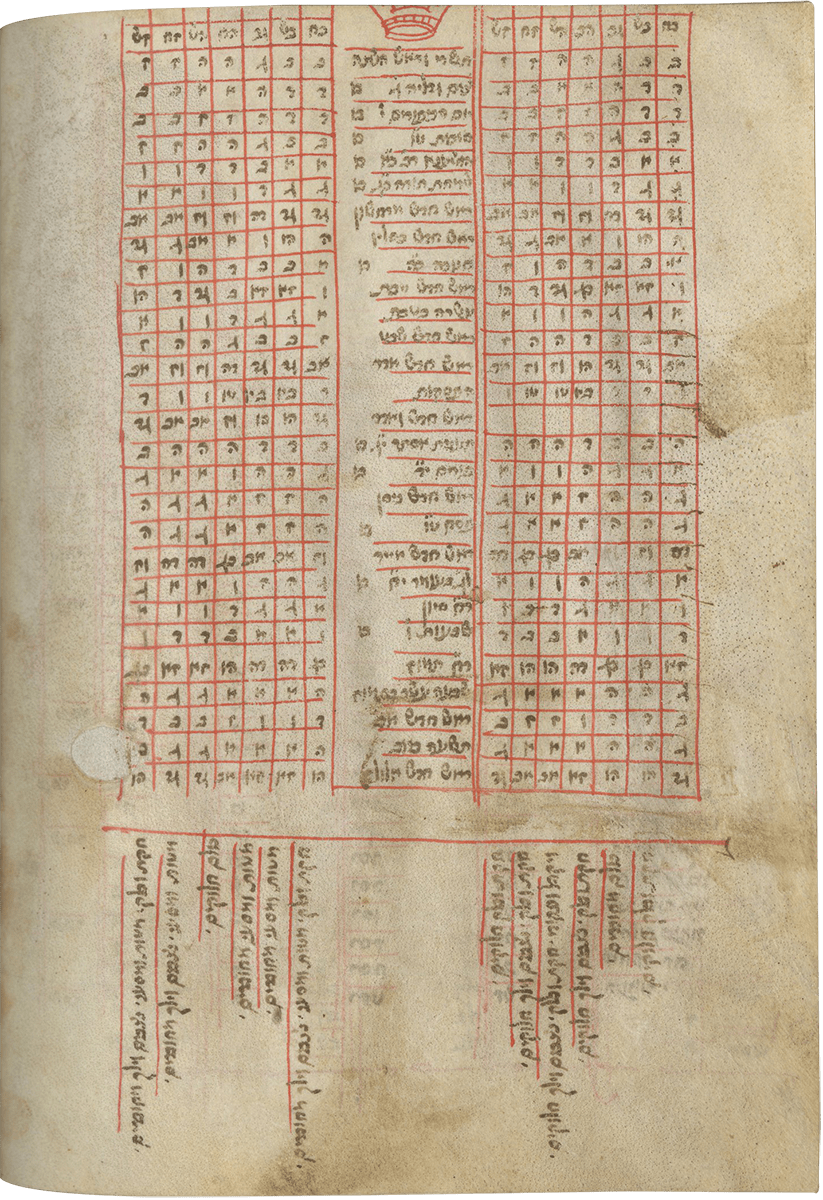 Description
Text
Vol. I: Siddur, Prayer Book, containing the daily prayers following a set order for the entire year according to the rite of Ulm along with prayers for some of the festivals ("Siddur" comes from the root of the Hebrew word ס־ד־ר for "order").
Benjamin Richler and Shlomo Zucker, who have studied this Veneto Siddur and Sefer Minhagim manuscript, note that the text is identical to that of the Siddur in the Biblioteca Palatina, Parma, Cod. 2895, which was copied in Ulm in 1450 according to the local rite and completed in Treviso in 1453. The present manuscript is most likely based on the same text copied in the Parma manuscript and edited to conform with the local Treviso ritual. (On Cod. 2895, Richler, Benjamin, ed. Hebrew Manuscripts in the Biblioteca Palatina in Parma Catalogue, with Malachi Beit-Arié, "Palaeographical and codicological descriptions," Jerusalem, 2001, pp. 259-260, no. 1038).
Vol. II: Sefer Minhagim, a collection of ritual customs practiced in the synagogue and the home by German-Jewish immigrants in northern Italy in the fifteenth century, complied and edited by Rabbi Samuel Ulma, based primarily on the Minhagim of Rabbi Jacob ben Moses Molin (Maharil) and the teachings of his mentors in Ulm.
According to Richler and Zucker, Ulma's Sefer Minhagim is extant in at least 18 other manuscripts, but only one of them preserves a text almost identical to that in the present manuscript. It is the ex-Beth Din Library (Jew's College), London, MS 28 (see Sotheby's, New York, December 20, 2017, lot 171, now Private Collection). This latter manuscript is dated by its colophon 1453, so it postdates the present manuscript, which survives as the earliest manuscript copy of Ulma's Sefer Minhagim. The original, full-length composition of Rabbi Samuel of Ulm awaits editing and publication.
Illustration
By far the most significant feature of the Veneto Siddur-Sefer Minhagim is its profuse decoration. The artwork consists of pen and ink drawings for which Joel be Simeon is well known and which adorn nearly all his signed and attributed manuscripts. Drawings of extraordinary variety – masks and faces, banderoles, hybrid human and foliate images, dogs, birds, crowns, castles, foliate and floral (fleuronné) forms, and dragons embellish nearly every page, often occurring multiple times on a page. We have identified 365 drawings in the first volume and 141 in the second volume, of which the largest number consists of masks and faces, followed by banderoles. All are whimsically drawn with confident strokes of red or purple ink, the two colors occasionally combined in a single design. Attribution to Joel ben Simeon is conclusive and secured by the similarity with manuscripts he signed as well as with those ascribed to him.
Joel ben Simeon was evidently born in Cologne. When the Jews were expelled from Cologne in 1424, his family fled to Bonn, where he enjoyed protection among other expelled Jews from Cologne. In 1445, the Jews were in turn expelled from Bonn, and scholars surmise that Joel remained in Germany in the middle Rhine, perhaps at Basel, where he probably still was in 1449, the date of his first colophon in a Tefillah, or Book of Prayers (Parma, Biblioteca Palatina, Cod. 3144). He signed eleven manuscripts of which half of them include dates from 1445 and 1485. Another twenty-two manuscripts, in addition to the present one, are attributed to him on the basis of style. Joel was in Italy from c. 1449 on, returning twice to Germany, once in c.1460 and again in 1478. In Italy, he practiced his trade as an itinerant artist-scribe, traveling from city to city, patron to patron, primarily in the north – Cremona, Mestre, Treviso, Bologna, Modena, Lombardy – and finally Florence.
The drawings in the present manuscript cannot have been created early in Joel's career, In a study of his pen and ink drawings, Franziska Amirov has distinguished two types of masks, a "German style" and an "Italian style"; the latter began to appear only in the 1460s and continued to evolve into more elaborate forms throughout his career. The masks, dogs, crowns, dragons, and castles in our manuscript have closely related counterparts in several manuscripts: the Maraviglia Tefillah dated by its colophon 1469 (London, British Library, Add. MS 26957), the Vienna Siddur-Semak written originally in the thirteenth century but added to in c. 1468, according to the date in the calendar (Vienna, ÖNB, Cod. Hebr. 75), and the undated Moreh Nevukhim in Hamburg, Staats- und Universitätsbibliothek, Cod. Levy 115). Each type of drawing also occurs in the extensively decorated but undated Moskowitz Mahzor (Jerusalem, Jewish National and University Library, MS Heb. 4° 5214 I-III), which has been assigned to the latter end of Joel's career.
Conclusion
The Veneto Siddur and Sefer Minhagim has a remarkable relationship with two manuscripts that are connected, we will propose, to Moses ben Seligman. The first of these manuscripts, the Ulm-Treviso Siddur of 1450-53 (Parma, Biblioteca Palatina, Cod. 2895) matches the text in volume one of the present manuscript. The second of these manuscripts, the London Beth Din Sefer Minhagim of 1453 (Private Collection) is a faithful copy of the Sefer Minhagim found in volume two. The Ulm-Treviso Siddur was either written by or made for Moses ben Seligman, because the name Moses is highlighted throughout the text and appears in the liturgical hymn for the groom. The Beth Din manuscript is accompanied by a colophon that identifies the scribe as a son of Rabbi Seligman Coburg (Moses?) and features only one illustration, that of Moses receiving the tablets of the law, perhaps a reference to the owner. Finally, Richler and Zucker note that the marginal comments in the Ulm-Treviso Siddur are written in the same hand that transcribed the Veneto Siddur and Sefer Minhagim, linking these two manuscripts even more tightly.
Predating both the Ulm-Treviso Siddur and the Beth Din manuscript, which were completed in 1453, the Veneto Siddur and Sefer Minhagim of 1449-1450 appears to have been owned by Moses and served as the textual model for his two later, larger and more lavish manuscripts. However, it was not decorated at the time it was written; instead, Joel ben Simeon added the decorative elements some two decades later, as is clear from a comparison with Joel's stylistic chronology. Joel worked for many patrons in the small Ashkenazic communities in northern Italy and his fame was such that he was often called upon to embellish manuscripts written previously. Moses's brother, the renowned bibliophile Jacob ben Seligman, who lived in Ulm, Germany, chose Joel to write and illustrate the Ashkenazi Haggadah in c. 1460 (London, British Library, Add. MS 14762). And when Joel returned to Italy, Moses ben Seligman must have asked him to add the many drawings and the initial word panels to the Veneto Siddur and Sefer Minhagim, transforming the conveniently portable, devotional book into a work of art. Paying tribute to the manuscript's owner and his patron, Moses, Joel cleverly drew an image of Moses receiving the tablets of the law, which stands out as the only figurative drawing in the fascinating book.
Physical Description

122 leaves, divided into 2 volumes (77 leaves in the first, 45 in the second), lacking 4 leaves after f. 63, (collation i7 [of 8, 1 cancelled or lacking] ii-viii8 ix4 [of 8, lacking 1-4] x8 xi2 xii-xvi8 xvii4+1), mostly on 33-34 long lines, ruling visible intermittently, generally in the outer margins, sometimes in hardpoint (e.g., ff. 4v, 5, 11) and sometimes in plummet (e.g., ff. 14v, 15), written in brown ink in a small semi-cursive Ashkenazic hand, headings (initial word panels) throughout in a large square hand, decorated throughout in red or purple penwork surrounding every heading (usually several on every page, especially in volume I), generally extending far up and down the margins, including approximately 365 (vol. I) and 141 (vol. II) with pen and ink drawings of a wide variety including masks and faces, banderoles, hybrid humans-animals, dogs, birds, crowns, castles, and dragons, all in elaborate floral and foliate surrounds (see Appendix), later additions on last 3 leaves, margins of first leaf defective and repaired, dampstaining on some pages with some offsetting and smudging, not affecting text, text on some leaves faint, generally in reasonably good condition. Censorship in at least twenty places, on ff. 10v, 11, 13, 14, 14v, 19, 19v, 26, 27v, 28, 47, 47v, 50v, 57v, 58, 59v, 60, 60v, 67, 75. Modern full dark brown blind-stamped morocco, gilt spines, paper endleaves, in a matching morocco slipcase. Dimensions 175 x 125 mm.
Literature
Further reading (selected):
Amirov, Franziska. Jüdisch-christliche Buchmalerei im Spätmittelalter Aschkenasische Haggadah-Handschriften aus Süddeutschland und Norditalien, Neue Forschungn zur deutschen Kunst, Berlin, 2018.
Cohen, Evelyn M. "Joel ben Simeon's 'Missing Leaves'," in Meḥeṿah li-Menaḥem: Asupat meḥḳarim li-khevod Menaḥem Ḥayim Shmeltser=Meḥevah le-Menaḥem: Studies in Honor of Menahem H. Schmelzer, ed. Shmuel Glick, et al., 107–31. Jerusalem, 2019.
Gutman, Joseph. "Thirteen Manuscripts in Search of an Author: Joel Ben Simeon, 15th-Century Scribe-Artist," Studies in Bibliography and Booklore 9 (1970), pp. 76-95.
Raspe, Lucia. "Portable Homeland: The German-Jewish Diaspora in Italy and Its Impact on Ashkenazic Book Culture, 1400–1600," in Early Modern Ethnic and Religious Communities in Exile, ed. Yosef Kaplan, Newcastle upon Tyne, 2017, pp. 26-43.
Stern, David and Katrin Kogman-Appel. The Washington Haggadah, Cambridge, MA, and Washington D.C., 2011.
Zirlin, Yael. Au-delà du visible: relations entre juifs et chrétiens dissimulées dans des manuscrits hébreux enluminés, Bibliologia 29, Turnhout, 2015.
Zucker, Shlomo. The Moskowitz Mahzor of Joel ben Simeon, Jerusalem, 2005.
Please send me further information about this work.