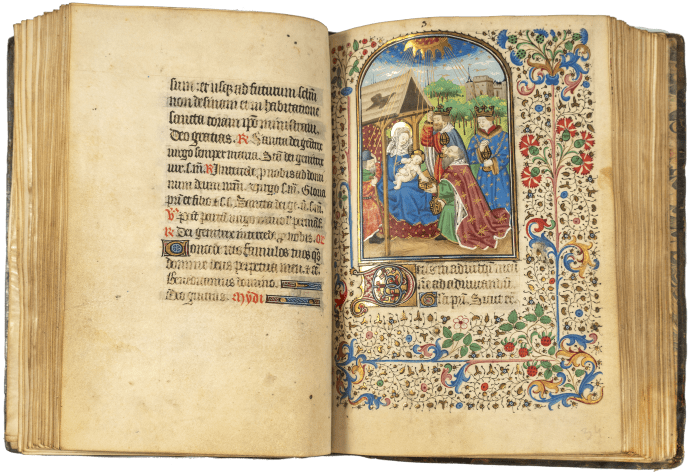 1
/
4




Book of Hours (Use of Evreux)
In Latin and French, Illuminated manuscript on parchment. 7 miniatures by the Talbot Master
France, Rouen, c. 1450–1460
Illuminated in the bright and bold colors of the Talbot Master, this manuscript typifies manuscript production in Rouen at the end of the Hundred Years' War between France and England.
%3Cdiv%20class%3D%22title%22%3E%3Cem%3E%3Cp%20class%3D%22Body%22%3EBook%20of%20Hours%20%28Use%20of%20Evreux%29%3C%2Fp%3E%3C%2Fem%3E%2C%20France%2C%20Rouen%2C%20c.%201450%E2%80%931460%3C%2Fdiv%3E%0D%3Cdiv%20class%3D%22medium%22%3EIlluminated%20manuscript%20on%20parchment.%207%20miniatures%20by%20the%20Talbot%20Master%3C%2Fdiv%3E
Print
Description
Illuminated in the bright and bold colors of the Talbot Master, this manuscript typifies manuscript production in Rouen at the end of the Hundred Years' War between France and England. When the English occupied Paris in the early 1420s, many artists fled serving patrons in other municipal centers. One such artist is the Talbot Master, whose artistic origins can be found in "golden age" manuscript illumination by artists such as the Boucicaut and Bedford Masters and who is named for his most important patron, one of the English army officers stationed in Rouen at the end of the Hundred Years' War. Although the patron of this manuscript is unknown, it is grand in format, unusually large for a Book of Hours, indicating a significant commission.
ff. 121 (collation: i12, ii–iii6, iv–v4, vi6, vii2, viii4, ix2, x4, xi5 [of 6, missing xi], xii2, xiii4, xiv1, xv6, xvi–xvii4, xviii2, xix1, xx6, xxi2, xxii5 [iii added in], xxiii4, xxiv8, xxv1, xxvi6, xxvii4, xxviii6), 14 lines, ruled in red (justification 101 x 74 mm), pages are numbered twice, once in the lower right margin in pencil starting anew after the calendar, and once in the upper left margin in ink, the miniatures are likewise numbered in ink, written in Gothic script, in black ink, with 1-, 2-, and 3-line initials in gold paint on red and blue grounds, rubrics in red ink, line fillers in patterns of red, blue, and gold, SEVEN LARGE ARCH-TOPPED ILLUMINATIONS PAINTED BY THE TALBOT MASTER, three lines of text, and margins densely illuminated with foliage, flowers, fruit, and acanthus leaves, folio lost between ff. 55 and 56 (preceding Office of the Holy Cross), paint residue on f. 55v indicates it was facing an illuminated page, perhaps a Crucifixion scene, seven text pages with illuminated margins, few pages with spots of smudged or faded ink and paint, some pages with spot stains in margins, particularly along lower edge, overpaint on the face of the Virgin in the Nativity, modern pencil notations to corners of pages, few pages with small tears and holes. Four unfoliated flyleaves after front cover and six before back cover with ink notations, first flyleaf at back of book with full-folio inscription in Latin, marbled pastedowns to front and back covers. Brown leather covers in style of eighteenth century, with gold-tooled medallion in center, design around border, and gilt stamping on edges, spine with four raised bands and gilt decoration, wear and losses to gold decoration, scratches, cracking, and flaking, and to cover, bent corners with wear and small losses to edges. Dimensions 207 x 155 mm.
Provenance
1. Written and illuminated in Rouen around 1450–1460 by the Master of John Talbot or the Talbot Master, for the use of Evreux; with Norman saints in the calendar as follow: Oven, Mellon, Sever, Vital, Urbain, Ursin.
2. Belonged to a François Vernage (his name in ink on front flyleaf). A François Vernage was Dean of the medical faculty at the Paris Academy of Medicine from 1702–1704. A priest named Étienne-François Vernage (1652–1723) lived in the parish of Saint Nicolas des Champs from 1678–1723, and was known to be in possession of a library at the time of his death in Paris.
3. An additional name inscribed in ink on the verso of the last flyleaf is much faded and mostly illegible, except for the name Pauline.
Text
ff. 1–12, Calendar;
f. 13, The Gospel Lessons, John (f. 13), Luke (f. 14), Matthew (f. 15v), Mark (f. 16v);
f. 18, Hours of the Virgin, Lauds (f.27v), Suffrages (f. 35), Prime (f. 39v), Sext (f. 46), None (f. 48v), Compline (f. 52);
f. 56, Office of the Holy Cross (begins incompletely);
f. 58v, Hours of the Holy Spirit;
f. 62, Office of the Dead;
f. 90, Blank;
f. 92, Seven Penitential Psalms and litanies;
f. 106, Obsecro te (for masculine use);
f. 109v, O Intemerata;
f. 113, The Fifteen Joys of the Virgin Mary, in French;
f. 118v, The Seven Requests to Our Lord, in French.
Illustration
f. 18, The Annunciation;
f. 39v, The Nativity;
f. 46, The Adoration of the Magi;
f.48v, Presentation in the Temple;
f. 58v, Pentecost;
f. 62, Burial scene;
f. 91, King David kneeling before a vision of God.
This Book of Hours was illuminated in Rouen around 1450-1460 by the Talbot Master, who produced manuscripts for both English and French patrons from c. 1430 to c. 1460. He takes his name from Sir John Talbot (c. 1388–1453), Earl of Shrewsbury, for whom he illuminated a collection of poems and romances known as the Shrewsbury Book, presented to Margaret of Anjou c. 1445 (London, British Library, Royal MS 15 E VI; Fig. 1), as well as three Books of Hours for himself or his wife Margaret Beauchamp (including Cambridge, Fitzwilliam Museum, MS 40-1950). Trained in Paris alongside the Fastolf Master, the Talbot Master settled in Rouen during the English occupation where he remained after their retreat in 1449 (Avril and Reynaud, 1993, pp. 169-171).
The Talbot Master's style is often defined by his taste for linearity, evident in the modelling of figures over flat areas of colors (Reynolds 2003). Another distinctive feature is the use of liquid gold to highlight draperies with swift brushes, to ornate mantles and clothes with brocade patterns, and to punctuate most of the skies with golden stars (f. 46, 91). These miniatures are best compared to those of manuscripts illuminated by the Talbot Master in the late 1440s. For instance, one can find the same stiff gestures and attitudes of the Annunciation's characters (f. 18) in the presentation scenes of the Shrewsbury Book (e.g. London, British Library, Royal MS 15 E VI, f. 5; Fig. 1). The Nativity (f. 48v) offers a sound example of the Talbot Master's interest in spatial construction. The narrative is set on different planes divided by slim columns, which depth is rendered by a receding green-tiled floor that opposes the flatness of the starry blue sky. Such features are also found among the large miniatures of a compilation of Alain Chartier's poems, which was commissioned by the aldermen of Rouen shortly after 1449 (Paris, BNF, MS fr. 126; Avril and Reynaud 1993, pp. 169-171, no. 88; Fig. 2).
Several miniatures of the present manuscript prove to be reminiscent of models used by the Talbot Master in other Books of Hours dating from the 1440s. Such is the case of the Annunciation that is related to that of another Book of Hours for the use of Paris (Chartres, Bibliothèque municipale, MS 545, f. 28; Fig. 3), and of the Adoration of the Magi to be compared to that of a Book of Hours for the use of Rouen (Paris, BnF, MS lat. 13283, f. 62; Fig. 4). The exquisite and elaborate floral borders of the present manuscript are distinguished by the motif of a vertical sprout of acanthus dividing the outer margins. This singularity is to be found in another and slightly later Book of Hours for the use of Therouanne, commissioned from the Talbot Master by a knight portrayed in prayer before the Annunciation (Vatican, Biblioteca Apostolica Vaticana, MS Pal. Lat. 13245). The composition of the Pentecost of the Vatican manuscript (f. 153v; Fig. 5) bears many similarities with that of the present manuscript, which suggests that this Book of Hours for the use of Evreux was most likely illuminated in Rouen around 1450.
Literature
Unpublished; further literature see:
F. Avril and N. Reynaud, Les Manuscrits à peintures en France, 1440–1520, Paris, 1993.
C. Reynolds, "The Shrewsbury Book, British Library Royal MS. 15.E.VI," Medieval Art, Architecture, and Archeology at Rouen, The British Archeological Association Conference Transactions for the year 1986, 12 ed. by J. Stratford, 109–16. Leeds 1993.
C. Reynolds, "Talbot Master," Grove Art Online, Oxford, 2003.
J. Hamburger (ed.), Picturing Prayer. The Book of Hours in the Middle Ages, Cambridge, Mass., 2006.
A.D. Hedeman, "Collecting Images: The Role of the Visual in the Shrewsbury Talbot Book (Royal 15 E. vi)," in Collections in Context: The Organization of Knowledge and Community in Europe (14th–17th centuries), ed. K. Fresco and A.D. Hedeman. Ohio State University Press 2011.
V. Reinburg, French Books of Hours, Making an Archive of Prayer, c. 1400–1600. Cambridge, MA 2012.
Our thanks to Elliot Adam for his expertise and contribution.
BOH 220
Please send me further information about this work.