1
/
5





Book of Hours (use of Geert Grote)
In Dutch, Illuminated manuscript on vellum. 5 full-page miniatures
Southern Netherlands, diocese of Liege (Limburg or Brabant?), c. 1420
This delightful Book of Hours joins one other in The Hague, considered a unicum, to constitute new evidence for a workshop producing early illuminated Books of Hours with Geert Grote's original translation in the diocese of Liege.
%3Cdiv%20class%3D%22title%22%3E%3Cem%3E%3Cp%20class%3D%22Body%22%3EBook%20of%20Hours%20%28use%20of%20Geert%20Grote%29%3C/p%3E%3C/em%3E%2C%20Southern%20Netherlands%2C%20diocese%20of%20Liege%20%28Limburg%20or%20Brabant%3F%29%2C%20c.%201420%3C/div%3E%0D%3Cdiv%20class%3D%22medium%22%3EIlluminated%20manuscript%20on%20vellum.%205%20full-page%20miniatures%3C/div%3E
Print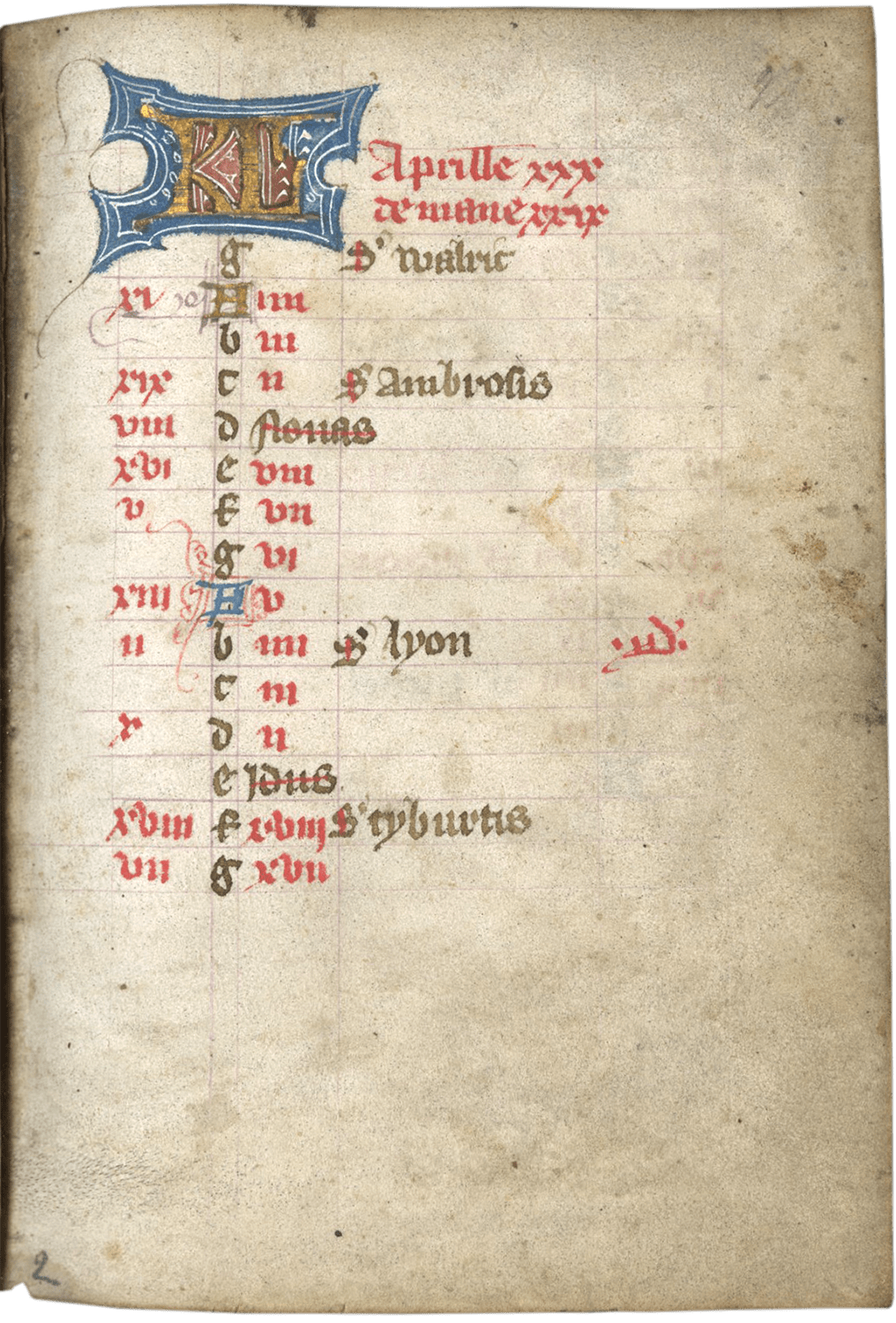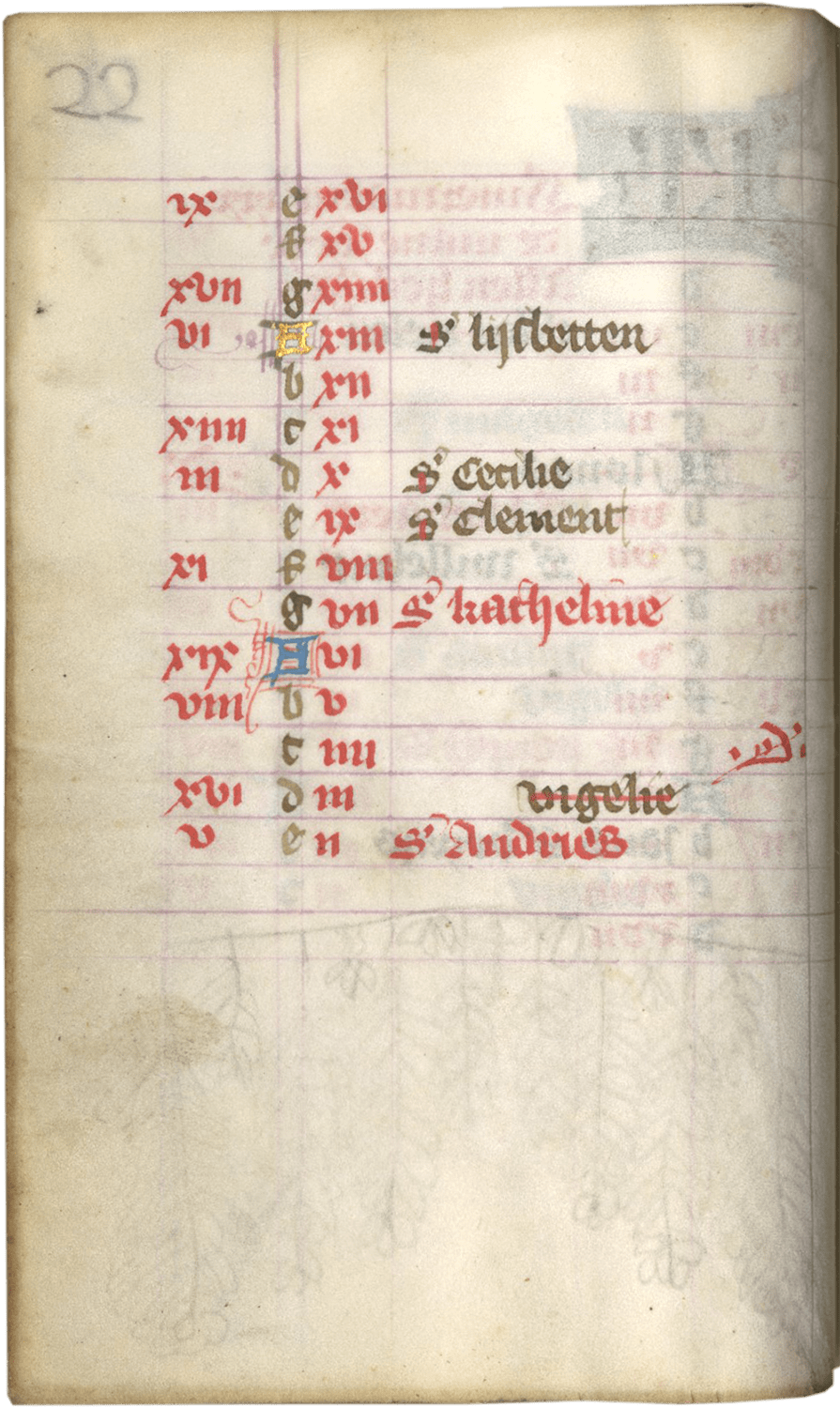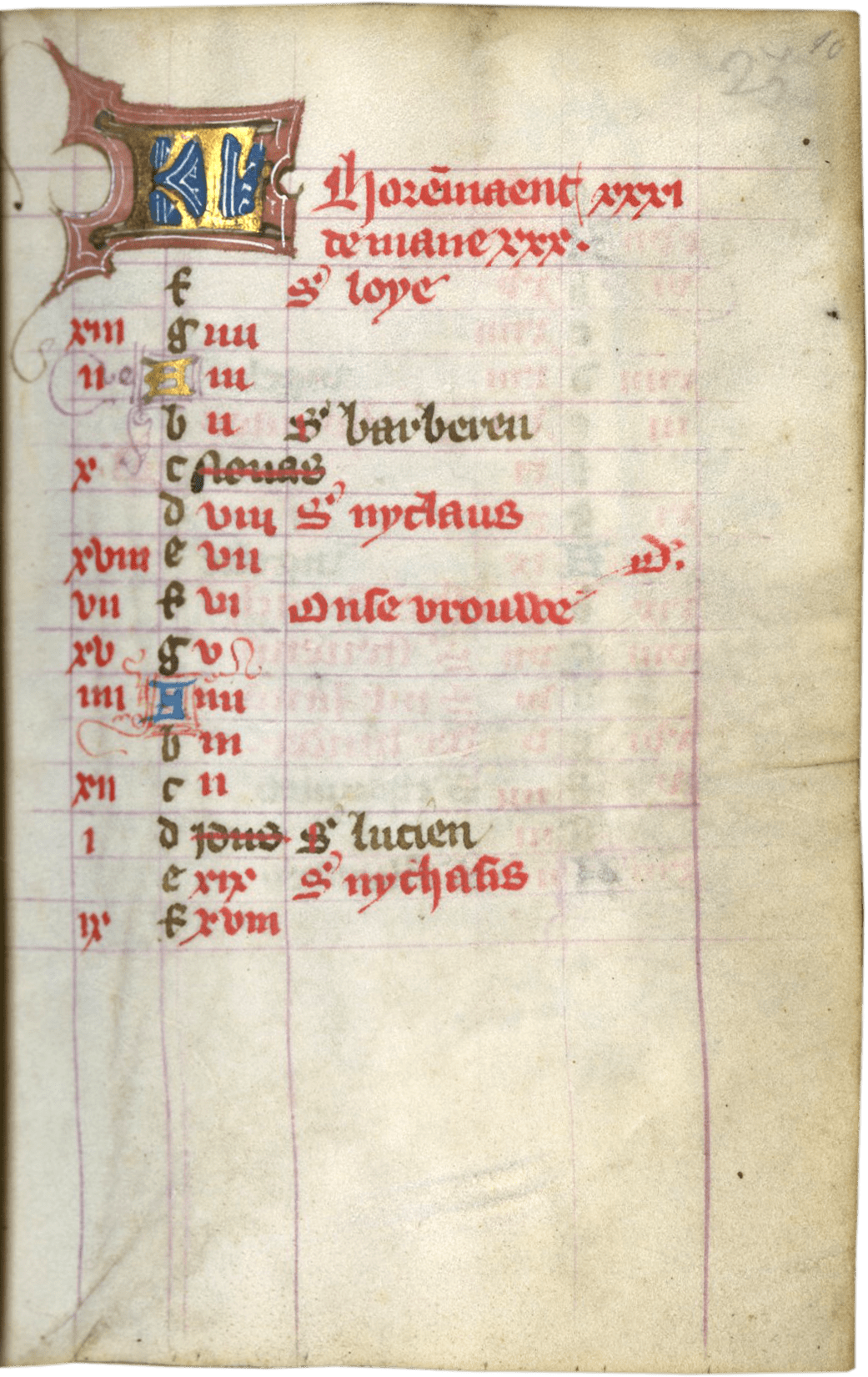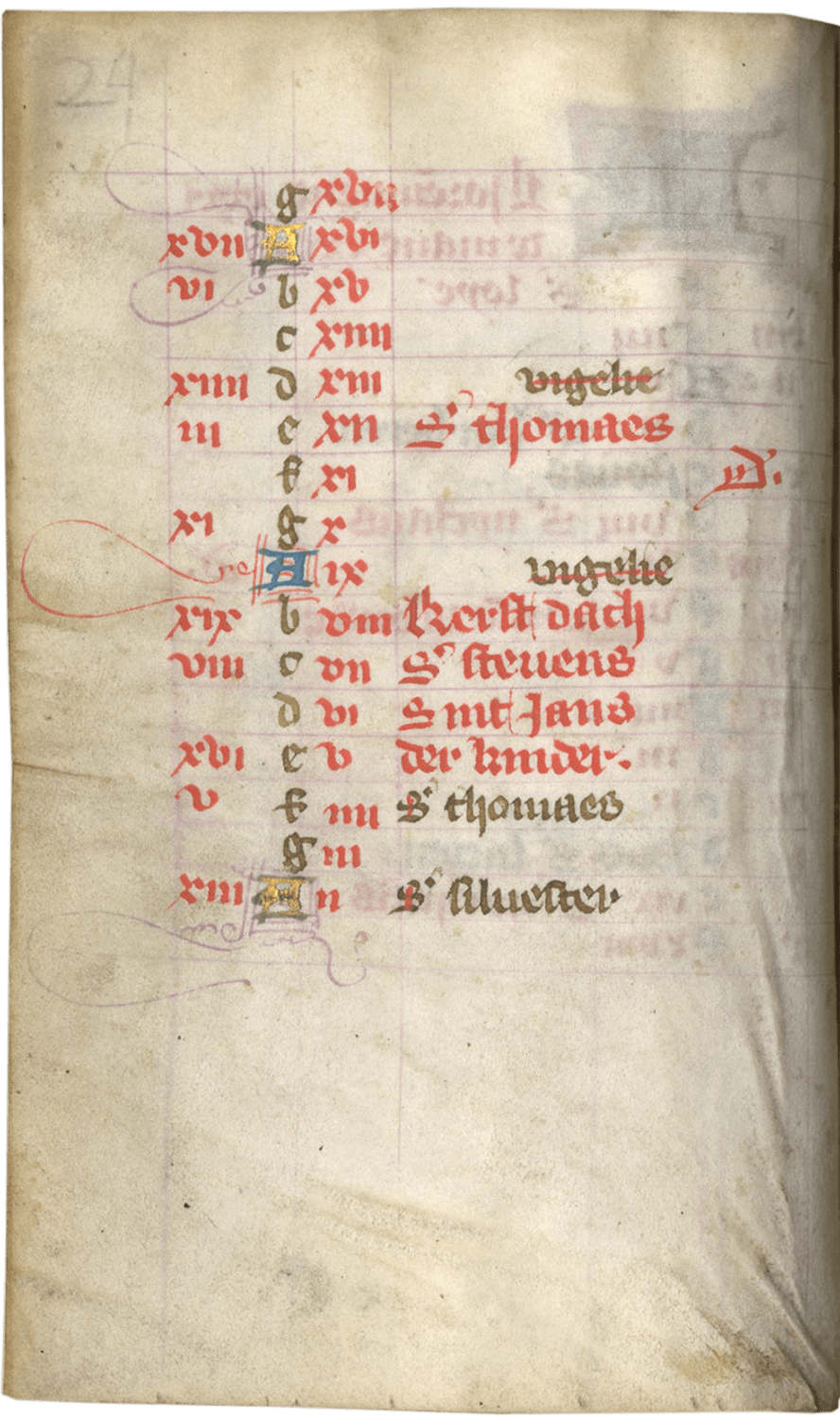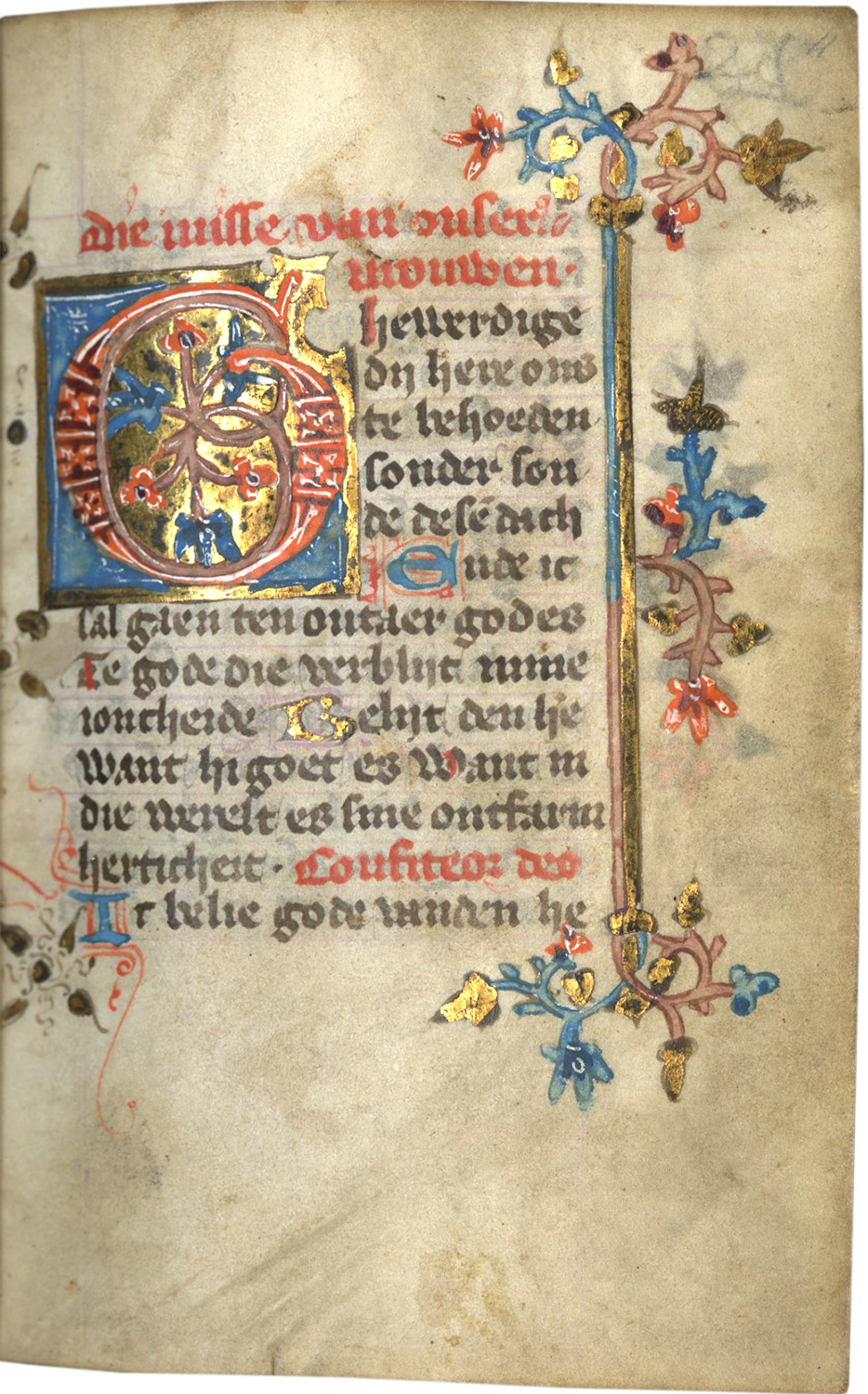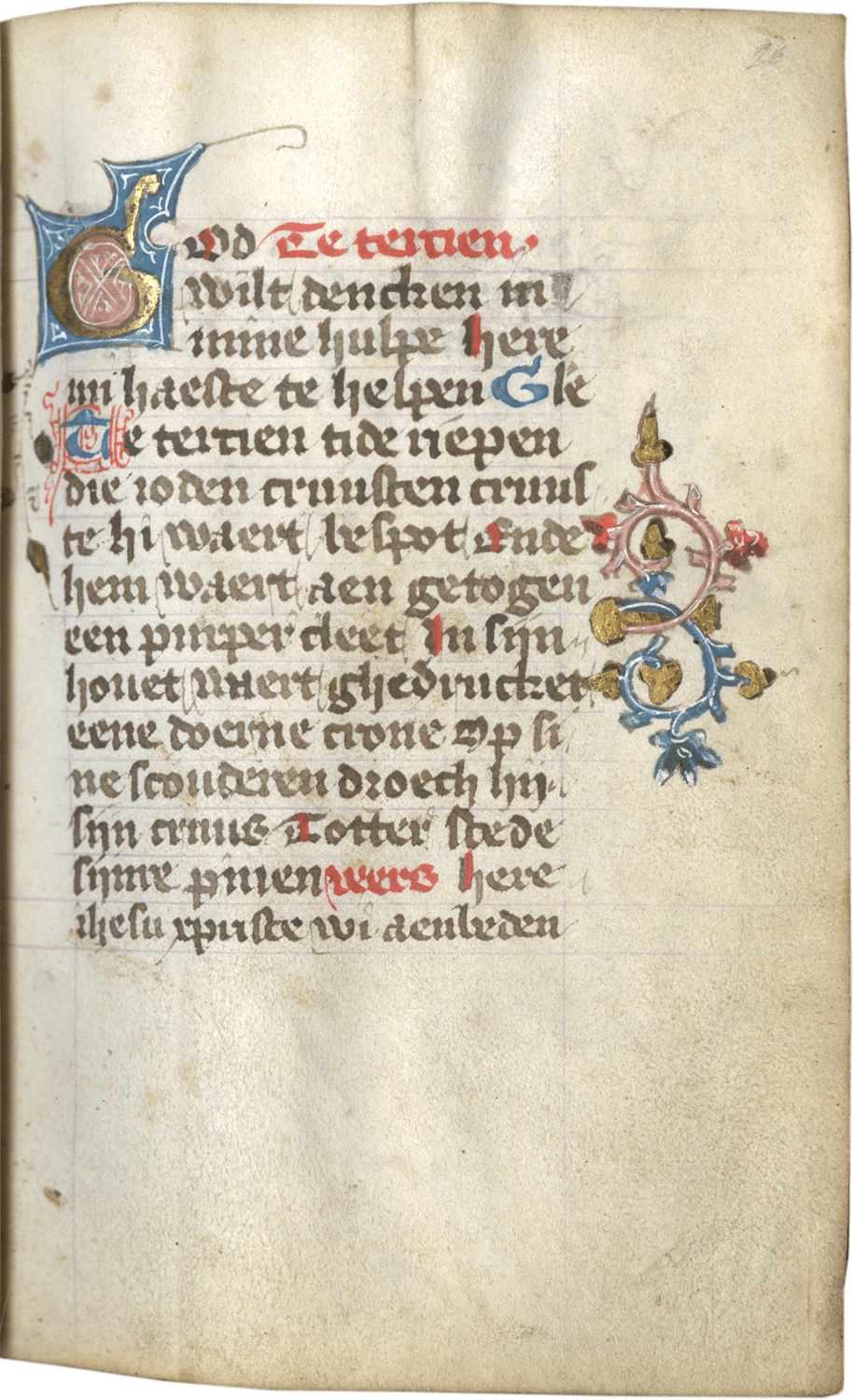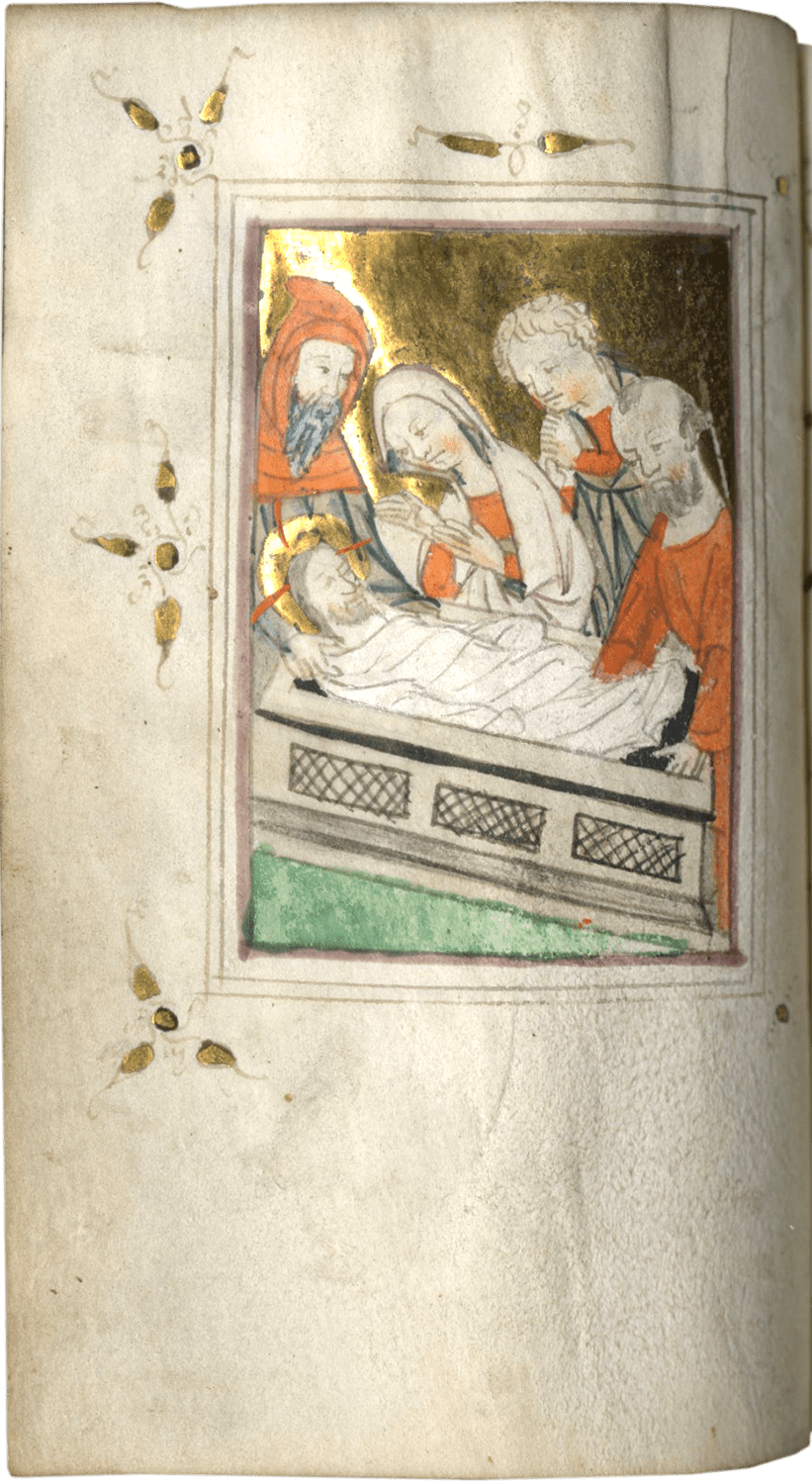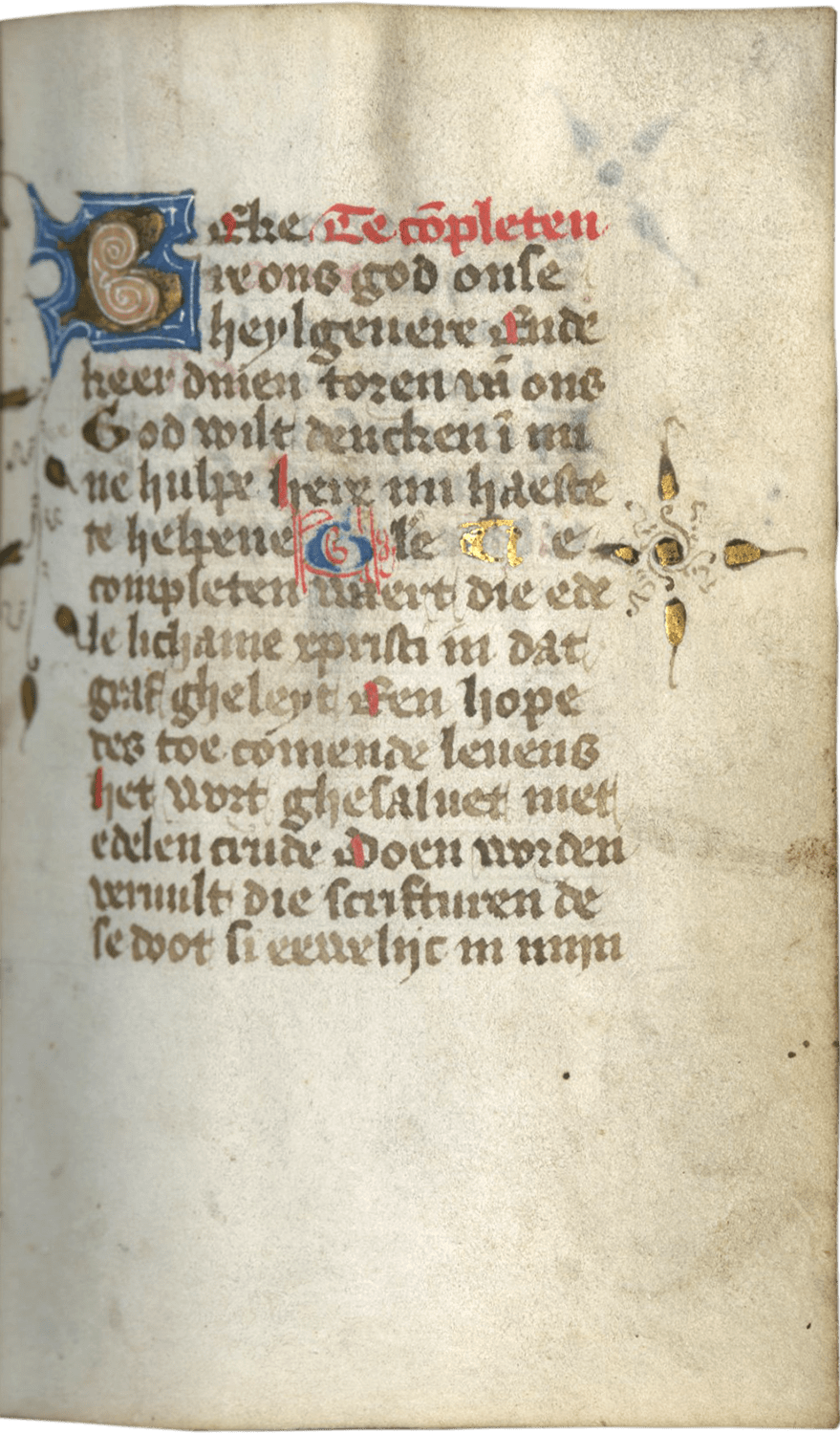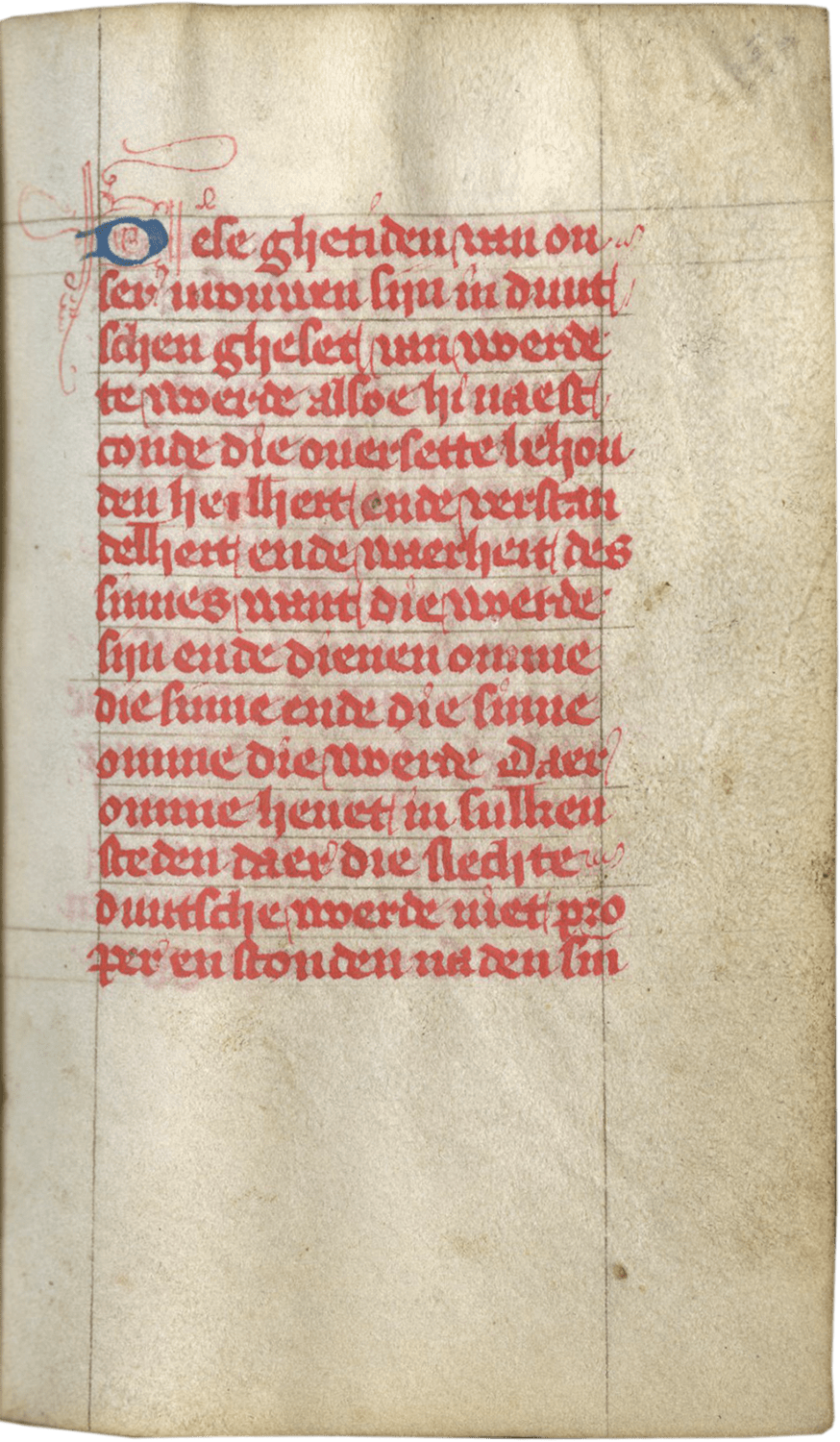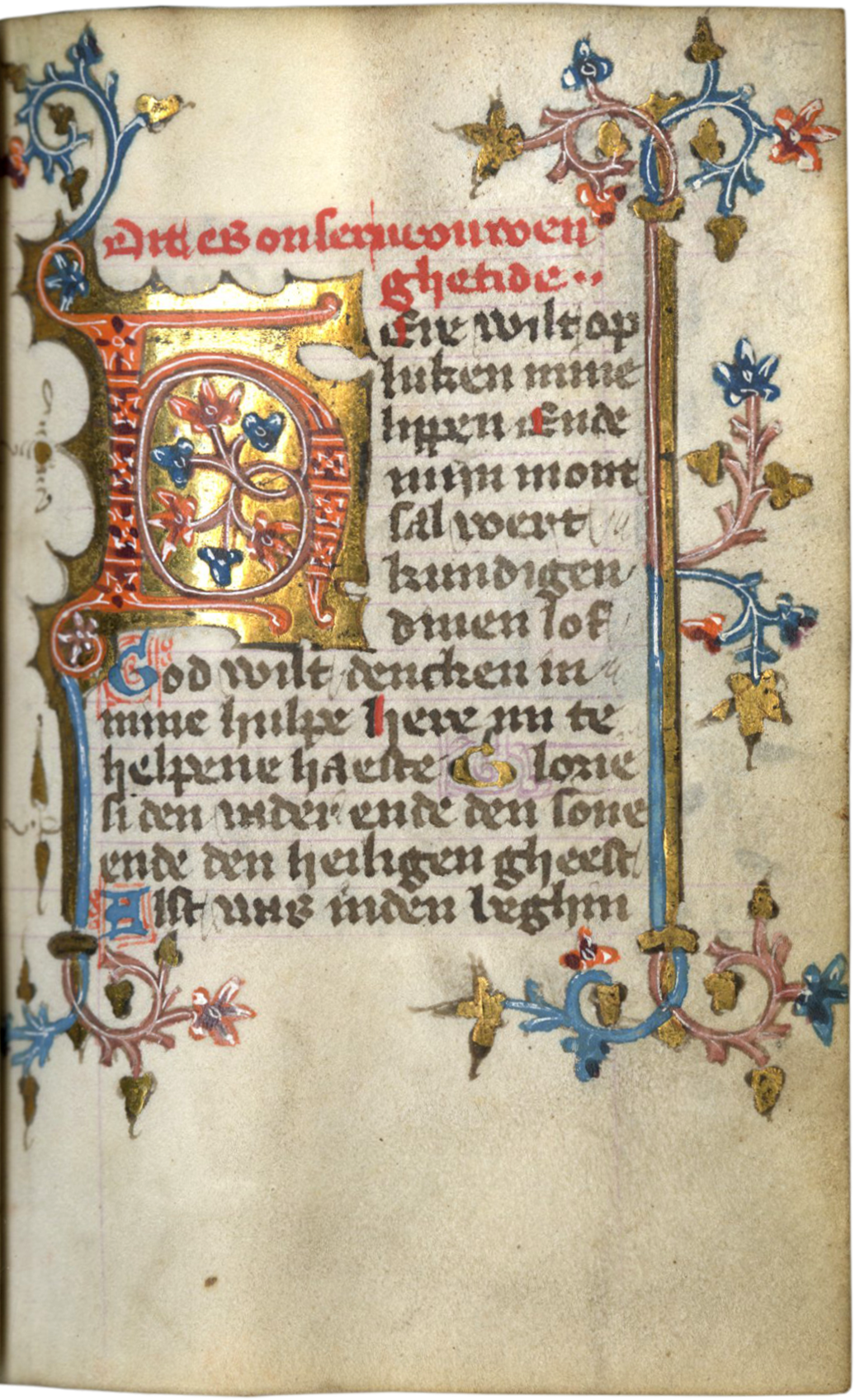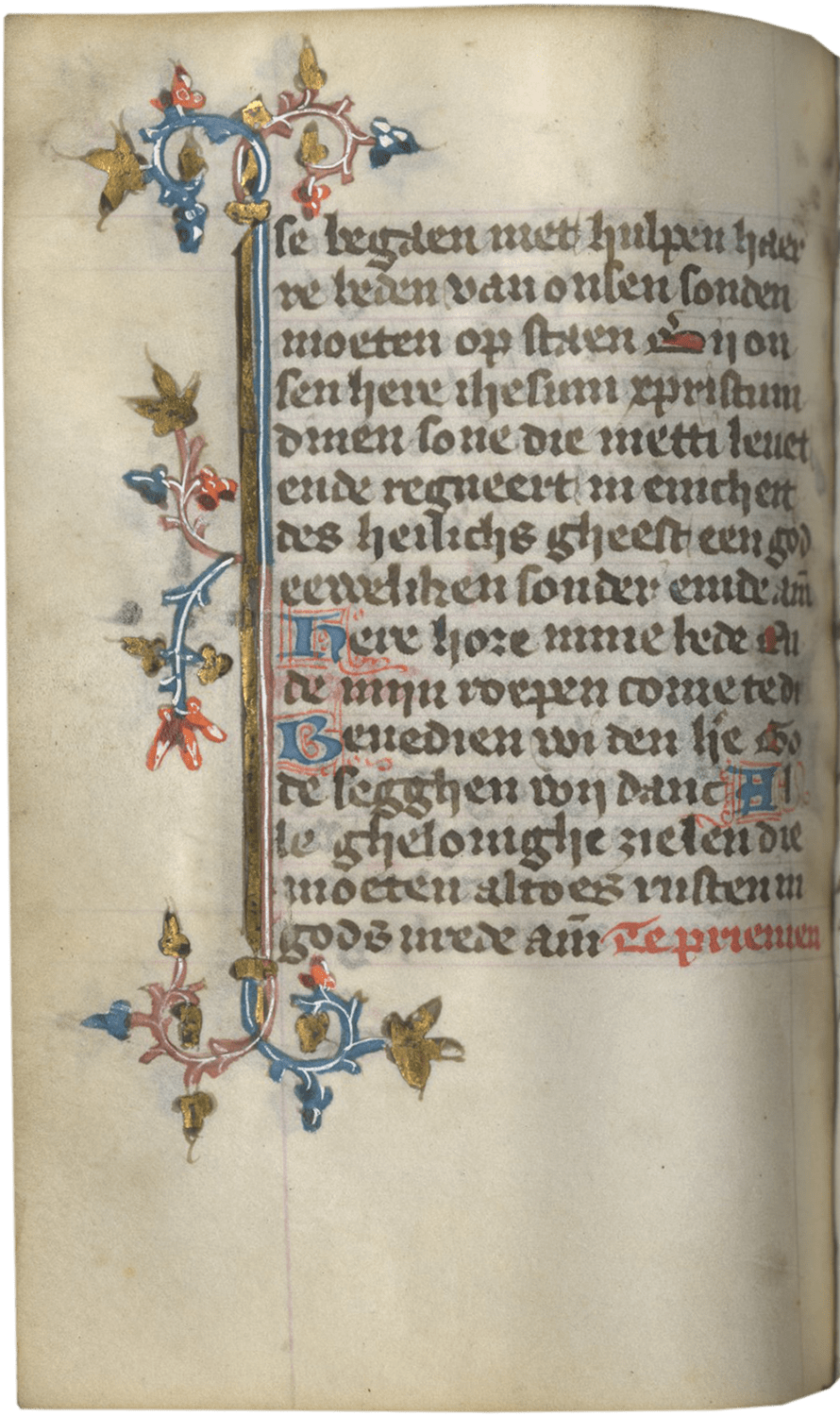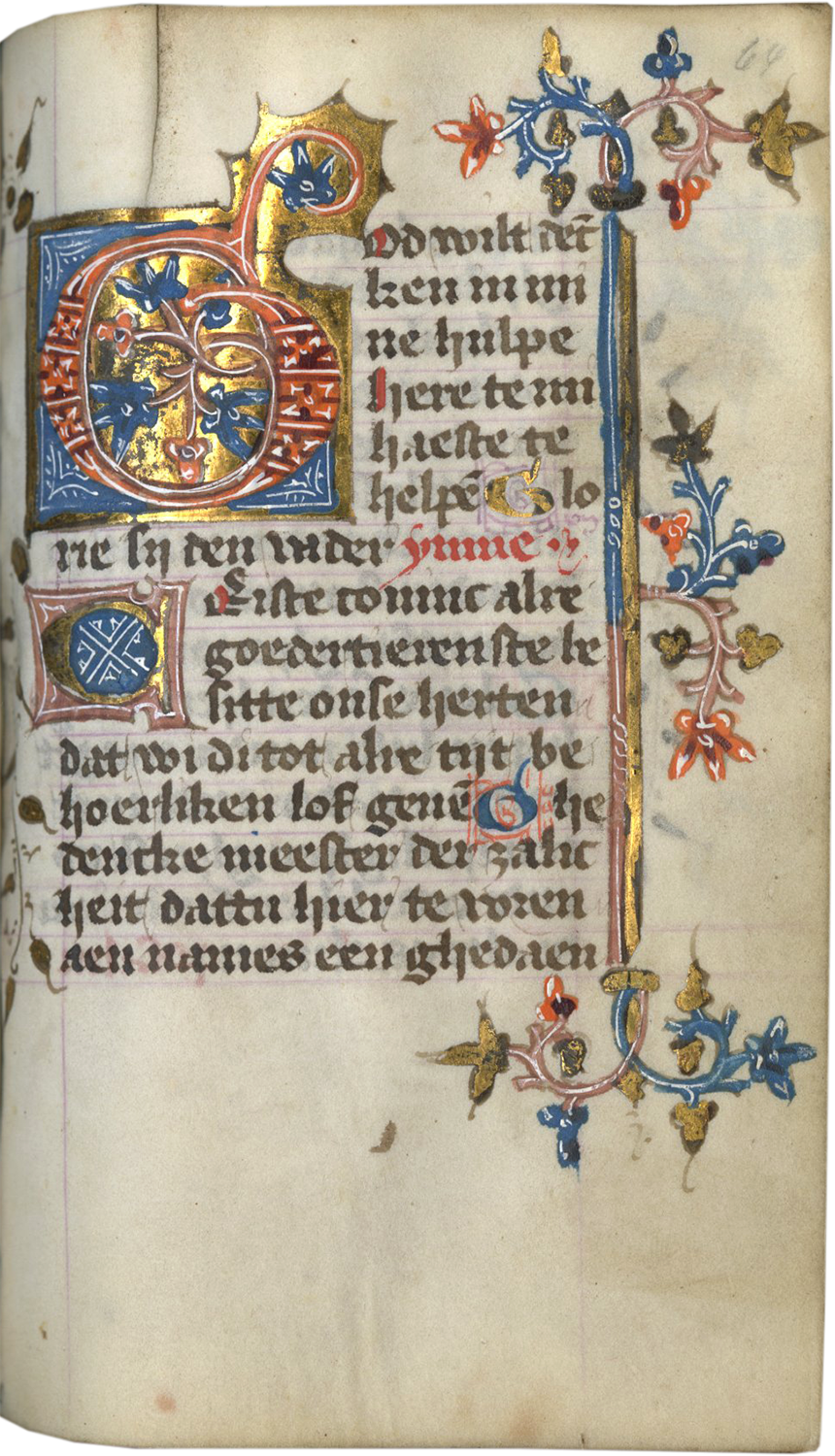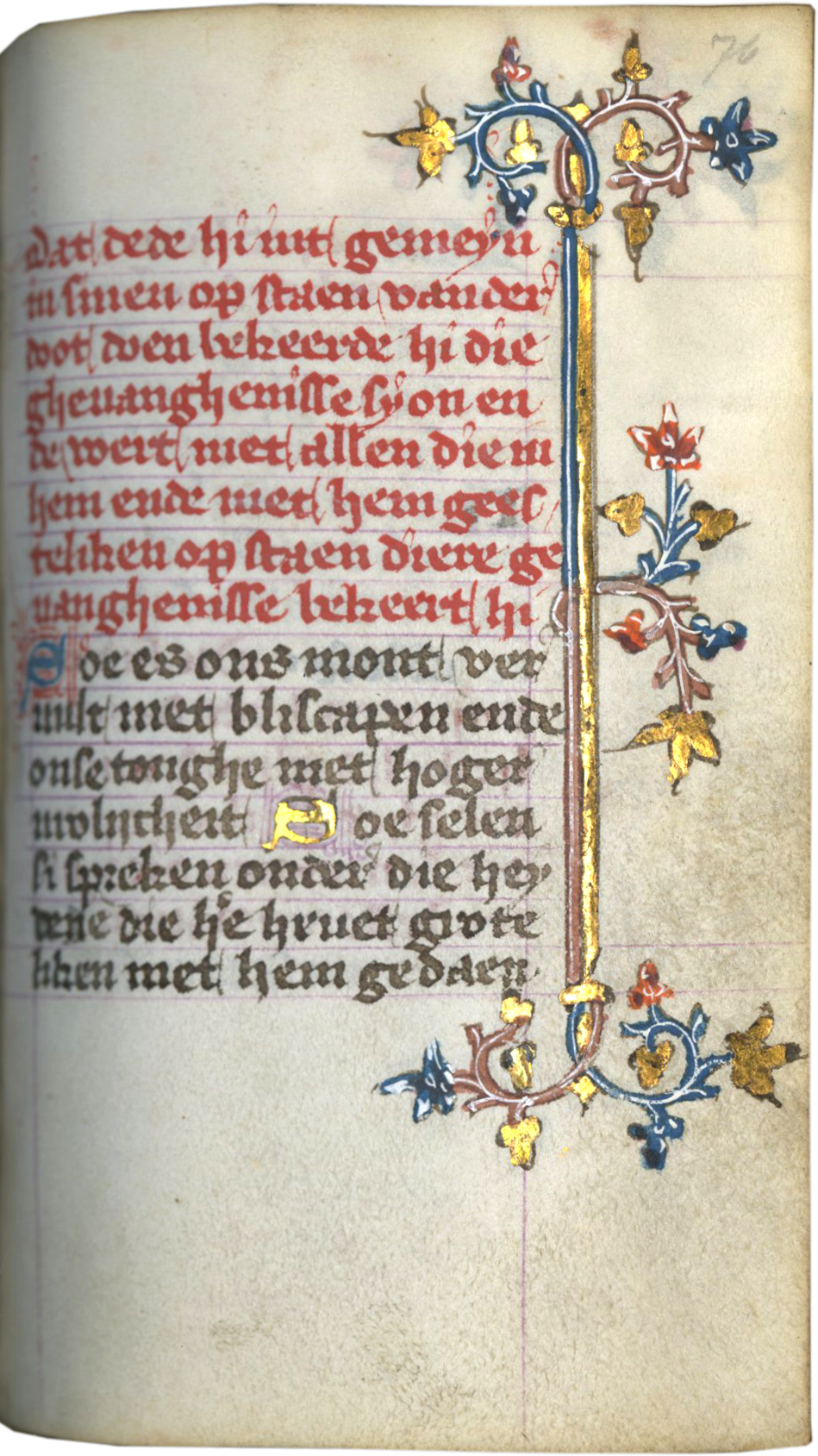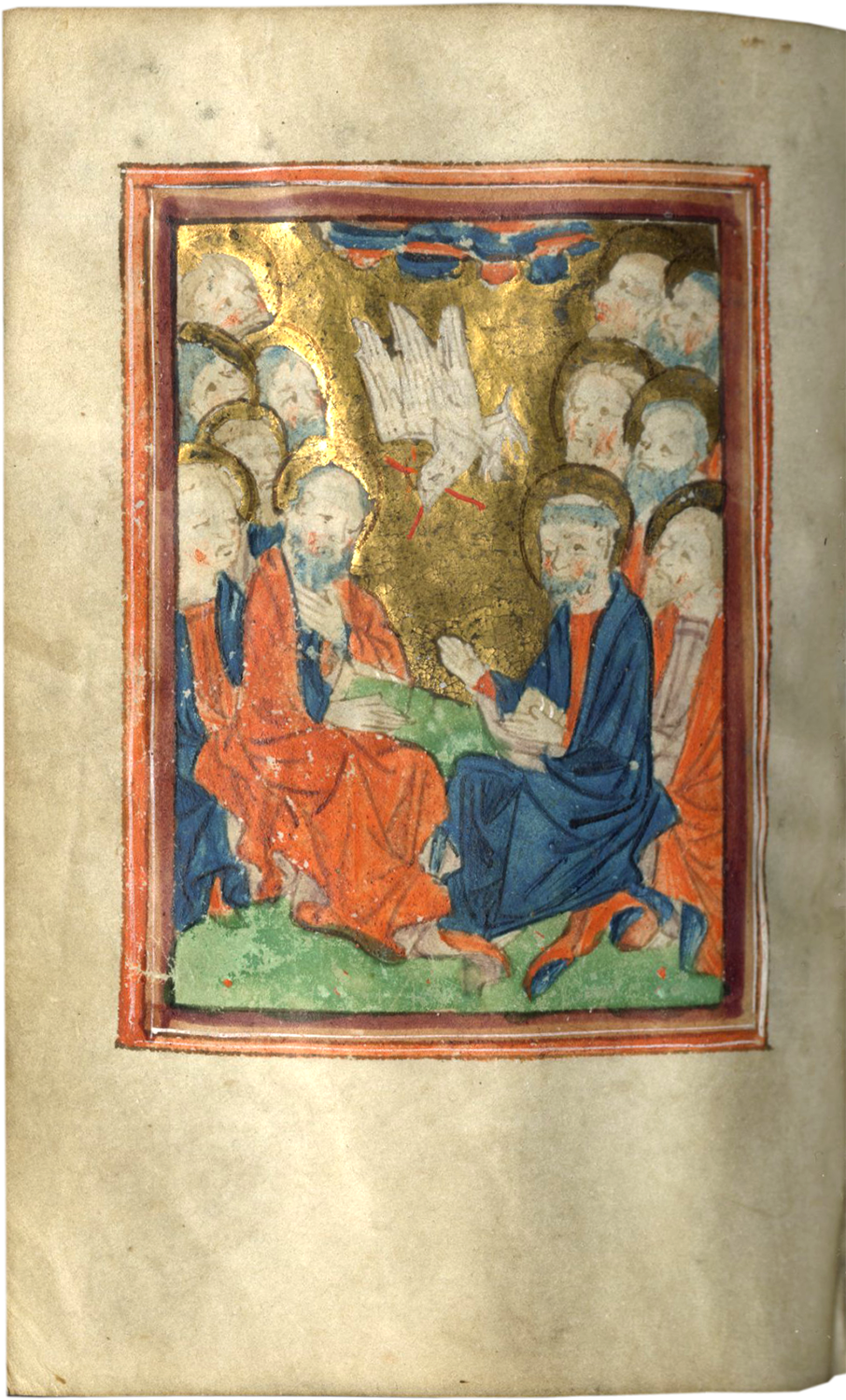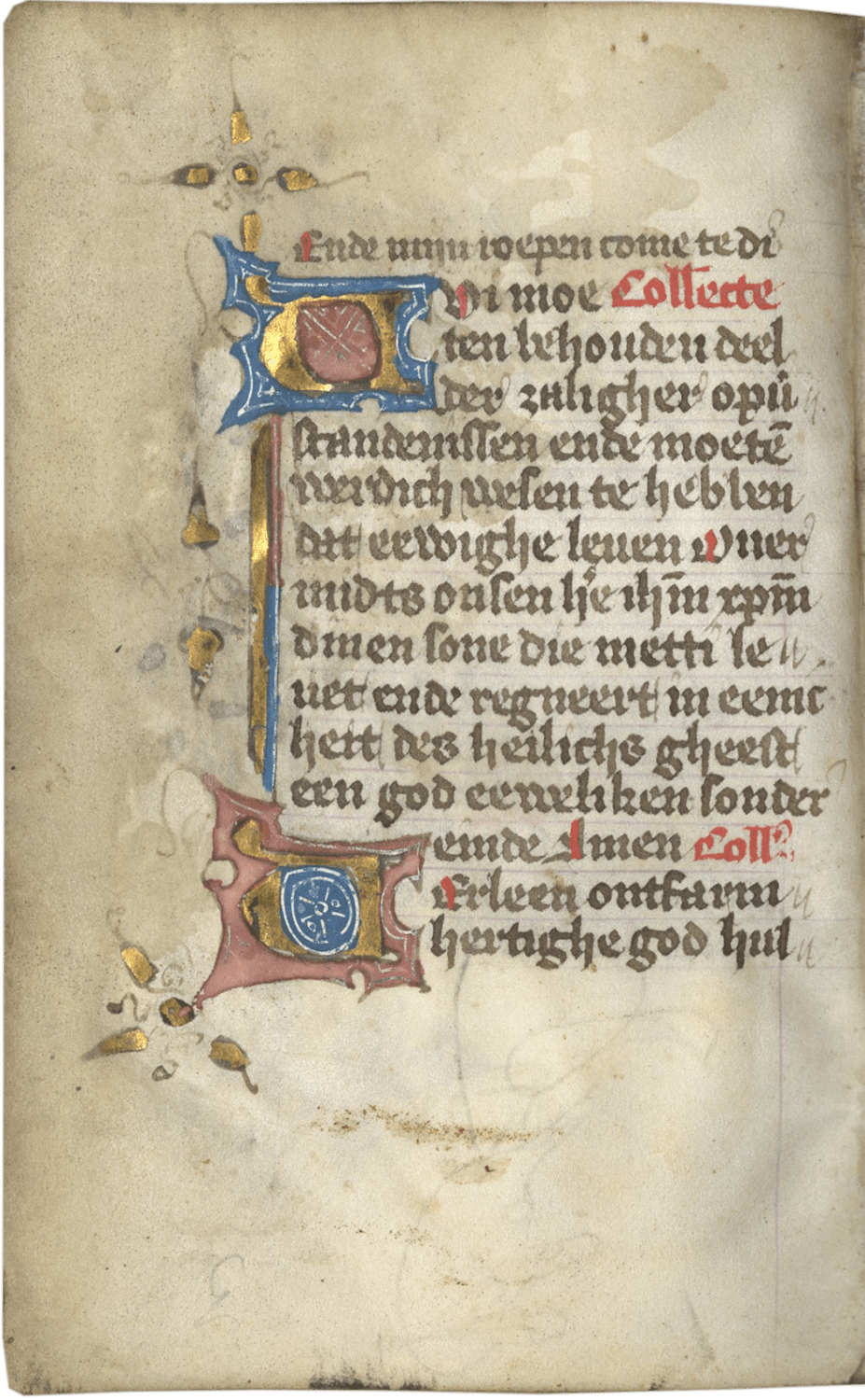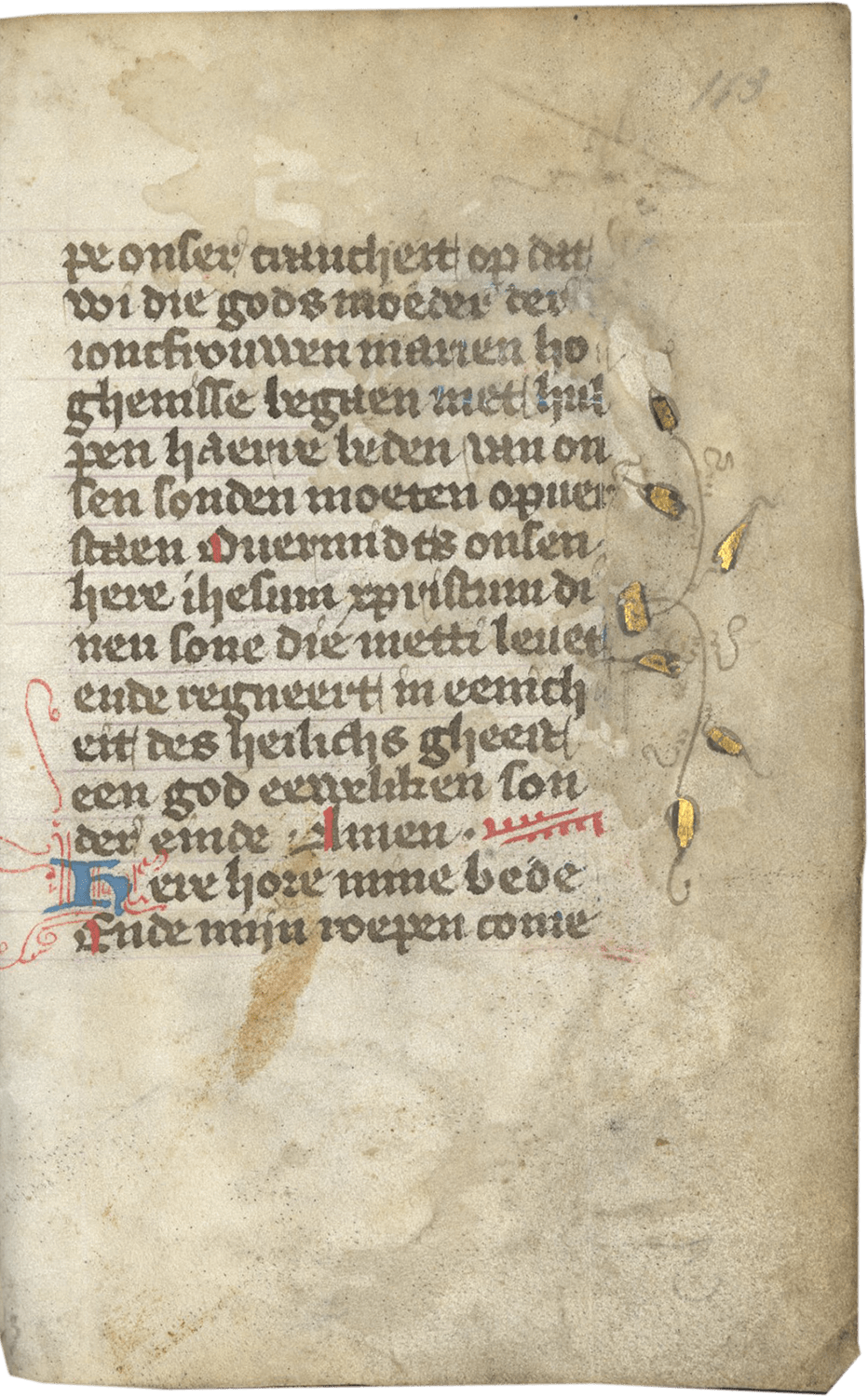 Description
This delightful Book of Hours joins one other in The Hague, considered a unicum, to constitute new evidence for a workshop producing early illuminated Books of Hours with Geert Grote's original translation in the diocese of Liege. The expressive miniatures are full of charm, the dramatic figures pushed up into the viewer's space, and the spikey decoration complements them well. There are not so many manuscripts that include Grote's "user friendly" text, including his prologue and glosses, so the present volume survives not only as a welcome addition to a new stylistic grouping but as an important addition to the textual tradition.
163ff. (collation: i2 [of 4, lacking i and ii], ii–iii8, iv6, v2, vi5 [iv added in], vii1, viii2, ix4, x12, xi6, xii7, xiii6, xiv2, xv4, xvi8, xviii–xx8, xxi9 [of unknown number, damage at binding before i], xxii8, xxiii10, xxiv4, xxv1, xxvi6, xxvii4, xxviii10), 15 lines written in Gothic script in black ink, lined with purple (justification 76 x 56 mm), rubrics in red, FIVE FULL-PAGE MINIATURES with highly burnished gold backgrounds, most pages with illuminated foliate sprays in margins, many with additional pink and blue floral scrolls in margins, three-line gold initials with pink and blue backgrounds, few pages with six- or eight-line initials, few pages with small holes from insect or small teeth marks in outer margins, several pages with modern pencil drawings in margins (ff. 148, 148v), gold backgrounds of miniatures with several scratches, significant loss to lower corner of f. 145, few folios with smaller losses to lower corner throughout, wear to joints. One unfoliated flyleaf inside front cover, twentieth-century French catalogue note taped to pastedown of back cover. Red velvet cover (original? 19th century?) with significant losses to velvet pile, particularly on spine and around edges, small tears in cloth. Dimensions 151 x 110 mm.
Provenance
1. The manuscript is written and illuminated in the Southern Netherlands, perhaps in Liege in the opening decades of the fifteenth century. In the calendar there is Basil (of Bruges) on 14 June and Leonard (of Liege) on 6 November and further southern forms like Katheline and Bertelmeus that never occur in the North. We are grateful to Anne Korteweg who has linked this manuscript to a "stand alone" manuscript from Liege on the basis of text, decoration, and illumination (The Hague, Koninklijke Bibliotheek., 135 K 17; see below).
2. Notation dated 1938 with price in Kroner on descriptive typed card in French under title "Manuskript [sic] (41392)," perhaps in reference to a Danish sale or collection.
Text
The text follows the original version attributed to Geert Grote, including the prologue and the glosses. Many of the so-called "use of Geert Grote" eliminate both prologue and glosses.
ff. 1–10, Simplified calendar in Dutch, March–December (missing folios for January and February), in red Basil (14 June) and Leonard of Liege (6 November);
f. 11, Mass of the Virgin, rubric "Die misse van onsere vrouwen," with some Latin rubrics, "confiteor deo (f.11), "kyrie eleison" (f. 13v), and "gloria in excelsis deo" (f.14);
f. 22, Hours of the Cross, rubric, "Dit sijn des heilichs crucis getijden," Matins (f. 22), Prime (f. 24), f.26 Terce (f. 26); f. 27, Sext (f. 27); None (f. 28), Vespers (f. 29), Compline (f. 31);
f. 33-34v, Prologue by Geert Grote to the Hours of the Virgin, incipit (in red), "Dese getijden van onser vrouwen sijn in duutschen geshet" (These hours of our Virgin are translated into Dutch)
ff. 35-106v, Hours of the Virgin, rubric, "Dit es onser vrouwen getide," Matins (f. 35); Lauds (f. 49v), Prime (f. 63v), Terce (f. 70v), Sext (f. 75), None (f. 80), Vespers (f. 84), Compline (f. 99), with many explanatory glosses ("Glose) in red;
f. 108-122v, Hours of the Holy Spirit, rubric, "Die getiden vanden heilighen gheest," Prime (f. 112v), Terce (f. 114), Sext (f. 116), None (f. 117v), Vespers (f. 119v), Compline (f. 121);
f. 123-142v, Seven Penitential Psalms, rubric "Die seven salmen der penitencien," and litanies (f. 139);
f. 144-163v, Office of the Dead, rubric, "Hier beghinnen die vi gelien in duutschen,"
The text is that of the original version attributed to Geert Grote, as published by N. Van Wijk.
Geert Grote (1340-1384) is known as the founder of the pre-Reformation movement called the Devotio Moderna (the Modern Devotion), which advocated a personal approach to faith through a simple and devout life, not necessarily within the strict confines of the official Church. The Modern Devotion consisted of communities mostly in the Netherlands but also in northern Germany in which men or women lived together devoutly but without taking religious vows (the houses of the Brethren or Sisters of the Common Life) and a collection of monastic communities, mostly Augustinians, grouped together as the "Windesheim Congregation." Grote himself was from Deventer and, as a wealthy young student he studied philosophy and medicine in Paris, then served as a papal delegate in Avignon. Following an illness in 1372, he founded the first House of the Sisters of the Common Life, was ordained as a deacon in Utrecht in 1379, and preached to a wide audience. He died prematurely of the plague in 1384. His movement had already taken root at the time of his death, and among his close followers were Gerard Zerbolt of Zutphen and Florens Radewijns.
There is no direct evidence that Grote himself translated the Book of Hours into Dutch, but he is known to have recommended that the devout read the Bible and other pious texts in the vernacular (hence the Eerste historiebijbel and Tweede historiebijbel, see Hindman below), and the existing translation bears the earmarks of his approach to devotion, so it is generally attributed to him. It is accompanied (as here) by a prologue explaining the need for a Dutch translation, and it is sprinkled throughout with glosses that render the text more "user friendly" (e.g., when a psalm or hymn has appeared earlier in the text, the gloss sends the reader back to that passage). Parenthetically, the two versions of the Dutch History Bible are also "user friendly" consisting not only of the biblical texts but of other passages from the Historia Scholastica and Josephus that explain or elaborate on in more everyday language the Bible passage.
No edition of the Dutch Book of Hours exists; it is estimated that 800 manuscripts exist which would make the project of an edition a daunting one. However, there is a transcription of one of the original translations of the Dutch Books of Hours, including its prologue and the glosses (based on The Hague, KB, 133 E 21). The transcription is also available online with a list of the relatively restricted number of comparable manuscripts.
Illustration
f. 25v, The Flagellation;
f. 30v, The Entombment;
f. 32v, The Annunciation, with Gabriel kneeling before the Virgin Mary with a banderole;
f. 107v, Pentecost with the Holy Spirit descending to twelve apostles;
f. 143v, Two monks reading beside a tomb lit by tapers.
Each miniature has a solid gold background and is framed with purple lines. The figures are set on a pale green ground, and painted with a bright palette, predominantly orange, blue, and white palette to their clothing and faces. The faces are routinely tinged with large patches of pink.
This attractive manuscript joins another one in The Hague, previously considered a unicum and published by Anne Korteweg (KB MS 135 K 17; see Dückers and Roelofs, 2004, no. 80 and the KB digital image site). The decoration shows great similarities: the golden "tri-petals" around the miniatures, the thick, coarse acanthus vines (which one never sees in the North), and the painted initials. The figure styles in both manuscripts are very expressive. In the Flagellation, see for example the angular faces of the torturers, their protruding noses, the bulging stomach of the figure on the left, as well as the pronounced outlines of the anatomy of Christ. Likewise, not the attenuated gestures and elongated hands of the Virgin and the angel Gabriel in the Annunciation. Especially the head types match in the two manuscripts. In all the illuminations the figures are pressed up close to the frame, the action taking place in the foreground, and the gold grounds are very thick and highly burnished. Perhaps the Pentecost is by a second hand, and it lacks the trilobed decoration around the frame of the miniature.
The only bibliography on the manuscript in The Hague is an entry in the catalogue of the Limburg Brothers of 2005, no. 80. It has a Liège calendar. The origin of the present manuscript less clear as it has a Basil of Bruges and a Leonard of Liège. But the Hours of the Virgin seem to be the original version of Geert Grote with even the original preface, stating that it is "overgeset van woorde tot woorde" (translated from word to word.).
We gratefully acknowledge the assistance of Anne Korteweg with this description.
Literature
Unpublished; further literature see:
Dückers, Rob and Pieter Roelofs, eds. The Limbourg Brothers Nijmegen Masters at the French Court 1400-1416, Nijmegen (Ludion), 2005, no. 80, entry by Anne Korteweg on The Hague KB 135 K 17.
Hindman, Sandra. Text and Image in Fifteenth-Century Illustrated Dutch Bibles, Leiden, 1977.
König, E. Devotion from Dawn to Dusk: The Office of the Virgin in Books of Hours of the Koninklijke Bibliotheek in The Hague, Leiden, 2012.
Korteweg, Anne. "Books of Hours from Northern Netherlands Reconsidered: The Use of Utrecht and Windersheim and Geert Grote's Role as a Translator," Books of Hours Reconsidered, ed. by S. Hindman and J. Marrow, London, Turnhout, 2013, pp. 235-277.
Van Wijk, N. Het Getijdenboek van Geert Grote naar het Haagse handschrift 133 E21, Leiden (Brill), 1940 (also available online)
Online Resources
Geert Grote Book of Hours by Van Wijk https://www.dbnl.org/tekst/grot001geti01_01/grot001geti01_01_0008.php
also partially available (Hours of the Virgin only) http://manuscripts.org.uk/chd.dk/use/GeertGrote.html
Description and Images of Book of Hours KB 135 K 17 https://manuscripts.kb.nl/search/manuscript/extended/page/1/shelfmark/135+K+17
BOH 224
Please send me further information about this work.