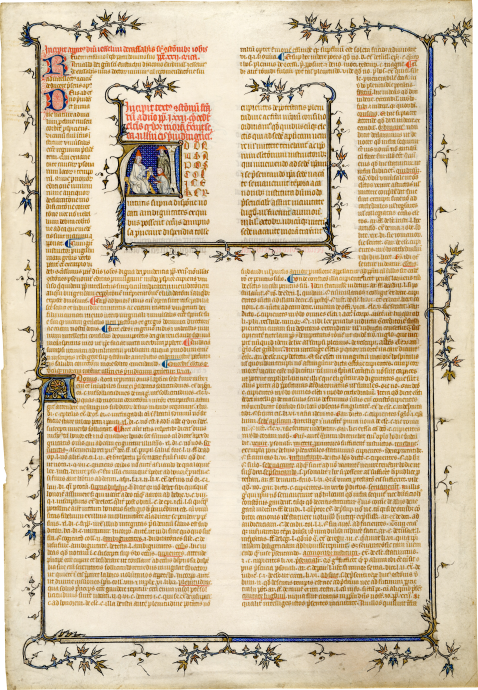 1
/
2


Anonymous Parisian Illuminator (Circle of Jean le Noir?)
Zenzelinus de Cassanis Presenting His Commentary to Pope John XXII, initial 'A' on leaf from the Extravagantes Johannis XXII
France, probably Paris, c. 1330-1350 (after 1327)
leaf 413 x 285 mm., miniature 34 x 40 mm.
At the heart of this impressive leaf is an historiated initial 'A' showing Pope John XXII seated in a gold curule chair wearing a red papal tiara.
%3Cdiv%20class%3D%22title%22%3E%3Cem%3E%3Cp%3EAnonymous%20Parisian%20Illuminator%20%28Circle%20of%20Jean%20le%20Noir%3F%29%3C%2Fp%3E%3C%2Fem%3E%2C%20c.%201330-1350%20%28after%201327%29%3C%2Fdiv%3E%0D%3Cdiv%20class%3D%22medium%22%3EZenzelinus%20de%20Cassanis%20Presenting%20His%20Commentary%20to%20Pope%20John%20XXII%2C%20initial%20%E2%80%98A%E2%80%99%20on%20leaf%20from%20the%20Extravagantes%20Johannis%20XXII%20%3C%2Fdiv%3E%0D%3Cdiv%20class%3D%22dimensions%22%3Eleaf%20413%20x%20285%20mm.%2C%20miniature%2034%20x%2040%20mm.%3C%2Fdiv%3E
Print
Description
At the heart of this impressive leaf is an historiated initial 'A' showing Pope John XXII seated in a gold curule chair wearing a red papal tiara. Zenzelinus de Cassanis, the author of the expansive gloss surrounding the main text, is shown kneeling and presenting his work. Behind is Arnaud de Via (d. 1335), cardinal-deacon of Sant'Eustachio in Rome and also John XXII's nephew. The three figures are set on a rich blue diapered background, the initial painted in a faint pink and decorated in white, with blue borders framed with gold. Ornate sprays of ivy-leaf on bars offset the main text from the gloss and border the entire leaf, executed in a distinct Parisian style found in manuscripts illuminated in the 1330s to 1340s in the workshops built up around Jean Pucelle.
The figure of John XXII is closely comparable an historiated initial 'D' presumably showing John XXII writing before the Man of Sorrows, added around 1330 to the Bute Psalter, now in Los Angeles (figure 1, J. Paul Getty Museum, MS 46, f. 316v). Both miniatures show a similar treatment of the hands and face in light red and a strikingly similar pattern of drapery folds (figure 2). As noted by François Avril, the artists working in the wake of the Jean Pucelle (documented in Paris 1319-1334) probably saved models and designs from the master's studio (Avril 1978, p. 20). The similarity of the draperies is perhaps evidence that such patterns were indeed shared among these artists. Pucelle's closest follower and "true reincarnation" (according to Millard Meiss) was Jean le Noir, active in Paris and Bourges from around 1330 to 1375/80. The illuminator of the present leaf was perhaps associated with the Parisian workshop of the Passion Master, identified by Avril as Jean le Noir (Avril 1978, p. 22). Details of the ivy-leaf decoration are also comparable to manuscripts illuminated by a collaborator, Jean Mahiet, as in the Vie de Saint Denis in Paris (BnF, MS Fr. 13568). All three artists (Jean Pucelle, Jean le Noir, and Jean Mahiet) collaborated on the celebrated Hours of Jeanne de Navarre (figure 3, Paris, BnF, MS NAL 3145).
Containing the opening text of the decretal Ad onus apostolicae and its gloss, the leaf comes from a copy of the Extravagantes Johannis XXII, a collection of twenty decretals compiled and glossed by Zenzelinus de Cassanis (Jesselin de Cassagnes, d. 1334, Avignon), papal chaplain and doctor of canon and civil law. The parent manuscript most likely contained a broader collection of other decretals to which John XXII's Extravagantes served as an appendix or apparatus. A comparable manuscript with a collection of four decretals, also illuminated by followers of Jean Pucelle and dated 1336-1345, survives from the abbey of Saint-Bertin in Saint-Omer (figure 4, Bibliothèque de l'Agglomération du Pays de Saint-Omer, MS 458). Pope John XXII was the longest serving pope of the Avignon Papacy and maintained close links to French nobility, briefly serving as chancellor to Charles II of Naples. Along with others gathered together as the Extravagantes communes, John XXII's collection of 20 decretals was compiled into the Corpus iuris canonici in 1500 by Jean Chappuis.
The leaf written in a Gothic bookhand in brown ink in two columns on 78 lines ruled in lead (written space 336 x 225 mm.), rubrics in red, headings underscored in red and indicated with blue and red, one 4-line initial in blue decorated with ivy-leaf and gold set into the bar motif, and two 3-line initials in blue and red decorated with red and blue-gray penwork, with fragments of notes in the left margin indicating the page layout for incipits. The parchment leaf cut slightly unevenly at left edge, pasted to board with verso obscured, some ivy-leaf borders smudged and edges with some minor staining.
Literature:
Unpublished; for comparisons, see:
F. Avril, Manuscript Painting at the Court of France: The Fourteenth Century (1310-1380), New York, 1978.
A. Stones, "Stylistic Associations, Evolution, and Collaboration: Charting the Bute Painter's Career," The J. Paul Getty Museum Journal 23 (1995), pp. 11-29.
A. Châtelet, "Les artistes de Charles V," in L'âge d'or du manuscrit à peintures en France au temps de Charles VI, Dijon, 2000, pp. 49-71.
S. L'Engle and R. Gibbs, Illuminating the Law: Legal Manuscripts in Cambridge Collections, London and Turnhout, 2001.
Online resources:
Recueil de droit canon, Bibliothèque de l'Agglomération du Pays de Saint-Omer, MS 458
http://bibliotheque-numerique.bibliotheque-agglo-stomer.fr/idurl/1/16669
Please send me further information about this work.