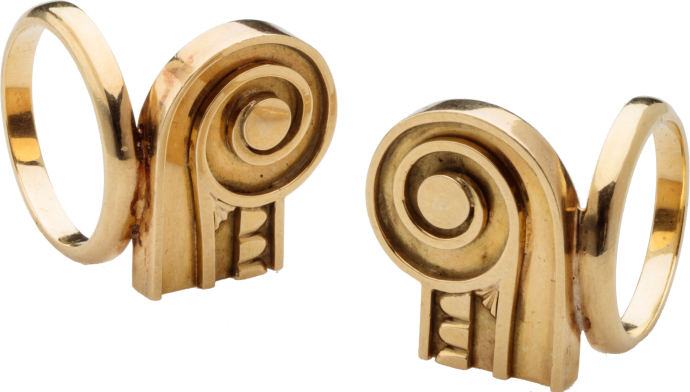 1
/
6






Ionic Capital Rings by Stanley Tigerman
Gold
United States and Italy, 1986-1987
Complete width 46 mm., diameter of hoops 21 mm. and 22 mm., bezel when worn together 19 x 46 mm. Weight 22 gr., US sizes 7 and 8 ½, UK sizes O and Q ¾
The so-called double ring, that is, a ring worn over two fingers, was popular in late Roman society, but later well out of use. It is not surprising to see the double finger ring rediscovered by modern and contemporary jewelers
%3Cdiv%20class%3D%22title%22%3E%3Cem%3E%3Cp%3EIonic%20Capital%20Rings%20by%20Stanley%20Tigerman%3C%2Fp%3E%3C%2Fem%3E%2C%201986-1987%3C%2Fdiv%3E%0D%3Cdiv%20class%3D%22medium%22%3EGold%3C%2Fdiv%3E%0D%3Cdiv%20class%3D%22dimensions%22%3EComplete%20width%2046%20mm.%2C%20diameter%20of%20hoops%2021%20mm.%20and%2022%20mm.%2C%20bezel%20when%20worn%20together%2019%20x%2046%20mm.%20Weight%2022%20gr.%2C%20US%20sizes%207%20and%208%20%C2%BD%2C%20UK%20sizes%20O%20and%20Q%20%C2%BE%20%3C%2Fdiv%3E
Print
Description
The so-called double ring, that is, a ring worn over two fingers, was popular in late Roman society, but later well out of use. It is not surprising to see the double finger ring rediscovered by modern and contemporary jewelers. In this interesting variant there are actually two rings that, when worn on two adjacent fingers, give the illusion of being a continuous double ring.
The two gold rings that make up this double finger ring vary slightly in size. Each has a circular band with D-section, attached on one point to the bezel, half an Ionic capital molded in relief. When worn on adjacent fingers, the capital is complete. Stamped inside the hoop of one ring is the inscription "S. TIGERMAN 03 CM" and the Italian warranty mark "750" for eighteen-carat gold. The other is stamped "03," repeating the edition number. This ring is number three of a limited edition of nine which were produced by Cleto Munari (CM) in Milan.
Tigerman designed this double ring at the request of Cleto Munari, who is well-known for his collections of Murano glass pens for Nobel Prize winning writers, watches, and jewelry, all produced in his workshop founded in 1985.
R-747
Please send me further information about this work.