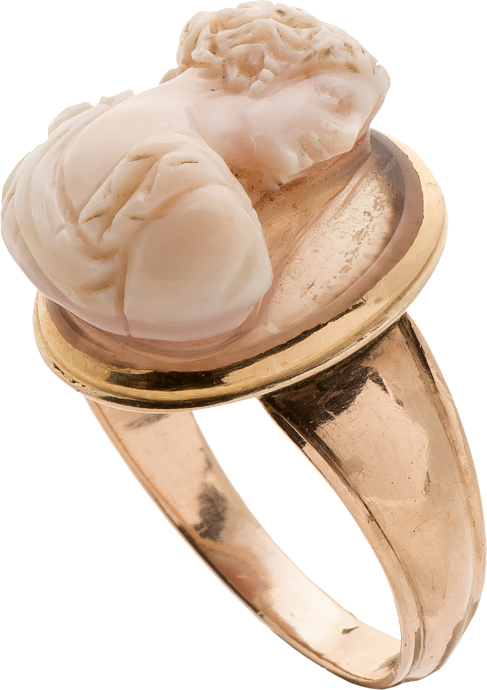 1
/
6






Ring with Renaissance Cameo
Gold, sardonyx cameo (layered orange and translucent white)
Probably Northern Italy, cameo late 16th-early 17th century; ring: second half 18th century
Weight 3.8 gr.; circumference 53.82 mm.; US size 6 ¾; UK size N ½
The ring is unusual for its skillfully and deeply carved stone preserved in excellent condition.
%3Cdiv%20class%3D%22title%22%3E%3Cem%3E%3Cp%3ERing%20with%20Renaissance%20Cameo%3C%2Fp%3E%3C%2Fem%3E%2C%20cameo%20late%2016th-early%2017th%20century%3B%20ring%3A%20second%20half%2018th%20century%3C%2Fdiv%3E%0D%3Cdiv%20class%3D%22medium%22%3EGold%2C%20sardonyx%20cameo%20%28layered%20orange%20and%20translucent%20white%29%3C%2Fdiv%3E%0D%3Cdiv%20class%3D%22dimensions%22%3EWeight%203.8%20gr.%3B%20circumference%2053.82%20mm.%3B%20US%20size%206%20%C2%BE%3B%20UK%20size%20N%20%C2%BD%3C%2Fdiv%3E
Print
Description
During the Age of Enlightenment in Europe there was a renewed interest in the Classical World. In part, this was rekindled through the excavations in Pompeii and Herculaneum in Italy which began between 1738 and 1748. This epoch represents the beginning of the science of modern archaeology and also a period when great royal collections of cameos and intaglios were formed. These included examples from antiquity and the Renaissance period, as well as contemporary gem-cutters. Renaissance gemstones of the sixteenth and seventeenth centuries were mainly cut in specialized workshops in Northern Italy, most of all in and around Milan. These were highly prized and much sought after miniature works of art. The subjects ranged from Roman emperors and empresses, to mythological scenes, and most popular were busts or heads of young women. Cameos set in pendants and rings were not always made to be worn, they often were objects displayed in collector's cabinets, set for wearing in later centuries.
The ring is unusual for its skillfully and deeply carved stone preserved in excellent condition. Ring made of rose gold with wide hoop, plain on the interior and rounded on the exterior with accompanying profiled edges. The hoop gradually widens towards the ends which support the oval bezel formed like a frame in which a sardonyx cameo is open set to enhance the translucency of the stone. The bust of a woman in three-quarter profile and bas-relief facing to the right is shown wearing a mantle with exposed right shoulder. Her curly hair is tied back and falls behind her neck.
Literature:
For similar examples of "Young Women" cameos in varying poses, cf. L.A. Mira, El arte de la joyeria en la colección Lazaro Galdiano, 2003, nos. 20 and 198; Ingrid S. Weber, Geschnittene Steine aus altbayerischem Besitz, Kameen und Intaglien des 15. bis späten 17. Jahrhunderts in der Staatlichen Münzsammlung München, 2001, nos. 48-53; Kirsten Aschengreen Piacenti and John Boardman, Ancient and Modern Gems and Jewels in the Collection of her Majesty the Queen, 2008, nos. 162 and 156.
R-786
Please send me further information about this work.