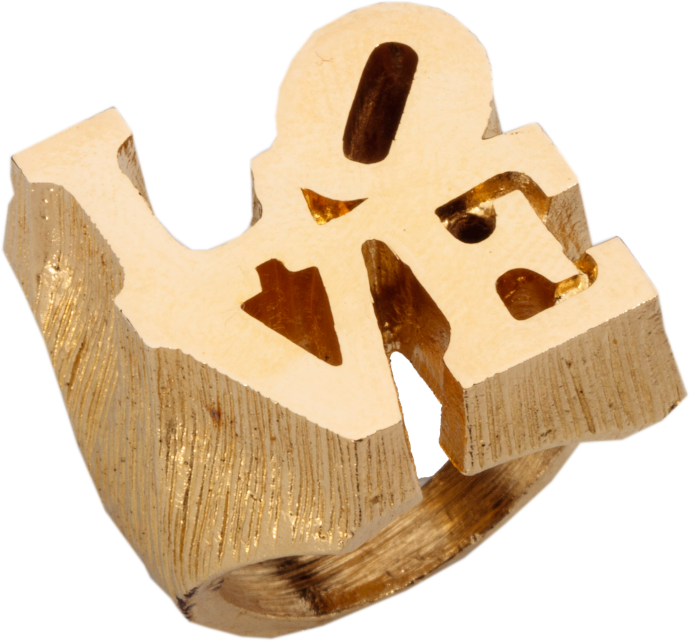 1
/
4




"Love" Ring by Robert Indiana
Gilded brass
United States, 1969
Weight 17.5 gr., US size 6 ½, UK size N
One of the most iconic images of the 20th century, LOVE by Robert Indiana continues to captivate the desires of men and women.
%3Cdiv%20class%3D%22title%22%3E%3Cem%3E%3Cp%3E%22Love%22%20Ring%20by%20Robert%20Indiana%3C%2Fp%3E%3C%2Fem%3E%2C%20United%20States%2C%201969%3C%2Fdiv%3E%0D%3Cdiv%20class%3D%22medium%22%3EGilded%20brass%3C%2Fdiv%3E%0D%3Cdiv%20class%3D%22dimensions%22%3EWeight%2017.5%20gr.%2C%20US%20size%206%20%C2%BD%2C%20UK%20size%20N%3C%2Fdiv%3E
Print
Description
This cast ring of gilded brass has a wide flat hoop that is textured on the inside and outside and displays shiny beveled edges. The shoulders expand, merging into a sculptural bezel with a polished surface forming the word "LOVE," composed in two lines. Ring as sculpture, ring as symbol, ring as icon, and ring as art are all embodied in this compelling object, which still functions today as a powerful sign for the so-called "Love Generation" of the 1960s. Never worn, our ring is still in its original case in an Ultima II box. The "LOVE" ring has become an iconic piece in the world of jewelry and appears in various publications.
R-704
Please send me further information about this work.