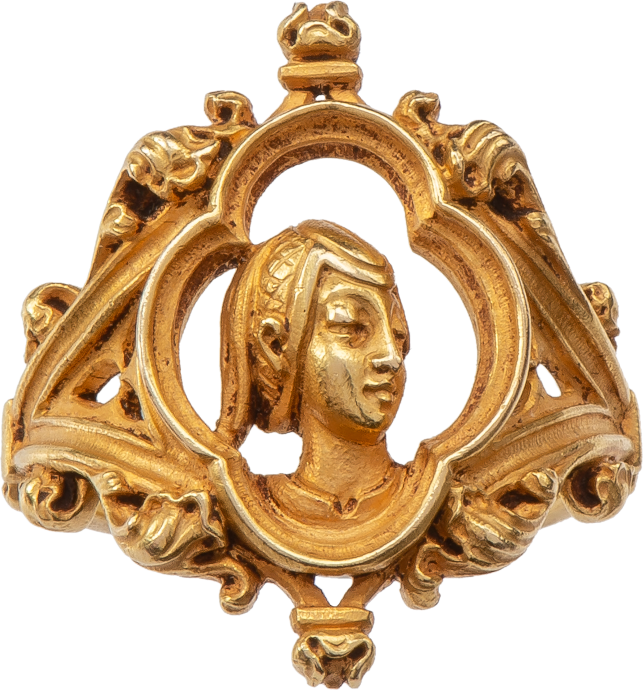 1
/
4




Gold
Louis Wièse (1852-1930), France, c. 1890
Weight 9.3 gr.; Circumference 56.45 mm.; US size 7 3/4; UK size P ½
The Gothic tracery with foliage widens to form a diamond-shaped bezel framing a quatrefoil with a sculpted female head in three-quarter profile, probably Joan of Arc.
%3Cdiv%20class%3D%22title%22%3E%3Cem%3E%3Cp%3EJoan%20of%20Arc%20Ring%26nbsp%3B%3C%2Fp%3E%3C%2Fem%3E%2C%20France%2C%20c.%201890%3C%2Fdiv%3E%0D%3Cdiv%20class%3D%22medium%22%3EGold%3C%2Fdiv%3E%0D%3Cdiv%20class%3D%22dimensions%22%3EWeight%209.3%20gr.%3B%20Circumference%2056.45%20mm.%3B%20US%20size%207%203%2F4%3B%20UK%20size%20P%20%C2%BD%3C%2Fdiv%3E
Print
Description
Cast and chased openwork gold ring with square section hoop, grooved on the lower half and forked at the shoulder to form a triangular frame for a Gothic trefoil insert. The Gothic tracery with scrolling foliage widens into a diamond-shaped bezel with quatrefoil. Inside is a sculpted female head in three-quarter profile, probably Joan of Arc. She wears a helmet, and the collar appears like that of a cuirass. On the upper underside of the bezel is the maker's mark "WIESE" (1890 to 1925) with the lozenge. The maker's mark is repeated along the rim, as is the eagle's head (French guarantee mark for 18 carat gold for goods made in France).
Symbol of French nationalism in the nineteenth century, appropriated by conservative Catholic circles in the 1890s, Joan of Arc (1412–1431) led the country to victory during the Hundred Years' War against England and was ultimately tried for heresy and burnt at the stake. This ring by the Gothic Revivalist jeweler Louis Wièse celebrates her heroism. Posed in three-quarter profile, Joan proudly wears a helmet and a collar that resembles a cuirass, presenting her as a representative of the people, the savior who rescued France.
Wièse's image of Joan contrasts with that of Joan as a simple pious girl guided through voices by God's hand, which lies behind the life-size statue of her made in 1837 by Princess Marie d'Orleans, the sculptor and daughter of King Louis-Philippe of France. Princess Marie's statue won many accolades and was replicated in numerous casts earlier in the century, a silver statuette designed by Jules and Louis Wièse in c. 1850 and on a chatelaine of the same period by the jeweler François-Desiré Froment-Meurice. Wièse's imagery is more in line with the gilded equestrian statue sculpted by Emmanuel Frémiet in 1874 so prominently displayed at the Place des Pyramides in Paris. In armor, a triumphant Joan rides forth, bearing the standard of France.
The present ring deliberately mimics the sculpture of a Gothic Cathedral. A quatrefoil frames Joan's head, just like those used for the Zodiac at Notre-Dame of Amiens. Pierced trefoils reproduce the tracery of Notre-Dame of Paris, sculpturesque crockets define the outer edge of the frame, and finials mark the top and bottom of the quatrefoil.
Literature:
(comparisons) Hellmuth 2014, pp. 131–133, cat. no. 1 (silver statuette of Joan of Arc, Jules and Louis Wièse in c. 1850); Gere/Rudoe 2010, p. 356, fig. 316 (Froment-Meurice chatelaine, Hellmuth 2014, pp. 131–133, cat. no. 1) and in miniature for a chatelaine by the jeweler François-Désiré Froment-Meurice (Gere/Rudoe 2010, p. 356, fig. 316); Chadour-Sampson/Hindman 2016, p. 199 (Wièse ring with standing figure of Joan of Arc).
Please send me further information about this work.