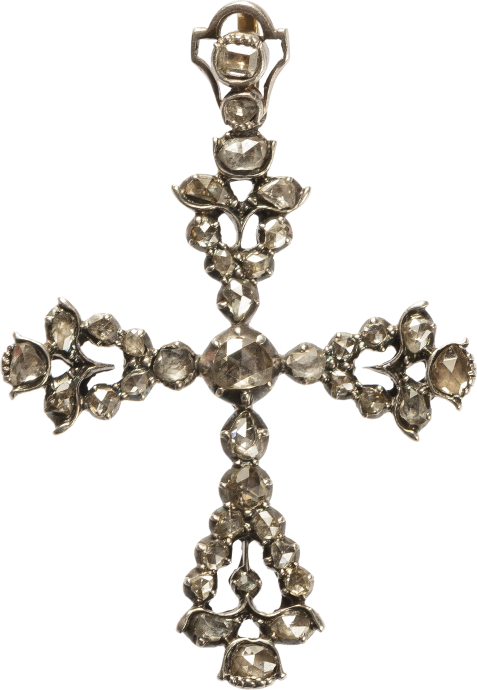 1
/
3



Cross pendant with rock crystals
Silver, gold, rock crystal
Spain or Portugal, late 17th - early 18th century
Weight 9.1 gr.; Dimensions 56.3 × 38.8 mm.
This elegant and elaborate openwork silver, gold and rock crystal pectoral cross was made in Spain or Portugal circa 1700.
%3Cdiv%20class%3D%22title%22%3E%3Cem%3E%3Cp%3ECross%20pendant%26nbsp%3Bwith%20rock%20crystals%26nbsp%3B%3C%2Fp%3E%3C%2Fem%3E%3C%2Fdiv%3E%0D%3Cdiv%20class%3D%22medium%22%3ESilver%2C%20gold%2C%20rock%20crystal%20%3C%2Fdiv%3E%0D%3Cdiv%20class%3D%22dimensions%22%3EWeight%209.1%20gr.%3B%20Dimensions%2056.3%20%C3%97%2038.8%20mm.%20%3C%2Fdiv%3E
Print
Description
An elaborate and elegant cross pendant made of silver with rock crystals in closed settings. The center consists of a larger round gemstone surrounded by five irregular-shaped stones forming the cross. The openwork arms have a triangular shape and are formed of facetted rock-crystals in foliate settings. The obverse side of the cross consists of a layer of gold. An extension with two stones and an angular shaped frame is hooked into the pendant loop, probably to be worn on a velvet band. The pendant is in good, wearable condition.
Provenance:
Private Collection, Austria.
Literature:
After the Reformation, cross pendants were worn mainly in Catholic countries by men, women, and children. During the seventeenth century, the designs became ever more intricate, and the crosses were often embellished with gemstones, such as rock crystals in this example. These were sourced along the Alpine regions of France, Switzerland, Austria, and Southern Germany. The stones gave the appearance of diamonds.
The foliate settings are characteristic of late seventeenth- and eighteenth-century jewelry made in Spain and Portugal. During this period, silver became widely used to emphasize the whiteness of the diamonds or rock crystals and enhance the sparkle. The reverse was often gilt so that the tarnish would not transfer to clothing or the neck. This cross pendant was probably adapted in the eighteenth century with the additional hook so that it could be worn suspended from a black velvet band, like a choker high on the neck.
Please send me further information about this work.