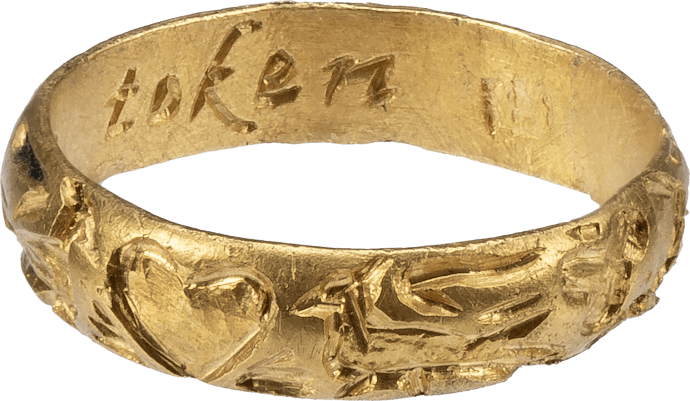 1
/
5





Posy Ring "I am but a token"
Gold, enamel
England, late 17th-early 18th century
Weight 1.7 gr., Circumference 42.13 mm; US size 2 1/4; UK size D 1/2
Ornately engraved posy ring, replete with romantic motifs and inscription
%3Cdiv%20class%3D%22title%22%3E%3Cem%3E%3Cp%3EPosy%20Ring%20%26ldquo%3BI%20am%20but%20a%20token%26rdquo%3B%3C/p%3E%3C/em%3E%2C%20England%2C%20late%2017th-early%2018th%20century%3C/div%3E%0D%3Cdiv%20class%3D%22medium%22%3EGold%2C%20enamel%20%3C/div%3E%0D%3Cdiv%20class%3D%22dimensions%22%3EWeight%201.7%20gr.%2C%20Circumference%2042.13%20mm%3B%20US%20size%202%201/4%3B%20UK%20size%20D%201/2%3C/div%3E
Print
Description
Ornately engraved posy ring, replete with romantic motifs and inscription.
Gold band, flat on the interior, with chased and engraved decoration on the rounded exterior are chased, which was formerly enameled. On one side is a heart clasped by cuffed hands, on the other a heart accompanied by two doves with a trefoil leaf motif in between. The inscription "I am but a token" is engraved in italic script on the inside of the hoop, followed by an illegible maker's mark. The ring shows signs of wear through age and burial in the ground and retains traces of original polychrome enamel. The ring is in good wearable condition.
Provenance:
The ring was found by a metal detectorist in Langton Matravers, in Purbeck, Dorset and is recorded on the Portable Antiquities Scheme database (Ref: DOR-F16002).
Literature:
"Posy rings," their name deriving from the term poésie or poetry, are rings with mottoes either in prose or verse. The message was often concealed inside the hoop and its content only known to the giver and recipient. They find mention in plays by William Shakespeare, such as Hamlet and the Merchant of Venice, and, throughout the seventeenth and eighteenth centuries posy rings enjoyed great popularity. These were traditionally exchanged between friends, relatives, and lovers, or given as betrothal or wedding rings.
Here the message of love is accompanied by amatory motifs, such as a pair of hands clasping a heart and doves associated with the Roman goddess of love Venus. The posy hidden inside the hoop underlines the visual message "I am but a token" meaning "I am a token of love."
Similar posy rings featuring hearts, birds, hares, flowers and foliage can be found in the Victoria and Albert Museum, London (906-1871 and 911-1871) and the British Museum, London, see: Dalton 1912, no. 1137, and three rings donated by Joan Evans, who wrote a compendium of 'English Posies and Posy Rings' in 1930 (1961,1202.111; 1961,1202.229; 1961,1202.384). A posy ring in the Griffin Collection at the Metropolitan Museum of Art, New York, with its surviving polychrome enamel shows how colorful such rings once were. See: Scarisbrick 2021, no. 36 and cf. no. 40.
For a history of posy rings with extensive examples ranging from the medieval period to eighteenth century see: Scarisbrick, 2021, and further information on posies: Evans, 1931; Anon., A Garland of Love: A Collection of Posy-Ring Mottoes, London 1907; Dalton 1912, pp. 174 ff.; Scarisbrick 2007, pp. 74 ff., Taylor and Scarisbrick 1978; Oman 1974, pp. 39 ff.
R-988
Please send me further information about this work.