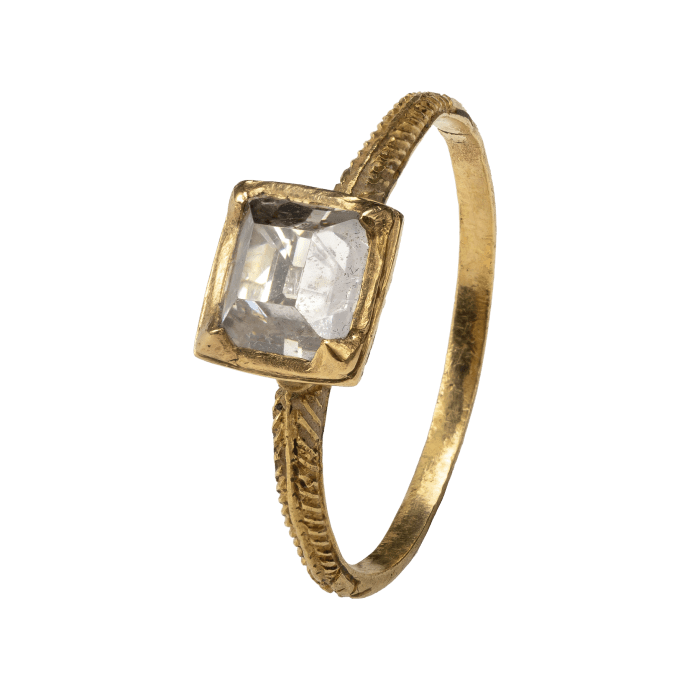 1
/
4




Late Renaissance Diamond Ring
Gold, diamond
West European, c. 1600-1620
Weight 2 gr; Circumference 52.50mm; US Size 6 1/4; UK Size M ½
%3Cdiv%20class%3D%22title%22%3E%3Cem%3E%3Cp%3ELate%20Renaissance%20Diamond%20Ring%3C%2Fp%3E%3C%2Fem%3E%2C%20West%20European%2C%20c.%201600-1620%3C%2Fdiv%3E%0D%3Cdiv%20class%3D%22medium%22%3EGold%2C%20diamond%3C%2Fdiv%3E%0D%3Cdiv%20class%3D%22dimensions%22%3EWeight%202%20gr%3B%20Circumference%2052.50mm%3B%20US%20Size%206%201%2F4%3B%20UK%20Size%20M%20%C2%BD%3C%2Fdiv%3E
Print
Description
As symbols of purity, constancy and virtue, diamonds have long been associated with betrothal and eternal love
Gold hoop with D-section, plain on the interior and on the exterior the ridged shoulders with linear ornamentation show faint traces of white enamel. The hoop ends form the underside of the bezel with box setting and similar geometric design. The fine, high table-cut diamond is additionally set with four corner claws. The ring shows signs of age through wear (especially on one shoulder) and is in good wearable condition.
Literature:
"Diamond," and earlier European variants of the name, derive via Latin from the Ancient Greek word "adamas," meaning invincible. In Pliny's Historiae Naturalis (c. 77 AD), he acknowledges the tough and hard qualities of the diamond and mentions they were reserved for select people of royal status.
The earliest examples of diamonds being given as engagement rings go back to the fifteenth century, as a sign of constancy and virtue in marriage. To this day, diamonds are associated with eternal love. For the history of the diamond and love symbolism, see: Beatriz Chadour-Sampson, The Power of Love, London 2019, pp. 21, 36-38.
This ring with its linear ornamentation and high table-cut diamond can be dated about 1600-1620. For examples of the type, cf. rings in the Museum für Angewandte Kunst, Cologne (Anna Beatriz Chadour/Rüdiger Joppien, Schmuck II, no. 252 with further references and exh. cat. A Sparkling Age. 17th century diamond jewellery, Diamant Museum, Antwerp 1993, no. 12 and 13); Alice and Louis Koch Collection in the Swiss National Museum, Zurich (Chadour 1994, vol. 1, no. 698 with history of the type). Cf. also a ring with similar hoop and design, however, with a cluster of rock crystal in the Victoria and Albert Museum, London (Church 2011, p. 55, no. 67). The type appears to be fashionable in Europe and attributions range from Flemish, German, English, Italian and Hungarian. Similar diamond rings are found on portraits indicating the wearer's marital status.
R-1034
Please send me further information about this work.