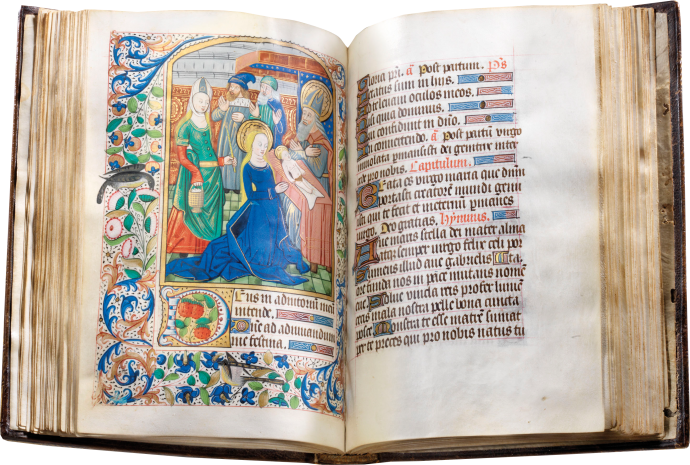 1
/
3



The Hours of Françoise de Foix (use of Bayeux)
In Latin and French, illuminated manuscript on parchment. Four full-page miniatures with full borders
Northwestern France, Normandy (Bayeux), c. 1480-1490
This Book of Hours very likely belonged to Françoise de Foix, Comtesse de Châteaubriant, favored mistress of King Francis I of France.
%3Cdiv%20class%3D%22title%22%3E%3Cem%3E%3Cp%3EThe%20Hours%20of%20Fran%26ccedil%3Boise%20de%20Foix%20%28use%20of%20Bayeux%29%3C/p%3E%3C/em%3E%2C%20c.%201480-1490%3C/div%3E%0D%3Cdiv%20class%3D%22medium%22%3Eilluminated%20manuscript%20on%20parchment.%20Four%20full-page%20miniatures%20with%20full%20borders%3C/div%3E
Print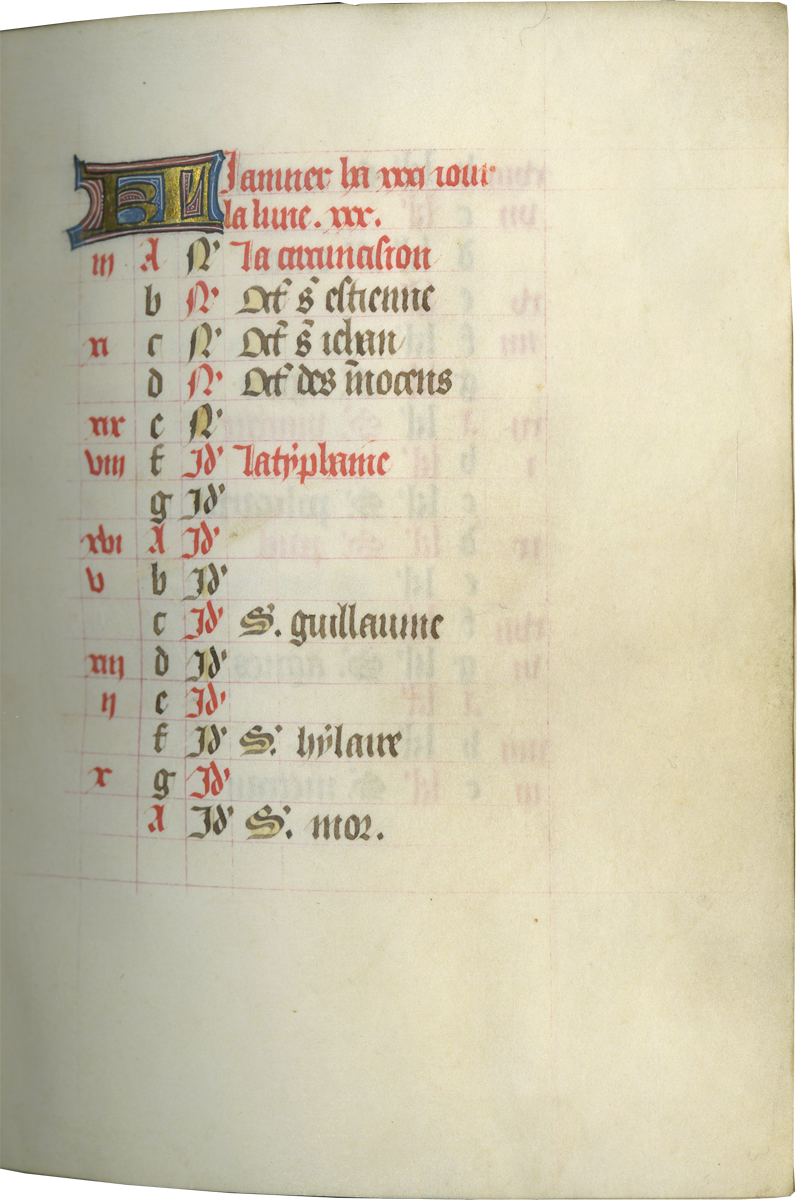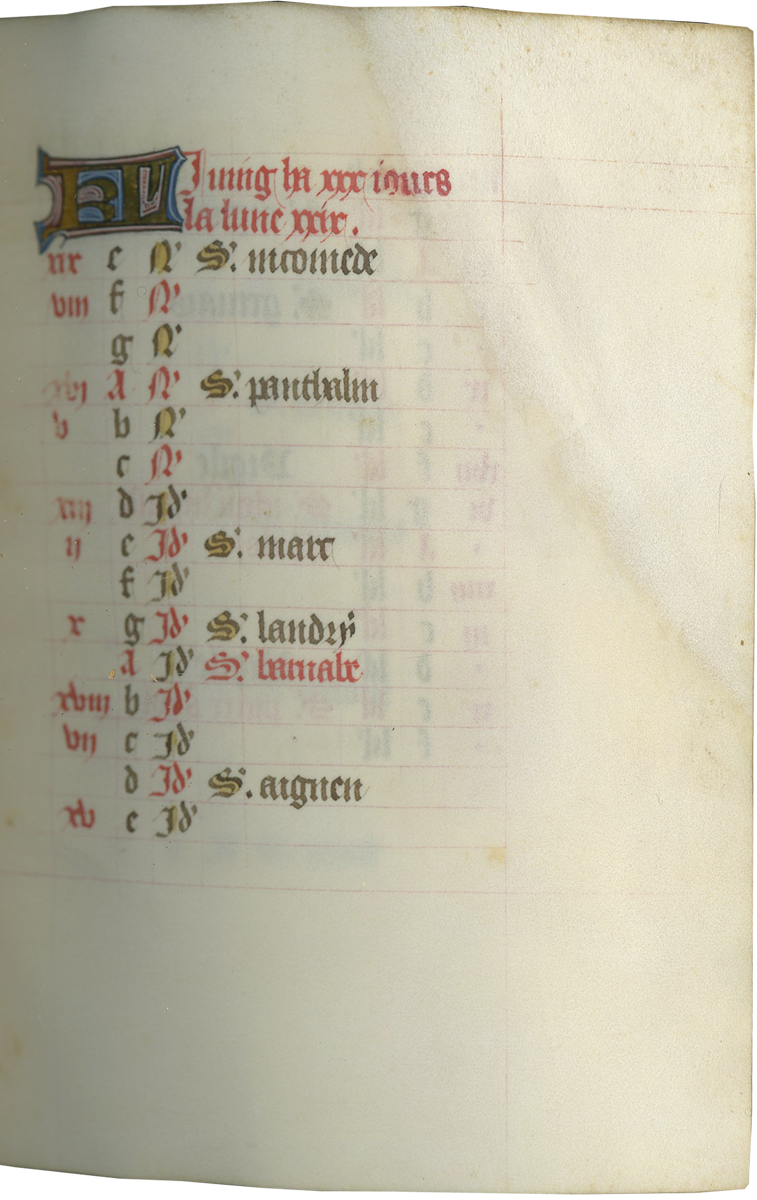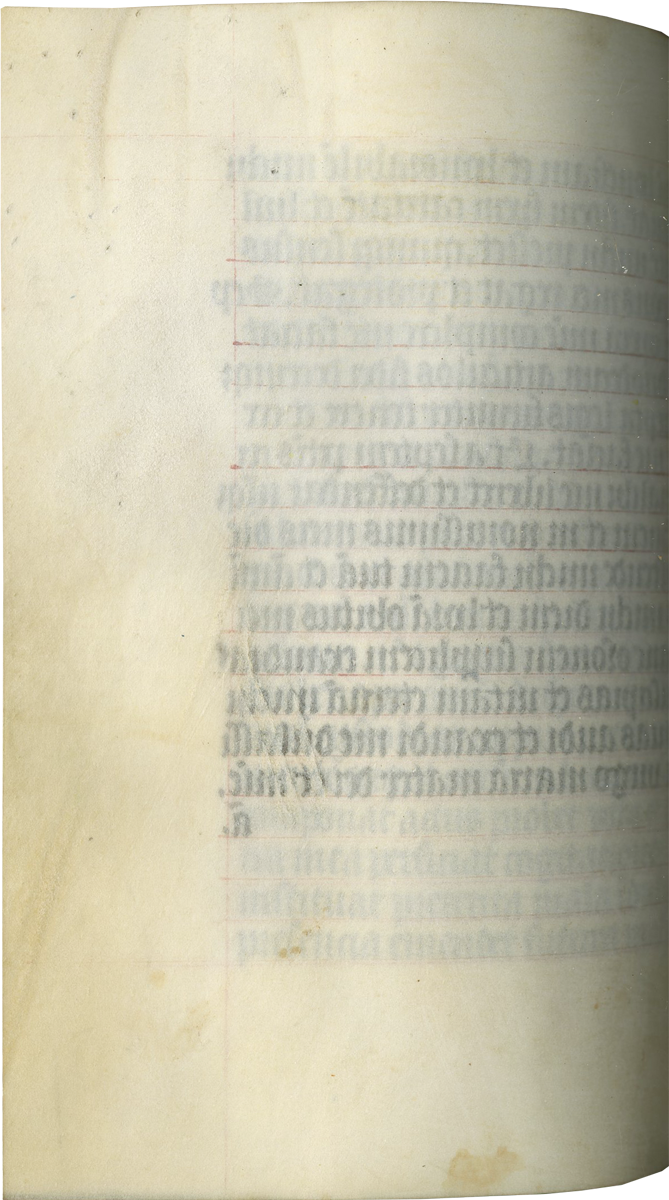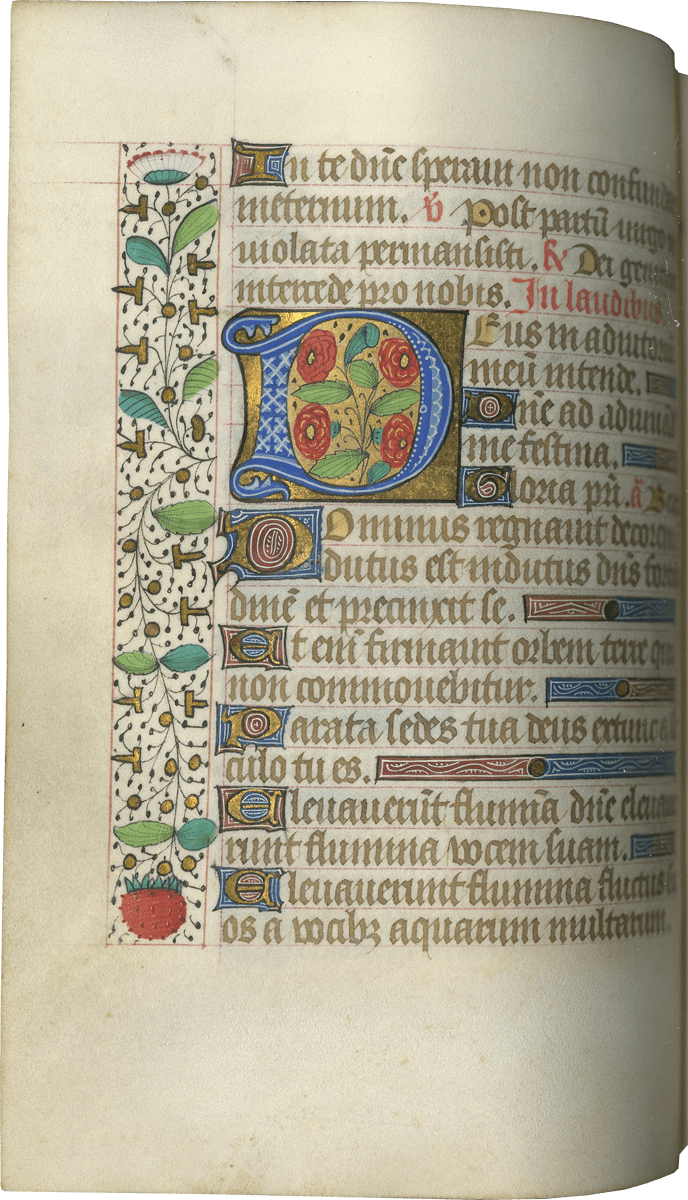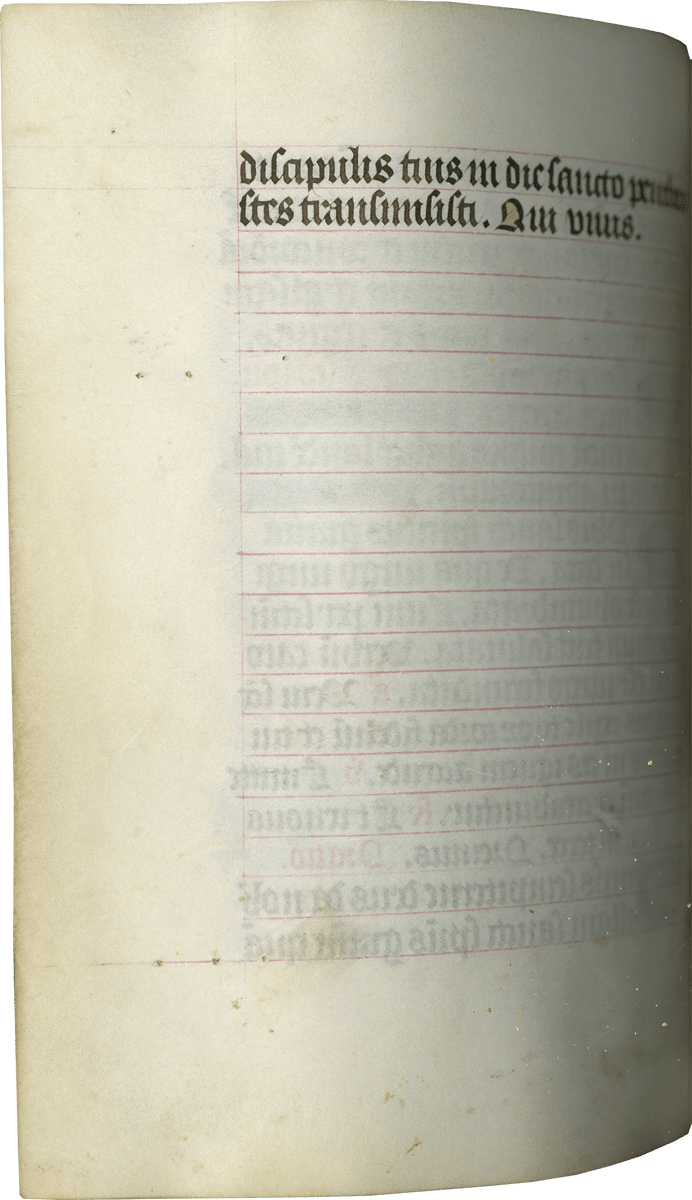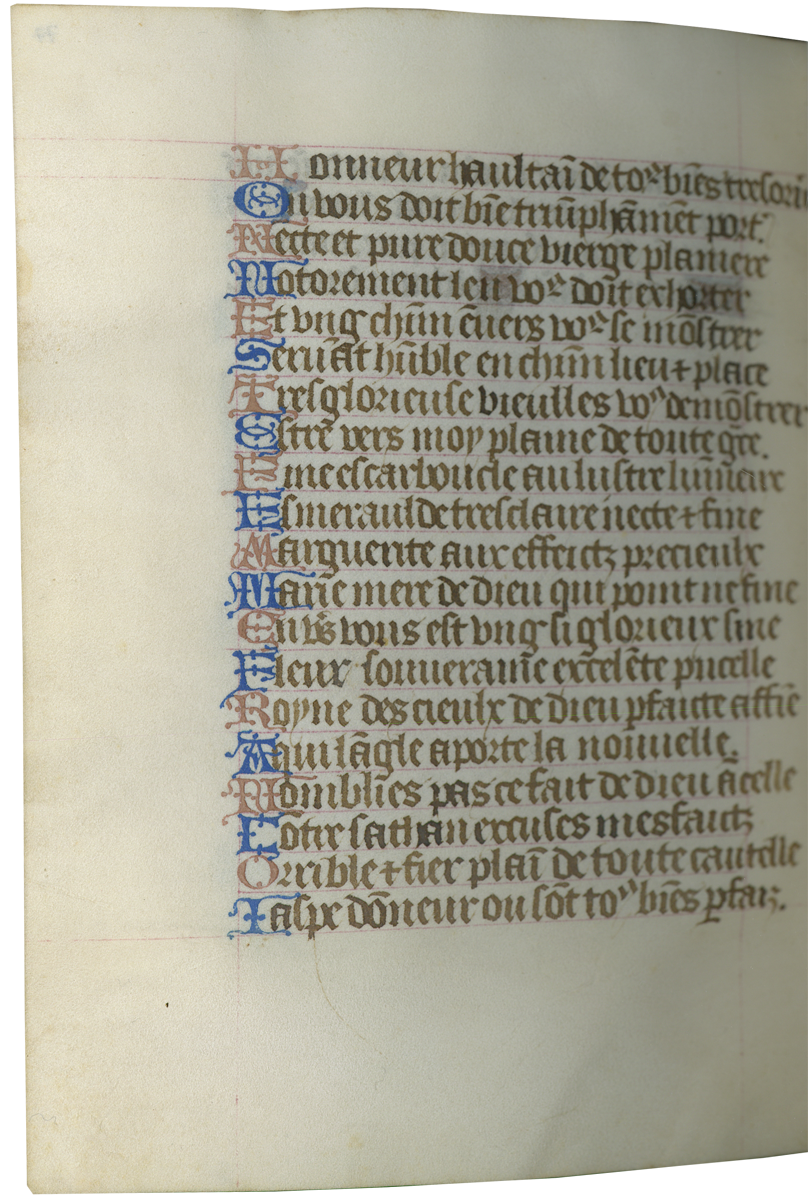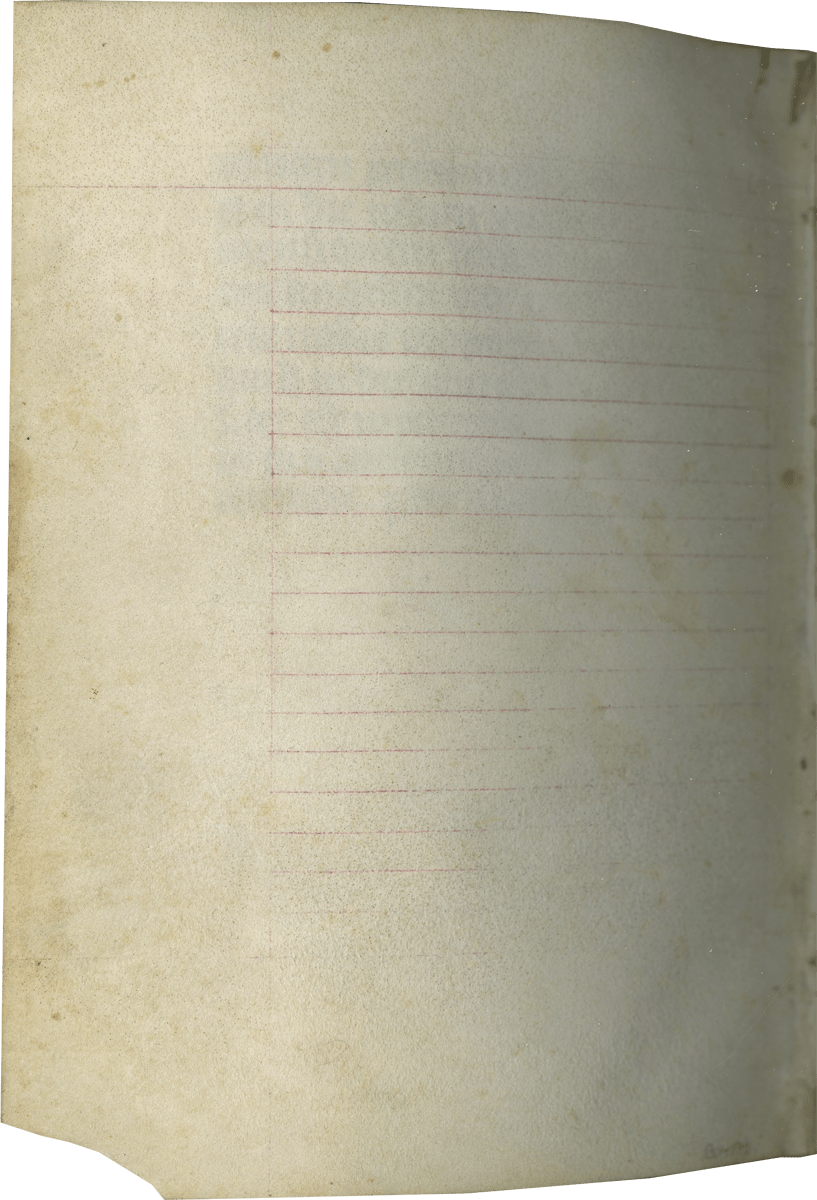 Description
PROPERTY OF THE MISTRESS OF KING FRANÇOIS I OF FRANCE
This Book of Hours very likely belonged to Françoise de Foix, Comtesse de Châteaubriant, favored mistress of King Francis I of France. It includes a previously unknown acrostic poem to the Virgin, most probably composed by Françoise herself – an amateur poetess. The engaging miniatures are by an artist who painted another Book of Hours localizable in Bayeux. The courtly character of the book is accentuated by a splendid sixteenth-century binding, gold-tooled à la fanfare by the royal atelier of King Henri III of France.
i + 81 folios on parchment, modern foliation in pencil, 1-81, lacking one leaf (collation i12 ii6 iii-v8 vi8 [-6, -7, lacking two leaves after f. 47, without loss of text; blank leaves that were most likely removed when the manuscript was made] vii6 viii10 [-4, lacking one leaf with a miniature opening the Office of the Dead after f. 57] ix6 x4 xi8), no catchwords or signatures, ruled in red ink (justification 127 x 83 mm.), written in brown ink in gothic textualis bookhand on 20 lines, capitals touched in yellow wash, 1- to 2-line champie initials and line-fillers in burnished gold on red and blue grounds, nine 4- to 5-line initials on burnished gold grounds, in-filled with flowers or strawberries, five of which are blue with white geometric penwork and accompanied by a floral borders next to the initial (for Lauds, Terce, Sext, None and Compline), and the remaining four are modeled in blue and white with a ribbon motif over a base color of red and accompanied by FOUR FULL-PAGE ARCHED MINIATURES WITH FULL BORDERS containing flowers, strawberries and birds, two of which have compartmented grounds of burnished gold, occasional damp stains in margins, but otherwise in pristine condition. Bound in the second half of the sixteenth century in Paris by King Henri III's "atelier du doreur à la première palmette" in olive morocco, gilt "à la fanfare," stamped with the name "Marguerite / Fresneau" on the front and back covers, very slightly scuffed in the corners, otherwise in pristine condition, with modern fitted case. Dimensions 186 x 132 mm.
Provenance
1. The book was made for use in the diocese of Bayeux. The localizable feasts in the calendar are characteristic of Normandy, and especially of Bayeux: St. Vigor, bishop of Bayeux, St. Honorina, a third-century virgin martyr, often localized in the diocese of Bayeux, and the martyrs St. Rasyphus and St. Ravennus, whose relics were in Bayeux Cathedral in the fifteenth century. The Hours of the Virgin and the Office of the Dead follow the liturgical use of the diocese of Bayeux.
The original patron was probably a woman, or perhaps a couple. Although the prayer Obsecro te has masculine forms for the supplicant (f. 17v, "michi famulo tuo..."), the less common prayer to St. John the Baptist, probably specifically requested by the patron, is adapted for a female supplicant (f. 79v, "ut familia tua..."). The only additional prayers are to St. John the Baptist and St. Barbara on ff. 79-80v, which might suggest that they were the patron saints of the original owner(s) of the manuscript.
The style of the miniatures is very similar to a contemporary Book of Hours for the Use of Bayeux, Oxford, Bodleian Library, MSBuchanan e. 12, which also contains some identical texts, suggesting that our manuscript was produced in the same workshop (see below).
2. Françoise de Foix, Comtesse de Châteaubriant (c. 1495-1537), who composed her personal prayer to the Virgin Mary on ff. 77v-78. The prayer is in French, rhymed, and is built around an acrostic. The initials beginning each verse spell out "Honneste femme Françoise La Cointesse"; the contents suggest that it was written by Françoise de Foix, Countess of Châteaubriant and mistress of King François I. The young Madame Châteaubriant was very intelligent and cultured, knew Latin and Italian, and wrote poetry, which attracted the learned king. Françoise became the first official mistress of the king in 1518; she was 23, he 24. The king was imprisoned in Pavia in 1525. Deprived of his protection, Françoise was obliged to leave the court and return to Châteaubriant. The king's mother, Louise of Savoy, who detested de Foix family, had never liked her. According to accounts by various historians, when she returned home, Françoise was imprisoned by her husband, Jean de Laval-Châteaubriant. She would have written the prayer during her imprisonment, probably around 1531. It is a sad supplication to the Virgin by a woman accused of great offences, who pleads for help and proclaims her innocence, honneste femme. The date of 1531 fits the style of the humanistic initials in gold and blue that begin each verse of the poem.
3. Marguerite Fresneau: inscription on the front flyleaf (see below) and her name is stamped on the front and back cover of the binding by the "atelier du doreur à la première palmette" from the second half of the sixteenth century (for the same tools used by this workshop, see Hobson, 1970, p. 41, no 105a). Marguerite Fresneau held the fiefdoms of Brosse (near Angers), Pontlevoy (between Tours and Blois) and Layon (south of Angers); in 1596 she founded a chapel dedicated to St. Claude at her fortified castle in Brosse (see Port 1878, p. 521). Thereafter the book was owned by her grand-daughter, Louise du Bellay.
4. Louise du Bellay de La Palus, abbess at the Benedictine Abbey of Notre-Dame de Nyoiseau in Anjou between 1643-45 and descendent of the great French poet, critic, and founder of the Pléiade Joachim du Bellay: inscription on the front flyleaf "Ces heures Antiques apartenoient a Madame Marguerite Fresneau grande mere de Madame Louise du Bellay, Abbesse de cette Abbaye de Nioyseau, la qu'elle vivoit en l'an 1644."
5. Guglielmo Libri (1803-1869), an Italian count, who became the Inspector of Libraries of France, and notorious for his theft of manuscripts. Our book was sold in his Catalogue de livres la plupart rares et curieux la plupart rares et curieux provenant de la bibliothèque de M. Libri Carucci, Paris, Victor Tilliard, 1855, lot 1763, at which time it was already lacking the miniature in the beginning of the Office of the Dead (Online Resources).
6. Previous description records this as sold by Nicolas Rauch (1897-1962), bookseller, Lausanne, in 1952 (unverified); "Paolo e Barbara N. 3" is written on a small label inside the modern case.
Text
ff. 1-12v, Calendar in French, major feasts in red; feasts include St. Guillaume of Bourges (10 Jan), St. Omer (Audomar), bishop of Thérouanne and founder of the monastery of Sithiu, around which the town of Saint-Omer developed (18 Jan, generally 9 Sept), St. Honorina, venerated in the dioceses of Bayeux and Rouen (16 May; generally the feast of Honorina is celebrated on 27 or 28 February; here its inclusion on 16 May might be due to a confusion with the feast day of St. Honoratus, bishop of Amiens), St. Ivo of Kermartin, the patron saint of Brittany (19 May), St. Landry of Paris (10 June), St. Aignan, bishop of Chartres (14 June), St. Vaast (Vedast), the first bishop of Arras (15 July, generally 6 Feb), St. Rasyphus and St. Ravennus, two fifth-century martyrs whose relics were at the Bayeux Cathedral (23 July), St. Bernard of Clairvaux (20 Aug), St. Louis IX of France (25 Aug, in red), St. Francis of Assisi (4 Oct), St. Vigor, bishop of Bayeux (3 Nov), St. Malo (Maclou), bishop and founder of Saint-Malo in Brittany (15 Nov), St. Ursinus of Bourges, whose relics were given to the town of Lisieux in Normandy (30 Dec);
ff. 13-16, Gospel extracts;
ff. 16-18, Obsecro te (masculine forms); [f. 18v, ruled, otherwise blank];
ff. 18-47v, Hours of the Virgin, with the Hours of the Cross and the Hours of the Holy Spirit intermixed, use of Bayeux;
ff. 48-55, The Seven Penitential Psalms;
ff. 55-57v, Litanies and prayers, ends imperfectly (the end of the text was on the recto of the leaf lacking after f. 57);
ff. 58-77, Office of the Dead, use of Bayeux, begins imperfectly (a miniature, and the opening words beneath it, were on the verso of the leaf lacking after f. 57);
ff. 77v-78, originally blank, onto which was copied c. 1531 a prayer to the Virgin Mary in French, "Honneur haultaine de tous biens tresorie / On vous doit bien triumphanement porter..." (see Provenance, section 2 above); [f. 78v, ruled, otherwise blank];
ff. 79-80v, prayers by the original scribe in French and Latin to St. John the Baptiste, incipit,"O precieux sainct Jehan resplendissant, qui triumphes en eternelle glo[i]re..."; incipit, "Inter natos mulierum non surrexit major Joanne Baptista. Presta quesumus omnipotens deus ut familia tua per viam salutis incedat..."; and to St. Barbara, incipit, "Ora pro nobis beata Barbara. Ut digni efficiamur promissionibus christi. Deus qui gloriose virginis et martiris tue Barbare facientibus memoriam …"; [f. 81, ruled, otherwise blank].
Illustration
Four full-page miniatures:
f. 19, Annunciation;
f. 33, Nativity;
f. 42v, Presentation in the Temple;
f. 48, David and the angel of retribution.
This Book of Hours demonstrates the activity of illumination in Normandy outside the best-known center of Rouen. The miniatures are very similar to, and most probably by, the same artist who painted a contemporary Book of Hours for the liturgical use of Bayeux, MS Buchanan e. 12 in the Bodleian Library in Oxford (fig. 1). Distinctive shared motifs include the golden sun embroidery decorating the canopy above the Virgin Mary in the Annunciation (Online Resources). The motif illustrates the continued life of this emblem of King Charles VII "le Victorieux" (r. 1422-1461), who had delivered Normandy from the English in the 1440s. The golden sun emblem had decorated his entire court, from the livery of his pages to the trappings of his horses, a famous survival of which is the royal canopy at the Louvre, the Dais de Charles VII. In the two manuscripts, the figures are characterized by their large, cupped hands and the deep neck folds and nervous angular draperies of their garments. The decorated borders and backgrounds of the initials are similar, with large birds, flowers and strawberries, and twisting acanthus leaves, the latter in white modeled in light blue on the Annunciation pages of both manuscripts. In our manuscript the artist used an especially fluorescent yellow for the hair of the figures. The crosshatched motifs of the golden embroidery on the burgundy-colored wall hangings are borrowed from the works of contemporary illuminators in Rouen. Our artist frames these motifs with cusped edges.
Unsurprisingly, certain geographically variable texts are identical in our manuscript and MS Buchanan e. 12. In both books, the litanies include Uriel among four angels, and Silvester, Leo, Antony and Ivo as the only confessors; the two collects that follow the litanies in both books are "Deus cui proprium..." and "Fidelium deus omnium conditor..." (Kidd, 2001, pp. 83-86). The calendars share many feasts, but the Bayeux bishops vary in the two manuscripts: St. Vigor in our manuscript is lacking in the Oxford book, which however contains the feasts of the bishops St. Ragnobert and St. Manvoeus, absent in our manuscript.
Among the lively miniatures in our manuscript, the composition of David and the angel of retribution is the least conventional. David is depicted at the forefront of the image, praying on the balcony of his castle, which is surrounded by water. The composition is very similar to one in a contemporary Book of Hours for the liturgical use of Meaux, Troyes, Médiathèque, MS 1897, f. 73 (Online Resources), and both probably derive from a woodcut or engraving, such as that in Lyon, Bibliothèque municipale, MS 582. The idea of placing the protagonist on a walled balcony with a gap for viewing the stretch of water and landscape beyond, ultimately derives from van Eyck's Madonna of Chancellor Rolin of c. 1434. The iconography in this image narrates the story of King David and the three plagues, recounted in 2 Samuel 24 and 1 Chronicles 21. David is overcome by remorse after having taken a census of his people (as though they were his possession) and asks God for forgiveness. God lets him choose among three plagues, two of which are represented symbolically by the objects held by the angel. The sword is for three months of persecution by David's enemies, and the empty corn stalks for three years of famine. David chooses the shortest punishment: three days of pestilence. The two lifeless figures lying on the ground behind him refer to the 70,000 men who died from the plague. The iconography became very popular in France after plague epidemics ravaged towns in northern France, Paris in 1466, Quimper in 1472 and 1480, Caen in 1477 and 1484, Poitiers, Laval, Le Mans and Nantes in 1484.
A later owner, perhaps during the "fig-leaf campaign" of the Counter-Reformation (c. 1545-1648) or in the nineteenth century, painted a golden slip over the genitalia of the Christ Child in the Nativity and the Presentation, demonstrating how standards of modesty have changed over time.
Literature
Avril, F. and Reynaud, N. Les manuscrits à peintures en France: 1440-1520, Paris, 1993.
Hatot, N. and M. Jacob. Trésors enluminés de Normandie: Une (re)découverte, Rennes, 2016.
Hobson, G. Les reliures à la fanfare: le problème de l'S fermé: une étude historique et critique de l'art de la reliure en France au XVIe siècle fixée sur le style à la fanfare et l'usage de l'S fermé, London, 1970.
Kidd, P. Medieval manuscripts from the collection of T. R. Buchanan in the Bodleian Library, Oxford, Oxford, 2001.
Port, C. Dictionnaire historique, géographique et biographique de Maine-et-Loire, vol. I, Paris, Angers, 1878.
Online Resources
Catalogue de livres [...] de M. Libri Carucci:
https://archive.org/details/bub_gb_Il0Cv9nXu54C
Oxford, Bodleian Library, ms. Buchanan e. 12, f. 8v, Annunciation:
http://www.bodley.ox.ac.uk/dept/scwmss/wmss/medieval/jpegs/buchanan/e/1500/00001229.jpg
Troyes, Bibliothèque municipale, ms. 1897, f. 73, David and the angel of retribution:
http://initiale.irht.cnrs.fr/decor/832
BOH 179
Please send me further information about this work.